7 Important Human Resource Processes for Your Business
Many or all of the products here are from our partners that pay us a commission. It's how we make money. But our editorial integrity ensures our experts' opinions aren't influenced by compensation. Terms may apply to offers listed on this page.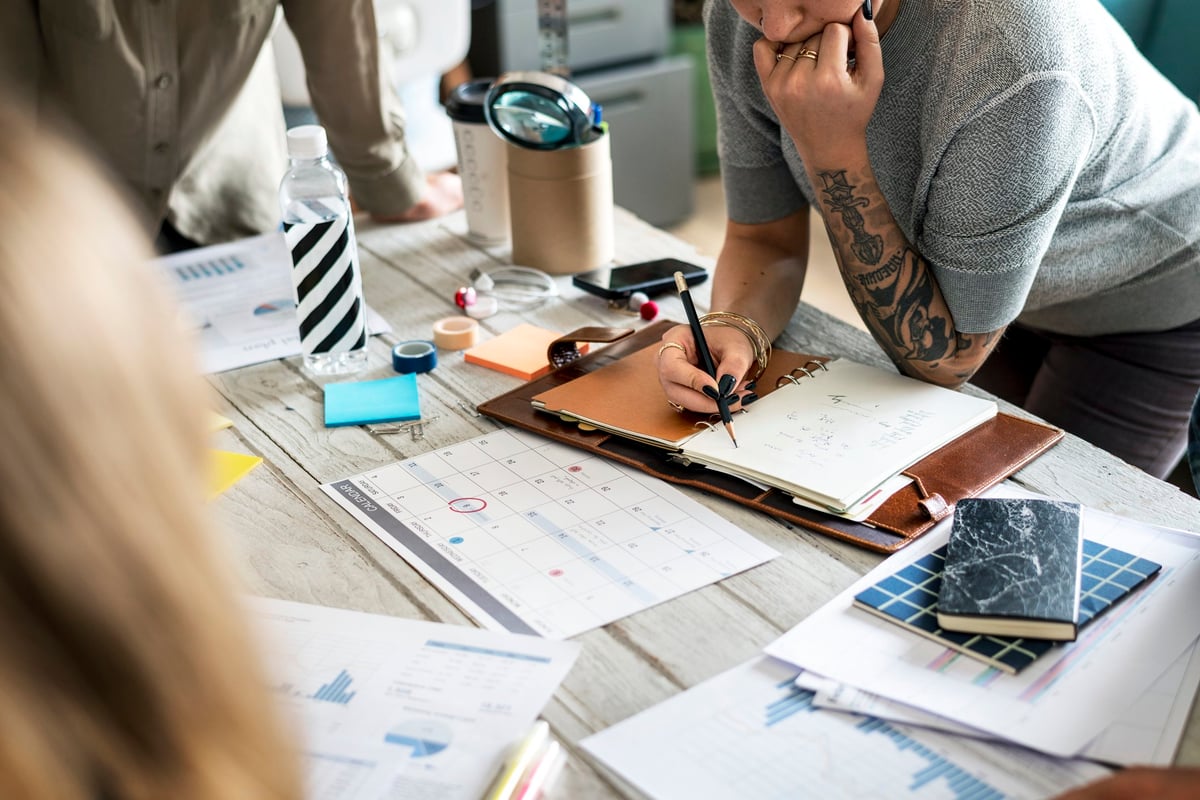 HR is -- as the name suggests -- a people-driven business unit, but it's also largely process oriented. This article explains how to create the business-critical human resources processes.
The HR department isn't just about people anymore. A key part of successful strategic human resource management involves creating, monitoring, and updating processes.
It's a mistake to take a haphazard approach to managing your HR strategy, and focus exclusively on the human side. You need strong, well-defined processes to attract, source, recruit, develop, and retain the level of talent necessary to make your business a success.
But don't worry, we've got your back. This article will help you create and refine those processes.
Benefits of creating human resources processes for your small business
You need to create human resources processes to run your HR department smoothly and make a positive impact on your company. Do it right and you'll reap the following benefits.
1. Make better decisions, faster
When you have a process to follow with defined steps, you know how to get started and what to do next. You don't have to define each stage as you go along, so you can move faster, and can decide in line with the process. You have a reason behind each decision, rather than just deciding on the fly.
2. Meet organizational goals
With a process in place, you can measure performance, and know for sure if you're helping meet the company, departmental, and individual goals. Focused metrics tracking for each process generates data you can use to optimize the process and get better results.
Each time you repeat the process, whether it's full-cycle recruiting, onboarding, or something else, you generate more and more data to refine and streamline the different steps.
3. Optimize your resources
With defined, automated processes, you can put your time, energy, and resources to better use. You can follow a tried and tested process that delivers predictable results, much like the predictable cappuccino you get at Starbucks every afternoon.
This frees up time to focus on your HR strategy, making sure it's on point and that your workforce is performing well.
7 human resources processes you should implement
Implement these seven essential human resources in your organization to realize the above benefits. But you need to define and create these processes first, and then turn them into HR best practices you can use time and time again. Here's how.
1. Recruiting
Having an organized, effective, and efficient hiring process is crucial to attract high quality applicants who are excited to work at your company. Take these steps to make this happen.
Align your hiring process with your organization's goals and staffing plan.
Take the time to tailor a job description that fits the candidate you're trying to attract.
Use a talent acquisition strategy that leverages employee referrals, past applicants, internal candidates, and job boards.
Screen applicants with tools such as assessments, quick phone calls, and scorecards that mark candidates according to the required skills and experience.
Hold interviews, ideally letting candidates schedule their own time.
Make a job offer promptly with clear terms.
2. Onboarding
First impressions matter, so get your onboarding process right. Similar to your recruitment process, if you don't provide a great experience and appear disorganized and unhelpful, this will reflect badly on your company.
Create an onboarding checklist to make your new hire's first days and weeks at your company a pleasant, productive experience.
Your new employee onboarding checklist should include the following steps:
Contact the new employee promptly to finalize a start date.
Prepare all paperwork before the first day. Make sure your new hire has provided the required documents.
Tell existing employees about the new hire and when they will be starting.
Prepare the new hire's workspace, including office swag or goodie bags.
Set up accounts and logins.
Put together an employee orientation schedule.
3. Workforce planning
Workforce planning incorporates both strategic HR processes and day-to-day employee management. This includes staffing needs, absence management, shift planning and scheduling, and managing overtime.
Just starting? consider these steps to set up your workforce and human resource planning process:
Analyze workforce performance -- discover what skills you have, which ones you need, and how your current employees are performing.
Forecast future business staffing needs,, whether that's number of employees or skills required to meet business goals.
Optimize your workforce so it aligns with company objectives -- this could be hiring for new skills, changing the number of employees working shifts, or upskilling existing staff.
4. Talent management
Often companies hire talented individuals and leave them to it, checking in occasionally during performance reviews.
That's not enough to retain your best employees.
Talent management aims to nurture employees to get the most out of them, develop new skills, and enhance their work performance.
To create a talent management process, you need to:
Overhaul your recruitment and onboarding strategies so you can make sure you develop talent from the moment they decide to join you.
Provide continuous learning and development opportunities, with employee input.
Reward hard work creatively, looking at different bonuses and recognition.
Invest in workforce analytics so you can constantly optimize your talent management process to be sure it meets the needs of your staff and company.
5. Performance management
A performance management process should benefit both the company and the employee. Companies used to set yearly performance metrics and goals, only addressing issues during the annual review.
By then, it was often too late to make changes. Forward-looking companies today are switching to more regular and continuous performance management processes.
These tips can create a process that benefits your company and employees:
Collaboratively set performance measures and goals, with input from the employee, manager, and any other relevant stakeholders.
Implement different types of feedback, such as employee self rating or 360-degree feedback.
Set regular check-ins, as short as five-minute conversations over a coffee, or even a back and forth over email.
Provide detailed information on the recognition and rewards for each goal.
6. Learning and development
Training should be a first resort, not a last resort, and a priority for your business. Learning and development opportunities boost employee morale, improving your retention rate.
You can also make sure you have the skills in-house to help your business grow and develop into the future and to be prepared for talented employees leaving your company.
These points will help you create a learning and development process:
Tie training to your staffing plan and company goals.
Use data from your performance management process to identify areas where employees need training to achieve their goals.
Measure the success of your training initiatives by establishing and tracking HR metrics.
7. Offboarding
Offboarding is still a relatively new process with HR management, In the past, companies were often careless with departing employees. The aim was to transfer their knowledge to other employees and get them out the door as soon as possible.
But if you offboard in the right way, you can create a lasting positive impression on the departing worker that benefits your employer brand.
Here are the steps to follow:
Customize the offboarding steps to fit the role and circumstances.
Create an offboarding checklist to make sure you've completed all necessary tasks.
Conduct an exit interview to get useful feedback.
Take care of the admin in advance, and get them to do things such as signing their termination letter and other legal documents before their departure day.
Do you need HR software to implement these processes?
HR software can help you automate manual tasks to more easily create human resources management processes that benefit your company. For example, using HR software, you can easily create, track, and adjust performance measures.
These are our picks of the best human resources software to create winning processes.
1. Zoho People
Zoho People can help you create your performance management, onboarding, and workforce planning processes.
Its performance management module lets you give feedback to your peers, your direct reports, and your manager (or even their managers). A range of different built-in feedback categories can be customized to fit your business.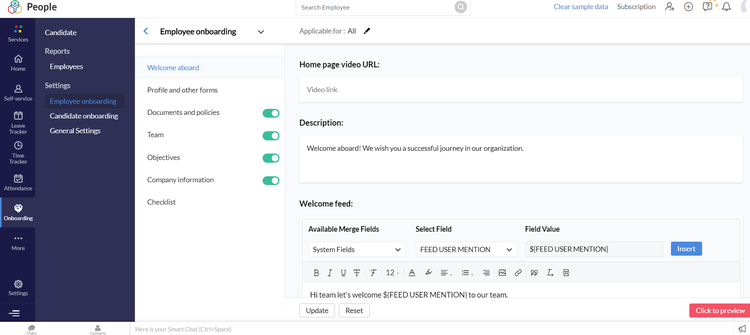 Zoho People also has fully customizable and unique onboarding functionality, splitting the process into the period before a candidate's first day, and the time after they start working at your company.
The software also has powerful data analytics functionality that lets you create very detailed reports about any aspect of your company.
2. Namely HR
Namely HR has HR templates to create an onboarding process from scratch. These are customizable for different types of employees, such as contractors, full-time employees, executives, or international hires.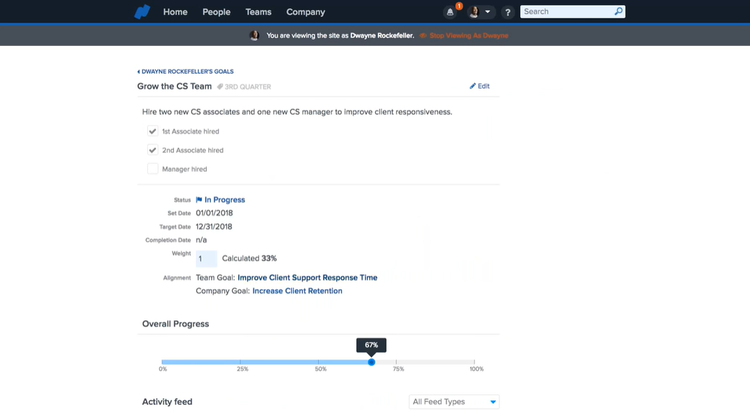 Namely HR's performance management features help you set goals that align with company objectives. It also lets employees take control of their own performance management, so they can go in and check off any tasks they've completed or view their progress.
3. Zenefits
Zenefits has excellent workforce planning functionality that helps you create and define HR processes. Its time and attendance module gives you full visibility into shift planning, hours worked, time clock data, and general employee activity, for all types of workers, whether hourly, weekly, salaried, or contractor.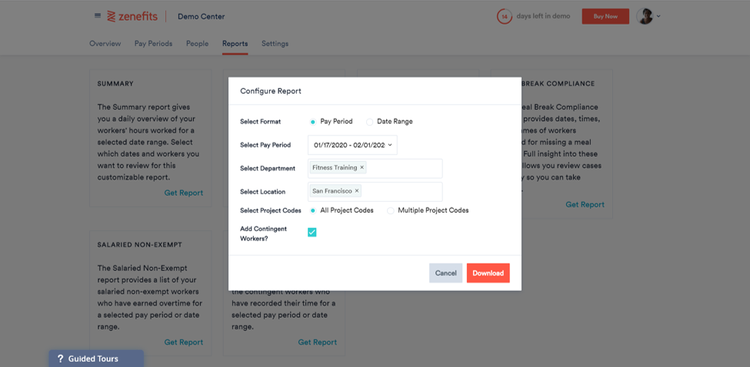 You can also set different activity rules for different types of employees, such as vacation, overtime, and meal breaks, and create reports on this activity by pay period or a specific timeframe.
Move with the times
Your HR department needs to move with the times. These are the main strategies you need to focus on at the moment, but be ready to evolve as the world of work changes. Witness remote working and the rise of the gig economy.
Human resource managers need to keep their eye on new HR functions and trends, so they can create processes to ensure the smooth running of the people aspect of the company.
Expert-picked business credit cards with rich rewards and perks
Cash back, travel rewards, 0% intro APR financing: all of these can be great credit card perks for business owners. But how do you find the right business credit card for you? There are tons of offers on the market today, and sifting through them to find the right one can be a big hassle. So we've done the hard work for you.
Get started with one of our top business credit card picks of 2022 today.
We're firm believers in the Golden Rule, which is why editorial opinions are ours alone and have not been previously reviewed, approved, or endorsed by included advertisers. The Ascent does not cover all offers on the market. Editorial content from The Ascent is separate from The Motley Fool editorial content and is created by a different analyst team.
Discover Financial Services is an advertising partner of The Ascent, a Motley Fool company. The Motley Fool has positions in and recommends Starbucks. The Motley Fool recommends Discover Financial Services and recommends the following options: short October 2022 $85 calls on Starbucks. The Motley Fool has a
disclosure policy
.