There are so many project management software options on the market today that it can be hard to narrow down which one is right for your business. If you've made it down to these two choices then congratulations are in order for making it this far.
I've used both of these tools not only in my time as a software expert for The Blueprint, but also in several other previous positions as a director of communications, a digital marketing specialist, and as a content writer. That's why I've written out this comparison as an in-depth analysis of what you can expect whether you choose Trello or Airtable for project management.
---
Airtable vs. Trello: An overview
Who is Airtable for?
Airtable is the perfect choice for the project manager looking for a creatively bent software option who also appreciates and understands the utility of spreadsheets. If someone were to take Microsoft Excel and add more fun and personality to it, along with some additional team management features, you'd get Airtable. It's the perfect tool for marketing agencies and other service-based project teams.
Who is Trello for?
Trello, on the other hand, is a streamlined kanban-based project management tool that focuses on simplifying every aspect of your workflow. That being said, this tool is limited in its capabilities since it is a workflow tool and not comprehensive project management software. It's great for managing every step of your process and is meant for all kinds of teams from marketing project managers to software developers.
---
Airtable vs. Trello: Features
This is the bread and butter of this comparison since features are usually the first thing any software buyer considers before making a decision. Which platform offers superior functionality?
What Airtable offers
Airtable is a more comprehensive project management platform that covers most aspects of the planning, execution, and resolution steps of the project management process. This platform offers a plethora of features including task lists, kanban boards, project schedules, task collaboration, and even client access.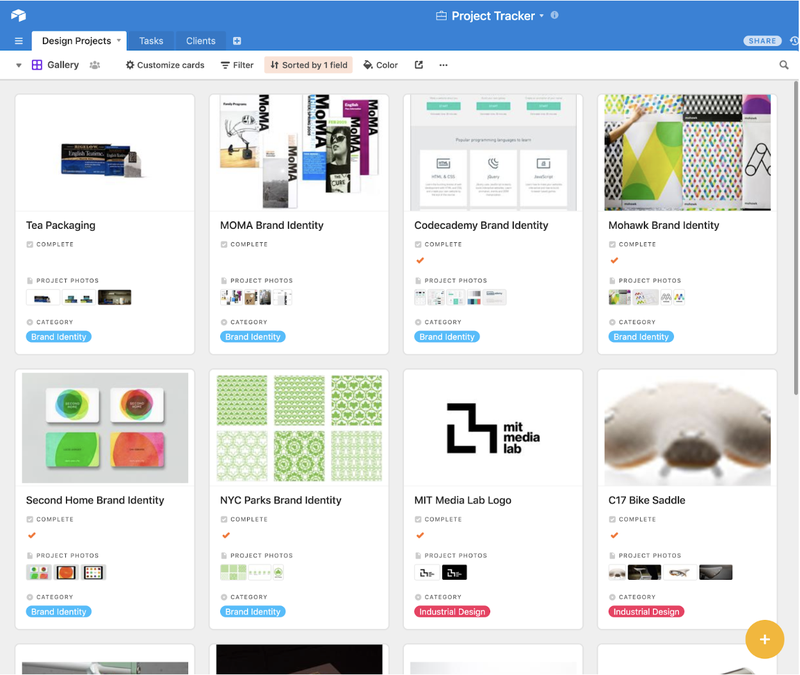 While Airtable is a spreadsheet-based project management tool first and foremost, the gallery task management view is definitely a standout feature. It's different from a kanban view since it doesn't compartmentalize task cards into their own vertical categories but instead organizes each card into your own custom sorting method. You can sort these tasks by category, due date, kickoff date, client, project team, and alphabetical order.
Airtable doesn't offer a formal budgeting or reports tab. Instead, the records and categories you create using the spreadsheets and Airtable's formulas serve as your potential budget reports. However, if you're not feeling up to the challenge of creating a budget in Airtable's spreadsheets, not to worry, there are plenty of templates to choose from that'll give you the framework you're looking for.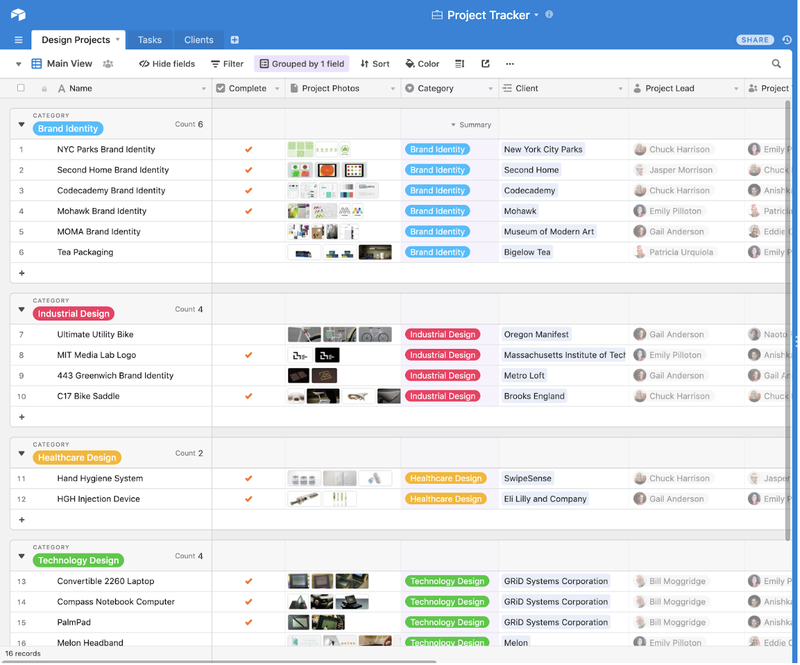 Airtable offers a lot of functionality as a visually pleasing project management tool. And it definitely rewards users with lots of versatility if they take the time to understand the spreadsheet formulas.
What Trello offers
As I mentioned before, Trello is strictly a kanban-style software, but it compensates for any lack in additional functionality with its stellar user experience. In my opinion, Trello has the best kanban experience I've ever seen in a project management tool, even better than Airtable's kanban feature. The task cards are simple to navigate and offer lots of functionality, such as labeling, comment threads, sub-task checklists, file attachments, and external tool integrations.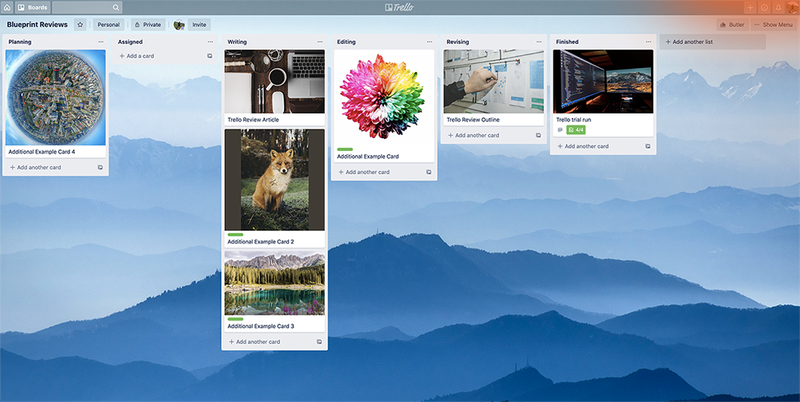 When using Trello for project management, you'll find it easy to incorporate and manage all of the standard project management steps using its lists and task cards. Essentially, it's the perfect tool for tracking, guiding, and managing your project workflow, even on the go with the Trello mobile application.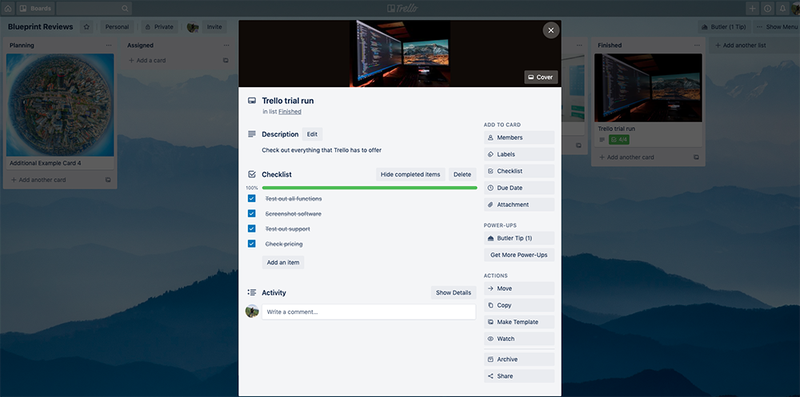 On the other hand, Trello doesn't offer many additional project management features. There aren't any native financial management functions, but Trello tries to make up for this by offering a long list of integrations with other project tools in order to fill the gaps.
Results
Winner: Airtable
While Trello's task management exceeds expectations, I have to give the nod to Airtable based on the wider variety of management options and functions. However, I'm definitely disappointed that neither platform offers Gantt charts as a means for task management.
---
Airtable vs. Trello: Support
What good is a software option without vendor support? Let's find out which tool will give you better customer support in the long run.
What Airtable offers
Airtable offers all kinds of support options for its customers, including guides, FAQs, live webinars, tour videos, community forums, and functionality articles. Everything but phone support, which is ultimately disappointing considering the money you spend on this tool.
What Trello offers
Trello is owned by Atlassian. And if you have any experience using their flagship tool, Jira, you know they have their own unique way of handling customer support. Most issues you encounter are dealt with using support ticket forms, but if you opt for the Business Class or Enterprise pricing tiers, you also gain access to their priority phone support.
Luckily, Trello also has an extensive knowledge base and blog which covers a wide range of topics including Trello functionality and team management guides.
Results
Winner: Trello
Trello takes the cake in this area simply because of their phone support. Sometimes users aren't able to solve pressing issues with just FAQs and user guides at their disposal. Nothing beats the aid of a real live human.
---
Airtable vs. Trello: Ease of use
Ease of use is extremely important when selecting a new project management tool. While both platforms are easy to use in their own way, only one runs away with the win in this comparison.
What Airtable offers
Considering everything Airtable is capable of, it's a very user-friendly project management tool, but knowing all of the ins and outs of spreadsheets is a skill not suited for everyone. The user interface is very easy to navigate and all other task management functions are a breeze to learn, but taking full advantage of Airtable's main function comes with a slight learning curve. It's a good thing that this platform offers plenty of "how-to" content that'll make a spreadsheet master out of any novice.
What Trello offers
I've already given the nod to Trello on The Blueprint as the easiest project management software to use. Trello takes the cake when it comes to intuitive design and simplicity when juxtaposed to the functionality it has to offer. It's not the simplest project management tool I've reviewed, but considering everything Trello is capable of, it definitely blows the competition out of the water when it comes to ease of use.
Trello has been this way for quite a while now, even when I first used the platform five years ago while working for another content team. I'd recommend this tool to any beginner project manager assuming they didn't need any financial management or serious reporting features.
Results
Winner: Trello
Airtable isn't an overly-complex monstrosity like some other project management tools, but it just can't beat the charming simplicity of Trello's kanban board system. In fact, Trello is the only tool I've reviewed for The Blueprint to receive a perfect 10 out of 10 when it comes to ease of use.
---
Airtable vs. Trello: Pricing
Sometimes it's all about the dollars and cents when it comes to project management software. So, what can you expect to pay for these two platforms?
What Airtable offers
Airtable's pricing is pretty standard as far as project management software goes, and the addition of a generous free option is definitely a plus. However, considering these prices, it's unfortunate that none of the available Airtable plans include phone support.
Free: Includes unlimited databases, 1,200 records per database, 2GB attachment space per base, mobile app
Plus: $10/month per user. Includes unlimited databases, 5,000 records per database, 5GB attachment space per base, mobile app
Pro: $20/month per user. Includes unlimited databases, 50,000 records per database, 20GB attachment space per base, mobile app, advanced calendar features, custom branded forms, user permissions
Enterprise: Negotiated with the client. Includes unlimited databases, unlimited records per database, 1,000GB attachment space per base, mobile app, advanced calendar features, custom branded forms, user permissions, dedicated customer service, individualized onboarding and training, unlimited workspaces
What Trello offers
Trello's pricing is very similar to Airtable's. It's not the cheapest option as far as project management software is concerned, but for what it offers, Trello is a good value as long as you don't require any budgetary or client invoicing features.
Free: Unlimited personal boards, unlimited cards, unlimited lists, 10MB per file attachment limit, 10 team boards, one power-up per board, 50 automated command runs per month, and two-factor authentication
Trello Business Class: $9.99/month per user. All previous features plus 250MB per file attachment limit, priority support, custom board backgrounds, unlimited team boards, custom fields, calendar view, app integrations, 1,000 automated command runs per month, and advanced admin permissions
Trello Enterprise: Starts at $20.83/month per user with gradual rate decreases as more users are added. All previous features plus unlimited command runs, attachment restrictions, power-up administration, and personalized onboarding
Results
Winner: Tie
This was a hard comparison to make because while Airtable has more features, Trello walks away with a better free option, better support, and an easier to learn user interface.
---
Airtable vs. Trello: Integration with other software
Integrations are a great way to fill out any gaps your software lacks or streamline your experience while using multiple platforms. Let's find out whether Airtable or Trello offers a better list of integrations.
What Airtable offers
Airtable offers a surprisingly long list of integrations, especially considering the already quite comprehensive list of native functions:
What Trello offers
Trello offers lots of different integrations with many different tools, many of which enhance your user experience by filling in the gaps not covered by their collaborative-minded platform, including:
Results
Winner: Airtable
Airtable's list of integrations is very impressive. I haven't seen many other project management platforms that integrate with social media platforms.
---
Airtable vs. Trello: Getting started
Starting fresh with a new project management tool is intimidating, especially if you don't have any prior experience using it. Here's what you can expect when you're just starting out with Airtable and Trello.
What Airtable offers
Airtable starts you off by entering your email address, first name, last name, and creating a password. You're then redirected to a page that informs you of your 14-day free trial of their Pro option. You're then directed to enter information about the work you'll focus on while using Airtable in order to better tailor the platform to your needs.
Once you've completed all of your work information, you're taken through a tour of the software in order to get you started with your project. It's a fairly standard process and once you've completed your trial, you have the choice to either pay for one of their subscriptions or opt for their free version with fewer features.
What Trello offers
Trello offers a more standard sign-up experience. All you have to do is enter your email address on the homepage, click the "Sign up — it's free" button, enter some additional information, and you're off.
No payment information needed. Once you're in, you're given a step-by-step tour of the software and given control of your newly created project. Trello has an extensive knowledge base and company blog, which contains posts about all different kinds of project management topics. This content will help you get started with your project, however, this tool is so simple that most users will figure out how to get their project off of the ground without it.
Results
Winner: Airtable
When it comes to signing up, both tools are extremely similar. However, considering the additional difficulty of using Airtable, the developers took the extra step of running new users through a comprehensive tour for using their software.
---
How They Compare: Airtable vs. Trello
| | Airtable | Trello |
| --- | --- | --- |
| Task Lists | | |
| Gantt Timeline Charts | | |
| Shared Team Calendar | | |
| File Sharing | | |
| Communication | | |
| Budgeting | | |
| Time Tracking | | |
| Invoicing | | |
| Outside Integrations | | |
| Resource Management | | |
---
Which software is better, Airtable or Trello?
If we were to only look at the tally between these two tools, it seems obvious that Airtable comes out on top, but I'm not sure that this is a true apples-to-apples comparison. These tools are meant for completely different project types and situations, so if you were to ask me which one you should choose, I'd have to say it depends on what you need and value more. Both Trello and Airtable made our list of the eight best Asana alternatives, and they're both worthy in their own rights.
If you're looking for an easy-to-learn platform that'll manage your workflow without a hitch, then Trello is right for you. On the other hand, if you need a more comprehensive tool and you have plenty of spreadsheet skills to boot, then Airtable is what you're looking for.
When it comes to the scores on our Blueprint software reviews, ease of use is weighed the heaviest out of the four criteria we measure, which explains why Trello comes out on top. Trello is the only platform I've reviewed that earned a perfect 10 when it comes to ease of use. This boosted Trello's score 0.2 points over Airtable.
That being said, when it comes to the contest of Trello vs. Airtable, I still believe these two platforms are meant for different users and therefore it's up to you to decide which one is better for your team.