Who uses a CRM?
No sales organization should go without customer relationship management (CRM) software in today's world. It's like bringing a spoon to a gun fight — a teaspoon. Or, worse yet, a spork.
The sheer abundance of data available online about your customers can help you farm insights and develop better strategies for reaching your audience.
Both enterprise companies and small to medium-sized businesses (SMBs) need well-managed customer data to generate the results they want – this is where the magic of CRM software comes into play.
CRM software automates and oversees the customer life cycle of a business from end to end. Customer-facing teams utilize CRM tools to respond effectively to the real-time needs of their clients and customers and to foster closer relations with them.
In other words, it's a tool to give your clients (and leads) what they want, when they want it.
Everyone in your business should have visibility into your CRM software as it can help the sales team, marketing team, and C-suite concurrently.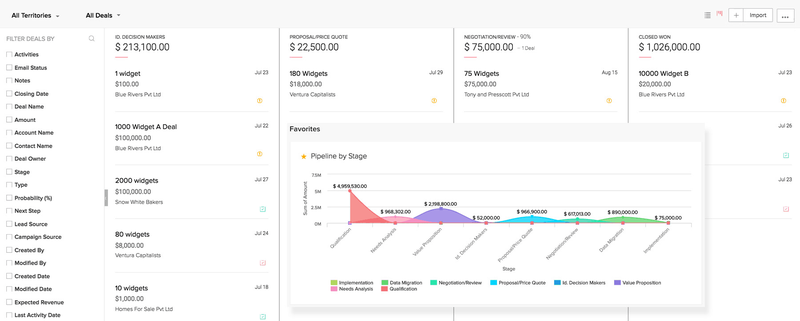 Top Picks for CRM Software
Why use a CRM?
Do you ever feel like you're spending more time logging into tools that help run your business, instead of spending time actually running your business?
You might need a CRM solution.
The goal of a CRM is to take away a lot of the time-intensive manual tasks that make up your day to day. Need to know when you last contacted a lead? You can get it in a single click. Want to send a thank-you email to your latest customer? Boom — it's automated. Want to pull up quick figures on how you did last month? It's already built in the sales dashboard.
These are just some of the pain points a CRM can take away. Pretty soon, you'll be wondering how you ever ran your business without one.
CRM tools help you recognize engagement patterns with your customers so you can find that delicate balance between engagement and exhaustion.
Managing contacts never used to be such a hassle. However, today's digitized global market makes it possible to juggle hundreds of recurring customers at once. It's no surprise, then, that software to manage your contacts has entered the market to help you keep tabs on each of them.
Unfortunately, small companies often attempt to mimic CRM software using a simple Microsoft Excel spreadsheet or a pad of legal paper. During the early stages of a business's growth, this method may suffice, but as time goes on and the business scales, integrated CRM software usually becomes a necessity – not a luxury — for driving business growth.
So what's the point of a CRM system?
Imagine you had a centralized "smart" database of every contact, prospect, and customer in your organization. Now imagine that system was fully automated, shareable, and updated in real time, and that it tracked all relevant information about every member of the customer's organization. CRM systems do all of those things.
With CRM software, you can set up a notification for a customer's birthday days in advance, giving you time to secure a birthday present — like a gift card or discounted rate — before the big day. Such a gesture is a great way to make a good impression on loyal customers or gently nudge an inactive client.
CRM software is primarily a sales tool. However, CRM solutions also serve as a central database where information can be shared with all of the departments in a business.
How do CRM tools differ?
Most CRM products are pretty similar, but they can differ in to what extent they integrate with other marketing or sales tools.
Both HubSpot and Salesforce, for example, are fully-fledged suites in their own right. Their CRM functions are just a spoke in the wheel. They also offer integrated native content management systems, email marketing software, SMS software, and more as part of their all-in-one solutions.
SugarCRM and Vtiger are more "bespoke" solutions — they focus on the CRM aspect and little more – while tools like AgileCRM sit somewhere in the middle.
There's no inherent advantage to being a "jack of all trades" vs. a specialist provider. What matters, and what should influence your purchasing decision, is finding a solution that meets your business's needs and fits your budget.
The benefits of CRM tools
Finding the right CRM tool for your business can mean the difference between renewing your next big contract or missing out on massive potential.
Whether you head a startup, non-profit organization, or burgeoning enterprise, you can take advantage of CRM software to reap the following benefits:
Better client relationships
Greater cost savings
Reduced client attrition
Improved expediency in serving clients
Increased team collaboration
Heightened ability to cross-sell
These benefits merely hint at some of the long-term advantages well-designed customer management software can provide. Increased cost savings and revenue growth are usually the most substantial bottom-line benefits CRM users experience.
Although CRM tools can be costly up front, they pay dividends over the long term. For example, sales team members can use CRM software to book meetings with prospects in their local areas, and customer service reps are better positioned to answer their customers' concerns when they have access to the information in their company's CRM solution.
When your team functions better across departments, your organization closes more deals and your bottom line improves as a result. A central database accessible on demand by all team members means serving prospects and customers with greater expediency.
Key features: CRM demystified
Customer relationship management helps business owners make better decisions through big-data insights and superior data management. These are the four primary functions of CRM software:
Sales team automation: Contact management, lead forecasting, reporting, and sales pipeline analysis.
Customer support: Self-service solutions, customer experience platforms, case management, and ticketing services.
Help desk automation: IT asset management, a self-service database, FAQs, and ticketing.
Marketing management: Email marketing and event planning, market analysis, campaign management, and lead/prospect management.
These features provide you with the tools to streamline your workflows and deliver improved customer-centered service. Plus, they automate many tedious and time-consuming manual tasks.
Using CRM to improve customer satisfaction
Your organization's customer satisfaction rating is the lifeblood of your success. Reducing customer complaints through CRM tools increases customer loyalty and helps decrease attrition and defection.
Keep track of every customer's needs with CRM software, and use that information to tailor offerings to fit their individual goals and tastes. CRM software also improves customers' perception of your business's products and offerings. With fewer customer complaints and pain points, satisfaction levels generally increase.
Enhancing your customer profile
The most successful companies are those that master customer relationships. The right products must be presented to the right customers for this to be possible. However, in today's fast-paced market, it can be headache-inducing to remember the minute details of every customer and prospect.
CRM tools provide a useful solution to the problem of building in-depth customer profiles. The best CRM software enables users to not only personalize messages and communications to their clients, but also track customer behavior and preferences. In this way, you can construct a superior customer profile.
Today, customer analytics help companies of all sizes improve business decision-making by mining and collecting large amounts of personalized data. The best CRM software features built-in marketing automation tools, which utilize pattern recognition and machine learning to find small problems before they arise and satisfy customer complaints before they appear.
Scaling your business with CRM tools
Many SMBs hit a sticking point when they try to scale their business operations without CRM software. Without a centralized, searchable database, it can be a lost cause to track all interactions with customers as your business grows and your contact and prospect list numbers into the thousands. CRM software helps you track customer needs and preferences for superior resource planning.
Key competitive advantages: superior management and automation
There are plenty of tangible benefits CRM tools can offer your company's workflow. No matter your industry, you likely have to triage customer interactions and manage them appropriately.
Interaction tracking
Modern CRM systems document all interactions with your customers. For example, the CRM suite tracks every live chat, email, in-person conversation, text message, and phone call you have with customers.
Tracking processes are fully automated and can include engagements on social media platforms such as Twitter, Facebook, and Instagram. With social media tracking enabled, businesses can learn which social posts drive the most customer interaction.
Workflow automation
You can set up and maintain integrated office software tools such as task lists, push alerts, and interactive calendars through CRM suites.
For instance, if you compile a list of daily objectives in the calendar app, the CRM tool will automatically create a to-do list from the data. As you work through the day, the to-do updates in real time, keeping you focused and on track.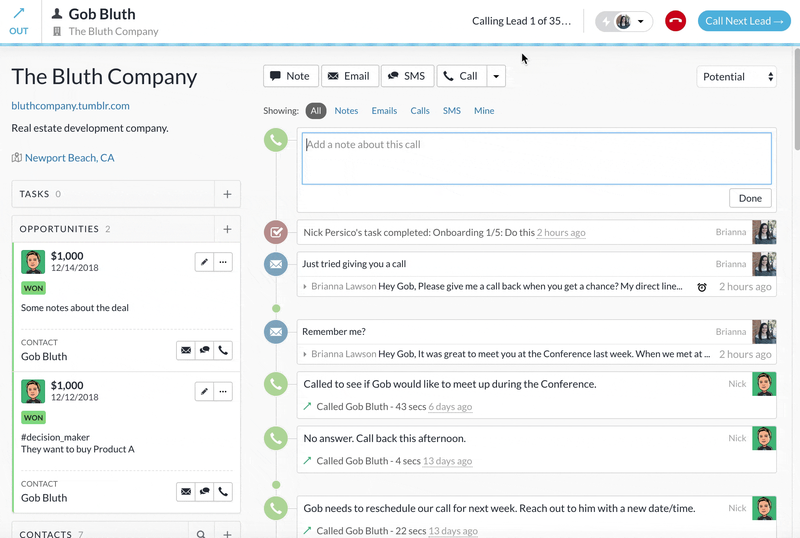 Performance reporting
CRM software tracks sales productivity and performance. You can compile regular reports and issue them based on the activities logged in the CRM system. Reports can include bottom-line information, such as new revenue accumulated, or customer-side metrics such as the number of new contacts generated.
Performance reports are useful tools for forecasting business outcomes. Using the data collected through CRM software, your business can be better positioned to forecast your sales pipeline for the upcoming quarter.
Data management
The most apparent competitive advantage of CRM systems is superior data management. Popular CRM tools feature searchable databases of relevant customer information. These include necessary customer profile data, such as contact lists, as well as more in-depth documentation, such as contracts and proposals.
What to consider when buying CRM software
Price
You can't ignore price. A CRM can definitely be a White Elephant if you don't know what you're doing with it.
But cheaper does not always equal better. You'll need to carefully consider what features your business really needs and what you would be prepared to pay to address that issue. That's when you know you're getting value for money.
Soon we'll be publishing a CRM Buyers Guide, which can help you identify those issues so you can invest in a CRM product that has everything you need without too many extraneous features that jack up the price.
Integrations and APIs
When conducting your research, look at how a potential CRM will integrate with your current technology stack. Will you be using the software's full suite, or does it need to work with your current systems? This can be a crucial part of the consideration phase, so talk to your development, operations, and marketing teams before you make any decisions.
Ease of use
It's no good getting the software if no one knows how to use it. Demos and walkthroughs will be an important step on your journey, as will any training the software provider can give you both before and after you sign a contract.
Customization
Your business is unique. There will likely be something you want to report on, or influence, that is completely different from anyone else's needs. Speak up, and let the CRM provider know about it. Chances are, the vendor can accommodate your needs and customize the software for you accordingly, but it's better to mention it as early as possible.
Reporting
Whether data can be built into dashboards within the software itself or exported into BigQuery, Google Data Studio, Tableau or more — it's no good unless you can present it in a clear way. Look at how the CRM tool reports on its data, and make sure it matches the needs of everyone in your business — from top to bottom.
The bottom line
Every competitive organization needs a customer-centric business culture. However, not every business leader knows how to develop strong customer relations, especially when prospects and leads number into the thousands. For this, CRM software is your best friend.
CRM software improves your workflow and creates a more efficient work environment for your team. It also makes your customers' lives better.
Staying in touch with your customers and keeping up with their needs will pay dividends in the long run. You can develop lasting, mutually beneficial relationships with your clients.
If your business is looking to increase its customer base and bring new clients on board, CRM software may be the key to your success. Consider investing in quality CRM tools to fix data disorganization in your company and pave the way for streamlined and frictionless customer experiences in the years ahead.
Frequently Asked Questions
What can a CRM do for me?
Customer relationship management (CRM) is a piece of software that manages every aspect of your company's interactions and engagements with leads, prospects, and customers. The goal is to improve your relationship with all of them.
How do I know I need a CRM?
There are typically five ways a company realizes it might need a CRM. They are:
When they need to improve relationships with clients
When they need to increase workflow efficiency
When they want to "better" engage with leads — be that quicker, cheaper, or through more personalized marketing
When they want to improve cross-selling or up-selling
When they need to scale or automate their business
How do I develop a CRM strategy?
As you get started with a CRM, these are some of the most important things to consider:
Brief your internal team and employees about your goals.
Set goals that will improve on pain points in the business.
Be patient — at the beginning, roll out new features slowly so employees (and leads) can get used to them.
Think of integrations with other software stacks in your business.