Serving the public is a difficult task. Ask anyone who works in retail, food service, or any customer-facing position. As I've said before, customer service is like putting out little fires everywhere before they become an uncontrollable wildfire.
It's all about maintaining strong relationships with customers and finding successful solutions so they can succeed while using your product or service.
That's why you need the right software tools to help your client-facing team improve customer service.
The most important tool you can give them is a customer service management platform that organizes their work, connects them with customers in need, finds the solutions they want, and empowers their customer service skills.
We've put together a list of the top eight customer service platforms on the market today that can do just that.
Here are the top picks for the best customer service software options:
Our top 8 picks for the best customer service software
We've done the heavy lifting here at The Blueprint and found the top eight customer service platforms and reviewed them for you. We've highlighted the positives, negatives, and nuances of each platform with links to an in-depth review of each if you need to know more.
Here's to finding the right tool for your business so you can provide the best customer service experience possible.
1. LiveAgent
I love LiveAgent. This tool offers lots of features, a user-friendly interface, and an accessible learning curve. Best of all, the pricing structure is just right.
This is everything a buyer wants in a software package, which makes it easy to give LiveAgent the top spot on this list. LiveAgent takes well-known customer service features, such as live chat and support ticketing, and boils them down to the simplest of functions.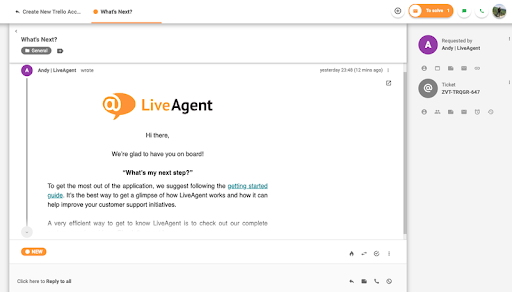 LiveAgent proves it's not always who offers these features first, it's about who does it best. Plus, this platform gives you great value for money. First off, the free customer management software is very generous with many of the base features included.
Once you move onto the paid options, the tiers start at $15/month, per user and top out at only $39/month, per agent. That's a bargain compared to some of LiveAgent's more expensive competitors. The company did great work to rightly claim our top rating.
2. Zendesk Support
Zendesk Support tries to be everything for everyone with customer service. The pricing options are numerous, the interface is easy to understand, and the features list is formidable when compared to some competitors. I gave Zendesk Support the "best for new users" superlative because it's so easy to pick up and learn.
It has adopted the task tabs function I praised LiveAgent for, their reporting is simple to use, and it's easy to switch between communicating with customers and sending out support instructions to the rest of your team.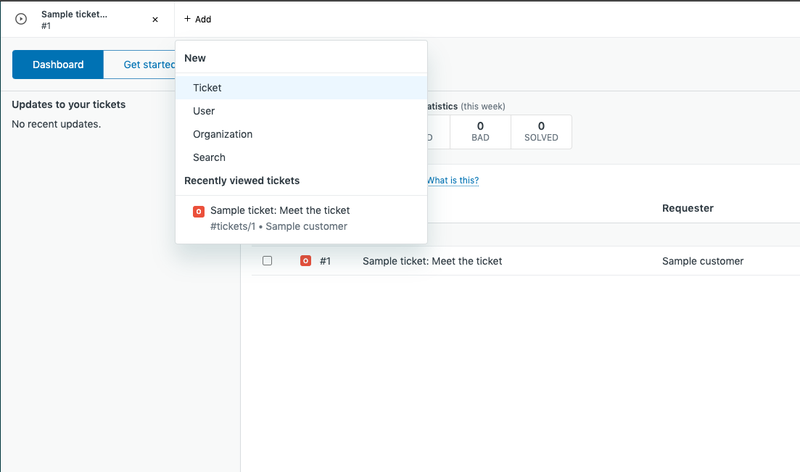 I've also reviewed Zendesk as an IT management tool, but it excels as a customer service option. The pricing is especially impressive. Zendesk gives users seven options, starting at $5/month, per user and topping out at $149/month, per user.
Zendesk is great for businesses of all sizes. All you have to do is choose the pricing tier that's right for your budget.
3. Help Scout
Help Scout earned this high rank with its solid list of features, advanced reporting capabilities, and great pricing options. I love its clean, simple, and colorful design.
Tools like these show we still have software developers out there who care about user experience as much as the abundant features Help Scout jams under the hood.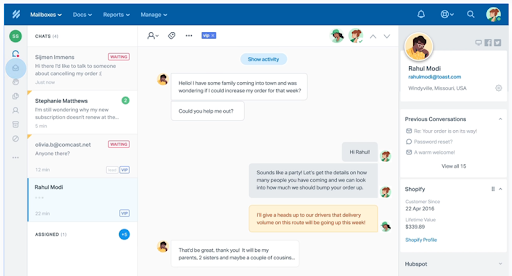 Help Scout is very affordable on its own, but it earned the best for SMBs category because of its discount program for qualifying nonprofits, startups, and public benefit corporations.
If your business qualifies, you can receive up to a 33% discount on any of its subscriptions once your 90-day free trial has expired (which is also a huge trial period). Help Scout is so confident you'll love the tool, the vendor has priced it competitively in this market.
4. Kayako
Kayako succeeds in nearly every category that counts. Customer communications are powerful, the self-service portal works for both customers and your internal staff, and the software design melds simplicity with a beautiful color palette reminiscent of tools such as Slack.
Even the pricing is fantastic, with a base price of $10/month, per agent. Kayako is giving tools such as LiveAgent a run for their money… literally.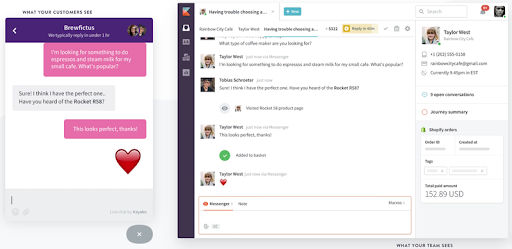 However, Kayako falls a little short when compared to other options. While reviewing Kayako, we noticed most of the integrations with the platform require a third-party connector application, which detracts from its convenience.
And Kayako is missing remote desktop functionality, which would expand the viability of this platform into IT management territory. Even with those caveats, Kayako is a solid option with an attractive price tag.
5. HappyFox
HappyFox is one of those software options where everything about the platform, from the user-friendly design to the substantial features list, is fantastic but it has one or two problems holding it back from shooting to the top of this ranking. We'll get to that in a second.
HappyFox does so many things right. It's an easy platform to learn and use. I love the way tickets are organized, and the reporting features are simple, yet powerful. So, what's the problem?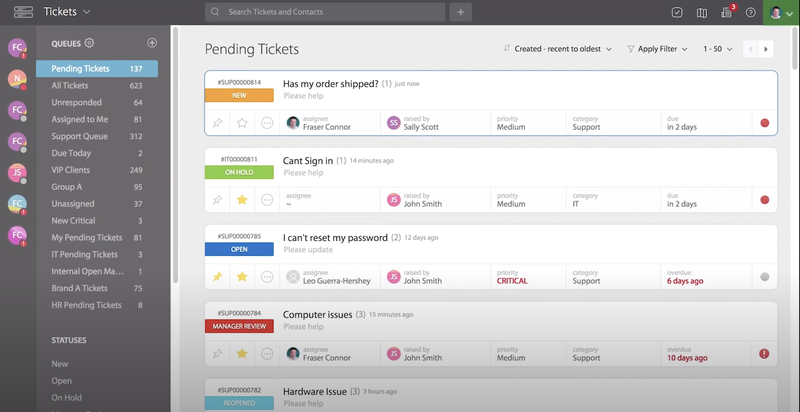 Well, for starters, HappyFox doesn't offer any native call management features. You'll have to rely on third-party integrations to handle your customer calls, which is disappointing, because I would like to see HappyFox apply their design philosophy to these features. The second issue is pricing.
While HappyFox doesn't completely hide its pricing the way some options do, they're not as transparent as I'd like. HappyFox only tells you where the pricing tiers start and give no context on how high they can go. I want to know what I can expect to pay before I give my information over to any sales team.
6. Microsoft Dynamics 365
Until 2018, Parature was Microsoft's premier customer service platform. Microsoft has since discontinued it and rolled its features into its newer customer support option, Dynamics 365.
The "365" indicates this platform is part of Microsoft's new approach with a cloud-based suite of tools that allow live collaboration and worldwide access to your files and data.
Right off the bat, I can tell you Microsoft Dynamics 365 is better suited for enterprise level businesses based solely on its price, which starts at $50/month, per user.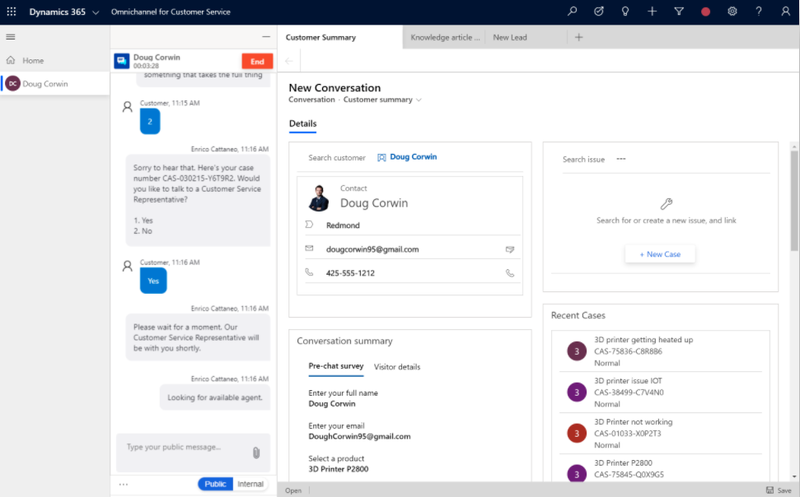 But that doesn't take away from what this platform offers. I am rarely impressed by Microsoft products, as an Apple fanboy, but Dynamics 365 threw my preconceived notions out the window.
This tool is clean, the customer service features are intuitive, and the integrations with other Microsoft tools supercharges its capabilities up to eleven. I was impressed with the suite of customer service tools available while handling an issue in real time.
You can look up answers in knowledge bases and communicate with other agents, all while sending updates to your customers in the same window. This is the functionality I expect from a multibillion-dollar company.
7. Groove
We're nearing the end of this list, but don't short yourself by not checking out Groove. This platform offers decent functionality and ease of use for a relatively affordable price.
But Groove uses customer service email rather than support forms, live chats, and service calls. You'll find a far simpler and stripped-down experience with Groove versus some of the other platforms on this list.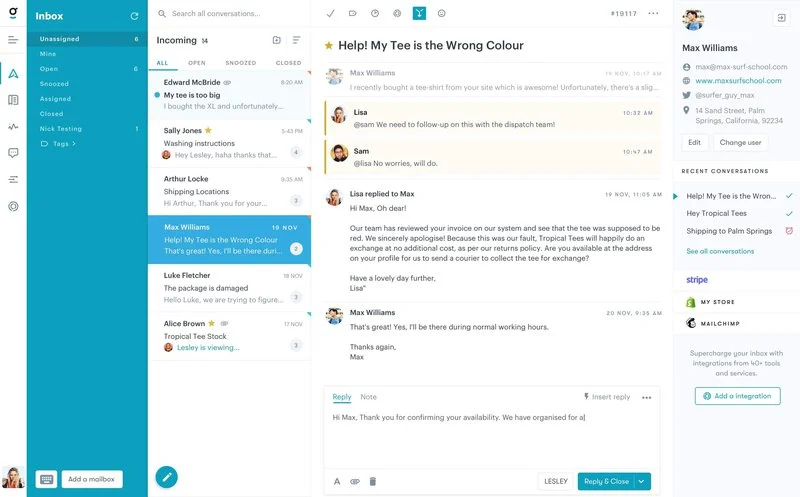 As I said before, Groove makes up for this slight lack of features by offering its platform for a reasonable starting cost of $12/month, per user, and it maxes out at $34/month, per user. Groove also offers the best trial period out of everyone on this list: 120 days.
And you're going to love its significant discounts (up to 93%) for qualifying startup companies. That's definitely a bargain for such a useful tool, and it's perfect for companies just getting their customer support infrastructure up and running.
8. Salesforce Service Cloud
Salesforce is a huge name in the software as a service (SaaS) world. It's world-renowned, with millions of dollars to back up its operations and developments. So, why is it at the bottom of our list? Well, with ease of use and pricing, Salesforce Service Cloud struggles to match many of its competitors.
The learning curve is steep and the price tag is high for Salesforce Service Cloud, which doesn't make it a great choice for small businesses, 99% of the United States' economy.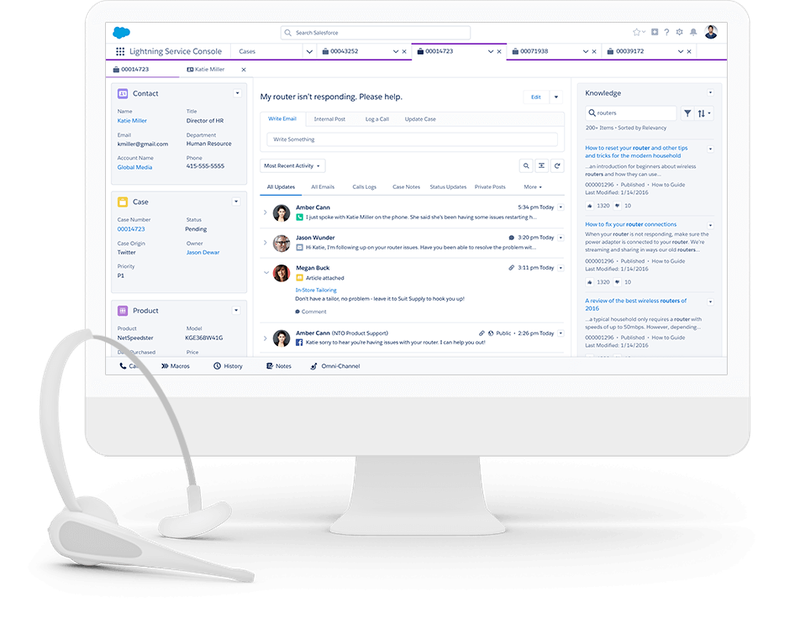 That doesn't mean this tool isn't powerful. The features list for Salesforce is long and with the right integrations, this tool can do far more than some of its competitors. The problem is, its complexity can put a damper on your productivity.
This seems to be a common issue with larger vendors, particularly ones that aim for corporate customers, and Salesforce is a prime example. If you can get past the learning curve and can afford this tool, then Salesforce Service Cloud will serve you well. However, why wouldn't you just choose another competitor?
What The Blueprint looks for in great customer service software
So many elements make up a great customer service platform, but these three distinct features can either make or break these tools. We always look for these top three features at The Blueprint when reviewing any customer service app.
Ticket management
This is the absolute base requirement for any customer service software. If you can't create, manage, track, and resolve issues within the platform, is it designed for customer service?
While some platforms offer ticket management systems, others go above and beyond to find easier and more efficient ways to manage tickets. Some examples: through color-coding, providing support resources in the tickets, or connecting the tickets to their live chat system.
Knowledge base management
Knowledge bases are the perfect way to provide answers to the technical questions your customers bring you. Your brain isn't a giant encyclopedia, so a knowledge base is the perfect way to point your customers in the right direction so they can fix their problems with detailed instructions.
The best customer service software options allow direct access to your knowledge base within the customer ticket itself so you can grab the answers you need quickly.
Self-service portals
What happens when your customer support team leaves for the day? Problems don't just stop because your team clocks out. That's why it's important to come with a self-service portal.
This way, your customers can find the solutions they need when your team isn't available or the issue is simple and doesn't require a human touch.
How your business can benefit from using customer service software
There are few drawbacks to using customer service software and many more benefits. These are the top three benefits your business will see when adopting a new customer service software solution.
Improved customer relationships
Great customer service platforms give you the tools and capabilities to ensure quality customer service and build a happy user base.
No one expects your products and services to operate at 100%, but when something does go wrong, a quick and correct response is the perfect way to maintain and improve customer relationships.
Improved accuracy in issue resolution
Imagine you went to your local auto mechanic and told them your vehicle's problem. They didn't write anything down or make any notes about the situation, but hours later, they tell you they fixed an unrelated problem because they forgot what you said.
That's what customer service would be like without a structured system in place for managing issues. Customer service software provides that structure so your team can solve the right problems quickly and accurately.
Centralized record of past issues
It's always good to maintain a record of any issues with your customers. This way, you can go back and reference if a customer has concerns with a solution you provided. Customer service software maintains and stores records in an easily searchable database.
Customer Service Software Frequently Asked Questions
What are the deal-breakers when selecting customer service software?
The biggest deal-breaker for me when selecting any software option is ease of use. When I'm purchasing software, the first thing I consider is how long it's going to take me to learn this platform and whether the complexity will interfere with the work I'm doing.
When you buy software for your business, you're buying it for everyone who interacts with it, not just yourself. Why buy something you'll have to take hours explaining each time someone new is introduced to the platform?
The second deal-breaker has to be the features list versus the price. Why pay more for something I can get cheaper elsewhere? While not every comparison is one-to-one, trial periods are the perfect time to find the positives and negatives of platforms, and if the differences come down to price, I'm going with the cheaper option.
Is live chat a necessity?
No, live chat functionality is not a necessity, but your job becomes a lot harder without it. Not every issue is meant to run through a standard ticketing system.
Sometimes your customers are just looking for simple answers to simple questions, and live chats provide that fast solution. Countless examples of good customer service prove prompt and accurate responses to consumer concerns are beneficial, and that's why live chat is a huge benefit.
How much does customer service software cost?
As I say with all software types, the price varies. However, the range typically starts around $10/month, per user. The highest I've seen is somewhere in the range of $500/month, per user. The lower prices fall on platforms better suited for smaller businesses, but not every expensive software product is best suited for enterprise-level businesses.
Beware a lack of transparent pricing. My rule of thumb is if a software vendor isn't willing to openly display its pricing, then the product is probably very expensive. Keep that in mind during your search.