The email marketing software world is not immune to fake news.
Every month email marketing tools release blog posts and press releases telling you they can do absolutely everything, that they are the best, that their new features are awesome, and that the competition just doesn't cut it. So, who can you believe?
At The Blueprint, we have put together our completely independent list of the top 10 best email marketing platforms out there at the moment. If you don't agree, we welcome feedback and healthy debate.
We also update this list regularly, so if we see new features that really do make a difference, or if a new kid on the block threatens to upset the apple cart, we'll make sure this list reflects that.
Here the top picks for the best email marketing software options:
Our top 10 picks for the best email marketing software
We've put together a list of our top picks for the best email marketing software out there at the moment, with reasons for each choice to help you understand which is the best solution for your business.
1. Zoho Campaigns
While Zoho Campaigns is not a new kid on the block, it wasn't that highly regarded before its redesign in 2018, which made it easier and more intuitive to use. Zoho Campaigns' ease of use makes it a good choice for inexperienced email marketers.
It's definitely built to be email marketing tool for small businesses, although its raft of advanced features also makes it suitable for larger organizations and experienced marketers.
Zoho Campaigns has a great feature set across the board, with no weak areas. Its email editor is easy to use, its standout feature being its dynamic content functionality.
This means that you can display different content based on conditions such as being on a certain list or segment or based on custom contact fields.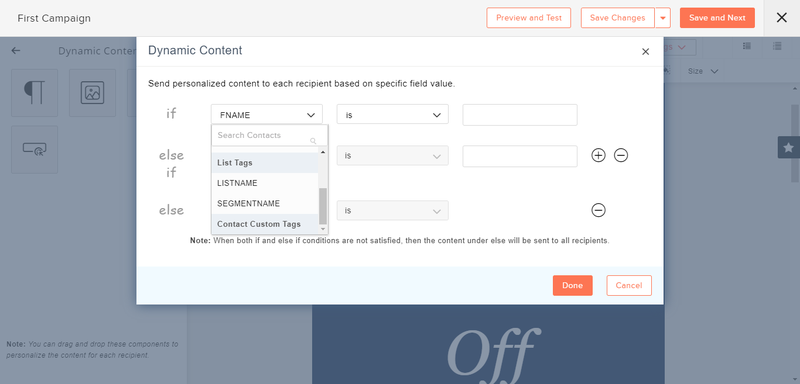 This email newsletter service also has strong contact management functionality similar to that of a customer relationship management (CRM) system. When adding a contact, you can use as many custom fields as you like based on the information that is important to you. You can also choose the contact source, such as social media or website visit.
In terms of advanced features, Zoho Campaigns gives you a customizable overview of the history of all interactions with your brand. This includes:
List membership
Campaigns or autoresponders they have been sent
Updates to their contact details
Social media activity
In terms of pricing, Zoho Campaigns offers a free plan, which allows you to send up to 12,000 emails/month to up to 2,000 subscribers.
It also has three paid pricing plans. The Subscriber pricing plan, its least expensive option, starts at a very reasonable $5 for unlimited emails for up to 500 subscribers.
2. Mailchimp
Who hasn't heard of Mailchimp? There's a good reason, beyond clever marketing, why Mailchimp is an industry leader.
This email marketing software has a huge number of features, but its in-app tips and messaging help walk you through each one, while providing advice on how you can improve your email campaigns.
Mailchimp has especially strong analytics and reporting features. With Mailchimp's reports, you can get insight into the return on investment of your campaigns and track metrics that correspond to the revenue generated by each campaign. This includes number of orders, average order revenue, and total revenue.
Mailchimp helps you easily set up drip campaigns by providing templates that correspond with different kinds of campaigns. With Mailchimp drip campaigns, you'll be able to customize your welcome or cart abandonment campaigns.
This means you can send the right content to the right people at the right time, helping you more easily achieve your marketing KPIs.
Mailchimp's dynamic segmentation capabilities allow you to personalize messages and send more relevant content.
For example, you can create very specific segments that target customers who live in Maine, are over 25, and have bought one skiing product before.
Mailchimp has a free pricing plan that lets you send up to a total of 10,000 emails/month and manage up to 2,000 contacts.
It also has three pricing plans, with the least expensive plan, Essentials, starting at $9.99 for up to 500 contacts.
3. Benchmark Email
Benchmark is an extremely easy to use and intuitive email marketing platform.
This platform breaks each task down into manageable steps so you can quickly and easily get up to speed with all its features. It also provides in-app help in the form of digital marketing tips and one-line explanations of features.
In terms of features, Benchmark Email's drag-and-drop email editor shows you how you can best create a campaign by displaying one step per page. It also displays a checklist of steps you have to complete before sending a campaign.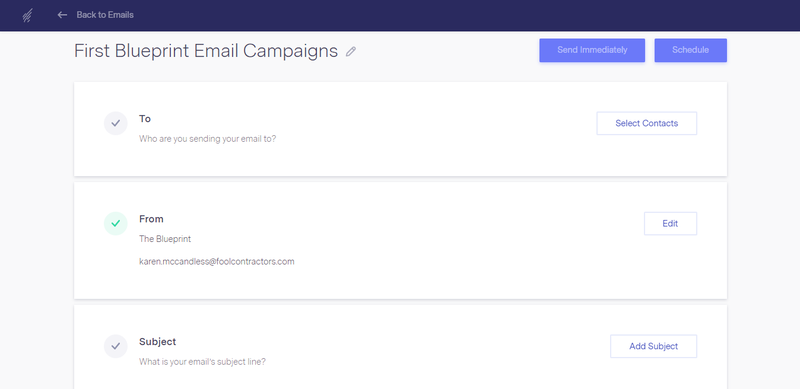 Benchmark Email has tons of email templates to help you quickly create a campaign. You can easily add, edit, move, and delete content blocks, including images, videos, buttons, navigation bars, and email permission reminders.
To make sure your emails end up in a recipient's inbox and not their spam folder, you can send test emails, check how the email displays by email client, and run a spam check, which picks up issues such as broken links, design issues, and typos.
Benchmark Email has a free plan, which allows you to send up to 14,000 emails/month to up to 2,000 subscribers.
It has one paid pricing plan, with the cost varying according to the number of subscribers. The price for this plan starts at $18.69/month for up to 1,000 contacts.
4. SendPulse
SendPulse can help you manage all your marketing channels in one place. It provides a tailored setup process, asking you what you're using the service for, if you have sent email newsletters, and the size of your mailing list so it can display the appropriate actions on the dashboard.
SendPulse's drag-and-drop email editor allows you to build templates not just for different campaigns and purposes, but for specific content blocks. Its form builder lets you specify the different type and position of form you want to build so you get maximum signups to your email list without interrupting the user experience on your site.
SendPulse also provides form templates so you don't have to create your own from scratch. Each allows you to change the layout from vertical to horizontal, edit the notification text users receive when they sign up, and track the success of the form in generating signups.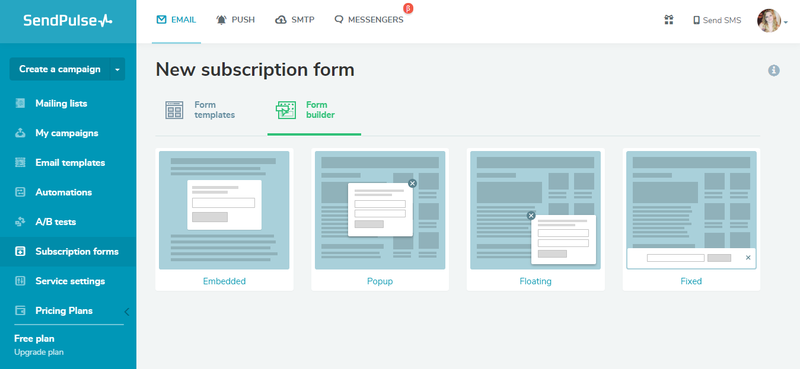 SendPulse's dynamic segmentation functionality automates the process of managing your segments. Instead of creating a segment and then having to manually add and remove people, SendPulse updates segments automatically as customers start and stop meeting criteria.
For example, if you create a winback campaign to re-engage customers who haven't interacted with your brand for three months, SendPulse automatically adds people as they start meeting that criteria and removes them when they engage with your company again.
SendPulse offers a free plan, which lets you send up to 15,000 emails to up to 500 subscribers per month.
SendPulse has two paid pricing plans: a monthly subscription and a pay-as-you-go option.
The monthly email marketing subscription starts at $6.40 per month for up to 500 subscribers. The pay-as-you-go plan starts at $32 for up to 10,000 emails.
5. Mailerlite
Appearances can be deceiving. Once you get past the slightly outdated and old-fashioned interface, and the abundance of green, you get access to one of the best email marketing services around at the moment.
Mailerlite comes with an easy-to-use drag-and-drop email editor that allows you to quickly edit and design your message by adding a wide range of content blocks, such as buttons, net promoter score, videos, countdowns, and social media posts.
Its advanced segmentation options help you manage your email lists more easily by sending campaigns to certain groups of users, such as people who have signed up via a particular source, or based on the last time someone opened your emails. You can add multiple conditions to create segments.
These conditions include:
Sign-up date
Sign-up source
Campaign
Time inactive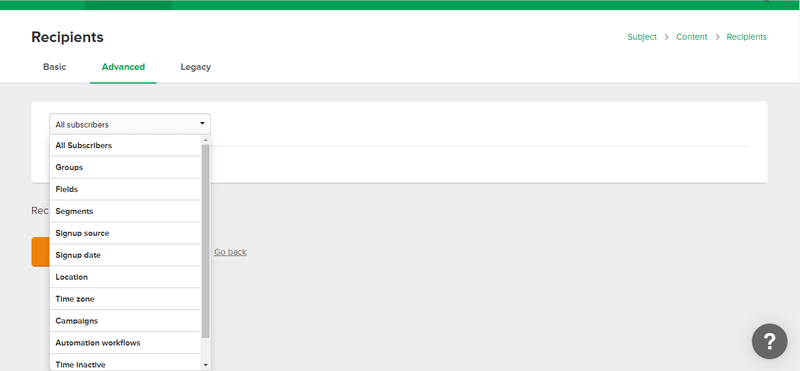 MailerLite's free plan lets you send up to 12,000 emails to up to 1,000 subscribers per month.
Mailerlite only has one paid pricing plan that includes unlimited emails and all features. The only difference in price comes from the number of subscribers. The pricing starts at $10/month for up to 1,000 subscribers.
6. HubSpot Marketing Hub
HubSpot Marketing Hub is a beast of an email marketing service. It has a huge number of powerful features, but the drawback with this solution is that the price is prohibitive for businesses with a limited budget.
HubSpot Marketing Hub comes with loads of templates and has a great drag-and-drop email editor that has excellent personalization functionality.
You can personalize each email with personal contact details, such as name and location, company details, such as company name and industry, as well as the lifecycle stage or membership in different lists.
You can use HubSpot Marketing Hub to create very advanced drip campaigns. These drip campaigns can be activated by a variety of conditions, and you can add as many conditions as you like, such as:
A customer fills out a sign-up form
A customer's last date of interaction with your brand
Product page views
Interactions with emails and ads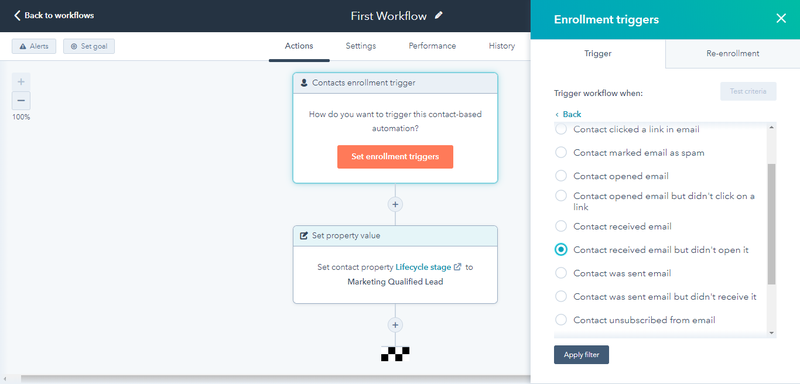 HubSpot Marketing Hub doesn't offer an individual email marketing plan, but you can get access to email marketing capabilities by signing up to the free HubSpot CRM plan. With this plan, you can only send up to 2,000 emails/month, which will be too limited for many businesses.
HubSpot Marketing Hub also offers a 14-day free trial and three paid pricing plans, which may seem expensive in comparison to other email marketing software. The least expensive plan starts at $50/month for up to 1,000 contacts.
7. GetResponse
GetResponse is a powerful tool that combines email marketing with ecommerce functionality, but its ease of use and customizable user interface makes it suitable for both experienced and inexperienced email marketers.
GetResponse takes a unique approach to creating email and direct marketing campaigns.
Instead of the usual horizontal or vertical navigation that lets you choose your own next steps, GetResponse organizes its user interface into funnels.
You choose a funnel to suit your goal, such as building a list, selling a product, or promoting a webinar, and then GetResponse organizes the tasks you have to complete to achieve this goal and create a funnel.
You also have access to a main dashboard to track the success of your campaigns.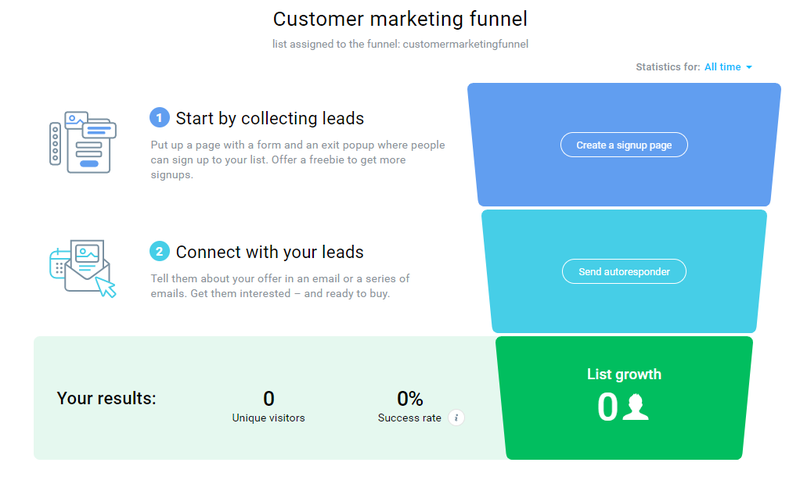 GetResponse has advanced A/B testing functionality, which allows you to test the subject line, the from field, content, and delivery time. You can use GetResponse's advanced segmentation functionality to create highly personalized emails.
Segmentation options include:
Location
Customer engagement
Date of subscription
A customer's last action, such as making a purchase
GetResponse offers a 30-day free trial, but no free plan. They offer three main pricing plans, with the Basic and least expensive plan starting at $15/month for up to 1,000 contacts.
8. Mailigen
Mailigen is solid, if not spectacular, email marketing software. It doesn't have the features to match Zoho Campaigns or Mailchimp, but as it is constantly adding new functionality, it is catching up quickly.
Mailigen's standout feature is its autoresponders. What makes Mailigen's autoresponders stand out is that it provides email templates for each step, so you don't have to build an email newsletter from scratch.
You can do everything in one place rather than having to create each message in the series in a separate place. It also provides analytics for each individual email, rather than for the overall series.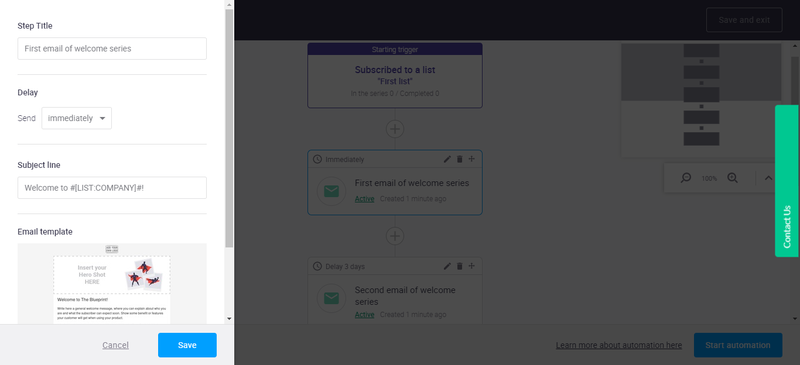 Mailigen's contact management functionality includes dynamic market segmentation, which means that it adds and removes customers from your segments automatically as they start and stop meeting the conditions you have set.
This saves you the time of manually updating your segments and means your segments will always be current.
Mailigen offers a 30-day free trial, but no free plan. All paid pricing plans have the exact same features, with the price differing according to the number of subscribers. The price for this plan starts at $10/month for 500 subscribers.
9. Campaign Monitor
Campaign Monitor's user interface looks very dated, especially when you compare it to the sleek navigation of Mailchimp, but it's still a solid solution with tons of useful features.
Campaign monitor's drag-and-drop email editor lets you quickly edit either one of the many built-in templates or to start an email from scratch by adding new content blocks, such as videos and images.
Campaign Monitor's standout feature is its autoresponders, otherwise known as drip campaigns.
It builds autoresponders for you by guiding you through a series of questions on the industry you work in, your goals, such as increasing engagement, taking action, or driving conversions, and which customers you want to target: new, engaged, or lapsed.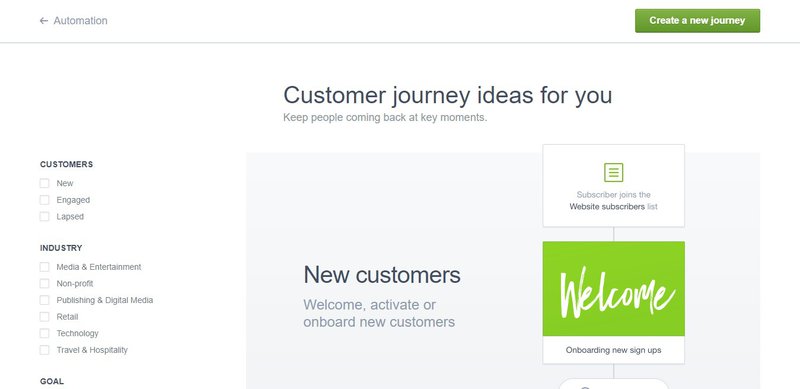 Campaign Monitor also helps you optimize the opens and clicks you get from your transactional emails. It does this by enabling you to design, test, and measure them in the same way as you do with your newsletter, sale, or product-related emails.
Campaign Monitor doesn't officially offer a free plan, but it does provide a free trial that doesn't expire, so you can use it for as long as you like. This free trial doesn't allow you to send an email campaign to more than five people or send autoresponders (journeys) or transactional emails.
Campaign Monitor provides a monthly subscription plan and a pay-as-you-go plan. Its least expensive monthly plan starts at $9/month for up to 500 contacts. The pay-as-you-go plan costs $0.01/recipient.
10. Sendinblue
Sendinblue is a straightforward, easy-to-use email marketing software package. But it also includes a ton of advanced features, which makes it a good choice for all email marketers and business sizes.
Sendinblue's email editor lets you hone in on the design aspects of your message, ensuring you can stick closely to your brand identity. Some of these specific design options include the ability to:
Change the color of a link
Add captions to images
Change image alignment
Edit borders, background colors, and fonts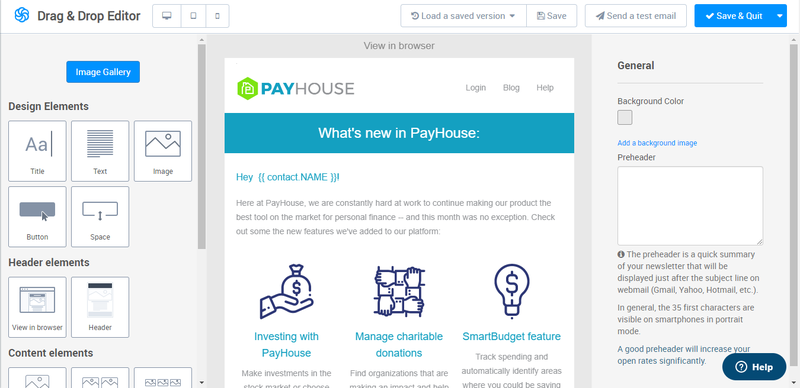 You can use the email editor to create dynamic content that displays different content to different users depending on predefined conditions. This could include demographic information such as age or location or past purchase behavior.
Sendinblue also lets you schedule your email sending time for a set time or it can automatically send the message at the optimal date and time for each individual recipient, as opposed to groups of recipients.
Sendinblue's analytics functionality allows you to see the performance of your campaigns, including sends, bounces, opens, and clicks, in real time. You can also get more granular reports that help you identify issues with email metrics, such as if there is a problem with how the email is displaying, or if poor deliverability is limited to a certain geographical location.
With Sendinblue's free plan, you can send up to 300 emails/day to an unlimited number of subscribers, which is excellent value for a free plan.
The email service also offers three main paid pricing plans, plus a custom plan for enterprises. The Lite plan, its least expensive, starts at $25/month and allows you to send up to 40,000 emails to an unlimited number of contacts.
Sendinblue also has a pay-as-you-go pricing plan, which costs $40 for 5,000 emails, the minimum number of emails you can purchase on this plan.
Who uses email marketing software?
As the name suggests, email marketing is a key function of the marketing department. Depending on a company's size, this software may be primarily used by email marketing specialists. It may also be used by account managers, content creators and managers, and business development executives to build and manage customer relationships, generate leads, and improve conversions.
Why use email marketing software?
In 2018, there were around 124.5 billion business emails sent and received each day, and about 111.1 billion consumer emails sent and received each day. While many people have email fatigue, it's still a very effective marketing channel — for every $1 you spend on email marketing, you can expect an average return of $32 (PDF) — so it's one you cannot afford to neglect.
If you want to cut through the noise and take a prime position in your customers' inboxes, you need to deliver the content your customers want at the right time. Sending out effective, tailored, personalized campaigns manually is almost impossible. Email marketing automates many manual processes to save you time that you can then dedicate to more creative marketing tasks, such as getting to know your customers better and designing perfectly crafted campaigns.
Here are the main benefits of using email marketing software for your business.
Personalize campaigns
According to SocialMediaToday.com, personalized emails deliver six times higher transactional rates than non-personalized messages. With email marketing software, you can collect customer data that will enable you to build specific customer profiles you can use to personalize your email campaigns.
The information you can collect includes:
Demographic data such as age, gender, and location
Interests and preferences, such as affinities with brands, or type of content they like to receive
Past interactions with your company, including source channel and purchase history
Once you've built up these profiles, you can send customers more relevant content based on their interests and stage in the funnel.
For example, if you are collecting data on product and category page views, you might spot the fact that a group of customers normally buy one brand of sneakers. You can then create campaigns within your email marketing software for fans of this brand tailored to different funnel stages.
One email could offer a discount off their next purchase, and one could provide videos that explain the brand's background and ethos.
Send more targeted and relevant content
In the past, many marketers sent the same email to every single email address they had on their lists.
This was known as "batch and blast," and it should be a thing of the past. Email marketing software helps you elevate your messaging by segmenting your customers based on behavior and their stage in the buying lifecycle.
Using email marketing software, you can automatically send different emails to each segment, instead of to your whole email list. For example, you can create a winback campaign segment with customers who have previously purchased your product or service but haven't interacted with your brand in the past six months.
You can then create emails to send to these customers with the specific goal of reengaging them using incentives such as free shipping or a discount code.
Some email marketing software includes dynamic segmentation capabilities, which automatically move customers in and out of segments based on their behavior. For example, if a customer in your winback segment makes a purchase, they would be automatically removed from the winback segment.
Get deeper insight
Picture this scenario: You're spending hours creating visually stunning emails, segmenting your audience, personalizing your emails, and sending them to a specific segment you know is interested in this type of content. But your CFO is unhappy because you aren't generating revenue from these campaigns.
You don't know why because you aren't tracking their performance.
With email marketing software's marketing analytics and reporting functionality, you can track the marketing metrics that are important to your business — these could be as simple as clicks and opens, or more advanced metrics such as revenue generated and time of day the email was opened.
This allows you to get better insight into the true performance of your campaigns, rather than just vanity metrics.
From there, you can make important adjustments that will boost your ROI. For example, when you look at your campaign, you find out that most of you your U.K.-based customers aren't opening your emails. With email marketing software, you can optimize the scheduled send time according to your customers' time zones.
Build better customer relationships
Not all of the people reading your emails will be in purchase mode all the time. This is especially true if you're selling a high-value product. That's why it's important to send your customers a range of different content according to their stage in the buying lifecycle — this also makes you useful and interesting as a brand.
With email marketing software, you can track customer behavior to understand what kind of content resonates with them and what they are looking for at the moment. By sending your customers relevant content that's not all about your brand but is helpful, interesting, and tailored according to their past behavior, you will be top of mind whenever they decide they are ready to make a purchase. This also helps you encourage the all-important second purchase as well as secure long-term customer loyalty.
What are different types of email marketing software?
Depending on your budget and your marketing goals, you can either choose a stand-alone email marketing solution, or either marketing automation software or a customer relationship management (CRM) system that includes email marketing functionality.
Marketing automation software functionality
Marketing automation software includes all the key features you need to create email campaigns, but it also enables you to carry out all of your marketing activities on the same platform.
Some of the extra features you can expect to see from marketing automation software include:
Lead nurturing, scoring, and management
Social media marketing
Landing page builder (although this also comes as part of more advanced standalone email marketing software)
CRM software
Some CRM solutions also allow you to create and manage email campaigns from within the same software. On the other hand, some email marketing solutions also include advanced contact management functionality that is more commonly found in CRM solutions, such as the ability to track customers' progress through the pipeline.
Key email marketing software functionality
Email design and creation
The best email software gives you the flexibility to design your campaigns the way you want, and without having to reinvent the wheel each time. Most email marketing software includes:
Built-in, responsive templates
Ability to save past emails as templates
Drag-and-drop email editor
HTML email builder
Image and style editing options, such as color, size, borders, and placement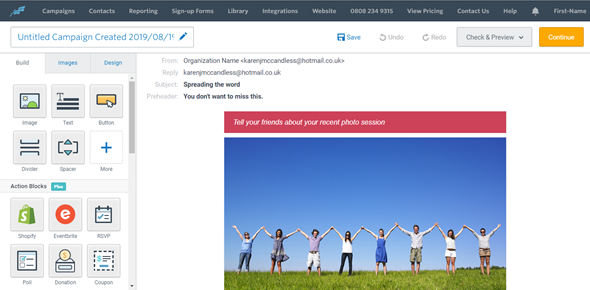 Reporting and analytics
Email marketing is part art, part science, and the best marketers understand the importance of their data. Email marketing software can collect, analyze, and present this data in a meaningful way to allow you to take action and improve your campaigns. This can be in the form of pie charts, bar graphs, heat maps, Google Analytics reports, and exportable and downloadable data.
While basic data such as opens and clicks will meet the needs of new marketers, or companies lacking in resources, experienced marketers can get access to more granular data, such as:
Open and click rate per device, email client, and demographic data such as location, age, and gender
Time spent reading the email
Number of email forwards
Number of sales and overall revenue per campaign
You can also compare the performances of your campaigns so you can identify issues or tactics that have worked well.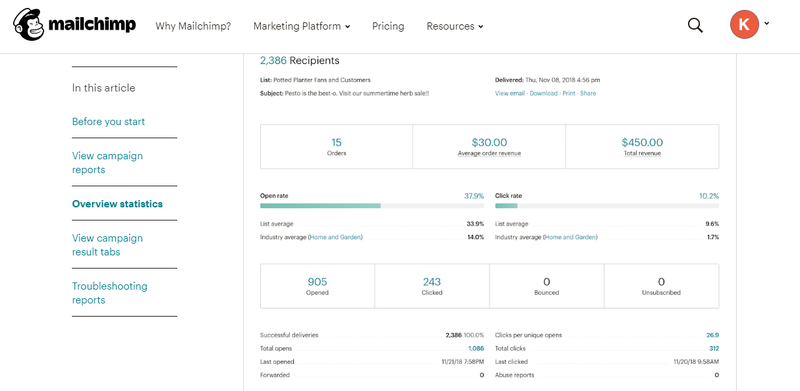 Contact management
Basic contact management features in email marketing software include the ability to add or remove contacts, upload existing lists, and search for contacts according to basic criteria such as location.
More advanced contact management functionality includes the ability to monitor the growth of and manage your email lists and segments over time as well as create segments by searching your list using more specific criteria, such as date of last email opened.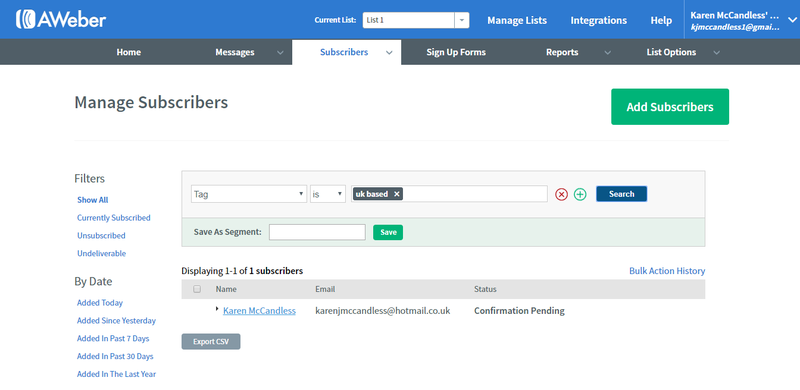 Automated workflows
Automated workflows — also known as autoresponders — save you the time and effort of having to manually follow up on emails and customer actions, such as when they sign up to a list. By using automated workflows, you can set up if/then paths your customers will automatically follow based on specific behavioral triggers.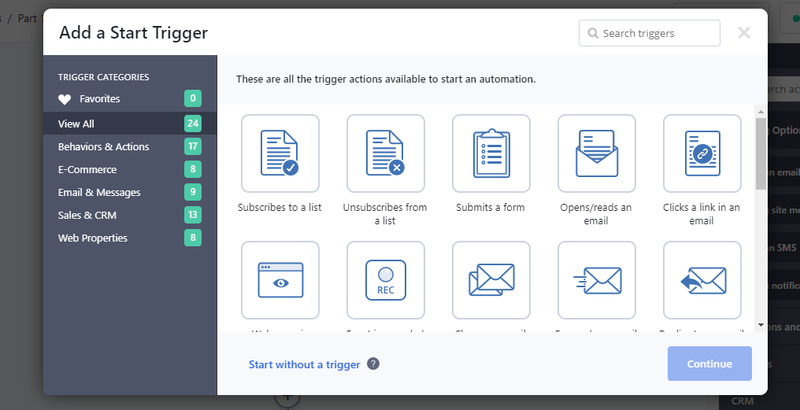 For example, if a customer signs up to your email marketing list, you can set up a path that automatically sends them a welcome email. If they open the welcome email, they automatically receive an email with best-sellers three days later. If they open the email with best-sellers but don't click on anything, you can then send them an email with a discount code.
This helps you ramp up the relevancy of all communication you send while providing the best experience for your customers.
A/B testing
If you want to get a better understanding of what works — and what doesn't work — in your email campaigns, then you need to test as many elements as you can to see what makes the difference. Some email marketing software lets you test different subject lines, while some only let you test the content of the email.
You can send multiple differing emails to different groups of people at the same time, testing elements such as images, copywriting, types of content (video, gifs, etc.), and styles (colors, fonts, placement of elements, etc.).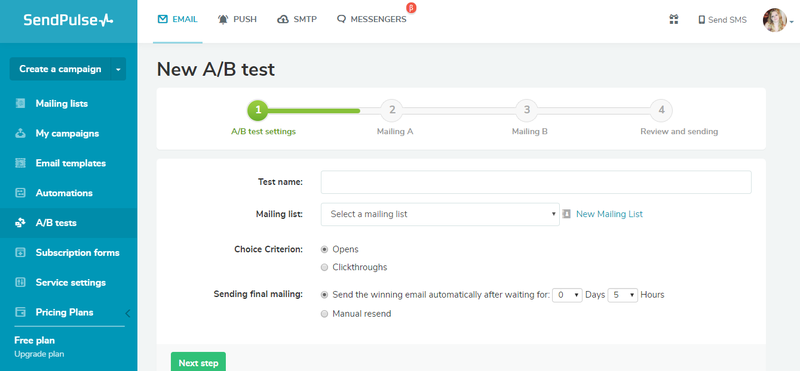 Segmentation
In the past, email marketers often adopted a one-size-fits-all approach to customers, sending the same content to all customers. If you want to succeed with today's customers, though, you need to segment them so they only receive relevant content.
Email marketing software allows you to create segments (essentially groups of customers with similar characteristics) based on certain conditions. These conditions include:
Demographic data, such as age, location, and gender
Interactions with your brand, such as likes on social media and email opens
Website data, such as category and page views
Past purchase behavior
Preference data given during signup or in a preference center
The more granular you get with the data you collect, the better your customer segments will be. Email marketing software that offers advanced segmentation lets you combine several of the conditions to further narrow your focus and produce more effective campaigns.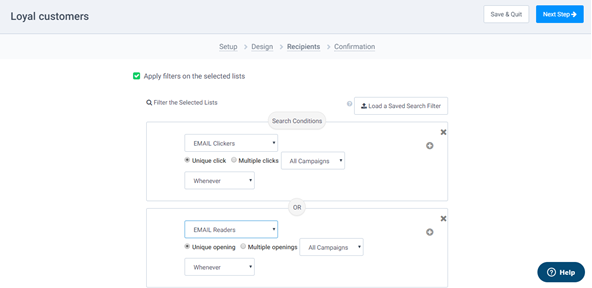 What to consider when buying email marketing software
Time and resources
It's important to think about how much time you want to dedicate to your email marketing campaigns. Some email marketing software has a lot of advanced features that are useful for companies that place a high importance on email marketing and have the resources to create highly targeted campaigns that deliver results.
If you only want to spend a couple of hours a month creating email campaigns, then a simpler, more straightforward solution without all the bells and whistles is much more suitable for your business. And if you are new to email marketing — or email marketing software — then you need a product that is intuitive and easy to use so you can get up and running quickly and get results, even if you can't spend a lot of time creating campaigns.
Pricing structures: Number of contacts and emails you send per month
Pricing for most email marketing software varies according to how many contacts you have, so be sure to check how cost-effective each pricing plan would be for your business's situation.
Some plans allow you to send unlimited emails a month, while some cap the number of emails (this is especially common in free plans). Some email marketing products offer the same features no matter which pricing plan you choose — the only difference comes in the number of contacts you have — while others include more features in higher-tier pricing plans.
Free trials vs. free plans
Some email marketing products offer a free trial for a limited period (normally 30 days), and some solutions provide free plans with a limited feature set. While free plans are great for businesses on a limited budget, make sure the software you choose ticks all the boxes for your must-have features, otherwise you'll need to invest in a paid plan.
Marketing automation or email marketing
If you want to create successful email marketing campaigns, you need to make sure you've integrated all of your different marketing functions, such as social media marketing and mobile marketing. For this reason, email marketing functionality is sometimes included in marketing automation software, while some software vendors offer stand-alone email marketing solutions.
Frequently Asked Questions
Can I use email marketing software for free?
Yes, almost all email marketing software allows you to use it for free, at least for a limited period. Some solutions provide a free trial of all (or most) features for around 30 days, while others provide limited features and support options in a free plan.
What is the best email marketing software?
Like with many things, the answer is, it depends. There's no one "best" email marketing solution; there is only the best solution for your business. Before choosing an email marketing solution, consider:
What challenges you want to overcome, or problems you want to solve
What additional features or services you want to offer customers
The amount of time you want to spend on email marketing each month
Your budget
Number of contacts
Number of emails you plan to send every month
Who will be using the solution and how much experience they have with this kind of software
Must-have and nice-to-have features
What benefits are there to using email marketing software?
As email marketing software automates many manual processes — including send time, email design, and personalization — it saves you time and allows you to concentrate on more high-value tasks, such as deciding what kind of campaigns to run.
It also allows you to personalize and tailor content to ensure your campaigns send the kind of highly relevant messages that convert. It also tracks important metrics and allows you to get actionable insights from this data.
What are the different types of email marketing campaigns?
Here are some of the campaigns you can create using email marketing software:
Welcome
Regular newsletter
Cart and browse abandonment
Seasonal
Replenishment
Product recommendations
Promotional or price drop
Follow on social media
Competitions
Winback