Providing an exceptional customer experience is more than just addressing your customers' problems; it's also about offering memorable consumer interactions. Showing empathy is a great way to give your customers a pleasant experience when dealing with your brand.
According to Nextiva, empathy is one of the most essential customer service skills.
Empathizing with your customers shows you see things from their perspective and recognize their frustrations. Use empathy to connect better, to understand their concerns, and find the best solutions to their problems.
Learn how to use empathy to improve your customer service and boost your consumer satisfaction.
---
Overview: What is empathy?
Empathy allows you to understand the feelings of other people and experience their thoughts and feelings vicariously.
In customer service, empathy is about having human interactions with your consumers. Customer service representatives need to put themselves in their consumers' shoes to see problems from their point of view and find solutions.
However, empathy isn't just agreeing with your customers, but also validating their dissatisfaction with your products and services. Showing empathy lets you incorporate compassion into your message when dealing with your customers to reduce their anger and frustration.
---
What empathy looks like in customer service
Take inspiration from these examples of good customer service.
1. Ritz-Carlton's immediate response
One of Ritz-Carlton Sarasota's customers left the hotel in a rush, leaving behind his laptop charger.
Before the customer could call the hotel about it, he received a package containing his laptop charger, an extra new charger, and a note from Ritz-Carlton.
The package was sent through a next-day delivery service to ensure he got it right away. Because the customer was impressed by such customer service, which hotel do you think will he visit the next time he's in town? What do you think he will post in his social media accounts?
Can you see how much value exceptional customer support can bring to your business?
2. Trader Joe's helping those in need
During a snowstorm, the daughter of an 89-year-old retired engineer called several grocery stores to ask if they delivered. She was worried her father, who was stuck alone in his house, didn't have enough food. All the stores she called, though, said they wouldn't do it in such terrible weather.
Trader Joe's, which normally doesn't deliver, rose to the task. The store got the entire order to her father's house within 30 minutes, with food and delivery free of charge.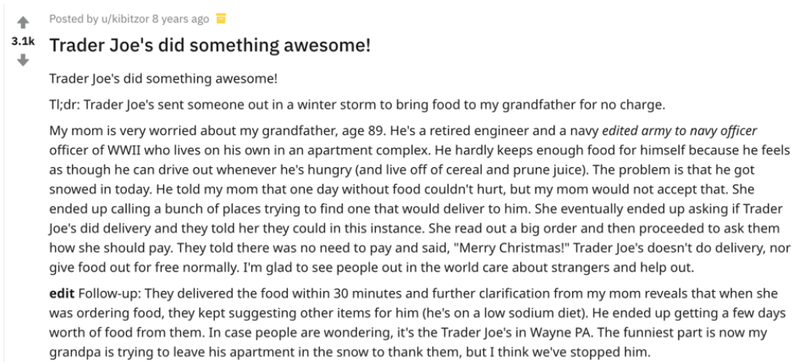 The granddaughter shared this story on social media. It went viral because it shows how Trader Joe's went above and beyond to respond to a customer's needs.
It also displays how going the extra mile for your buyers shows how much you care. This positively reflects on your brand and the quality of your customer service.
3. Virgin Atlantic Airlines doesn't believe in "bad customers"
A customer traveling first class on one of Virgin Atlantic Airlines' flights had a terrible meal on board. He sent a complaint letter directly to owner Richard Branson describing how awful the meal was.
Branson then invited the customer to help overhaul the airline's menu instead of brushing off the complaint or sending a generic apology. The passenger was even asked to join the board of Virgin Atlantic Airlines' culinary council.
By conveying customer empathy, the brand won over an upset passenger, addressed the complaint well, and even involved him in the solution.
"A complaint is a chance to turn a customer into a lifelong friend," says Richard Branson.
Complaints are also opportunities to respond to unhappy customers properly, helping you draw them closer to your brand.
---
How to successfully express empathy in customer service
Use these tips to convey empathy in your customer service and improve customer satisfaction.
1. Understand your customers' problem
Use empathetic phrases to clarify your customers' issues and concerns.
Verify by saying, "If I understand correctly." This helps ensure you comprehend your customers' problem correctly and that you're on the same page.
Demonstrate that you're involved in the process by including "I" in your empathy statement. It also shows your willingness to identify your customers' problems.
To handle customer concerns efficiently, use customer service software. Some customer service apps allow customers to input their concerns via text before speaking with a live agent. This can helps your customer service reps get a better understanding of their caller's issues even before they talk, giving them time to prepare.
2. Sincerely apologize for your customers' negative experience
Express empathy by apologizing for any inconvenience or frustrations the customer experienced with your products or services.
Use empathetic statements such as, "I'm sorry you've had to deal with this," while using proper tone and intonation.
Avoid stating generic apologies and acknowledge your customers' poor experience. Convey empathy to show you're taking an active approach to their problems.
3. Validate your customers' feelings
Affirm your customers' feelings by acknowledging they are right and there is a problem. Validate their point of view to show you're on their side. Doing so makes them feel understood, and it lets them know you're listening and are there to help resolve their issue.
Use empathetic sentences correctly by saying, "You are right," carefully and in the proper context. This helps you avoid misleading your callers, which can result in a poor customer service experience.
4. Ask questions
Stating facts is vital to resolving customer issues, but it can also sound robotic and monotonous. Invite customers into the conversation by asking them relevant questions. Use empathy skills to ask your customers engaging questions to make them feel valued and like part of the process.
Find a balance between guiding your customers to the solution and respecting their opinions. This will help you provide an excellent customer service experience.
Be assertive, but don't aggressively steer the conversation. Keep your customer from being indecisive by taking the lead in your conversation.
Empathize and ensure customers agree with your resolution by asking questions such as:
Is there anything I can help you with today?
How can I make your experience with us better?
How do you feel about [your proposed resolution]?
Are our products and services meeting your needs?
5. Offer and suggest
It's impossible to give customers what they want every single time. However, it is possible to make them feel heard and important by empathizing with them and offering alternative solutions to their problems.
The tweet below is a classic example.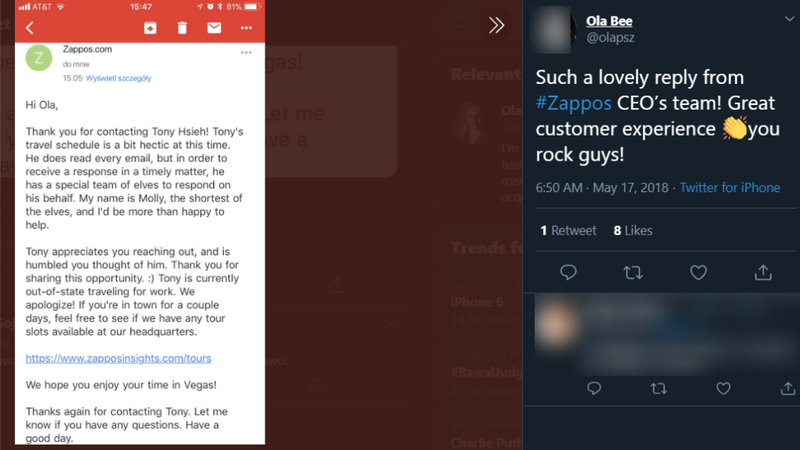 The post shows Zappos' response to one of their customers. The brand didn't provide the customer's desired solution, but it offered an alternative.
Zappos' rep conveyed empathy by telling the customer they appreciate her for reaching out, which also helped with giving the customer a positive experience.
Use an empathetic tone when suggesting alternate solutions using these lines.
Would you like to try our [your suggested solution]?
I recommend that you…
We apologize we can't offer that this time, but how about considering [your alternate resolution]?
---
Enhance your customer service with empathy
Nurture your customer service empathy skills to better understand consumer concerns and deliver exemplary interactions.
Follow the empathy tips in this guide to make your customers feel heard, acknowledge their feelings, and provide terrific customer service experiences.