You've got your hands full running a business and managing employees. Why lose valuable time cobbling together an employee schedule through text messages, phone calls, a clunky spreadsheet, or worse, jotting notes on scraps of paper?
I've managed teams small and large. It's challenging staying on top of employee work schedules. A team member needs next Friday off. Someone else is switching shifts with a coworker. You're struggling to fill gaps in your schedule.
Scheduling software saves the day. It serves as a linchpin to workforce management, eliminating the daily challenges of employee scheduling while delivering ways to improve work performance.
The key is to choose a scheduling solution with the right features to simplify your life. Time clock software that automates scheduling tasks goes a long way toward achieving that goal.
Here are our top picks for the best employee scheduling software options:
---
What to consider when choosing employee scheduling software
Selecting an employee schedule maker with automation features is only one consideration. Keep these factors in mind when determining the right software for your business.
1. Understand your needs
Every business has unique demands. Scheduling for a large team is inherently more complex than a business with a few employees.
To find the software solution that best fits your needs, begin by identifying the challenges you're trying to solve. Prioritize the importance of each since you may not find scheduling software that perfectly solves all your needs at a price that fits your budget. Prioritization allows you to rank scheduling software based on how well it matches your top requirements.
Then match the software's features against your prioritized list to find the one that best aligns with your priorities and budget.
2. Factor ease of use
You may find a scheduling app that addresses every need, but if you need to spend hours working in the system every week, you're losing valuable time. This makes ease of use a critical factor in choosing a scheduling system for your company.
The software should help add time back into your day, not be a time suck. Good scheduling software makes it simple and fast to create and manage your team schedules.
3. Consider communication capabilities
Building a schedule requires lots of communication. Who's available for each shift? Who has restrictions on their time, such as part-time workers? Who's on vacation?
It doesn't end there. Once scheduling is complete, you must share the new schedule with staff. The same applies to scheduling changes, plus other updates such as holiday closures or revised business hours.
Simply ensuring your team is in sync and up to date can become a drag on your time. Look for scheduling software that incorporates communication capabilities to remove these challenges.
---
5 best employee scheduling software solutions for small businesses
Using scheduling software to streamline this important aspect of running your business is about creating time for other responsibilities. These software options are the best scheduling tools for your small business.
---
1. Homebase
Homebase is a comprehensive, top-rated scheduling tool for small businesses. It executes employee scheduling along with many other features, including hiring and human resources (HR) compliance.
Creating a schedule with this tool takes minutes. Start with a Homebase scheduling template, or let the system automatically build the schedule for you. The platform is flexible enough to support many schedule types. Does your team work a rotating, time-based, compressed, or reduced work schedule? How about flexible work arrangements? Homebase covers all of these situations.
You can easily track employee hours, availability, time-off requests, and approvals. You can even forecast labor costs and sales, allowing you better management of overtime. The system alerts you to scheduling conflicts and automatically factors in breaks, so you can ensure staff coverage for your customers at all times.
Homebase's mobile app gives your employees the ability to check their schedules at any time. You can communicate any changes through Homebase as they happen to ensure your team knows of the latest changes.

The app automatically sends alerts to let staff know when their shift is about to start, reducing errors and no-shows.
Homebase offers its core scheduling features for free. Pricing for additional features is based on business location, not the number of people using the system, which is commonly how software is priced. This approach means your Homebase cost is consistent and predictable, even as your business grows.
Read The Blueprint's full Homebase review
---
2. When I Work
Scheduling in When I Work is a breeze. You see each employee and their role in your organization within one interface. Capture each employee's availability and preferences in the system to ensure your schedule avoids conflicts and gaps.
Use When I Work's scheduling template to get a jump start, then drag and drop staff to finish your schedule. Alternatively, let When I Work build your schedule automatically. The software assigns staff to open shifts, considering their preferences, availability, positions in the organization, and time-off requests.
Once you publish the schedule, staff receive notifications. As the need for changes crop up, employees can find shift replacements through the software and request manager approval for these changes.
You can quickly see a snapshot of your schedule online to view what's happening in real time. When I Work offers a mobile app, so you can conveniently manage the schedule at any time and from any location.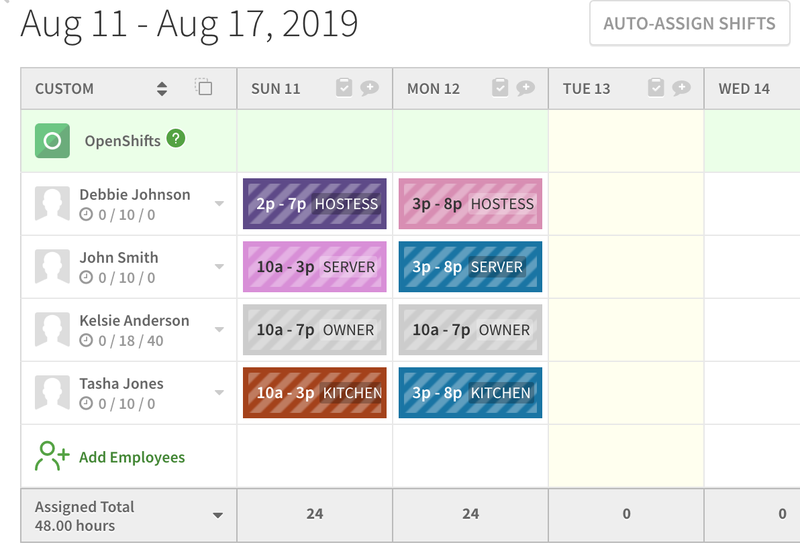 For staff who visit off-site locations, such as field technicians or caregivers attending to clients, When I Work lets you assign these locations to your team. Other features include labor reports, managing multiple schedules, and addressing time-off requests.
The basic capabilities come in a free scheduling app for a single team or location. For advanced features such as automated schedules, the price depends on the number of people using the software.
Read The Blueprint's full When I Work review
---
3. 7Shifts
7Shifts is designed for the restaurant industry. It uses artificial intelligence (AI) to build a schedule in one click.
The AI system accounts for factors such as sales forecasts and weather conditions, then optimizes based on staff availability, preferred hours, time off, labor regulations, and business seasonality. The 7Shifts AI evaluates far more considerations than any individual could manage.
The benefits don't end there. You also receive alerts of any overtime or labor compliance issues. Employees are notified when the latest schedule is published or when changes take place. They can also request time off or swap shifts through the software.
7Shifts serves as a centralized communication tool. It helps you avoid the cumbersome process of texting, emailing, or scheduling a group meeting to go over simple business updates such as special promotions.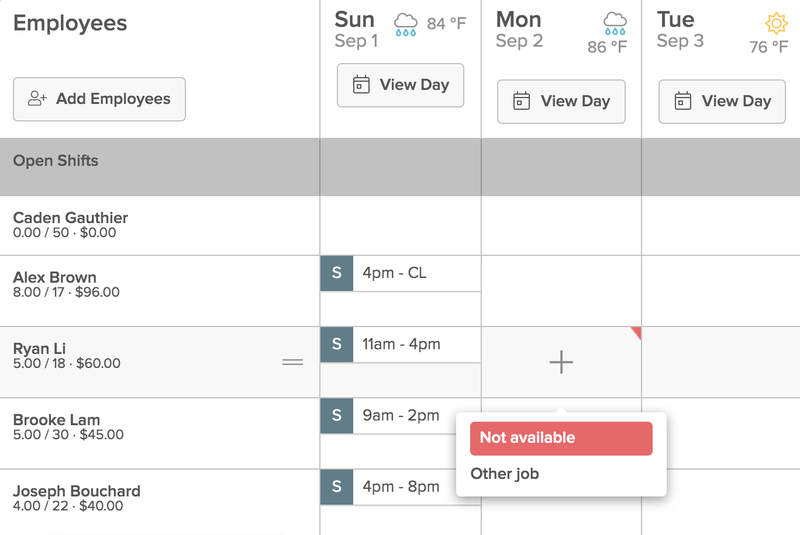 You can sync up with staff directly through the platform through individual or group messages, and notify the team about changes such as new menu items.
Beyond scheduling, 7Shifts offers task lists so employees know their assignments, a time clock to log time worked, and reporting tools such as an attendance report and labor cost reporting.
These advanced features are priced on the number and type of features and the number of locations and employees using the platform. A free tier offers the basics for up to 10 employees at a single location.
Read The Blueprint's full 7Shifts review
---
4. ClockShark
Scheduling difficulties increase when your team works at remote locations. ClockShark is built to tackle the unique challenges of remote teams, such as field service and construction companies.
Identify the jobs for your teams and align their schedules to the jobs, or create schedules around the employees. ClockShark's drag-and-drop schedule creator makes the task easy and intuitive. Set jobs as one-time or recurring events; the latter is ideal for long-term construction projects.
Since the team travels frequently, ClockShark incorporates navigation capabilities into its mobile app. Input the job address into ClockShark, and your team can easily view where the next job is located.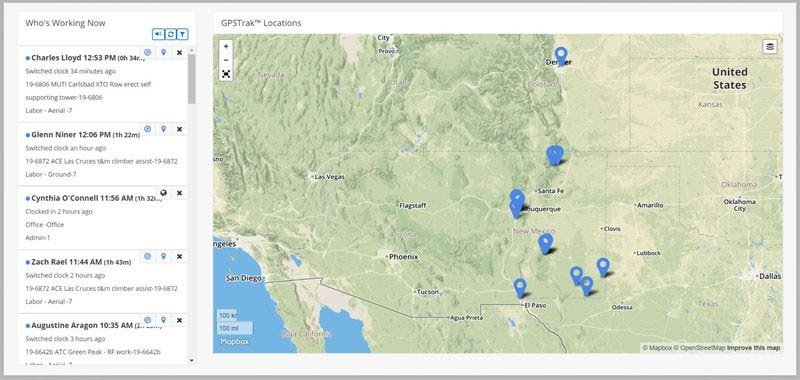 Once at the job site, ClockShark automatically reminds employees to clock in to track billable hours. Managers can also see employee locations and whether or not they've clocked into the job.
ClockShark integrates with different software, such as accounting and payroll systems, to streamline the process from scheduling to payment. Timesheets go through an approval process, and an audit log allows you to confirm the accuracy of your team's hours worked.
Pricing is based on a per user fee plus a monthly base price to access the ClockShark platform. Scheduling does not come with its basic plan, so companies should choose its mid-tier standard plan to access the scheduling capabilities.
Read The Blueprint's full ClockShark review
---
5. Jibble
Jibble offers scheduling and time clock software suitable for many industries. You can access a fair degree of customization to meet your business needs.
Jibble lets you create a schedule based on flexible days or fixed times. Set rules for overtime and breaks with each schedule, and the system automatically performs the calculations, such as deducting lunch time from hours worked.
If your business involves field work, Jibble's mobile app tracks location and enables clocking in through a facial recognition feature to ensure the employee is on site. Jibble provides options to generate billing based on hours worked or by client.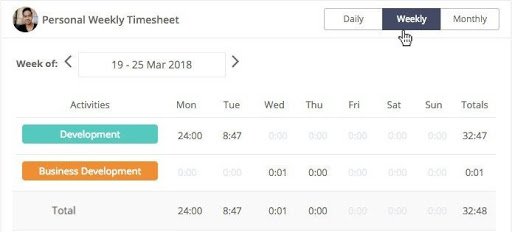 Track staff activities to know what the team is working on and how they're spending their time. This delivers more accurate client billings. Jibble's reporting tools allow you to view each employee's productivity, attendance, and efficiency.
Basic features are free to an unlimited number of users. Other pricing tiers charge a fee based on the number of users and features.
Read The Blueprint's full Jibble review
---
A last word about employee scheduling software
Every employee scheduling system possesses strengths and drawbacks. By matching your needs to the capabilities of each package on your consideration list, you can find the right option for your business.
With a scheduling solution tailored to your business needs, you can resolve scheduling challenges, improve employee management, boost team morale, and unlock more time to focus on the things that will make your business thrive.