Unlike many small business owners, Cullen Gilchrist tasted success fairly early. In 2012, Gilchrist, his sister, and some friends opened the Blind Dog Café as a pop-up within Darnell's, a bar in Washington, D.C. Both the café and its tasty chocolate chip cookies quickly became neighborhood favorites.
The cookies grew so popular that Gilchrist needed to find production space to meet demand.
"We were doing well as the pop-up, but a pop-up is not a permanent thing," he says. "So we were trying to figure out the next step. The biggest thing was that my sister was making these chocolate chip cookies, and we wanted to grow that business. But we couldn't figure out what the steps were to do that."
As Gilchrist asked more questions about growth, he learned that he wasn't alone.
"Lots of other people are challenged by the same thing, and they don't know what to do," Gilchrist says.
That gave him an idea. He would support consumer packaged goods (CPG) startups in Washington, D.C., by bringing together a food business accelerator with access to a commercial kitchen for manufacturing, plus distribution to handle sales logistics and for retail stores to connect local products with consumers.
"A lot of our program is about managing the need for people to make investments into their business," Gilchrist says.
The project has succeeded. Since 2012, Union Kitchen has worked with more than 650 food and beverage businesses, including more than 100 accelerator members. These businesses have collectively created more than $350 million in revenue, opened more than 50 storefronts and manufacturing facilities, and created in excess of 1,000 jobs. More than 50% of the companies supported are woman- or minority-owned.
But the path to success has been paved with many challenges, from initial regulatory barriers to the worldwide COVID-19 pandemic that forced layoffs.
---
Regulatory and capital challenges
Like most local businesses, Union Kitchen needed capital as it started. Gilchrist was also required to get regulatory approval to operate the first-ever shared kitchen in D.C. He spent a lot of time asking questions and pushing for answers.
Fortunately, he could point to other cities, including Chicago and Boulder, that had successful food accelerator programs.
"The biggest thing was that we just said, 'Well, we're going to do it anyway,'" Gilchrist recalls. "'I hope you can figure out how to make this legal because we're going to do it. And it's going to be a mess if we have to shut down all of these businesses [in the accelerator].'"
Fortunately, he found people in local government who wanted to help expand businesses in the city. Still, there were many other lessons to learn as Gilchrist was starting up, and the challenges never seem to stop.
"One of the hardest things was that we didn't have a very clear model of what to do," he says.
But by asking plenty of questions and doing lots of research, Gilchrist has built his business over the past eight years.
---
Hard work and passion matter
After working through many challenges as a startup, Gilchrist has several lessons to share with his members. To start with, they need to understand the difficulty of making it in the food business, which requires capital. Gilchrist says that most of the entrepreneurs he works with usually secure seed funding from friends or family.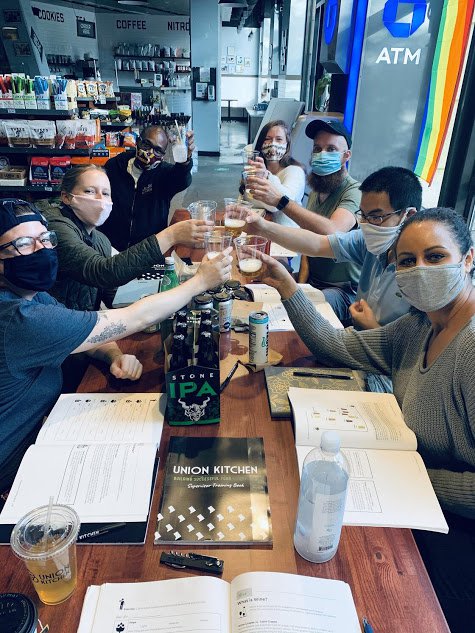 "If you don't have capital, you have to make up for it with other things like hard work or taking gambles," Gilchrest notes. "So I'm always trying to prepare people for how hard it's going to be. If you're willing to put up with the hard stuff, you can be successful."
During that conversation, he wants to figure out if applicants are tough enough, smart enough, and ambitious enough.
"When people are pitching us, they're always coming to pitch us a product," Gilchrist says. "We don't care. We want to learn about them. We want to hear them talk and discover what they're passionate about. We will get to the right product with them, eventually."
For instance, one applicant wanted to start a nightclub. After a long talk, Gilchrist discovered that the guy just wanted to make pizza.
"He was kind of passionate about hospitality and about making pizza," Gilchrist says. "And so he thought the way to do that was through restaurants and clubs."
---
Four phases of growth
Once brands make it inside Union Kitchen, they're on the path to multi-phase growth.
Gilchrist defines CPG growth in four phases:
Launch: Establishing the building blocks on which successful food businesses are built.
Product market fit: Determining how to deliver a product that customers want.
Growth: Expanding a product line nationally that has achieved regional market fit.
Scale: Achieving national market penetration by outselling the category leader across multiple channels.
"You have to get to market, which is the first phase," he says. "With phase two product market fit, we get to see if people really want the product and will buy it again and again."
Gilchrist avoids raising capital until a product has achieved regional product market fit.
"In our application, that is testing in our stores and with Whole Foods and smaller partners in the area," he says. "Then, if you achieve market fit, you're pouring gasoline on that growth in phase three."
Gilchrist says other industries follow the same four-phase process. Those sectors, specifically tech, are also where he turns for business inspiration.
"I look to the tech industry a lot in terms of advice and trying to learn from 20 years ago," Gilchrist says. "I think innovation in the food industry is nascent compared to the tech world."
While the food business may not be as innovative as other sectors, the tech industry has a democratizing effect on food startups. E-commerce allows CPG startups to sell outside the confines of traditional supply chains.
"What e-commerce does more than anything is it creates a direct link where people can buy things from a manufacturer," Gilchrist explains. "If someone likes keto, and they found out about this cool product, they don't have to go to Whole Foods to find it. They go on the manufacturer's website and they buy it."
Now that people avoid stores and spend more time at home during the pandemic, consumer interest in directly purchasing food has only increased.
"With people being at home, they have more time to experiment," Gilchrist says. "They may be curious about messing around with probiotic foods. So they order a bunch of it and have fun with it."
---
Rapid tech adoption
The pandemic may have made people more likely to buy CPG from home, but it has still been a challenge for local food businesses and Union Kitchen. It made Gilchrist speed up his plans to bring on new tech partners and pay his members faster to help them stay in business.
"We sped up three years [of tech adoption] into three months and started diving in on how we were going to keep these guys in business," he says.
Gilchrist found a company called Brex that offers corporate financial solutions to small businesses. He adopted QuickBooks and the Google suite of products. He also added Rippling as the payroll software for his accelerator brands and Shopify to handle their point-of-sale purchases.
"We think a lot about the tech stack of the small food business," Gilchrist says. "We're big fans of anything that's going to make people more efficient or sell more."
In the past, he might have continued alternating between SquareSpace and Shopify, or Microsoft and Google, but the pandemic forced him to decide about software products.
"In times like this, there is a real value to making decisions, hitting the road hard and going, and committing groups of people to them," Gilchrist says. "We're going to do things as fast as possible and see how it shakes out."
Between investing in tech, setting up a multi-phase growth template, and prioritizing hard work and passion, Gilchrist has launched Union Kitchen and its brands on a path to continued success. Even in the face of a cataclysmic event, such as COVID-19, this process has set the accelerator up for future growth.