High potential is subjective. Despite what some contributors over at Harvard Business Review would have you believe, there isn't a set list of people who are more talented than others.
People's talents lie in different areas. It's important to identify high-potential employees to ensure they're rewarded and recognized, so they remain satisfied at your company. The second purpose is to identify people who aren't performing well, so you can address the situation and ensure everyone is living up to their potential.
In this article, you will learn how to identify a high-potential employee and what characteristics they share.
---
Overview: What are high-potential employees?
High-potential employees, sometimes called HiPOs, will have different characteristics according to your business and its needs. Generally, they're people who exceed their goals and achieve more than their coworkers within their organization.
---
How to identify high-potential employees within the workplace
Identifying high-potential employees means you can reward them and help retain them at your company by managing their talent, rather than losing them to your competitors. On the flip side, identifying high-potential employees means you can work out who isn't doing that well, and you can help them improve their performance.
1. Recognize what high-potential means for your business
An employee might always make coffee for their coworkers, support them emotionally, and help them out with tasks without having to be asked, but if they can't stick to deadlines, they might not be a high-potential employee. It depends on what you need each employee to deliver and what attributes you need from each one to ensure company success.
Empathy and kindness might be the most important criteria for high-potential employees if you work in an industry that requires those qualities, such as healthcare. But if you're a newspaper that wants to be the first to break news, then you'll prioritize time management and the ability to meet deadlines.
2. Set clear and measurable goals in collaboration with your employees
It's difficult for any employee to be high potential if you don't outline what you expect of them and explain what you need them to prioritize. Set achievable goals that reflect your company's goals, make sure they're measurable, and discuss with your employees whether they're happy with the plan.
Make this part of a performance management program that regularly sets goals and evaluates corresponding performance, making adjustments where necessary.
HR software can help you implement such a plan. Zoho People allows you to give feedback to your peers, your direct reports, and your manager, or even their managers. There are five built-in feedback categories — positive, negative, training, observation, and rewards — but you can also customize these to fit your business type.
You can also tie in learning and development through Zoho People's learning management system, which can help you offer a high potential leadership program.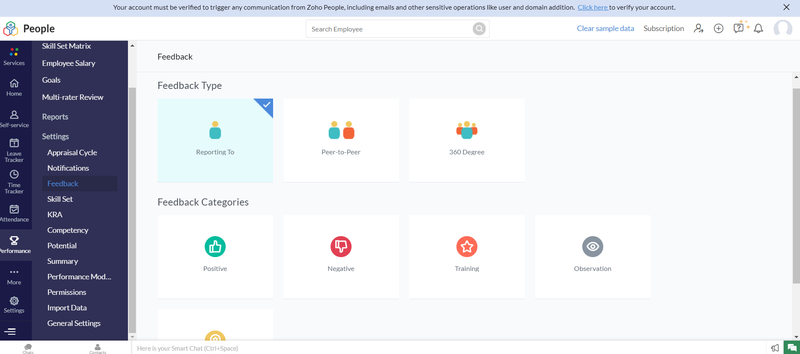 3. Measure goal success
Once you've set goals, you need to measure them to determine who's performing well. You must measure objectively to ensure you're tracking accurately and fairly.
HR software Zenefits provides templates to help create goals and run performance reviews on an individual, team, and company level. It also lets you track both the progress of goals and the performance management process as a whole, and it enables you to generate reports based on progress and success.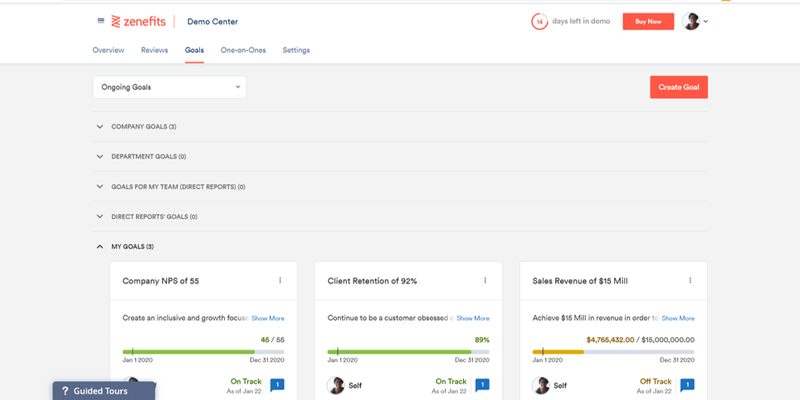 4. Check in regularly
If an employee isn't performing well, there might be a reason behind it you can address. Are their goals too difficult? Is their workload unmanageable? Do they not have the right support to achieve them? Are they not happy at the company, and is there something you can do about it? Is there a personal issue bothering them that's affecting their work?
If your employees feel supported and cared for, they are more likely to become high-potential workers.
---
6 common skills high-potential employees share
While the skills high-potential employees need will vary by role, by industry, by company, and by experience, there are some common traits all these workers exhibit.
1. Respected by their coworkers
There's no "i" in "team." Companies thrive when their employees can effectively collaborate, communicate, and work well as a team. Even if someone has great technical skills, they still need to get on with their coworkers.
Your business success is the collective sum of everyone's efforts, so being respected by coworkers suggests that the employee is easy to work with.
2. Manages time effectively
Deadlines exist for a reason; they aren't normally just lines in the sand. It's important to stick to those deadlines, especially when other tasks — and their deadlines — rely on delivering work on time.
To meet deadlines, you need to manage your time. This means understanding how long a task will take, when you need to start it, and how any other tasks you need to complete simultaneously will affect your deadline.
3. Ability to give and receive feedback
Nobody is perfect; high-potential employees understand that and can receive feedback. Assuming it's constructive feedback, they know how to take this on board so they can improve and do better the next time.
They recognize the value of feedback and understand how to best give feedback to their coworkers, direct reports, or managers.
4. Aligns with the company culture
Cultural fit can be the difference between a high-potential employee and one who's struggling, and it's something recruiters look for during the talent acquisition process. People thrive in certain cultures and not in others. It's not an indication of how talented the employee is, more of whether they are working in the right environment.
High-potential employees support and champion the company culture, and they recommend their equally talented friends and former coworkers for open job opportunities.
5. Calm under pressure
High-potential employees can stay calm even in the most stressful situations. If you're launching a product, or if you've received a serious complaint from a customer, they can handle the situation and find a solution.
6. Works autonomously
It's normal to need some support. Always encourage your staff to ask for help and advice when they need it. High-potential employees can get on with their work with no need to check in all the time. They can problem solve and take the initiative, and they come to you with solutions rather than problems.
---
Anyone can be a high-potential employee
Before writing any employee off as not having a strong potential, remember, it takes two to tango. All employees have potential, and you share part of the responsibility in developing that potential. Are you providing the support they need? Do you have a training program in place? Are your managers and HR professionals equipped to deal with issues?
An employee's potential depends on so many factors, and they easily can change from underperforming to high potential. Make sure you support every single employee, no matter how they're performing at this moment in their career.
It's also important to note that burnout is real. Make sure your high-potential employees aren't putting themselves under too much pressure to succeed that they might burn out.