Coming into 2020, Denise Touma was planning a major expansion.
Touma serves as head of school at Children's House Montessori School (CHMS) in Arlington, Virginia. Over the years, the school had developed a good reputation in Arlington County, even earning accolades as a "Best of Arlington" preschool from Arlington Magazine.
After those years of growth, Touma was working to open a second location by August in the city's Cherrydale neighborhood. But, as many businesses have discovered, making plans in 2020 can be a fool's errand.
When COVID-19 shut down the country in mid-March, it was more critical for Touma to keep her primary location near Marymount University open.
"We took a financial hit, so we needed time," she says. "The banks were very good to us and told us we had until August to recover [to open the second location], but the summer wasn't good enough to move forward."
The decision to forego the second location was one of many difficult choices Touma faced in 2020. After COVID closed the school in March, she confronted major decisions, such as when and how to reopen and what investments to make to weather the crisis. By the time she reopened, she essentially needed to revamp the entire operation.
---
Virtual learning
When COVID shut down the schools and nearly everything around the country this past spring, Touma says she went into shock for about a week. But she also spent that time researching the virus, as well as learning about video conferencing.
A couple of weeks after the shutdown began, her teachers logged into Zoom for short morning classes with the kids.
"The focus for me was always the connection," Touma says. "The children had been with us since September, and we couldn't let go of the connection."
Once April arrived, CHMS began adding more classes for the older children.
"In April, I recognized that the children were being successful, and the teachers got over the hump of learning [Zoom]," Touma notes. "So we just kept on adding more and more classes."
In early June, she brought together the children who were graduating from preschool and their parents for a graduation ceremony in the school's parking lot.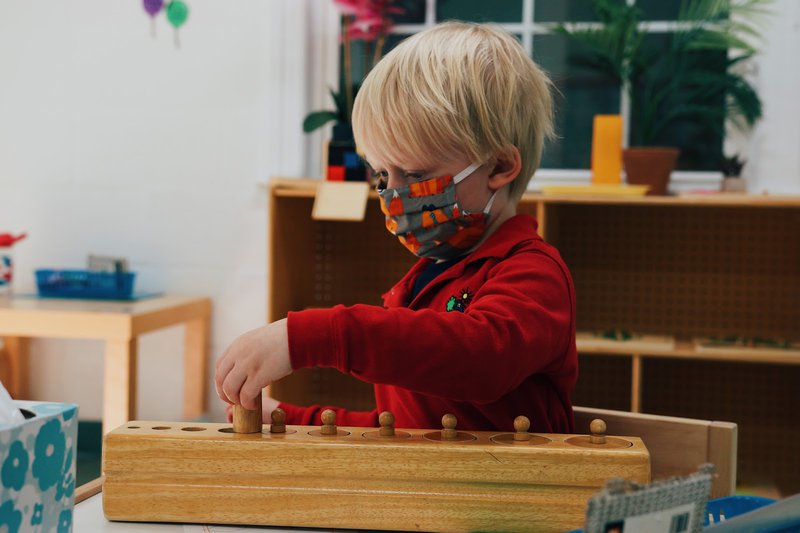 ---
Securing PPE
By June, local and state authorities had given preschools the OK to reopen. However, that didn't mean it was an easy decision to reopen CHMS.
"The decision to open was more stressful than [actually] opening because we didn't know the risk factor," Touma says. "We didn't know how families assess risk and how the staff assesses risk."
She scheduled the opening for mid-June, which was a decision that required a lot of planning and coordination. Each class of children would essentially become its own pod. Parents had windows of 15 minutes to pick up and drop off their kids. When they arrived, teachers in face visors checked their temperature.
Securing the visors, face masks, sanitizing wipes, and other personal protective equipment (PPE) was pivotal to reopening the preschool, but finding those supplies wasn't easy.
"The biggest difficulty has been getting the gloves to protect the staff," Touma says. "Those prices have soared 1,000% in some cases." She adds that her son, Jad, was able to leave the state and find some Lysol cleaner.
---
Back to school
In June, significantly fewer kids came back to CHMS' first summer camp — far fewer than the 100-plus who normally attend. That reality forced Touma to make difficult staffing decisions, such as furloughing some teachers. But when CHMS' second camp opened in July, the number of students doubled, and almost every staff member returned.
Once the 2020-2021 school year started in late August, CHMS's enrollment was about 75% of what it had been a year ago. Fifteen of those students were kindergarteners, which is a new addition for the school.
In a normal year, most of those students would be attending public schools. But with Arlington Public Schools only doing virtual learning, Touma saw an opportunity to offer her students who had just graduated from preschool a chance to continue in-person instruction. Since her teachers are certified to teach kindergarten, and enrollment was below normal levels, the decision to add a dedicated kindergarten class made sense.
"We had a class of only Ks [kindergarteners] due to the fact that the regulations allowed us to have a larger number of five-year-olds in a classroom compared to any other age group," Touma explains.
---
New admission process
For almost two decades, Touma has made it a point to meet with the family of each child before that child can be admitted to CHMS. She will speak with the parents and even watch the child interact with other kids at the school before offering admission.
Then COVID hit. In addition to shutting down her school, the pandemic changed the way Touma admitted kids.
"We've used video conferencing for 100% of our admissions," she says. "The video conference is really a massively important part to the fundamental growth of the business."
---
Using tech to reduce contact
The video chats weren't the only upgrade in CHMS's admissions. In the past, the process was paperwork-heavy, with lots of documents to sign.
With COVID limiting in-person contact, Touma needed a software solution that would allow new families to enroll by electronically signing documents and help her back-office functions operate more efficiently.
"COVID-19 created a situation where nobody wants to touch each other's papers," she says.
Jad Touma evaluated Gmail, HubSpot, Salesforce, and monday.com for potential use at the preschool.
"We did a lot of research on systems," he says. "We wanted parents to click on a button and just move forward in the process of admissions [electronically]."
Eventually, CHMS decided to adopt Microsoft applications, including Outlook, Excel, Teams, and OneDrive, into its processes. The preschool also reorganized its email addresses by using Outlook.
"Excel was used to organize prospective student data, and OneDrive was used to organize current student information," he says. "In addition, Teams video conferencing helped us continue to have virtual tours."
The Toumas appreciated how integrated all of the Microsoft applications were.
"We are still learning how each application speaks with [the others]," Jad Touma notes. "However, we have been able to learn [each one's] language fairly easily."
While COVID-19 might have sped up Denise Touma's decision to invest in technology, it was going to happen eventually since younger generations of parents prefer a more tech-oriented, streamlined approach.
"I could have probably gotten away with [the old system] for a little longer," she says. "If you go on other school websites, there are still a lot of steps. We cut back on steps because my personality is less about steps and [more about], 'If you like us and we like you, let's move forward.' So it was coming, but I don't think it was going to have to come as quickly."
The idea that change was coming, and that COVID accelerated it, was a sentiment that could have been expressed by any number of business owners in 2020. For some, such as retailers, that change could force them out of business. But for Touma, adjusting to the change could help position her business for years to come. And, maybe one day, that might even include a second school.
"I always think about another location down the road," she says.
---
Lessons for the future
In times of crisis, it's important to think about technology that can make your business more efficient, reevaluate your overall expansion plan, and look for ways to fill gaps in the market.
An integrated suite of products can streamline processes
The application process for CHMS relies on a lot of paperwork and in-person interaction. With COVID making that process more difficult, Touma added Microsoft tools for documents, video conferencing, and other processes to make her business more efficient.
Take a step back to move forward
Touma had long been planning to open a second CHMS, and even though her lenders were flexible, she decided to abandon those plans after COVID hit. The financial health of her business became more important than expansion.
Fill a void in the market
With Arlington Public Schools closed for in-person learning to start the school year, Touma decided to add a class for kindergarteners at CHMS. That provided extra revenue and helped relieve the burden on parents.
CHMS, like many businesses that rely on in-person communication, had to close its doors when the pandemic hit. To reopen, Touma needed to assure parents that her preschool was safe. She did this by investing in PPE and finding technology that would limit in-person interactions when they weren't necessary.