Marketing automation tools empower small business marketing teams to punch above their weight and large marketing teams the ability to shoot for the moon.
These tools enable you to launch lasting sales and marketing processes, track performances, and optimize your website marketing over time. Do more with less by strategically automating outreach with triggered emails and behavior-based journey builders.
The marketing automation software space has lots of overlap, so you'll dig deep into the nuances to determine which marketing platform is best for your team.
Here are our top picks for the best marketing automation software options:
Our top 10 picks for the marketing automation software
These 10 marketing automation tools all offer varying degrees of journey building, triggered emails, drip campaigns, lead management, digital marketing analytics, and other marketing campaign features.
Some systems offer full customer relationship management (CRM) capabilities, and a couple provide a content management system (CMS) to centralize web page and blog creation with marketing automation.
Our write-ups here are precise but concise looks at these tools. Visit the full reviews to take a deeper dive and complete due diligence in your search for the right marketing and sales automation tool for your needs.
1. HubSpot Marketing Automation
HubSpot is a one-stop platform for all your integrated marketing needs. HubSpot marketing automation tools empower businesses to do more with less, programming common and complex automated marketing plans.
Businesses across industries and of all sizes can use Hubspot to boost site traffic, turn visitors into leads, and strategically engage leads to close deals.
HubSpot offers dynamic pricing options that vary depending on contacts and feature set. It's a fit for startups and small businesses, especially digital natives, that need to grow quickly.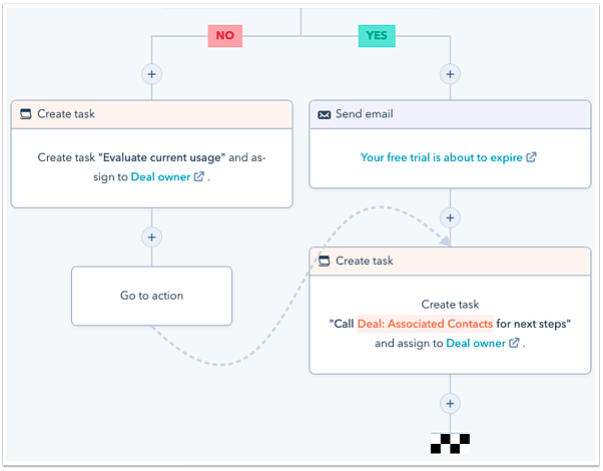 HubSpot is also a great fit for medium to larger companies looking to revamp marketing strategies and integrate a new tool. HubSpot is powerful enough for enterprises, but it gets very pricey when scaling it that large.
2. ActiveCampaign
ActiveCampaign locks in on generating leads and turning them into customers. They bill their platform as a "customer experience automation platform."
This emphasis on customer experience is essential to the nuances of ActiveCampaign. The automations empower marketers to provide highly personalized and consistent engagement marketing across channels with advanced tracking and scoring capabilities.
ActiveCampaign is a great fit for small businesses with new marketing teams. It also scales exceedingly well to satisfy enterprise marketing needs. Pricing varies with contacts and features, which is standard for the space.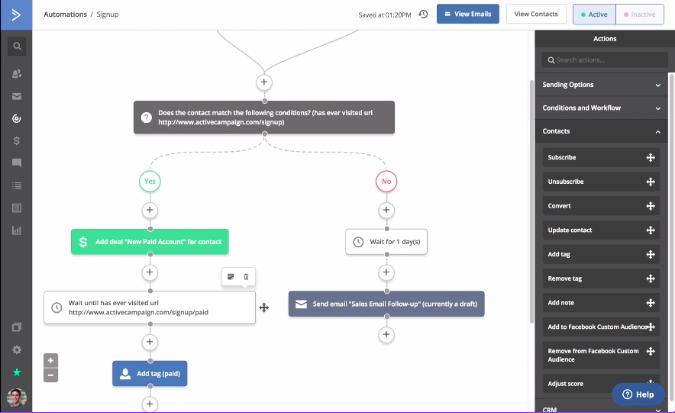 What's unique is the low cost of entry for ActiveCampaign's basic tier. Small businesses with 500 or fewer contacts can get started with ActiveCampaign's lite plan for only $9/month.
3. Pardot by Salesforce
Pardot is Salesforce's marketing automation solutions that works fine as a standalone system but also integrates seamlessly within the Salesforce ecosystem.
Pardot excels with lead management scoring and tracking capabilities. These features power journey building and other automation tools, enabling users to provide persistent personalization as contacts are converted into leads and leads nurtured into customers.
Pardot is a fit for medium-sized businesses and enterprises, but may be price prohibitive for smaller businesses and startups.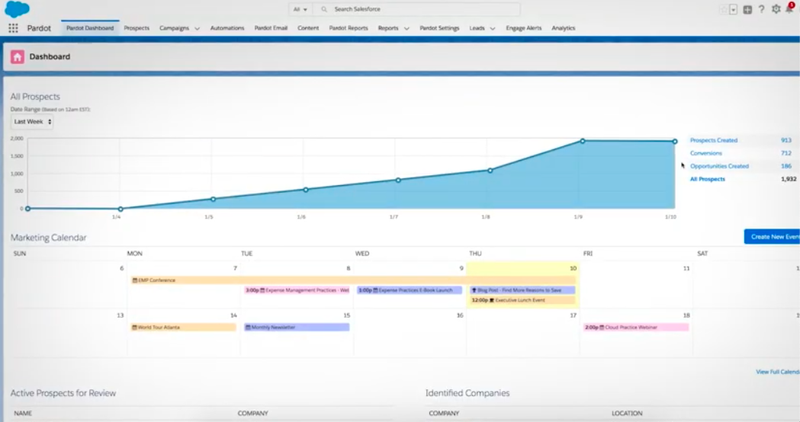 It works for all types of B2B businesses, but it's especially a fit for organizations with traditional, dedicated sales teams that can own lead engagement and work to close deals one-on-one once leads come into the bottom of the marketing funnel.
4. SharpSpring
SharpSpring is a powerful marketing tool that extends well beyond marketing automation capabilities. It integrates with leading CRM platforms, but it can also stand alone as the only tool you need to support sales and marketing work.
One SharpSpring differentiating feature is its visitor ID capability. It tracks site visitor IP addresses and uses reverse IP lookup to identify the companies your visitors work for. This enables you to de-anonymize site visitors and provide them with industry segmented, if not hyper-personalized marketing.
Along with expected journey building and triggered communications, SharpSpring is one of a few systems that provides full CMS capabilities. This allows you to centralize blog and web page creation, publishing, and management in a single platform.
A knock for SharpSpring is its high cost. It's priced prohibitively for startups and small businesses that don't have an extensive marketing budget, let alone a marketing automation tool.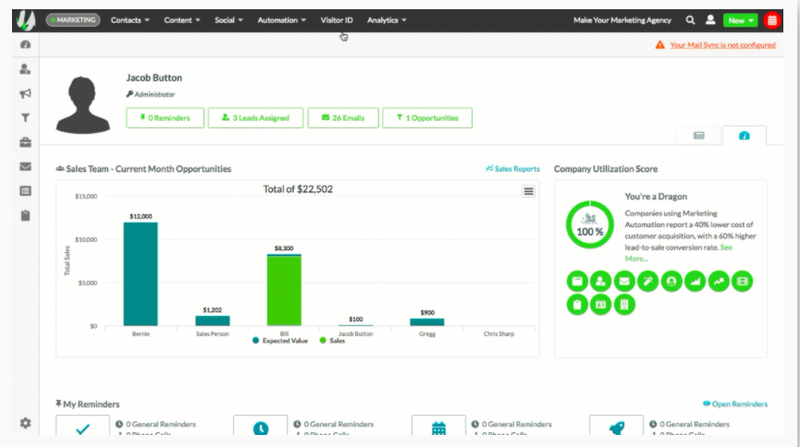 The lowest monthly pricing tier is $550/month for up to 1,500 contacts. Medium- and large-size businesses, enterprises, and marketing agencies that can afford the tool stand to gain good value, as it's priced to scale favorably. The highest tier includes 20,000 contacts for $1,250/month.
5. Hatchbuck
Hatchbuck, which has recently changed its name to BenchmarkONE, offers reliable marketing and sales automation capabilities. The wide range of features includes essential CRM tools in addition to an abundance of automation features.
Automations are easy to program and include outreach to high-priority leads based on rising lead scores and in-depth nurture campaigns.
Hatchbuck's lowest price tier is $99/month. This relatively low price point and ease of use make it a great fit for small and medium businesses, especially users with less experience using marketing technology.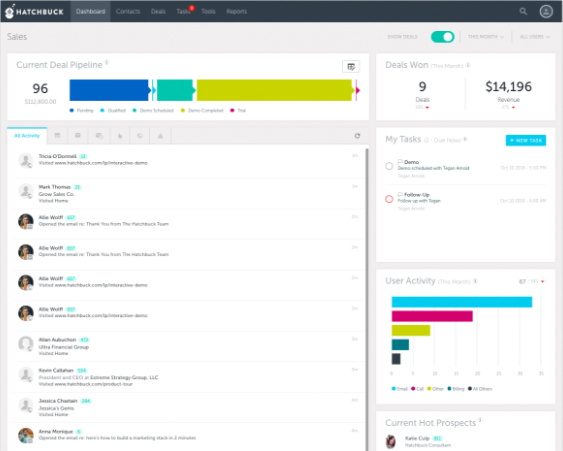 The ease of use may leave some more skilled marketing technology professionals wanting, but it's a great starter system.
6. Freshmarketer
Freshmarketer provides complex marketing automation solutions in an easy-to-use solution that's a fit for most any business size. You employ Freshmarketer's features to program engagement across the entire life cycle, from contact to lead to customer.
Cross-functional tools provide a bridge between sales and marketing needs, with critical features such as monitoring and acting on lead activity.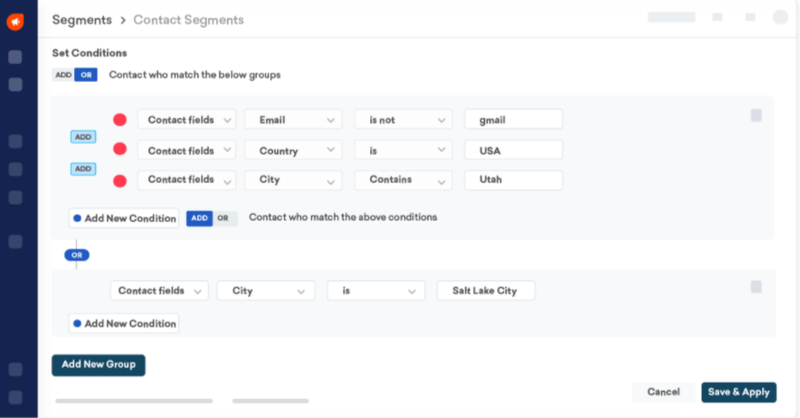 Freshmarketer's features and price point make it a fit for most all business types and sizes. Small businesses new to marketing automation can take advantage of its forever free "sprout" product tier to test out the system before committing to a larger plan and monthly payment, which begins at $49/month.
7. Campaign Monitor
Campaign Monitor is billed as an email marketing tool, but it provides many of the same automations as other tried-and-true marketing automation platforms. The platform has an impressive range of features and an easy-to-navigate interface.
Standout features include best in class email marketing tools, personalized outreach based on critical contact information, and visual journey building tools that make it easy to see and adjust automated, behavior-based responses to lead activity.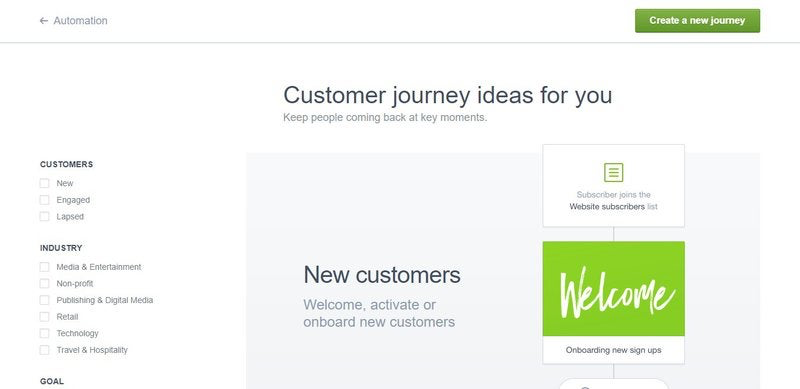 The ease of use, feature set, and price point make Campaign Monitor a fit for novice and experienced marketing professionals. It's lowest price tier starts at $9/month, making it a low risk option to test out. However, that tier is capped at 500 contacts and 2,500 total emails sent.
8. Marketo
Marketo's marketing automation capabilities empower sales and marketing teams to deliver personalized, exceptional experiences across channels throughout the journey from contact to customer.
Use Marketo to identify and prioritize the best contacts to reach out to and consistently serve them content they desire. Key features include tools for search marketing, landing pages, and form builders, personalization across your website, email and social media promotion, behavior tracking, and of course journey building.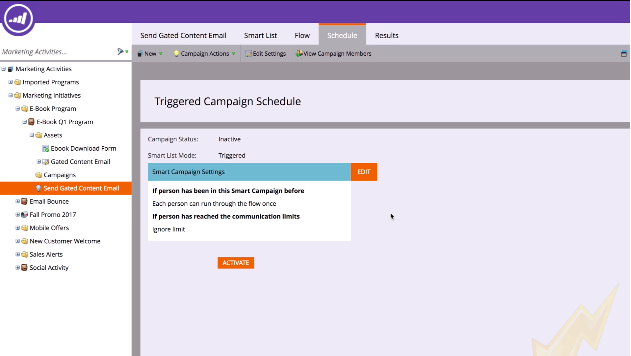 Marketo keeps its pricing well hidden to generate person-to-person engagement. It appears they offer four tiers for their Marketo Engage marketing automation solution.
These are designed for growth, progressive, advanced, and global enterprise marketers. Prices seem to be negotiable based on users and contacts, and they will very likely be on the high end of the space.
9. GetResponse
GetResponse is another prominent email marketing solution that delivers on marketing automation needs. Its automation capabilities include a journey builder, behavior-based, triggered emails, lead scoring prioritization, and more.
From a lead management perspective, GetResponse employs a contact tagging system so you can create an unlimited number of qualifiers for segmenting future communications.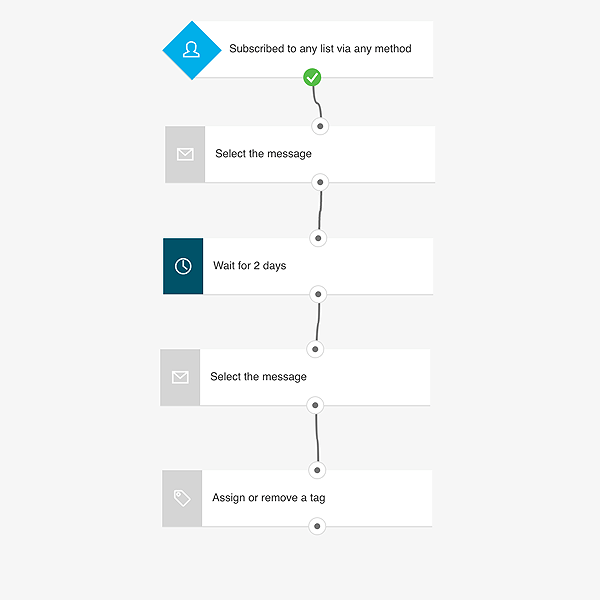 Its accommodating entry price makes it a fit for startups and small businesses. The basic tier starts at $15/month for 1,000 contacts, but you'll have to upgrade to the next tier for the automation building tool. It's priced reasonably at $49/month for the same 1,000 contacts.
10. Mailchimp
Mailchimp is another email marketing solution turned all-out marketing automation platform. It's uniquely suited for B2C marketing automation, but it can work for B2B as well.
Mailchimp supports behavior-based automations that take into account cart abandonment, product recommendations, and more actions.
Tying automations to purchases enables you to automate outreach around confirming purchases and shipping info, sending product release reminders, and following up on past purchases.
You can track email performance and automate follow-ups based on critical email metrics, such as open rates, click through, offer code usage, and more.
Mailchimp is a fit for small to medium businesses. Its free offering provides minimal automation support, but it could be a fit for startups or very small operations. After graduating from the free offering, pricing starts at $10/month and goes up to $300/month, which include all the features.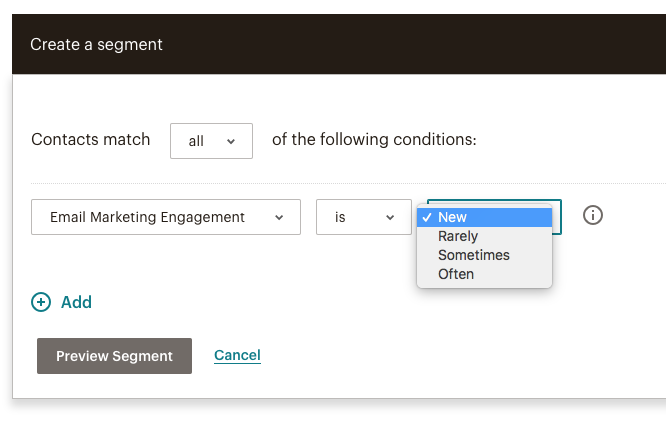 What The Blueprint looks for in a great marketing automation software
Marketing automation platforms are a natural evolution of CRM and channel marketing tools, matched with increased usability. They provide abundant tools that enable marketers to do more with less by automating personalized outreach.
We look for three critical features when examining marketing automation platforms. Here is a rundown of these three components.
Journey builders
Journey builders, experience builders, and workflows are the foundation of marketing automation tools. These features enable you to design outreach paths with email automations and other triggered communications.
These are essentially vast, well-programmed if/then-based journeys that respond to behaviors such as email opens, link clicks, offers, and other trackable engagements.
Journey builders let you set it and forget it, ensuring your leads are receiving persistent, optimized engagement at opportune times while you focus on other tasks at hand.
Attribution
Attribution capabilities are table stakes for marketing teams of all shapes and sizes. Marketers scramble to accurately determine ROI, pinpoint successful campaigns and best practices, and showcase value.
Advances in analytics and tracking have enabled marketers to grab their fair share of value from the sales process, rather than having the salesperson who closes the sale get all the credit.
Marketing automation tools provide the capabilities, pre-built reports, and dashboards to easily monitor and pass performance up the ladder.
Predictive machine learning
Advances in machine learning are empowering marketers to take automations even further. Marketing automation platforms are beginning to introduce predictive machine learning tools that introduce valuable optimizations across your marketing team.
One optimization is real-time personalizations in content and design based on known information of an individual lead. Another is the ability to prioritize leads based on predictive scoring that provides the percentage chance that the lead will turn into a deal.
How your business can benefit from using marketing automation software
Marketing automation platforms offer features and benefits that are vast and highly impactful. Most of these tools offer integrations or on-board capabilities that bolster the relationship between sales and marketing teams.
And the increasing ease of use and varying price points have created a solution that fits nearly any business' skill set and budget.
Optimizations across marketing efforts
One of marketing automation's key benefits is the optimizations they provide. You can ensure your messaging is personalized and matched to the life cycle stage of the lead.
Other valuable marketing automation optimizations include behavior-based outreach, real-time response in the moments that matter, and more. These all work together to boost conversion rates and improve nurture tactics to turn more leads into sales.
Reporting and analytics
Reporting and analytics are critical for marketing tools. This is especially true with marketing automation tools given their vast nature and array of components.
Marketing automation reporting provides critical attribution capabilities so you can understand the performance and bottom-line impact of any campaign. This enables you to build best practices while identifying and investing in what works best.
Newfound efficiency
Marketing automation empowers marketing teams to do more with less, do it better than before, and prove the impact of their work. Automations can be built and tested then left to run as programmed, with only minimal monitoring.
This ensures your contacts and leads are getting the levels of engagement with the right content they need without you and your team conducting outreach to all contacts. Think of the side projects, stretch goals, and other objectives you can complete with more time on your hands.
Marketing Automation Software Frequently Asked Questions
Do I need any coding/programming experience to operate a marketing automation tool?
No, marketing automation tools make it easy to set up your own automations. Most platforms use a simple drag-and-drop tool for building workflows. The same goes for building content and emails.
Can I keep my existing CRM if I get a marketing automation tool?
Marketing automation tools are incredibly entwined with CRM tools. Whether you can keep using your existing system, or if you even need it, will depend on the CRM integrations and capabilities in the marketing automation platform.
Will a marketing automation platform replace my Wordpress or other CMS?
Some marketing automation tools provide full CMS capabilities so that you can centralize blog creation, publishing, and management from the same platform. Others integrate with WordPress while some just provide tracking codes to embed on your blog.