Namely is the ultimate all-rounder. It provides a ton of different HR functionality in one easy-to-use package.
Whether it's Namely's benefits administration functionality, its performance management module, or its customizable onboarding process, this software seems to have it all. You can even add on the Namely payroll module to manage all your HR processes under one roof.
But is it all too good to be true? Or is Namely a jack-of-all-trades, but master of none?
Here are the top alternatives to Namely as human resources software:
---
What to look for in a great Namely alternative
While Namely is a great HR solution, it's not suitable for every business. Here we explain areas where it could do better and what we'll focus on in our pick of Namely alternatives.
1. Recruitment functionality
A lot of businesses — especially small companies — want a human resources solution that also helps them manage their recruitment processes. It's often less expensive and easier than having to procure, implement, and run two pieces of software.
An all-in-one solution also helps you centralize data and create more comprehensive reports.
While Namely's onboarding functionality is top-notch, it only has basic recruitment functionality. That's unlikely to be enough for companies that are serious about running a smooth and efficient hiring process.
2. Publicly available pricing
Today, many buyers research HR technology online. Most companies arm themselves with reams of information before they even consider contacting a software company. Many businesses want access to a free trial or to see demo videos first.
This also applies to the pricing of human resources information systems (HRIS).
It's hard to find out how much Namely costs. They don't even have a pricing page on their website. We'll look at alternatives to Namely HRIS that provide publicly available pricing information.
3. Customizable time and attendance functionality
Time and attendance is a key human resource function. Being able to efficiently staff your business is crucial to keeping customers happy and maintaining a healthy bottom line.
Namely lacks time and attendance features you see in other HR software, including the ability to set employee-specific rules and manage contractors.
---
Our top 5 picks for Namely alternatives
The HR tools below all offer something Namely doesn't, whether it's a comprehensive time and attendance module that lets you manage freelance workers, up-front pricing, or in-depth recruiting functionality.
---
1. Zenefits
Like Namely, Zenefits is an all-in-one HR solution, providing a range of different functionalities in one piece of software. But unlike Namely, Zenefits excels in time and attendance.
Its time and attendance module gives you full visibility into the hours each employee has worked, including any overtime. Zenefits provides insight into time and attendance problems, such as an employee missing their clock in or clock out time or taking longer meal breaks than permitted.
You can set different rules for:
the way overtime is tracked and calculated
specific meal break times
how you track contingent workers
All time and attendance data is broken down into different categories for employees, job roles, and the department as a whole.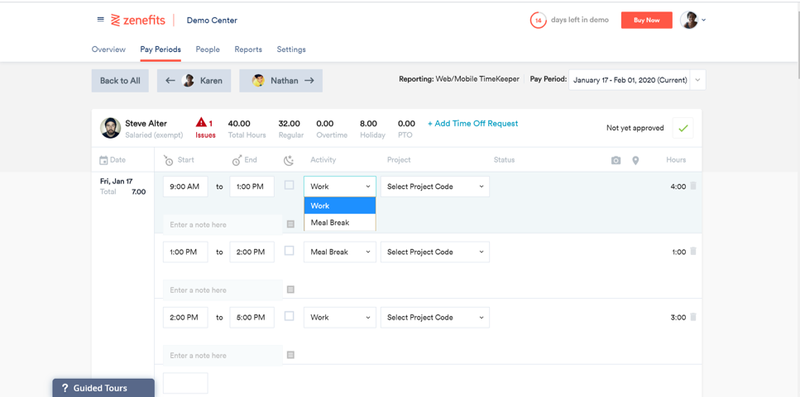 This module also lets employees easily record in the system the time they work, either by adding hours manually or clocking in and out via the web version or the Zenefits app for the iPad.
Read The Blueprint's full Zenefits review
---
2. Zoho People
The HR software industry differs from other sectors, such as email marketing and project management, in that there are very few free trials, and even fewer free pricing plans.
Zoho People bucks the trend. It gives you a 15-day, no-obligation free trial — you don't even have to provide your credit card details. It's also open and transparent about its cost, listing its pricing on its website, so you can quickly rule it in or out of your software selection process.
Zoho People has plans for all business sizes, from a free plan for up to five users that allows you to run basic HR functions, to five different levels of paid plans.
Paid pricing plans start at $1/month, per user for its Essential HR plan, while the most expensive pricing plan costs $10/month, per user. While the Essential HR plan lacks performance management capabilities, it still has a ton of useful functionality such as:
time and attendance
an employee self-service portal
comprehensive reporting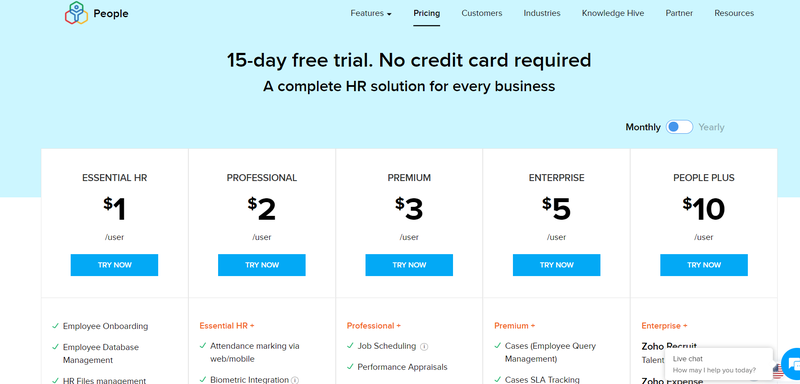 Read The Blueprint's full Zoho People review
---
3. Built for Teams
Built for Teams' time and attendance module allows you to manage a diverse range of workers, whether they are part-time, full-time, fixed period contract, or freelance employees.
Built for Teams allows you to create an unlimited number of policies for time off: for sick days, vacation, life admin, or any other type of PTO.
This HR software also has one of the most useful self-service employee portals on the market for managing time off. Employees get access to details about their time off, such as how many days they have carried over from the previous year, the number of days earned, and the number of remaining days.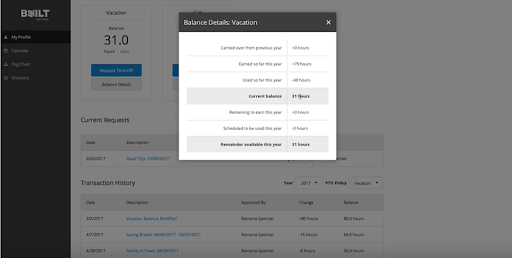 The integration with Slack is also useful. Employees can request time off from within Slack rather than having to log in to the Built for Teams app.
Read The Blueprint's full Built for Teams review
---
4. Workday
While Namely only has basic recruiting functionality, the Workday recruiting module has features to handle all aspects of the hiring process from start to finish.
You can use Workday applicant tracking system (ATS) features to create an attractive, on-brand job ad and application form to help source high-quality candidates.
Workday's ATS functionality enables you to communicate with candidates, carry out interviews, and discuss an applicant's suitability with coworkers to ensure the right candidate gets the role.
Workday also helps you keep track of the progress of each role and candidate through its pipeline recruitment management capabilities. These features show you how many candidates are in each recruitment stage, while its reporting functionality uses this data to estimate how long candidates spend in each stage of the pipeline.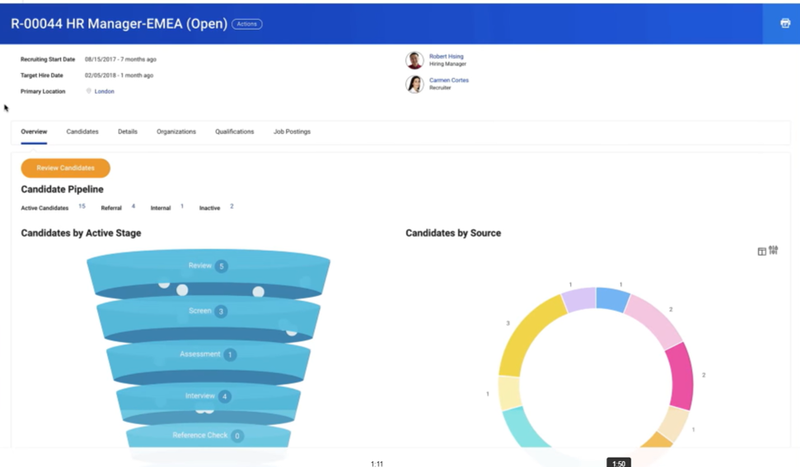 Read The Blueprint's full Workday review
---
5. SentricHR
SentricHR packs substantial functionality into one solution, including:
time and attendance
benefits administration
recruitment
document admin
performance management
It also has standardized and extremely simple pricing on its website, which makes deciding whether to shortlist this solution much easier.
SentricHR software costs $2 per employee, including all software features apart from payroll functionality. If you want to use SentricHR payroll functionality, you pay $2.50 per paycheck.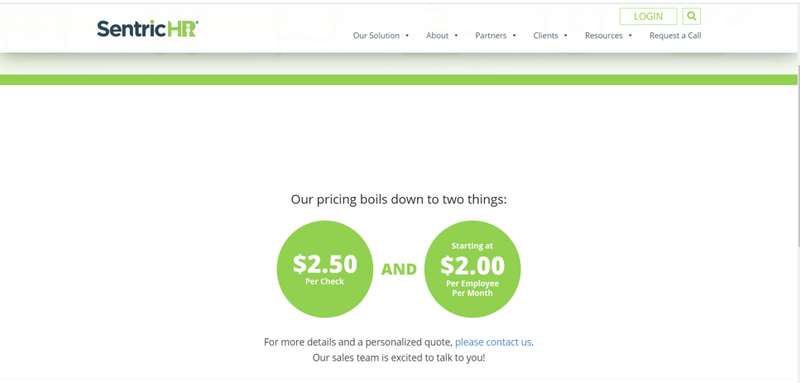 Read The Blueprint's full SentricHR review
---
Always shop around
Take your time and investigate your options fully. Read about what each HR tool does and doesn't do because there is no perfect solution. Consider if the drawbacks are deal-breakers or minor inconveniences, or if they even matter at all.
For example, if you already have applicant tracking software, then you likely won't use Namely for hiring, and so it doesn't matter that it only has basic recruitment functionality. Think about the type of software you need to optimize your HR processes.