There's something special about receiving a paper paycheck. It's a physical representation of your hard work, evoking a sense of accomplishment that staring at an updated bank account balance screen can't match. Although electronic payments rule the payroll landscape, there's still space for physical paychecks.
---
Overview: What is a payroll check?
Payroll checks, or paychecks, are paper checks written out by employers to workers at the end of a pay period. Attached to a payroll check is a pay stub, which lists the taxes and other payroll deductions from wages.
Before direct deposit became the preferred payment method, employees received paper checks and took them to a local bank for deposit. Now it's the norm for employers to send employee wages directly to their bank accounts through direct deposit. The American Payroll Association estimates that 93% of U.S. workers get paid by direct deposit.
Although they're waning in popularity, paper paychecks still exist. Many states have tried to eschew paper checks in favor of more efficient payment methods by allowing businesses to make direct deposit mandatory.
You can print payroll checks using any printer as long as you have a few requisite supplies.
---
Why do some employees prefer physical payroll checks?
A faction of employees still prefers physical checks. Aside from the thrill of receiving a physical check that the direct-deposit method can't deliver, here are some reasons people favor paper checks.
They don't have a bank account
Direct deposit is impossible without a bank account. The next best way to pay workers is by physical payroll check.
Workers with no bank accounts can cash paper paychecks at the issuing bank. For example, if your business issues paychecks through Wells Fargo, employees could go to any Wells Fargo branch to cash their paychecks. Some convenience stores also cash checks for a small fee.
They want to cash the entire paycheck
Employees might prefer bringing a physical check to the bank to avoid showing an influx of cash on their bank statements. Employees in debt or with overdrawn bank accounts might choose to keep their paychecks away from their banks.
Direct deposit shouldn't deter employees who need their cash available as soon as possible. Banks must make direct-deposited wages available by the next business day, according to the Consumer Financial Protection Bureau (CFPB).
They want to deposit their paychecks into someone else's account
Whether it's a temporary or permanent arrangement, employees might want to deposit their paychecks into a child's, spouse's, or parent's account. A physical payroll check makes that easier.
You can't direct-deposit employee wages in bank accounts that aren't theirs. But employees can sign their physical paychecks over to someone else by endorsing the check and writing, "Pay to the order of," followed by the person's name.
Their bank charges direct-deposit fees
Although it's rare, some small banks charge a fee for direct deposit. While it may cost the same in gas to drive your paper check to the bank, it just feels better to avoid the fee.
---
What you need to print payroll checks
Make sure you have all the proper supplies on hand to print payroll checks. You can take small business tax deductions for the following items.
Payroll software
If you expect to print payroll checks every pay period, choose payroll software that sells pre-printed check stock, like QuickBooks Payroll and Gusto. For reasons we'll explore next, pre-printed check stock reigns supreme over blank check stock.
Check stock
Check stock is a standard-size piece of paper you feed into the printer to create paychecks. One-third of the sheet is a paycheck, and the rest is a payroll stub.
Office supply stores sell blank check stock, which is paper with a perforation at the top or bottom for the check and adorned with security features, such as holograms and special coatings to prevent counterfeiting.
Your other and better option is pre-printed check stock purchased directly from your payroll software. Custom paper checks have all the same security features and come with your business name, address, and bank account information printed on each sheet. Your bank information at the bottom of the check is printed using special magnetic ink, which is a bank requirement for all paper checks.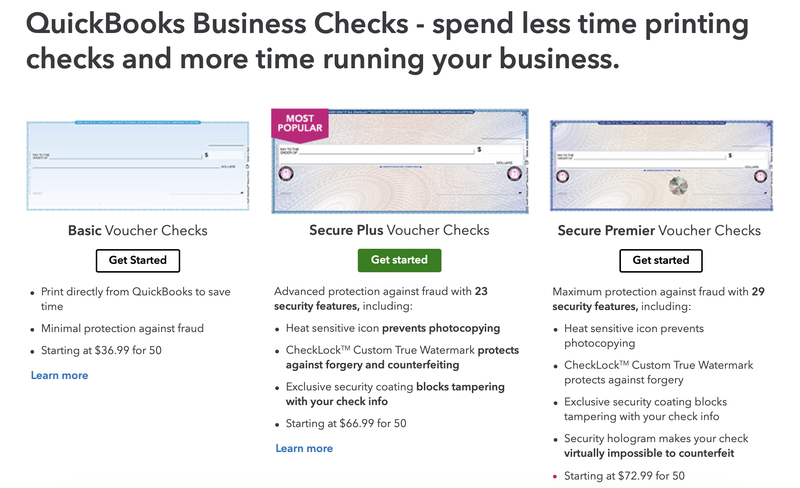 Blank check stock requires you to buy and print paychecks using magnetic ink. To avoid changing the ink and toner in your office printer every two weeks, purchase pre-printed check stock. Some argue that pre-printed checks come at a security risk because someone could steal them and write fraudulent checks. Lock any check stock you have in a file cabinet.
Printer
No matter what type of check stock you're printing on, any printer should work just fine.
Magnetic ink character recognition (MICR) ink or toner
If you're using blank check stock, you'll need magnetic ink character recognition (MICR) ink or toner. Purchase MICR ink for inkjet printers and MICR toner for laserjets.
Those who purchase pre-printed check stock from their payroll software don't need MICR ink or toner.
Envelopes
Whether you're mailing out employee checks or handing them out at the office, you'll want to tuck the printed checks into an envelope. Buy envelopes with a window so you don't have to print envelopes or handwrite employees' names on each envelope.
---
How you can print payroll checks for employees
Follow these five steps the next time an employee requests a paper paycheck.
1. Process payroll
Before you can print a paycheck, you need to know the employee's net pay, or the employee's gross wages minus payroll deductions, such as tax withholding, health insurance premiums, and retirement contributions. Follow our guide to payroll if it's your first time.
2. Choose the check stock type in your payroll software
After processing payroll for an employee whose direct-deposit information isn't uploaded to your payroll software, you'll receive a prompt to print a paycheck. Enter the check stock type to align the printed text with the stock.
If you don't immediately print an employee paycheck, it'll go on your books as a liability called "accrued payroll," meaning you owe an employee for working but have not yet paid them.
3. Load your printer with check stock and ink
Loading paper into a printer is harder than one might think. Load one sheet for every paycheck, and consider the orientation. Some printers flip sheets before printing, and some don't.
I remember learning this the hard way when 9-year-old me incorrectly printed hundreds of business cards at home. What I intended to do with hundreds of business cards as an enterprising 9-year-old is unclear now, so perhaps it was for the best.
If you're printing on blank check stock, don't forget to load the printer with MICR ink or toner cartridges.
4. Print payroll checks
Press print and cross your fingers that your paychecks and pay statements come out correctly. If not, shred the incorrect paychecks and try again. Unless the paycheck has already left your hands, you don't need to stop payment and issue a new check for printing errors.
Place each paycheck and payslip in a sealed envelope once you've reviewed them for accuracy.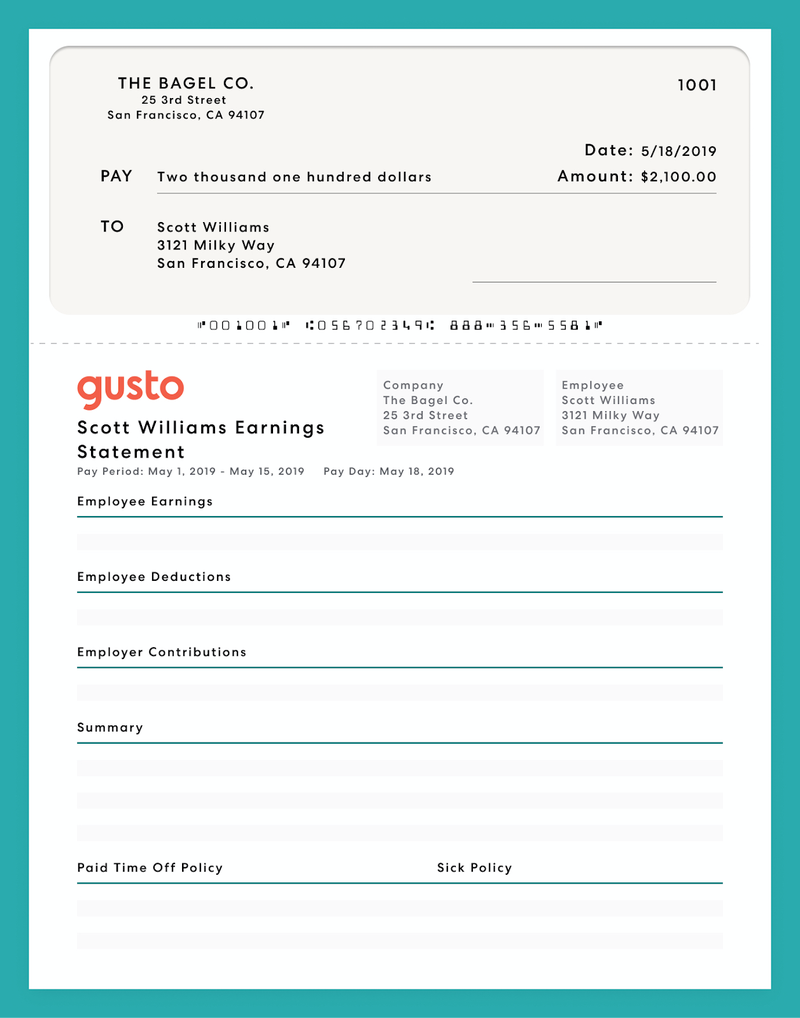 5. Deliver to employees in a timely manner
Don't delay paying your employees. Get the envelopes to a mailbox while the paychecks are still warm from the printer.
---
Don't get a paper cut
It's never a bad idea to keep physical payroll checks in your file cabinet for employees who ask for them or for new employees whose direct deposit didn't get set up before payday.