SurePayroll and Gusto Payroll are popular payroll service applications designed for small to medium-sized businesses. Both applications offer full-service payroll processing, with a ton of extras thrown in for good measure.
Curious how these two applications stack up against each other? Check out our side-by-side comparison to see which one is best for your small business.
---
SurePayroll vs. Gusto Payroll: An overview
Looking for a payroll software or service provider can be a daunting task for a small business owner. The good news is that there are a lot of choices available. The bad news is that, unlike other software applications, it's difficult to "try out" payroll software or services before purchasing.
To make the selection process a little easier, The Blueprint took a look at SurePayroll and Gusto Payroll — two popular payroll service providers that are designed for small and growing businesses. Along with full-service payroll processing, both applications offer an impressive list of features that can make processing payroll for your business a lot easier than you may think.
Not exactly sure how to do payroll? No worries; both applications offer excellent help and support resources, as well as setup assistance.
If you're ready to find out more about SurePayroll and Gusto, check out our comparison and see which payroll service provider is right for your small business.
Who is SurePayroll for?
SurePayroll is designed for small businesses, with a special version available for individuals who need to pay domestic staff, such as household workers or nannies.
SurePayroll offers a self-service payroll plan, as well as a full-service option, and it offers unlimited payroll runs, supports multiple pay rates, and offers complete tax filing and remittance in its full-service plan.
Who is Gusto Payroll for?
Gusto Payroll, like SurePayroll, is designed for small business owners and works particularly well in the hospitality industry. With four plans available, Gusto is a good fit for growing businesses that are looking for a payroll service provider that can grow with them.
Featuring automated payroll processing, Gusto also offers unlimited payroll cycles, bonus payroll, and the ability to pay your contractors.
---
SurePayroll vs. Gusto Payroll: Features
Both SurePayroll and Gusto offer full-service payroll processing, although SurePayroll also offers a self-service option for small businesses that wish to handle tax filing themselves. Both SurePayroll and Gusto are loaded with features — some standard and some optional. To make things a little easier, we've included a breakdown of some of the standout features found in both payroll applications.
What SurePayroll offers
SurePayroll's features are designed to make processing payroll simple. These features include the following:
Auto Payroll: The Auto Payroll option in SurePayroll is a time-saving feature perfect for an overworked business owner. It allows you to enter default hours or a salary for your employees during the initial setup process, and SurePayroll does the rest by processing payroll at specified intervals.
Payroll tax processing: Payroll taxes are part of doing payroll, but you don't have to do them if you subscribe to SurePayroll's full-service payroll. It will complete Form 940, Form 941, and Form 943, and it will also remit the necessary payroll taxes by the due date. If you're leery of handling payroll taxes, SurePayroll will do it for you.
Employee self-serve: If you have more than one employee, you'll want an employee self-serve feature. This option allows your employees to access all of their payroll information, including current and historic paystubs and W-2s. Contractors can access their year-end 1099s, and personal information, such as an address change, can be securely handled by the employee.
Mobile accessibility: SurePayroll offers a mobile app for both iOS and Android devices, giving you the ability to process payroll whether you're in the office or at the airport waiting for your flight to the Bahamas.
In addition to these features, SurePayroll offers direct deposit, time and attendance tracking, and benefits administration, along with new employee reporting. You'll also have access to the HR Advisor feature, which includes HR business forms and workplace posters.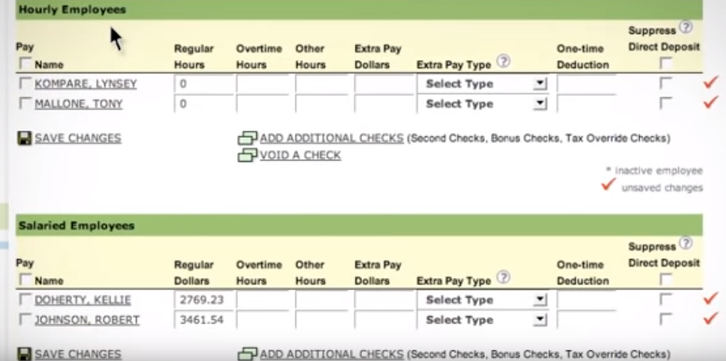 You can also create an additional check for any employee whom you're paying, which is handy for processing bonus or commission checks.
What Gusto Payroll offers
Gusto can easily scale up for growing businesses, offering a variety of features that small and medium-sized business owners will appreciate. Some of Gusto's standout features include the following:
Employee onboarding: A real timesaver, small business owners can provide new employees with password-protected access to Gusto, where they can complete their entire onboarding process online. This includes completing Form W-4, as well as entering banking details for direct deposit.
Complete tax filing: Even Gusto's Basic plan offers full-service payroll processing, which includes complete tax reporting and remittance. A basic payroll plan rarely includes tax filing services, but one- or two-person businesses will appreciate the availability of this feature.
AutoPilot®️: AutoPilot lets you run payroll automatically each pay period without any additional action needed. Just enter the default payroll information during the payroll setup process, and AutoPilot will do the rest. AutoPilot runs one day before your payroll deadline, so you can make any changes during that 24-hour period. Any changes made after the deadline will appear in the following pay run.
Benefits management: Along with standard benefits management, Gusto can also handle flexible spending accounts, 401(k) administration, health savings accounts, and 529 savings accounts, along with medical, dental, vision, and life and disability.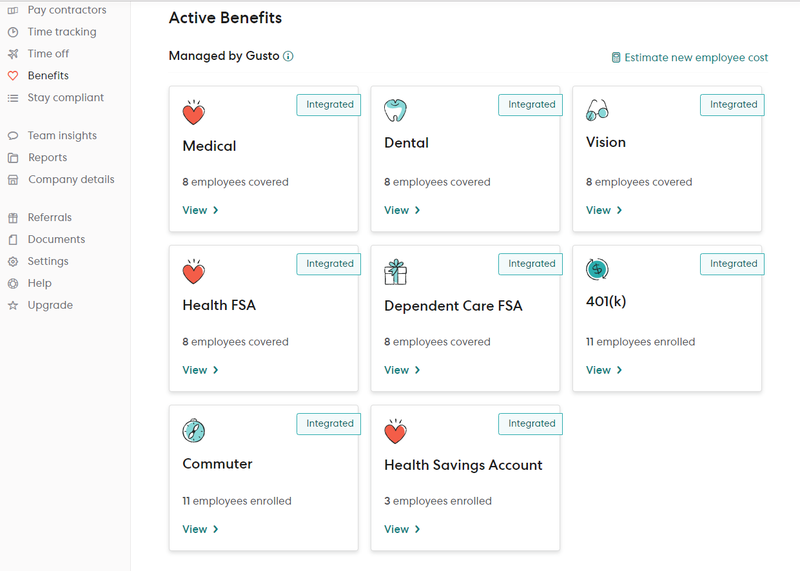 Gusto also includes free direct deposit, digital pay stubs, multi-state capability, and new hire reporting. You may also appreciate Gusto's Employee Handbook builder feature found in the Concierge plan.
Results
Although both offer terrific features, Gusto wins this round, with full-service payroll processing available with all of its plans.
---
SurePayroll vs. Gusto Payroll: Support
Good support options are always important, but never more so than in payroll. Before you purchase any payroll application, always be sure to see exactly what type of support options are offered.
What SurePayroll offers
All new SurePayroll customers are assigned a personal account representative who can assist with payroll setup, as well as answer any questions that may arise.
SurePayroll offers live telephone support via a toll-free line, with evening and Saturday support available. For less-urgent issues, both email and chat support are also available.
Along with product support, SurePayroll offers easy access to helpful resources from anywhere in the application, including a payroll terminology page, payroll by state information, and the SurePayroll calculators, which are various free payroll calculators that can be used by anyone.
What Gusto Payroll offers
Gusto offers product support via telephone, email, and chat during regular business hours.
Along with support, Gusto users have access to a comprehensive knowledge base where you can access additional information about product features. Also available are step-by-step instructions for processing payrolls, including regular, off-cycle, and bonus payroll runs.
Results
SurePayroll wins this round since live customer support always wins. Although both products offer live support, SurePayroll offers longer support hours and Saturday support.
---
SurePayroll vs. Gusto Payroll: Ease of use
Ease of use is important. You don't want to begin using a payroll application that you find difficult to navigate or have issues with accessing the features you need.
Of course, ease of use is subjective. I can tell you how easy it is to use an application, and you may find that same application confusing. My advice is to check out the application for yourself before purchasing to see how comfortable it is for you.
What SurePayroll offers
SurePayroll is designed for efficiency, requiring little data entry to process payroll. Various dashboards are available throughout the application, and a vertical menu provides access to all payroll functions and reports.
To automate the payroll process even further, use the Auto Payroll feature, which provides automatic payroll processing and the opportunity to make changes before Auto Payroll runs.
What Gusto Payroll offers
Gusto offers an intuitive user interface that even new users will be comfortable with. Like SurePayroll, Gusto also offers a dashboard that includes task reminders, plus a vertical menu to the left of the screen to provide easy access to all payroll features.
Gusto also includes AutoPilot payroll, which runs payroll automatically at designated intervals and can be turned on and off as you wish.
Results
It's a tie. Both SurePayroll and Gusto include automated payroll processing, dashboards, and easy, intuitive navigation.
---
SurePayroll vs. Gusto Payroll: Pricing
Wondering how much SurePayroll costs? Or maybe you're more interested in pricing for Gusto. We compare pricing and plans for both applications, knowing that pricing can directly impact which product you're able to purchase.
What SurePayroll offers
SurePayroll pricing is affordable for most small businesses, with two plans available: Self Service, which is $19.99/month, plus a $4/employee charge, and Full Service, which is $29.99 per month, plus a $5/employee charge. Perhaps the biggest difference between the two plans is that the Self Service plan does not include tax filing.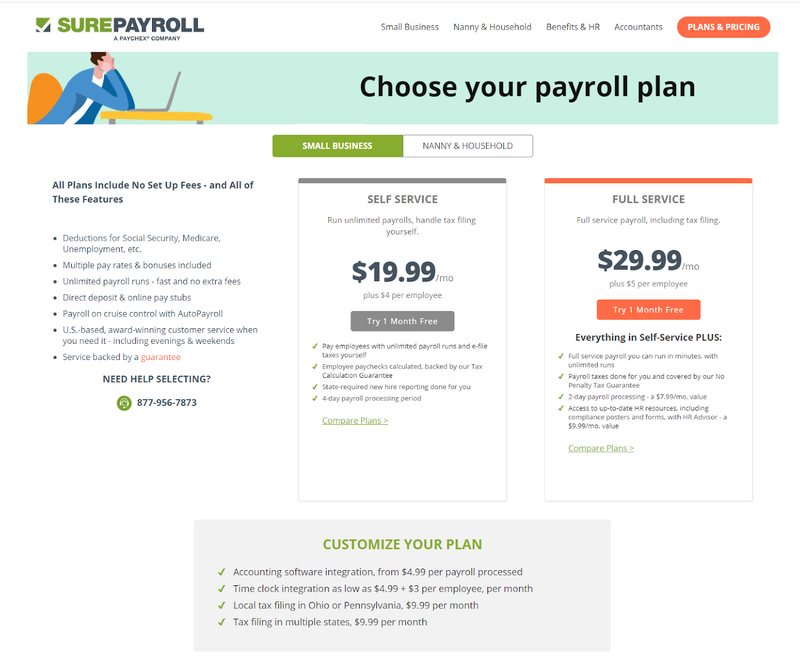 Another major difference between the two plans is the payroll processing time, with the Self Service plan offering a four-day processing time, while the Full Service plan offers a two-day processing time.
What Gusto Payroll offers
Gusto's pricing is more flexible than SurePayroll, with four plans available: Basic, Core, Complete, and Concierge, with the Concierge plan including HR functionality. All four Gusto plans offer full-service payroll.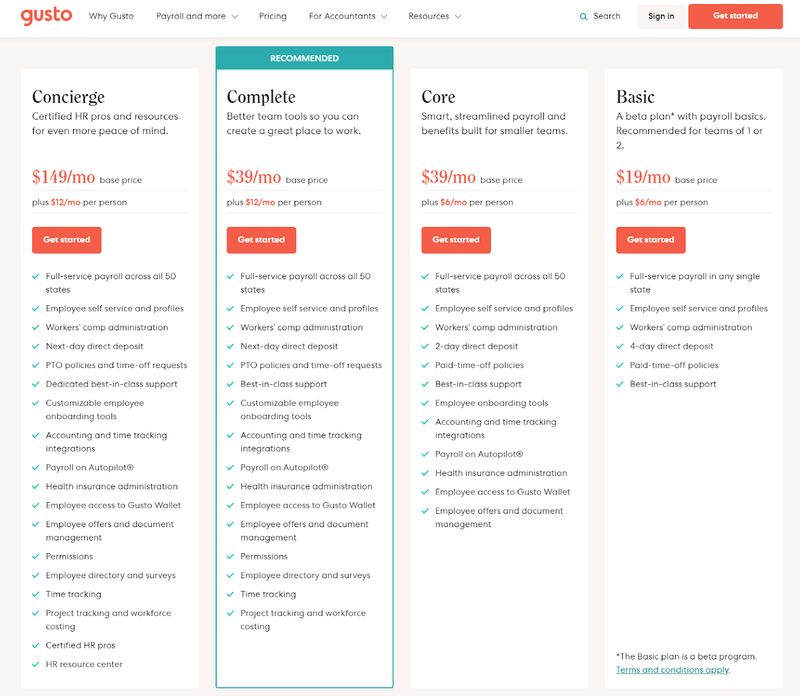 Basic: Gusto's Basic plan is designed for one- to two-person teams and includes payroll for a single state. The Basic plan is $19.99/month, plus a $6/month employee fee.
Core: The Core plan includes two-day direct deposit, employee onboarding, and AutoPilot payroll. The Core plan is $39/month, plus a $6/month employee fee.
Complete: The Complete plan includes time tracking, project tracking, and next-day direct deposit capability. The Complete plan is $39/month, plus a $12/month employee fee.
Concierge: Designed for small businesses looking for HR capability, the Concierge plan includes access to Certified HR professionals, as well as access to the HR resource center. The Concierge plan is $149/month, plus a $12/month employee fee.
Results
From a purely financial standpoint, SurePayroll's cost is lower, with payroll running $29/month. However, you'll pay extra for some of SurePayroll's features, such as multi-state payroll, time tracking, and accounting software integration.
On the other hand, even though Gusto's cost comes in higher, the application includes many of the features you'll have to pay extra for in SurePayroll. For that reason, I'm giving Gusto the win here.
---
SurePayroll vs. Gusto Payroll: Integration with other applications
Integration may or may not be important to you. However, if you want to have your payroll entries posted automatically to your accounting software, you'll want to take a look at the integrations offered by these two applications.
What SurePayroll offers
SurePayroll offers integration with popular accounting software applications, including AccountEdge, Sage 50, QuickBooks Online, Kashoo, Xero, and Less Accounting. Integration with time clock applications, such as SpringAhead, Homebase, and Inception, is available as well.
However, you'll have to pay, with accounting software integration starting at $4.99/per payroll, while time clock integration is $4.99/month, plus a $3/employee charge.
What Gusto Payroll offers
Gusto's integrations significantly dwarf SurePayroll's. It offers integration with FreshBooks, Xero, QuickBooks Online, QuickBooks Desktop, and ZipBooks, along with time tracking applications such as TSheets, When I Work, TimeTracker, and Homebase, as well as several point of sale and online shopping platforms.
Results
Gusto wins this one hands down by offering integration with numerous applications at no additional cost.
---
SurePayroll vs. Gusto Payroll: Reporting
Reporting capability is an important feature in payroll applications. Preview reports, journal reports, and check registers are all important for managing payroll properly. Here's how SurePayroll and Gusto compare.
What SurePayroll offers
SurePayroll offers a good selection of payroll reports, including a Payroll Preview report, an Employee Detail report, a New Hire report, and a Check Register.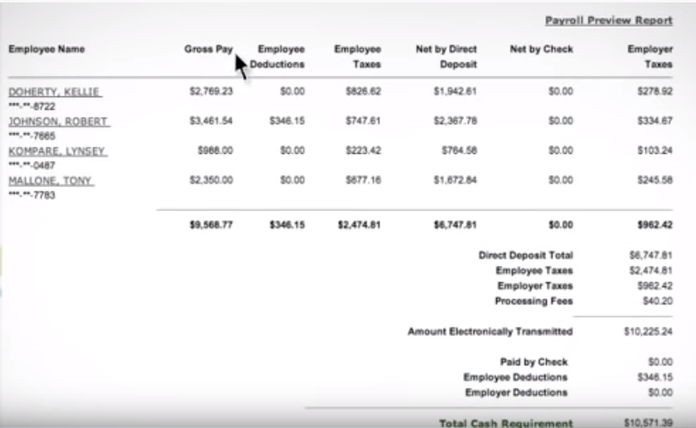 All SurePayroll reports can be exported to Microsoft Excel for customization if you desire or saved as a PDF for easy sharing.
What Gusto Payroll offers
Gusto provides good reporting options with a variety of payroll reports offered, including a Payroll Journal report, a Year-to-Date Earnings report, an Employee Summary report, and a Contractors report.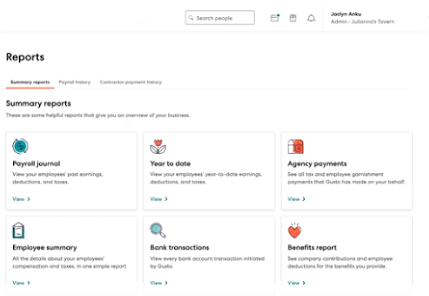 The Reports page lets you choose the report(s) you wish to run, with reports customizable by year, state, or location. Reports can also be exported as a CSV file for further customization or saved as a PDF.
Results
Gusto wins. Though both SurePayroll and Gusto offer a good selection of payroll-related reports, Gusto's Reports feature makes it easy to find and run the reports you need.
---
How They Compare: SurePayroll vs. Gusto
| | SurePayroll | Gusto |
| --- | --- | --- |
| Auto payroll feature | | |
| Full-service payroll | | |
| Employee self-service | | |
| Live support | | |
| Integration | | |
| HR resources | | |
---
And the winner is…Gusto Payroll
Though SurePayroll and Gusto have more similarities than differences, Gusto is the clear winner in this head-to-head matchup.
Gusto offers a long list of features, including an automated payroll option, the flexibility of four plans, and good product support. While Gusto's pricing is higher than SurePayroll, it also includes better integration options, a faster payroll turnaround time, complete tax services at all plan levels, and multi-state payroll processing.
If you're a small business owner with plans to grow, Gusto Payroll may be the right choice for you.