Did you know a study by Nucleus Research found that the average return on investment is $8.71 for every marketing dollar spent?
Good CRM software is essential for your business because it makes your sales team so much more efficient, giving them knowledge about where leads sit in the sales funnel and when to make the right kind of contact.
Which CRM should you choose for your business? On one hand, there's Salesforce CRM, one of the biggest names in the CRM market. You might have heard of Pipedrive and its user-friendly platform as well.
Let's examine both options and see how they compare.
---
Pipedrive vs. Salesforce CRM: An overview
This is an interesting match-up, because one (Salesforce) appears focused on creating a powerful feature-filled platform that can take your company to the next level, while the other (Pipedrive) positions itself as an easy-to-use CRM platform that any sales team can quickly implement into their business.
Who is Pipedrive for?
This is an excellent solution for small businesses or sole proprietorships that just need a quick and easy CRM option that they can get up and running right away, so it's an excellent option for those who don't already know how to use Pipedrive.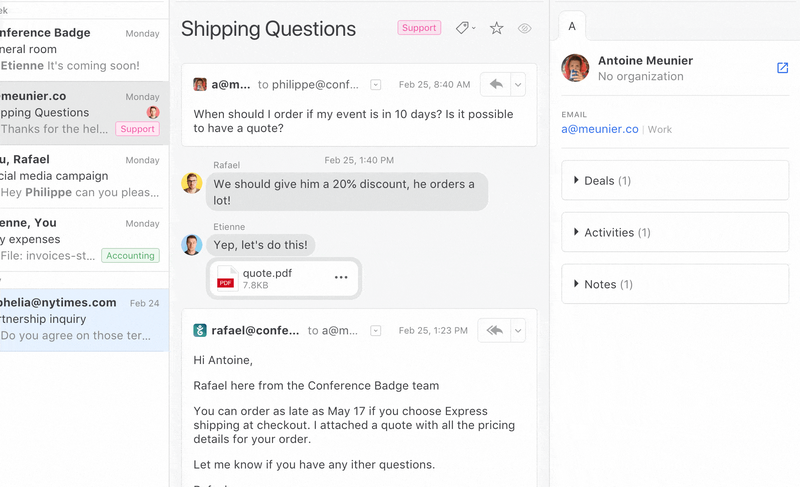 Pipedrive is also one of the least expensive options on the CRM market, making it ideal for companies or individuals who don't have a large software budget to work with.
Who is Salesforce CRM for?
Salesforce tries to appeal to all types of businesses, ranging from the very small to the very large. It customizes its software solution depending on the size of the business and its needs. It has an established platform that's easy to use with a massive selection of features.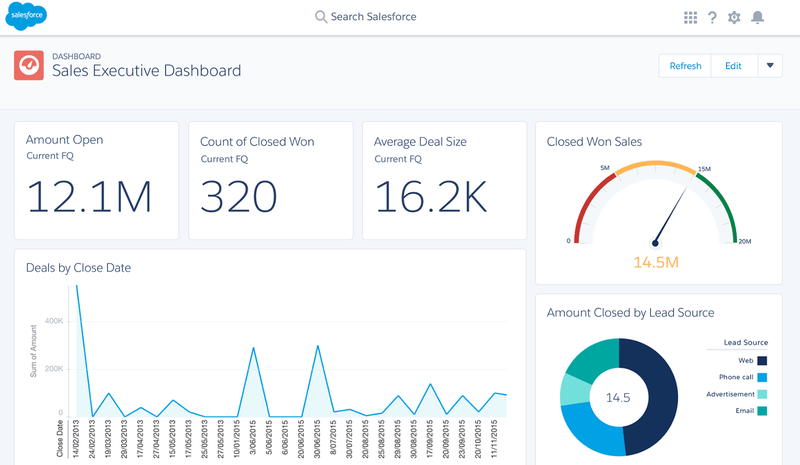 There is a learning curve with this software, but just about any business can use it and get a lot of mileage out of it.
---
Pipedrive vs. Salesforce CRM: Features
Features are a big part of any CRM platform, and some high-powered tools are important to any company trying to get to the next level in sales.
What Pipedrive offers
One of the best things about Pipedrive is its simple and intuitive dashboard that immediately lets you know what deals are in progress and where they stand in the sales pipeline. The dashboard displays important stats so you can spot trends and opportunities to improve your sales process.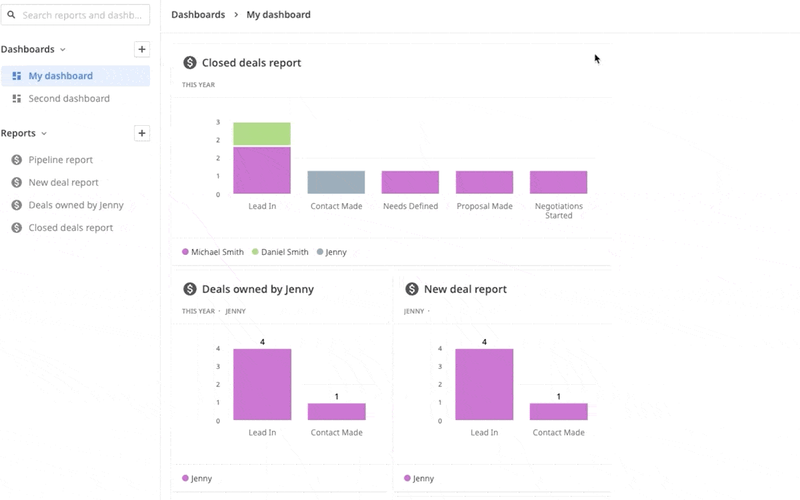 There's an activities and goals feature that allows you to define tasks based on what your business needs, and you can sync it with your calendar and share it with the team. It also offers a chatbot that can capture leads on your website and immediately connect them with sales representatives.
What Salesforce CRM offers
Salesforce does a great job of managing everything about your sales operation. It has an opportunity management function so you can monitor leads as they move through the funnel in your sales pipeline, and then come up with new strategies using analytics.
The software also lets you track tasks and manage the sales team's schedule.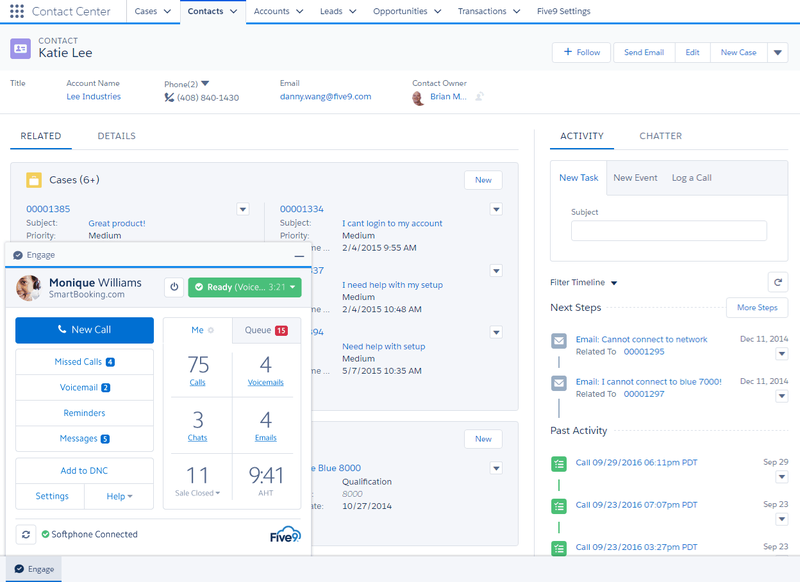 With account management, you are able to track individual customers and share vital information with the team.
Contract management keeps all contracts and other important documentation in one place, and product management organizes all of your product information.
Finally, case management enables you to expand customer service to social media.
Results
Winner: Salesforce
It's tough to beat Salesforce when it comes to overall features (we rated it 10/10 in that category). Pipedrive has some great features any sales team would love, but Salesforce gets the nod here.
---
Pipedrive vs. Salesforce CRM: Support
Customer support is vital to the success of any company, and these two companies have two very different approaches to it.
What Pipedrive offers
Most CRM offerings typically offer support only if you pay for a higher tier of service, and often only during business hours, but Pipedrive offers support 24 hours per day, seven days per week. You can contact support by clicking the question mark in the top right corner when you have the software loaded.
First you'll be prompted to search for an article that answers your question, but you can quickly navigate to an option to chat directly with Pipedrive support staff.
You can also email the team at support@pipedrive.com. Unfortunately, it doesn't appear that Pipedrive offers phone support.
What Salesforce CRM offers
Salesforce does offer phone support, and very good support at that, but you have to pay for it (unless you have a "severity one" issue, which Salesforce defines as a "critical" problem that affects all users and includes "system unavailability and data integrity issues with no workaround available").
Otherwise, you'll need to use the self-help options on the site to solve technical issues, and it does have a pretty robust library.
Salesforce also offers Salesforce University, a week-long training session that will set you back a few hundred dollars per person, not to mention travel expenses and time.
Results
Winner: Salesforce
We give the edge to Salesforce on this one since it offers phone support, albeit for a price. Pipedrive comes close with its 24/7 assistance, but phone support is important to most businesses.
---
Pipedrive vs. Salesforce CRM: Ease of use
It's very important for a CRM platform to be easy to use, or else you risk wasting time and money no matter how powerful the platform is. Pipedrive and Salesforce score very differently in this category.
What Pipedrive offers
Ease of use is where Pipedrive really shines. It has a fantastic dashboard that allows you to display everything you need right in front of you, providing a snapshot of where your leads stand and what action you and your team should take next.
It also integrates seamlessly with your email inbox (more on that later), and its activities and goals feature does a great job of helping you come up with new insights that can help your business get to the next level.
It has an excellent sales reporting function that lets you see important data in a visual way.
What Salesforce CRM offers
Salesforce also does well when it comes to ease of use, but it has its challenges. Because it is such powerful software with a wide range of features, there is a decent learning curve you and your team may need to overcome at first.
You may even find you need to spring for training at Salesforce University.
However, once you're used to the software, it's very intuitive to manage your contacts, leads, and sales pipeline, which is what matters.
Results
Winner: Pipedrive
Pipedrive is easily the winner in terms of how easy it is to fire up and start using, making this a great option for businesses that need something their sales team can implement right away.
---
Pipedrive vs. Salesforce CRM: Pricing
Both CRM options are priced on a per-user, per-month basis, with four different paid tiers.
What Pipedrive offers
Pipedrive pricing includes the following options (you can get a pretty large discount on these if you pay annually):
Essential: $15/month per user
Advanced: $29/month per user
Professional: $59/month per user
Enterprise: $99/month per user
What Salesforce CRM offers
Salesforce pricing includes the following options:
Essentials: $25/month per user
Professional: $75/month per user
Enterprise: $150/month per user
Unlimited: $300/month per user
Results
Winner: Pipedrive
Pipedrive offers its versions at a lower price than Salesforce, and the features are comparable between the versions based on our review.
---
Pipedrive vs. Salesforce CRM: Integration with other software
Integration is an underrated aspect of CRM software. If you bring in a great new CRM platform with lots of features, you might find that your sales process has ground to a crawl because your team is having trouble using the third-party email and marketing platforms, for example.
Fortunately, Pipedrive and Salesforce both perform well when it comes to software integration.
What Pipedrive offers
Pipedrive works with a whole host of popular third-party platforms, whether that be Slack or Outlook or Outfunnel.
The Pipedrive Marketplace shows all of the apps with which it can integrate, including which ones are the most downloaded, the top rated, and so on. Many programs are apps that function right inside Pipedrive, so you don't even have to change windows to use them.
Pipedrive also offers an API that allows companies to build their own apps if the marketplace doesn't offer what they need.
What Salesforce CRM offers
As you would expect from a top dog in the CRM market, Salesforce integrates well with all of the big players in sales and marketing, like G Suite, Mailchimp, and Quickbooks. Its selection of integrations appears a bit more limited than those of other CRM options, as though the creators expect you to do more of the work within the Salesforce software rather than with other platforms.
However, it does offer an AppExchange where you can find apps built by the community — or make your own apps.
Results
Winner: Pipedrive
There's not too much to complain about with Salesforce's integrations, but Pipedrive simply has a greater selection of apps available for integration, and its API is a plus.
---
How They Compare: Pipedrive vs. Salesforce CRM
| | Pipedrive | Salesforce |
| --- | --- | --- |
| Free trial/demo | | |
| Fast onboarding | | |
| Flat rate pricing | | |
| User forum | | |
| In-person training | | |
---
Pipedrive is an inexpensive, easy-to-use Salesforce alternative
It's tough to beat Salesforce when it comes to overall features and customer support, but Pipedrive does such a great job when it comes to ease of use and integrations (not to mention lower prices) that we give it the nod in this match-up.
However, that doesn't mean it's right for your business. If you are less concerned with price and want a powerful, feature-heavy CRM, for example, than Salesforce is probably a better choice.
The best way to find out which one is right for you is to try them both out.