The rise of COVID-19 led many people to have talks with their families about health care or end-of-life decisions. Increasingly they turn to Cake, an online planning platform, serving more than 2.5 million unique visitors per month.
Founded in 2015, Cake empowers people to plan, save, and share end-of-life preferences. Cofounder and CEO Dr. Suelin Chen says, "At Cake, we have always wanted to help people navigate mortality for themselves and their loved ones. This initial idea has actually not changed much!"
Named on the Fortune 40 under 40 list and the Care 100: The most influential people in care of 2020, Dr. Chen entered an industry traditionally dominated by men. But that didn't dissuade her from securing venture capital funds to develop a digital platform.
She points out that "in our field, women make the majority of end-of-life decisions for households, our audience is majority women, and our team is majority women." In our interview with Dr. Chen, we learn what it's like to be a woman entrepreneur in STEM and why women-owned businesses are essential.
---
Identify customer challenges
Dr. Chen knew that "until recently, most people in our society do not typically engage closely with mortality unless they are in the doctor's office or a lawyer's office, and it has been hard to find good information online. Outside of spiritual spaces, there have not been enough welcoming spaces for people to reflect on, plan for, and research end-of-life."
Through her work in health care, Dr. Chen realized, "We spend an enormous amount of time, resources, and energy on extending life as long as possible. This is, of course, wonderful, but I feel passionately that we should also spend just as much time, resources, and energy on honoring life at the very end, and even after life is gone."
Identifying those barriers to end-of-life planning was critical to Dr. Chen. "At Cake, we want to help close this gap in knowledge and give people the best tools and resources that have been created by experts in the field and by others who have gone through similar experiences, so that all people can engage with mortality whenever they feel ready."
But it's more than access to resources as people also need to trust a platform to deliver precise information that empowers them, rather than boring them or complicating matters.
"We saw that people need a trusted guide on what their options are, and help and encouragement in finding solutions and getting things done. Many Cake users have also shared that they view end-of-life planning as a way for them to connect with what gives life meaning and that this clarity can become a positive force in their lives."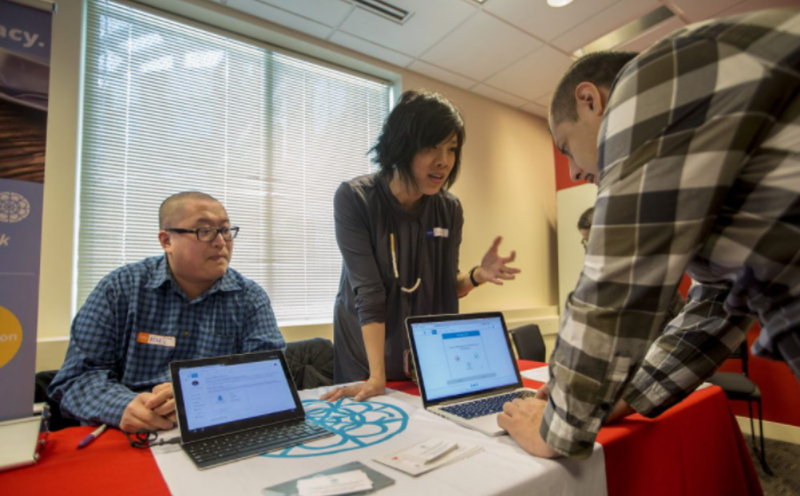 ---
Secure startup funding
Getting funding for your startup is essential yet often difficult. Statistically, a women-owned business is less likely to receive venture capital, with only 9.2% of investments going to women-founded startups, according to a study by RateMyInvestor and DiversityVC.
Dr. Chen says, "Every single investor understood the enormous unmet need that we are solving, but at the beginning of our journey, not every investor believed that there would be enough people who want to engage with mortality for our business to thrive."
Pitching investors isn't only about giving the technical details of a company. It's about appealing personally to individual investors, especially for startups, where you have little data to prove your capacity for growth.
She mentions, "In general, it is interesting to be solving a problem that every person has a relationship with — we are all mortal beings, after all. This can be both an advantage and disadvantage: The advantage is that some investors have personally experienced the pain that avoiding mortality causes, and they become evangelists for what we do. The disadvantage is that some investors want to avoid thinking about mortality for themselves (which is understandable!), and these investors find it hard to imagine that anyone else might be highly motivated to engage with death and end-of-life."
Of course, funding challenges ease once you "experience massive organic growth and have the data to prove it; this is no longer an objection!" To date, Cake has raised a total of $3 million in funding over four rounds.
---
Overcome obstacles in a male-dominated industry
With the traditional end-of-life industry dominated by men, Dr. Chen was well aware of her challenges. "Even among people who identify as progressive, there is an enormous amount of unconscious bias that comes out in both subtle and not-so-subtle ways," says Dr. Chen.

As a startup founder, CEO, and mother, Dr. Chen experienced unconscious bias. "I had two kids during my time as a founder, and even though many women do not have kids, if you want to support women founders, you also have to support moms." Dr. Chen "shares these anecdotes, so other women don't feel alone if they experience something similar."
"When I worked in transaction advising and health tech, I encountered significant challenges due to my gender. Once at JPM (the largest health care investment conference in the country), I was a key member of an M&A deal team but was mistaken for a secretary."
She also notes that these experiences continued after founding her business. "Unfortunately, when you are visibly pregnant, some people struggle to view you as a competent executive. All you are is a human incubator.
I remember attending a leadership event for CEOs and heard an inspiring talk by an executive coach, so I approached him afterward during the networking session and asked some thoughtful questions about his presentation.
He ignored my questions and just smiled at me and said, "now, you just focus on the most important thing." And I thought, "Hiring? Developing talent?" but then he pointed at my pregnant belly and said, "just focus on your baby." On the surface, he was being nice, but in hindsight, I felt like my identity as a CEO was invisible to him."
Although barriers and bias still exist, Dr. Chen reminds us, "In the end, all you can do is brush it off and not let these experiences define you." Furthermore, she believes "it is critical to our world that more women and underrepresented people are supported as founders because we experience the world differently and can identify problems and solutions that are not even on the radar of white male founders."
---
Address diversity and inclusion
Cultural experiences and perspectives also play a role in how Dr. Chen views her position as the founder of a women-owned business. "I'm an ethnic minority, but as an east-Asian person, I do still have a lot of privilege, so it is definitely a complex interplay."
She credits her upbringing saying, "One thing that I'm grateful for is that growing up speaking a different language at home, having parents who grew up in another country, and visiting and living in other countries, gave me a sense at an early age that there are other cultures and perspectives that are different from my own."
Yet, Dr. Chen has "experienced enough discrimination to know that racism is a real systemic problem in our world." This awareness keeps her working hard to "ensure that we adopt anti-racist policies at our company and find ways to increase access and equity on our platform."
---
How Cake supports you and your SMB
As women entrepreneurs, we're balancing business ownership, family, and tons of daily decisions. Planning for mortality and sharing this information with our loved ones is a way to ensure everyone is taken care of, even if the unexpected happens.
After all, "Every single person on this earth is impacted by death, grief, loss, and love. It is a universal human experience," Dr. Chen says. Business owners can get help with:
Creating a digital asset plan to manage your social media and online accounts
Developing guidelines for end-of-life medical care
Sharing funeral and memorial ideas
Protecting adult dependents, children, and spouses
Assisting aging parents in the planning process
---
Advice for women entrepreneurs in STEM
Breaking down barriers in male-dominated spaces while developing inclusive policies are only two components of change. Regardless of the industry, women benefit from mentorship or peer-to-peer advice. Yet, it's also important to take advice with a grain of salt.
Dr. Chen recommends that women entrepreneurs "be your authentic self. Listen carefully to all the advice that you will inevitably get, but before implementing the advice, always map it onto yourself and square it with your natural strengths and your values."
And lastly, reach out to others during your journey into small business ownership. "Don't be afraid to ask for help! There are so many people out there rooting for you."