Many small businesses across the U.S. are struggling to reopen and operate in the new realities of the COVID-19 crisis. And that crisis seems far from over as we watch COVID-19 cases peaking in numerous states across the country.
The unfortunate reality is small businesses operate on razor-thin margins. They don't have the resources of larger corporations and are suffering exponentially greater losses in this crisis.
We surveyed small business owners to explore this sentiment and understand the immediate and long-term impacts that the crisis has had on their businesses. Continue reading to see the state of affairs for business owners and learn more about the business tactics they're employing in response to the crisis.
94% of SMBs report negative effects
Restaurant, retail, and healthcare are the hardest hit
9% of SMBs executed permanent layoffs
51% of SMBs adopt work-from-home policies, 33% plan to do so permanently
Majority seek financial assistance, with 78% seeking PPP
51% of SMBs are bearish on their six-month outlook
---
94% of SMBs reporting negative effects
A staggering 94% of small businesses reported the COVID-19 crisis has had a negative impact on their business, with 48% reporting the impact as severely negative.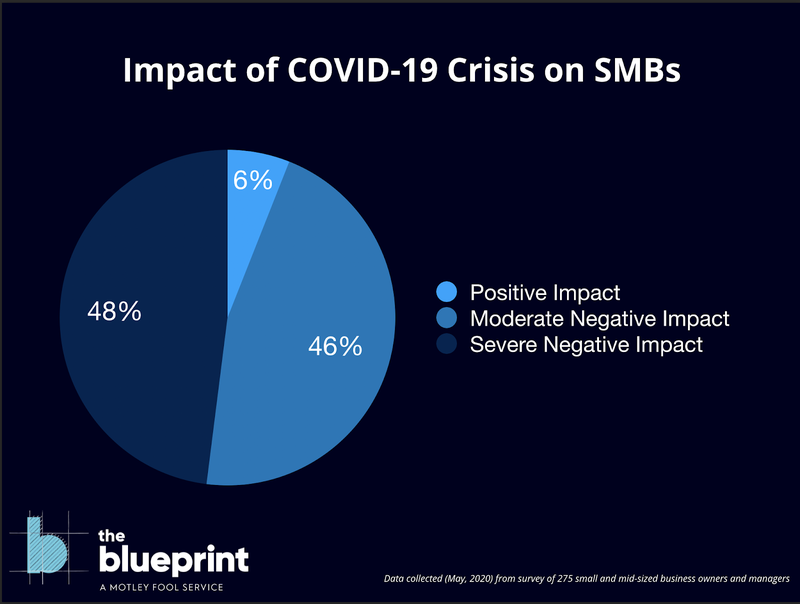 Only 6% report that the crisis has had a positive effect on their business, and most of those are in the IT and IT services industry. They're likely reporting an uptick as more companies require their telecom and data networking services for remote work.
---
Restaurant, retail, and healthcare top list of hardest hit
The COVID-19 crisis has spared only those seemingly invincible businesses in the technology sector. While most industries have been affected, our data indicates the ones most negatively affected by the crisis are the restaurant, retail, legal, non-profit, and healthcare and medical services sectors.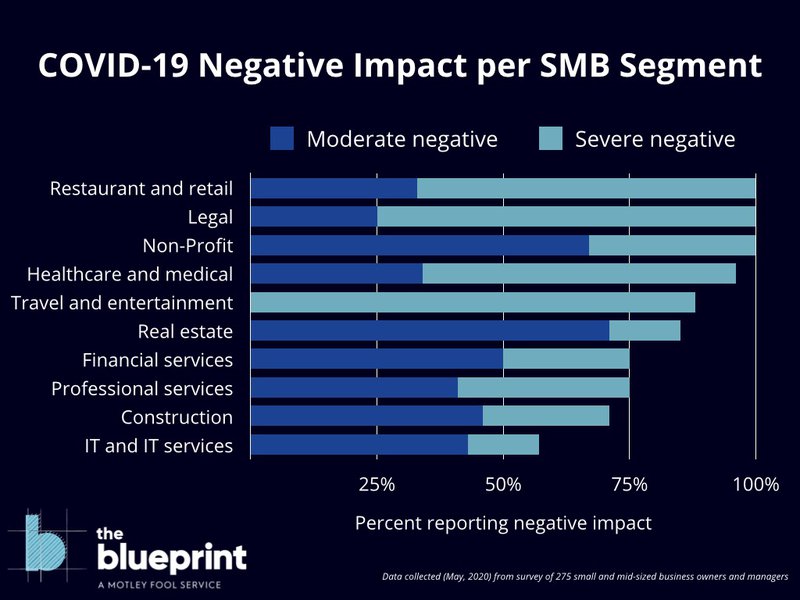 The restaurant and retail owners we surveyed report moderate to severely negative business impacts, with 68% reporting a severely negative impact. Nearly all of healthcare and medical businesses (97%) report moderate to severely negative business impacts, with 63% reporting severely negative effects.
These severe impacts are no surprise for either sector. The restaurant space alone has ground to a halt as businesses learn how to pivot to take-out and delivery.
The National Restaurant Association has proposed interesting technologies to combat the spread of the virus and heighten patrons' peace of mind, which includes electronic menus, self-ordering, and contactless payment, which are reliant on existing point-of-sale systems.
Retail may be less severe given the existing maturity of e-commerce. Those SMB retailers not already selling online have had a steep uphill struggle.
That's especially the case for old-school, mom-and-pop stores operating without a retail point-of-sale system (POS) in place. However, it's never too late to adopt a POS that either includes or integrates with an e-commerce platform so you can launch your online store.
The healthcare and medical industry has been decimated as months of elective surgeries and doctor's visits have been postponed. According to The New York Times, hospital losses may have reached as much as $50 billion a month due to canceled or postponed surgeries and procedures.
---
9% of SMBs suffered permanent layoffs
Just about 1 in 10 of our respondents (9%) have had to permanently lay off employees, and 3% report they've permanently shuttered their businesses.
Data from the ADP Research Institute paints an even grimmer picture with an enormous and continued increases in job losses for SMBs.
The ADP data shows that small businesses with 1 to 49 employees were hit hard between February and March with 90,000 job losses. Mid-size and large businesses saw employment growth of 7,000 and 56,000, respectively.
Larger businesses faced their own reckonings in April and May, and the onslaught continued with SMBs, as businesses with fewer than 500 employees suffered over 12 million job losses.
---
51% of SMBs adopt work-from-home policies, and 33% plan to do the same
Businesses we surveyed have taken many approaches to managing the crisis. They've also noted similar permanent adjustments they plan to make to their business.
Perhaps the most surprising of these findings is that 26% of our respondents said they don't expect their businesses to permanently change at all post COVID-19 crisis.
It seems crazy that a business could come out of this crisis making no adjustments. But then again, there's always room for a well-built, risk-aware operation in the right sector to capitalize on the world around them. If it's not broken, why fix it?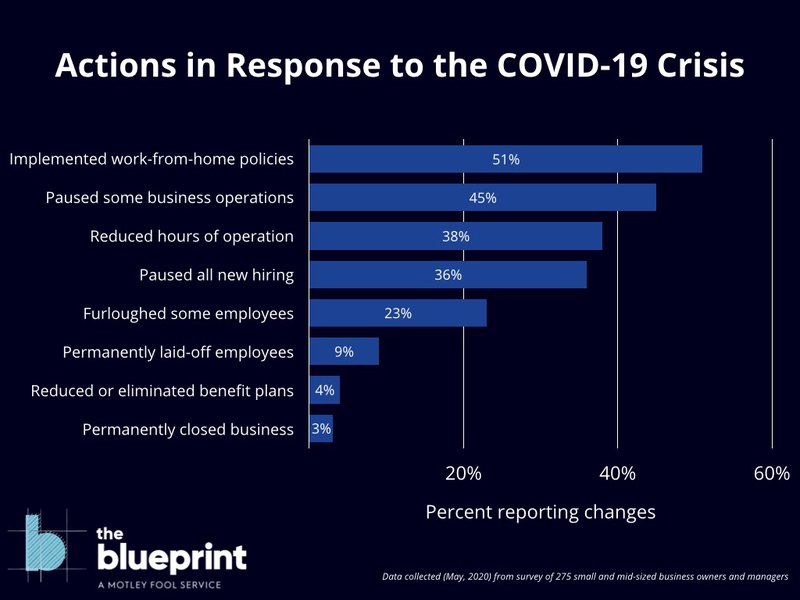 Just over half (51%) of small businesses have implemented work-from-home policies, and another 33% say they plan to have more employees work remotely. This is a testament to the absolutely skyrocketing stocks of Zoom, Avaya, Citrix, and other online communications tools.
These tools are getting a ton of coverage, but office departures and remote realities have also made project management tools more important than ever for offering status updates and moving projects along without face-to-face check-ins.
The stresses of the crisis have already caused 45% of respondents to strategically pause some business operations. And for a look ahead, 31% plan to adjust their marketing strategies, while 29% will look to fundamentally change their business models.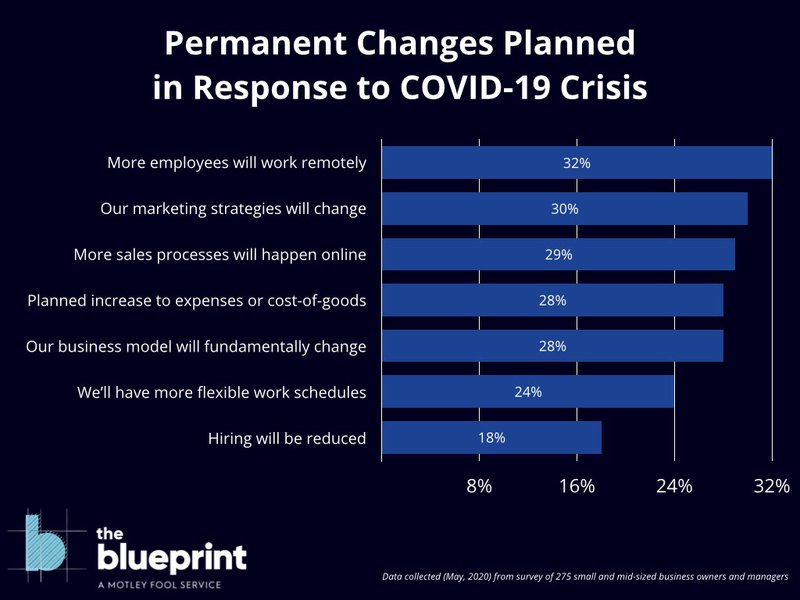 Remote working and limited or unknown resources are obvious reasons for pausing business operations. There's no doubt that today's affordable and accessible business technology solutions empower companies to limit the number of operations that must be paused even during the stresses of a global pandemic.
Marketing plans can be easily adjusted and automated for weeks at a time with marketing automation platforms. Leads and existing customers can easily be managed with CRM tools and lead management software to ensure deals continue coming in and existing customers remain satisfied. And accounting and HR tools make it easy to keep the back end of businesses in order from afar.
Other common reactions to the COVID-19 crisis include reducing hours of operation and pausing hiring, with 38% and 36% of SMBs employing these tactics, respectively.
---
65% of SMBs sought financial assistance
The federal government's response to the COVID-19 crisis is a large part of the unfolding story. About two-thirds (65%) of our respondents noted that they've sought some form of financial assistance to help them with the COVID-19 crisis.
The most popular assistance sought is the federal government's Payroll Protection Plan (PPP), with 78% of respondents seeking aid identifying PPP.
Rounding out the top three financial assistance programs are Economic Injury Disaster Loans (EIDL) and SBA Loan Forgiveness, with 21% and 20% of businesses in search of aid seeking these options.
Of respondents seeking PPP assistance, 85% have received their requested financial aid. For EIDL and SBA Loan Forgiveness, only 50% and 46% have had their requested assistance fulfilled, respectively.
All components of the crisis have put unimaginable financial strain on businesses. The federal government's financial response is surely appreciated by all, but is it enough — or was it too little, too late?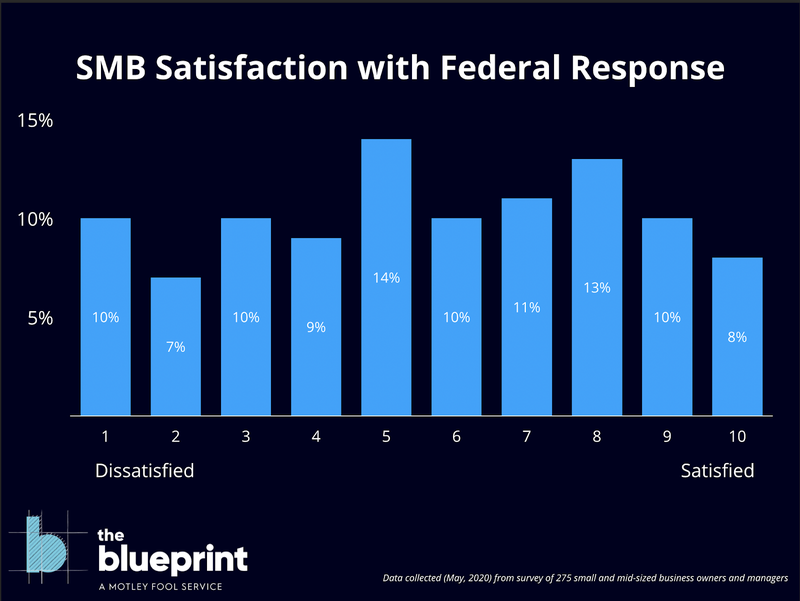 Our respondents rated the federal government's response on a 10-point scale, with 1 being most negative and 10 being most positive. Sentiment is split exactly 50/50 between 1 to 5 and 6 to 10.
The most listed response is a 5 out of 10, with 14%, and it's balanced out by more satisfied responses, as 11% and 13% of respondents listed 7 and 8, respectively.
Even when we break out these government ratings by those businesses that listed the crisis as either moderately or severely negative, the sentiment only slightly skewed negative, with 52% listing between 1 and 5 and 48% listing between 6 and 10.
This seems to reflect an overall "meh" sentiment of the federal government's response, though it's worth noting that it's not negative.
---
51% of SMBs are bearish on their six-month outlook
As we step into summer, businesses on the whole seem unsure on what the next six months hold.
Businesses rated their projected performance on a six-month outlook from 1 to 10, with 1 being negative and 10 being positive. The most reported rating is 7, with 20% of businesses listing it. Next is a 5, with 17% listed. Overall, the sentiment on the six-month outlook is slightly more bearish, with 51% listing between 1 and 5 while 49% list between 6 and 10.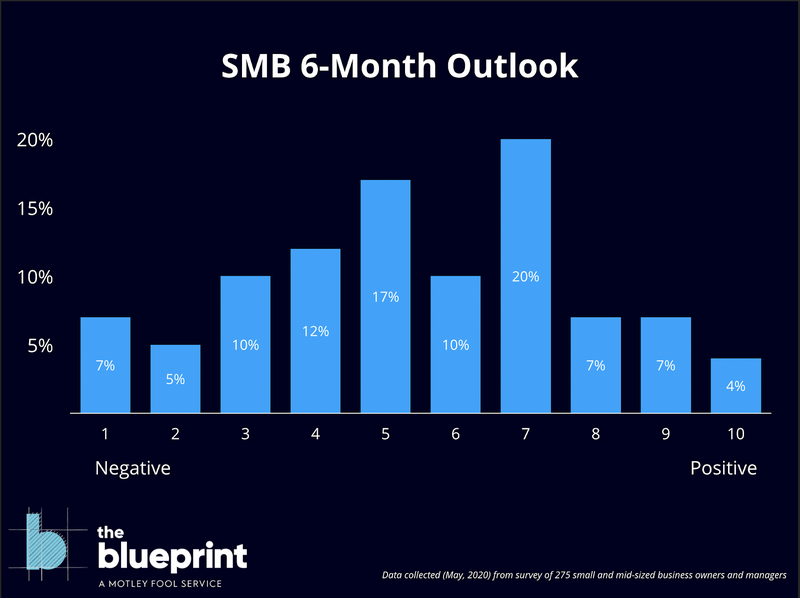 Businesses that report moderate to severe impacts from the COVID-19 crisis have a more bearish six-month outlook, with 59% listing between 1 and 5 and 41% listing between 6 and 10. However, 5 and 7 out of 10 are still the most indicated projections, with 18% listing each.
This bearishness is even more prominent in similar research from McKinsey & Co, which shows that 75% of their small business respondents from May 8 to May 13 are "unsure" or "pessimistic" about their confidence in economic recovery post-crisis.
---
So, what now?
The American Medical Association cites Harvard's Marc Lipsitch, DPhil predictions of a 20% decline in cases throughout the summer followed by an autumn that looks a lot like spring 2020, which wreaked the damages we've quantified above.
Lipsitch is a professor of epidemiology at the Harvard T. H. Chan School of Public Health and director of the Center for Communicable Disease Dynamics. He states we'll have a harder time controlling coronavirus in the fall given the typical coronavirus pattern where transmission peaks in November, with cases peaking in December.
Pair that with social exhaustion and unrest around stay-at-home and safer-in-place orders, not to mention continued protests, and it seems overwhelmingly like we've got far more trials and troubles ahead of us than behind.
So, what now? Business owners have to get leaner and more efficient. Consider software options that reduce human error and provide key automations to otherwise time-consuming business processes.
If you can ramp up business this summer, go for it. But keep in mind the potentially negative impacts of the second wave, and try to get ahead of it however you can.
Methodology
The Blueprint surveyed 275 people across the U.S., aged 18 and older, who self-identified as business owners. The survey was conducted via email between May 12, 2020, and May 15, 2020. While efforts were made to create a representative sample, there is variability in any sampling method and no strict statistical testing was performed.