You've spent months recruiting for a new web developer. It's a tough market with a lot of competition for the top talent, and it's been hard to find someone with the right skills. But you got there. You've hired a superstar and you're really excited for them to get to work. You know they will have a positive impact on your business.
Cut to two years later. They've been doing stellar work, so you've left them to it. You haven't checked in to see if they are happy beyond an annual performance review and some sort of bonus scheme.
So, imagine your surprise when they hand in their notice because you failed to provide any development opportunities or see if they enjoyed what they were working on. You just kept on piling on the work because you knew they could handle it.
This is the opposite of talent management. If you want to avoid this situation, check out the talent management strategies you need to implement in your business below.
---
Overview: What is talent management?
Talent management in organizations involves many different areas of human capital management, including hiring, onboarding, training and development of employees, performance management, and even offboarding of employees.
Many HR departments only think of talent management as starting when an employee has been working at a company for a while. But forward-looking companies are starting to realize that talent management starts the moment a candidate has any interaction with your business, and never really ends.
Talent management aims to nurture employees to get the most out of them, develop new skills, and enhance their work performance.
---
Why should talent management be part of your business strategy?
HR stands for human resources, and it's important to remember that your employees are people, not machines. Yes, revenue is crucial to survival, but you won't be operating at a level to achieve maximum profit if you don't invest in your people.
That's why you need to put together talent management activities to ensure you get the most out of your workforce.
Boost employee morale and satisfaction
A happy worker is a more productive worker and is more likely to stay at your company in the long term. One of the ways to make your employees happy is to show them that you care about them by creating a talent management system.
Training is also an important part of any workforce, as employees can feel like they are developing new skills and trying new things, instead of stagnating and doing the same work for years on end.
Improve your employer brand
Every time someone comes into contact with your company, you have the opportunity to make a good or bad impression and to encourage them to want to work with you (or continue to work with you). This includes social media posts, Glassdoor ratings, and testimonials from current and former employees.
As a company, you have a brand, and the better your brand, the more likely people will want to work with you. If you have an effective talent management program, then employees are more likely to speak positively about you and boost your employer brand.
Increase employee job referrals
If you've hired someone amazing, chances are they'll have equally talented friends they can recommend when you have a job opening. But they are only going to recommend their friends and former colleagues if they like where they are working, and they'll give them an honest assessment of what it's like to work at your company.
You need to create a talent management program so they can tell their friends that they'll get opportunities to progress and develop in a way that tallies with their long-term goals.
---
Challenges of talent management
As with any change of strategy or way of doing business, you'll need to overcome challenges and barriers before you see results.
Here are some challenges you need to be aware of when starting on your journey.
Limited budgets
While talent management doesn't have to be expensive, and it will lead to a higher return on investment (ROI) and better business development in the long term, there are some initial costs.
This involves taking a look at how you can improve your hiring, onboarding, performance management, and offboarding programs, and setting up a system to track employee satisfaction. You will also need to invest in more, and better, training programs.
If you have a limited budget, especially if you're a new startup or work in a non-profit, it's difficult to find the money to be able to offset these initial costs.
A lack of agility
Talent management can mean changing the way you work and how you treat employees. And your talent management strategies will change over the years, with the speed of technological innovation and as new generations enter the workforce.
If changing your processes takes years rather than months, or if you use the phrase "but we've always done it this way," then you'll fall behind the curve when it comes to successfully managing your talent and struggle to attract and retain highly-skilled employees.
No HR analytics strategy
Setting up a talent management program is only the first step. It's important to monitor its success so you can see if it's effective in driving ROI and to find ways you can improve the program.
Harnessing the power of your data and implementing a workforce analytics strategy are key here. You need to track HR metrics that relate to talent management so you can identify what is and isn't working. These metrics include time-to-hire data, employee satisfaction, and staff retention rate.
---
Talent management strategies you can try
We've discussed why you need a talent management strategy, but now we'll discuss what kind of tactics you need to use to ensure success. We'll also look at HR software and digital talent management tools that can help make your program a success.
Overhaul your recruitment process
Your recruitment process reveals a lot about what kind of company you are. Do you constantly reschedule interviews? Or do you take months to get back to candidates? Do you make them jump through unnecessary hoops? Or ask irrelevant questions?
A bad recruitment process will see top talent running for the hills. A good recruitment process gives candidates a positive impression of your company before they've even started working there. They'll be excited about their new job, rather than wary of your organizational skills and communication processes.
Whether you're hiring a new full-time employee or onboarding a contract employee for a project, make sure they have a good experience and you treat them with respect, or you may find them speaking unfavorably about your company at a later date.
Tip: Invest in recruitment software. This can either be a standalone solution such as Workable, or you can use the recruiting functionality with your HR software. These kinds of solutions automate manual processes such as following up with candidates, scheduling interviews, and creating job ads. This automation saves you time and improves the candidate experience.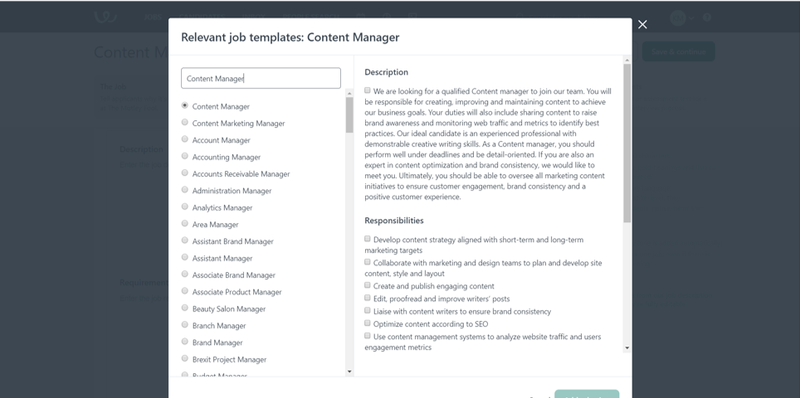 Provide continuous learning and development opportunities
If you're still stuck in the days of annual performance reviews and setting yearly goals, then you need to rethink your performance management process. Employees want continuous feedback, and they also want the opportunity to give feedback on their bosses and peers.
You can't wait a year to assess your workers' performance since, if there's an issue, it will have had time to fester and affect business performance. Or your employees will have gotten sick of waiting for an opportunity to do more training or learn new skills and left for your rival, who offers tons of learning opportunities.
Tip: Embracing a more informal performance management process is key to success. Instead of scheduling a formal meeting with an agenda, ask your employee for a quick five-minute chat, or send them a quick email congratulating them on the success of a project.
HR software Zenefits lets you track both the progress of goals and the performance management process as a whole, while displaying all your scheduled performance reviews, and making it easy for employees to leave feedback for you and other managers.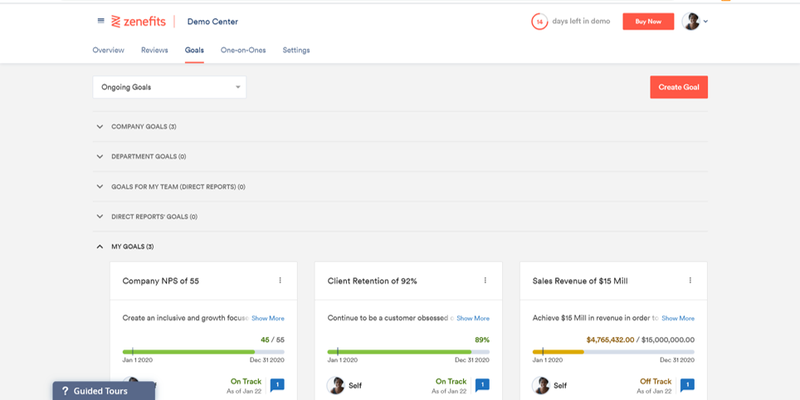 Reward hard work in a creative way
Yes, compensation is important, but monetary bonuses aren't the only way to recognize hard work and good results. If you have a limited budget and you can't afford these bonuses, then find other ways to give this recognition.
Give them an afternoon off at a quiet time of the year. Take them out for lunch, paid for by the company, of course. Implement a flexible work schedule or allow them extra work-from-home days. Even sending an email to the entire company praising them for completing a successful piece of work is an important form of recognition.
Tip: Ask employees what kind of recognition they want, as not everybody has the same priorities. Send out a survey so you can better understand their priorities and tailor your reward scheme accordingly. Workday can help you ensure your employees are getting the rewards that make them happy by letting you send out surveys to different departments or job roles.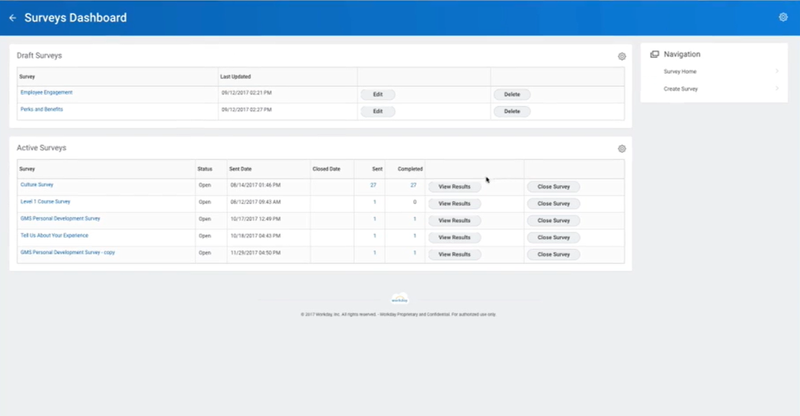 Invest in workforce and people analytics
You need to constantly be optimizing your talent management program, rather than creating it and never revisiting it. This means tracking HR metrics through workforce analytics, which refers to data on your processes and tools, and people analytics, which refers to data about your employees.
By doing this, you can understand what does and doesn't work for your business, while testing new approaches, and making changes based on this data. There is no one-size-fits-all approach to talent management, as all companies have different needs, so the only way to see what will work for your business is to try it and monitor its success.
You can also make a business case to continue and expand your talent management program, as you can tie it to ROI.
Tip: Automate the manual process of data collection and analysis if you want more accurate results, quicker. With BambooHR, you can either use built-in reports or create your own to keep on top of all aspects of your talent management program. This includes time-to-hire and employee retention.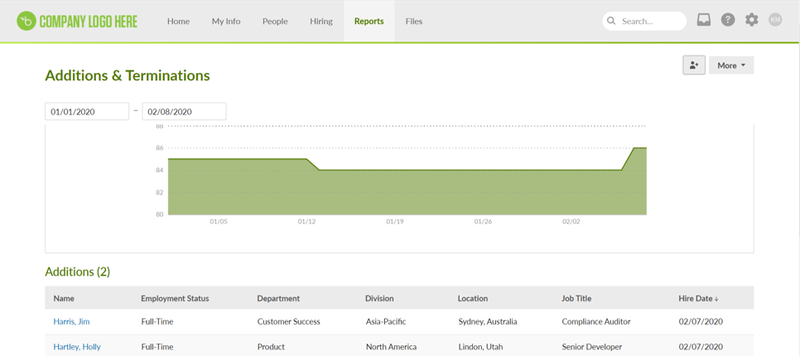 Offboard employees thoughtfully
Instead of being bitter when an employee hands in their notice, or just completely ignoring them, treat this as another opportunity to make a good impression. Show you care by conducting an exit interview so you can find out why they left and if there are any improvements you can make.
Continue to engage with them until their final day and treat them with the same respect as the rest of your employees. Wish them well and keep in touch.
If an employee has a good offboarding experience, then they are more likely to recommend their talented friends, which will help you with your talent acquisition process. And who knows, if they like your company enough, they may come back one day.
BambooHR provides a customizable checklist to help you go through the different tasks, including celebrating the employee's new opportunity, and collect data from each one.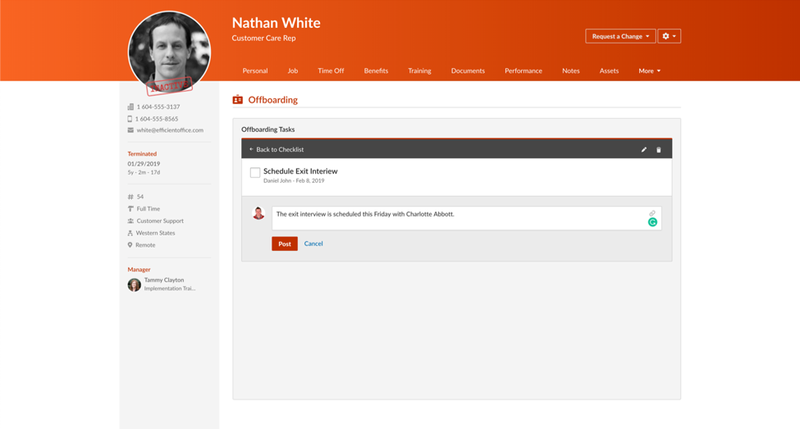 ---
Collaborative talent management
While human resources and talent management are inextricably linked, you also need to enlist other departments if you want to be successful.
If you want to work on presenting the best image of your company and improving your employer branding, then ask marketing for tips on how to make the business and job ads more attractive to candidates.
If you want to successfully manage your data, then you need the help of your IT department to make sure all candidate and employee information is flowing seamlessly between different departments.
If you want to provide a timely offer of employment, then you'll need to work with different departments to ensure you have all the details for the contract.
Talent management needs buy-in from all areas of the business, so don't go it alone, and make sure you have effective communication and collaboration processes.