Trello is one of my favorite project management tools that I've reviewed for The Blueprint. It's simple, intuitive, and the developers made every effort to ensure that all new users can learn their platform in minutes.
However, if you've ever used Trello for project management, you'll notice it does have some missing elements that are crucial to some users and projects. Therefore it's only logical that this option is not a viable project management tool for everybody.
That's why I've put together this list of eight other project management tools that I've reviewed that fill in the holes left by Trello. Each platform fits into one or all of three specific criteria and addresses a specific need or audience.
Here the top Trello alternatives for project management:
---
What to look for in a great Trello alternative
Trello is the most user-friendly and easiest to use project management software that I've ever come across, so it's hard to fill those shoes. However, that doesn't mean Trello is the best fit for every team and project management process, especially since it is limited in features and management styles.
That's why I've put together three separate criteria for selecting a viable Trello alternative. Each alternative in my list includes one or more of these qualities.
1. Easy to use
Because of Trello's ease of use, it stands to reason that an alternative should be able to compete in this category. If the alternative can't compete with Trello in this key area, it definitely must excel in one of the other criteria. Only one tool in this list falls short of this metric, however you'll find that it definitely makes up for it in every other area.
2. Offers additional management styles
Managing projects in Trello limits functionality by only offering kanban project management as a task tracking style. It also lacks financial management features. A viable Trello alternative ought to offer more functionality than its competition.
3. Relatively affordable
I sometimes hesitate when deeming "affordability" as a criterion for an alternative, but this word is certainly relative. What is affordable for a large corporation is not affordable for a small business or nonprofit. Only one option in this list falls well outside Trello's price range, however considering its market and extensive functionality, I deemed it worthy of mentioning.
---
Our top 8 picks for Trello alternatives
Based on my three criteria, I was able to narrow down these eight specific software options. Here's to finding the right program for you and your team.
---
1. Best for easy onboarding: Jira
Jira is the perfect choice to kick off this list since this tool and Trello are both owned by Atlassian, which leads to some crossover functionality. Both tools offer similar kanban board management setups in terms of pure function, although Trello's is far prettier.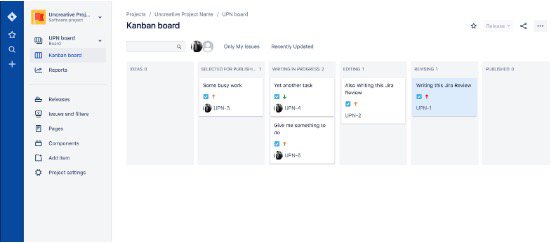 What sets Jira apart are three major details:
Jira offers an incredible onboarding process
Jira offers more project management styles
Jira's pricing structure
Starting off with number one, as soon as you sign up for Jira, the tool walks you through a step-by-step setup process that'll help you choose the correct management style for your project as well as instruct you on how to use that setup. This is helpful for newer project management software users who are looking to personalize their experience.
As for number two, just like Trello, Jira functions as more of a collaboration tool that focuses on streamlining your project execution experience. Jira offers many different project management task planning and management styles, including kanban boards, critical path methodology, Scrum methodology, content management templates, and many others to help improve work performance.
Despite being owned by the same company, Jira's pricing structure also differs from Trello's:
Standard: $10/month flat for up to 10 users
Premium: $14/month/user
Finally, Jira's native reporting capabilities definitely exceed those offered by Trello's add-on "Power-Up" system. In fact, Jira has one of the simplest reporting selections I've ever seen.
---
2. Best for workload management: Asana
Trello is very easy to use, but it does lack some worker-centric features that empower the team to work closely with their managers. On the other hand, Asana is a fantastic software option that levels the playing field between project managers and their team members.
The developers for this tool strive to democratize the project life cycle through features that encourage transparency, communication, and teamwork between team members and managers alike when executing project tasks.
The premier feature for this platform, in my opinion, is their rendition of workload management.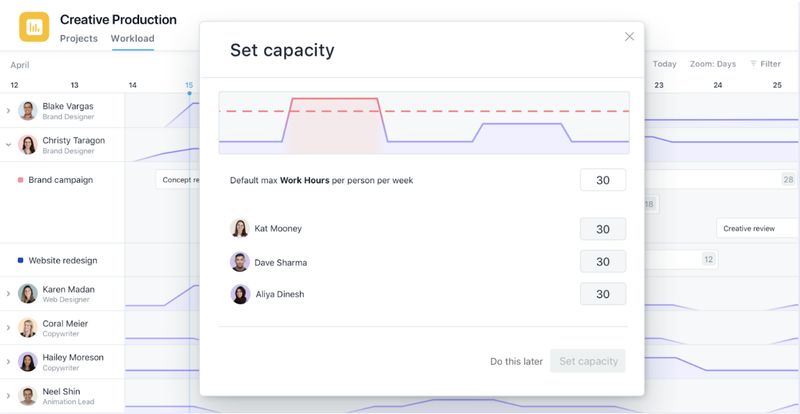 Unlike other workload management features offered by its competitors, Asana takes a different approach by offering live workload tracking graphs and warning notifications in the event of overages, preventing worker burnout.
However, like every platform, Asana has its strengths and weaknesses.
While it excels as a useful collaboration tool, it doesn't offer any reporting, budgeting, or invoicing features. However, this isn't a dealbreaker so long as you have alternative financial management tools or your project doesn't require them.
As for pricing, Asana is comparable to Trello with a free option, as well as three paid options:
Premium: $9.99/user/month with annual contract - All previous features, timelines, advanced searches, custom field creation.
Business: $19.99/user/month with an annual contract - All previous features, portfolios, workload management, forms, automatic proofing, Adobe Creative Cloud integration.
Enterprise: Pricing negotiated with the client - All previous features, user provisioning, data exporting, custom branding, priority support.
These prices practically mirror Trello's two paid tiers of $.9.99/user/month and $20.83/user/month.
---
3. Best for simple projects: Basecamp
Before I reviewed Trello, I gave the nod to Basecamp as the easiest project management software to use and from a certain point of view, it is easier than Trello. However, that ease of use stems from a considerable lack of features. That's why I eventually gave the "easiest to use" superlative to Trello.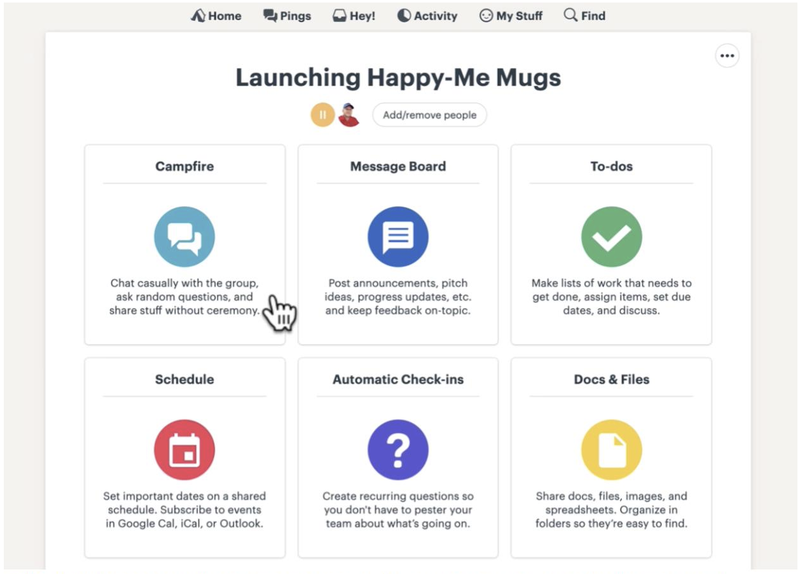 This product is perfect for teams looking to scale in size due to its flat $99/month pricing structure, but it is lacking if you're looking for a comprehensive project management software with budgeting, time tracking, and invoicing features.
This flat pricing structure is one of its biggest strengths since you'll always pay the same price no matter how many users you add, not to mention it is easy to teach new users how to use.
Basecamp is best when used to track and manage small projects since it does lack a lot of the core features one would expect in a project management software product. In fact, the only management style it offers is a task list format complete with comments, a shared team calendar, file uploads, and project forums.
This is a great beginner project management tool for teams that are new to this kind of technology, but once you learn the ropes and want to take on larger projects, you might have to look elsewhere for another solution.
---
4. Best for the price: Podio
If Basecamp is great for beginners, Podio is the perfect tool for project managers with some experience with the software who are limited by their slim budget. That being said, Podio is the gold standard for affordability as far as I'm concerned.
Unlike other project management software options, Podio has an incredibly affordable pricing structure that tops out at $24/month. Not $24/month/user, but a flat rate, which is incredible considering the functionality offered by this platform. However, as I said before, this tool is not for beginners.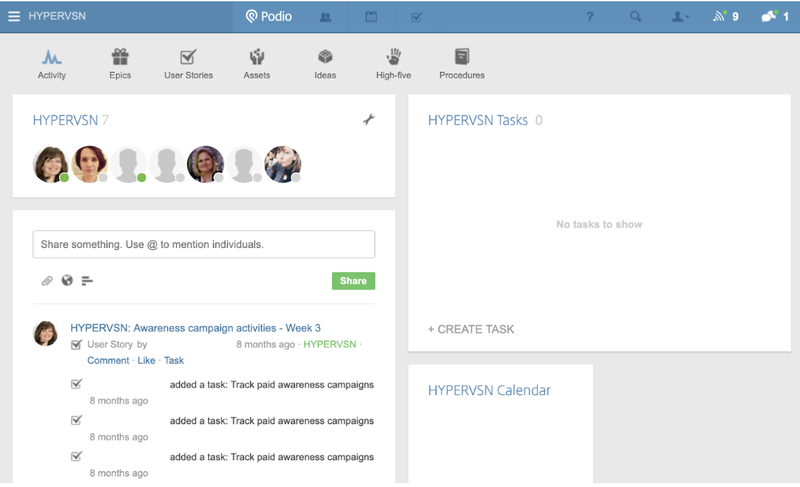 Despite having the best pricing of any tool on this list, the learning curve for Podio is considerable. Even I found myself looking to user guides and how-to videos to understand some of the features, but once you learn how to use this tool, the sky is practically the limit with functionality.
Podio gives you the ability to manage and schedule your tasks, track your time, create reports, develop budgets, create shared calendars, and even create custom applications for your project.
If you're looking to graduate onto something more complex and versatile than Trello, Podio just might be the perfect tool for your team once you put in the time to understand it.
---
5. Best for creative projects: Airtable
As someone who prioritizes attractive user interfaces and creatively structured user experiences, I just love using Airtable to manage projects.
This tool is definitely the most visually appealing project management software I've reviewed for The Blueprint and for good reason. Everything about this tool is centered around colors and images to help you compartmentalize and contextualize projects and their tasks.
Trello is also an exceptionally well-designed project management tool, but Airtable takes the cake when it comes to looks.
However, unlike Trello, Airtable also gives you several management options to choose from besides kanban boards, including their signature gallery view, standard task lists, and team calendars.
However, one major benefit that Airtable offers its users over Trello is the availability of budgeting templates. Trello is lacking in any financial management capabilities, but Airtable's spreadsheet setup allows you to create custom tables that'll help you track your budgets and keep your project on track.
Airtable even offers a similar pricing structure to Trello, including a free option with no user limit. There's only one tier to choose from, but you'll only pay $20/user/month for their paid version.
---
6. Best for free software: Freedcamp
If you're looking for a free Trello alternative that'll cover all of the core project management features, then Freedcamp is a fantastic alternative.
The free tier for this platform offers all of the expected functions you'll need to manage the project management steps, like task management, reporting, and time tracking, as well as unlimited projects, storage, and users.
Most project management software options offer a free option with limitations on the number of projects you can create, Trello included.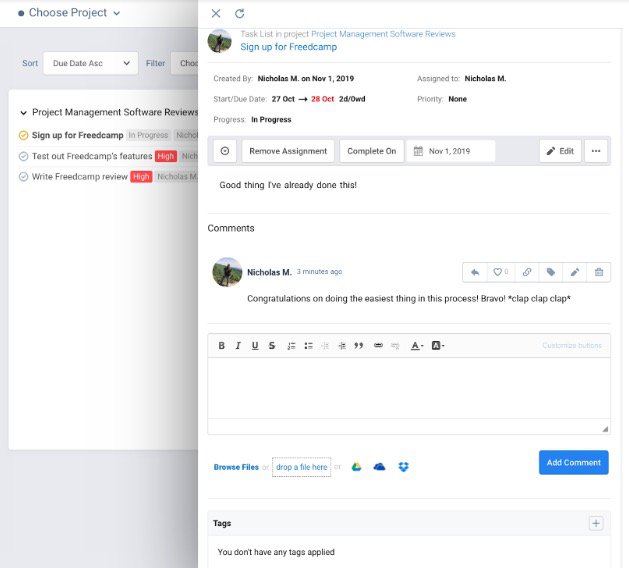 This alone makes Freedcamp an extremely viable alternative to Trello, but the benefits don't stop there. Even when you move into paid options, the most expensive option beats out Trello pricing by three dollars, at $16.99/user/month.
That being said, Freedcamp isn't as elegant looking as Trello, but when it comes to the features list, high limitations, and affordable price tag, it has a lot to offer Trello users in need of additional functionality.
---
7. Best for enterprise: Scoro
While this tool is nowhere near as affordable as Trello, Scoro earned its place on this list by offering a user-friendly platform to enterprise users that'll handle nearly any complex project you throw its way.
You can create and manage tasks, view those tasks in a shared calendar, create project quotes, send invoices, view team workloads, manage your budgets, create detailed budget reports, and much more.
What's more, Scoro even offers multiple forms of task management, such as task lists, simplified Gantt charts, and even its own boiled-down version of a kanban project board.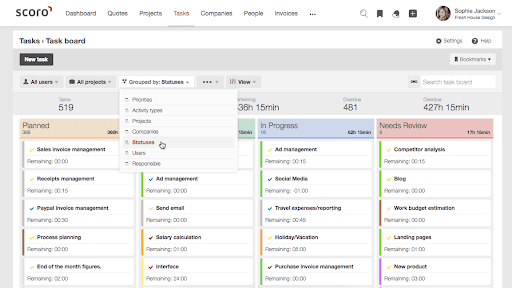 Obviously, Scoro addresses a market not covered by Trello, since Trello only deals in collaboration and not the financial management side of projects and this is why, despite its high price tag, I added it to this list.
Corporations need software too and my stipulation on the price for this list was "relatively" affordable. What is affordable for enterprises is not necessarily affordable for small buyers, hence the "relative" pricing.
---
8. Best for all-around functionality: monday.com
Finally, the belle of the ball when it comes to Trello alternatives. Trello might be the easiest project management software to use, but monday.com is hands down the best alternative for all-around style, functionality, and usability.
This tool nearly perfects the balance of a user-friendly tool that offers all of the features you'd need in a unique package.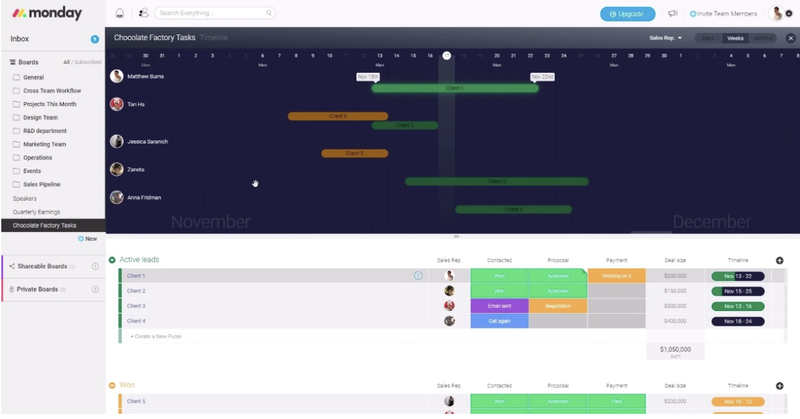 Most project management platforms spend their time competing with each other by tweaking the same tired old features and user interfaces. monday.com decided to take a new route and offer all of the features you needed in a new proprietary board system that is easy to use and navigate when tracking tasks, monitoring team workloads, and managing project budgets.
All of this is coupled with useful visual aids such as timelines and charts that give context to the information you're managing. On top of it all, this versatile system makes it easy to use any and all project management techniques when executing tasks or measuring your progress.
monday.com even beats out Trello on price with a starting price of $8.50/user/month, versus $9.99/user/month for the competition. That difference isn't huge, but it says a lot when your software has more to offer at a cheaper price.
---
These aren't your only options
Perhaps Trello isn't right for your team, but none of these alternatives seem to fit the needs of your project either.
If you're still not sold on any of these options, there's a whole host of other project management tools that we've reviewed. Be sure to read up more on the best project management software the market has to offer here on The Blueprint.