Choosing the right bookkeeping or accounting software for your small business can be challenging, particularly when most of the applications offer more similarities than differences.
In this side-by-side comparison we examine two popular software applications; Zipbooks and Wave, looking at features, ease of use, and cost to make the decision just a little bit easier.
---
ZipBooks vs. Wave: An overview
Wave.
ZipBooks.
Wave.
You could probably go back and forth like this for quite a while trying to determine which of these two popular small business bookkeeping and accounting applications is right for your business.
Both offer free plans, both offer solid bookkeeping capabilities, both offer easy system navigation, and both are designed for business owners new to the entire accounting process.
As a business owner, you know how important it is to have a system in place that can help you manage your business the right way. But how do you choose?
You can start by reading this comparison, checking out The Blueprint's complete reviews of each of these small business bookkeeping and accounting software applications, and downloading a free demo of each application so you can test drive them for yourself.
Who is ZipBooks for?
Ideal for freelancers, sole proprietors, and small businesses, ZipBooks Accounting Software offers a free plan as well as two fee-based plans. ZipBooks includes time-tracking capability, a must-have for service businesses that bill customers for time and services.
It has recently added payroll integration as well, so you can pay your employees through the platform. However, if you're a retailer, the lack of an inventory management feature may be a deal breaker.
Who is Wave for?
Wave is best suited for sole proprietors and very small businesses. One of its biggest advantages is that the entire Wave Accounting system is free.
You'll only have to pay a small fee if you use Wave Payments, which lets you accept online payments from your customers, or Wave Payroll, which unfortunately only offers full-service payroll in eight states. Small businesses with plans to expand may want to look elsewhere, as you can quickly outgrow this application.
---
ZipBooks vs. Wave: Features
Both ZipBooks and Wave include the features that you need to manage your small business finances, including customer invoicing, payment application, bank account connectivity, and the ability to track 1099 vendor payments.
Both applications are centered around basic bookkeeping features and neither offer more advanced accounting features such as budgeting capabilities.
What ZipBooks offers
ZipBooks' free plan is a single-user plan and includes the following features:
Unlimited invoicing
Unlimited vendor and customer management
The ability to accept digital payments using Square and PayPal
Basic reporting
Bank connectivity (one account)
In order to access more deluxe features such as recurring invoicing, automatic payment reminders, the ability to connect an unlimited number of bank accounts, and the previously mentioned time-tracking feature, you'll have to scale up to one of the paid plans.
ZipBooks lets you create professional-looking invoices, with an option to add your business logo and accent colors. You can also offer your customers an easy way to pay online using their credit card or PayPal, and if you like the invoice you've created, you can make it a template that can be used to create future invoices.
ZipBooks also includes an auto-bill option, which can come in handy if you bill your customers the same amount each month.
Though only offered in the paid plans, the time-tracking capability is awesome and includes a timer that can be started and stopped at any time, with recorded time easily assigned to a customer or project.
You can also track both customer and vendor information from a single screen, with ZipBooks easily tracking all vendor payments with a year-end summary report. However, the application cannot create 1099s.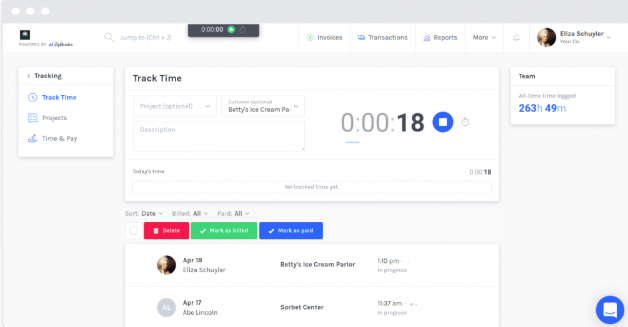 ZipBooks also includes good accounts receivable management, with basic project management capability included in the application as well.
The biggest drawback with ZipBooks is its limited accounts payable features. There is no direct way to pay a vendor in ZipBooks, so you'll have to manually log vendor payments in the application. Android users also lose out since there's no Android app available, though there is one for iOS devices.
What Wave offers
Wave offers a surprising number of features for a free application, including sales, purchasing, accounting, banking, and reporting. One downside to Wave is its payroll application, which only offers full-service payroll in eight states.
If your business is in one of those states, you're in luck; otherwise, you'll have to settle for a do-it-yourself payroll application. Of course, none of this matters if you don't have any employees.
Another downside is the inability to make direct vendor payments in the application, though Wave's PayPal integration can make the process a bit easier.
However, if you need to create a lot of invoices for your business, Wave's invoicing feature definitely has you covered, making it easy for you to create custom invoices where you can add your business logo and accent colors.
There are numerous templates included in the application, and you can set your invoice preferences during the product setup process. Personal notes can be added to any invoice and you can create a recurring invoice with an option to charge your customer's credit card automatically each month.
Those who sign up for Wave Payments can include a payment link directly on their invoice, making it easy for your customers to pay you as soon as they get the invoice.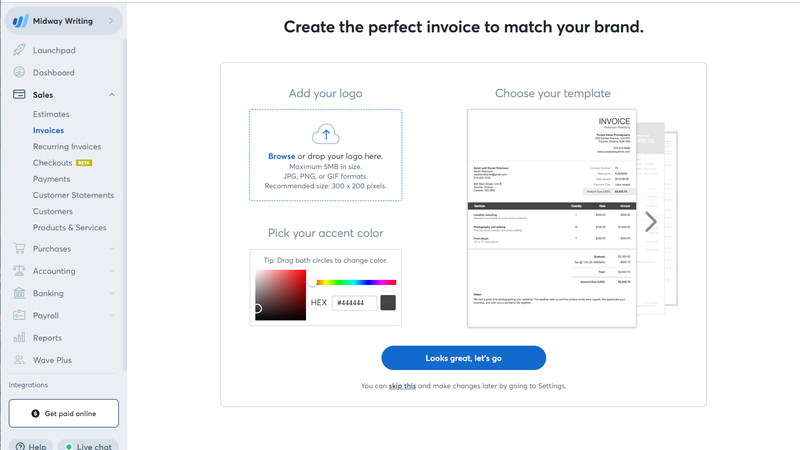 Two of Wave's latest features include the option to integrate Shopify transactions along with the new Wave Checkout feature, which allows you to accept payments from customers directly from your website.
Wave offers limited customer management capability, with little opportunity to manage customer details such as credit limits or tax details. In addition, if you sell a few products, Wave would be fine for keeping track of inventory, but if you're in the business of selling, you may want to look elsewhere.
Wave does include bank connectivity, so you can go ahead and add any bank accounts or financial institutions, which automatically imports and matches all banking and credit card transactions.
Wave's accounting reconciliation feature keeps your books in balance with your bank accounts, and the application includes a basic chart of accounts, which you can customize if you need to. Wave also includes a mobile app for both iOS and Android devices.
Results
ZipBooks wins this category, offering unique features such as auto-characterization, a stopwatch timer for time tracking, and a financial performance dashboard, though both are missing some key features. While Wave offers good bookkeeping features, it lacks the option to scale up to a more robust plan.
---
ZipBooks vs. Wave: Support
When you're using a software application for the first time, you can spend a lot of time wondering if you're doing things right. While support features may be one of the most important categories to consider, it's also one of the most overlooked.
If good help and support are important to you, see how ZipBooks and Wave compare in this area.
What ZipBooks offers
The Starter plan in ZipBooks does not offer any support options, though paid plans do offer support, which can be requested from within the application by clicking on the chat icon in the bottom-right corner.
ZipBooks also includes a help center with a searchable knowledge base and some instructions on getting started, but that's the limit when it comes to support.
What Wave offers
Wave offers email support for its entire product line, with live chat support available for Wave Payments and Wave Payroll users. The Wave Help Center offers access to a searchable knowledge base as well as as a variety of topic categories.
Users can also access the Wave user community to ask questions and share tips and suggestions. Live chat support is also available for those using Wave Payments or Wave Payroll.
Results
Wave wins this one, offering email support for all users, while ZipBooks users will have to purchase a paid plan in order to have access to chat support. Both applications include a help center as well as a searchable knowledge base.
---
ZipBooks vs. Wave: Ease of use
Both ZipBooks and Wave offer easy system navigation, a must for small business owners who have little time to spend dealing with a complicated application with a steep learning curve.
Designed for the non-accountant, both ZipBooks and Wave make it easy to find what you're looking for without the need to spend a lot of time learning the system.
What ZipBooks offers
Upon sign-in, ZipBooks displays a financial performance dashboard that provides a summary of all recent expense and invoicing activity. An intuitive user interface means less time learning the application and more time to spend on your business.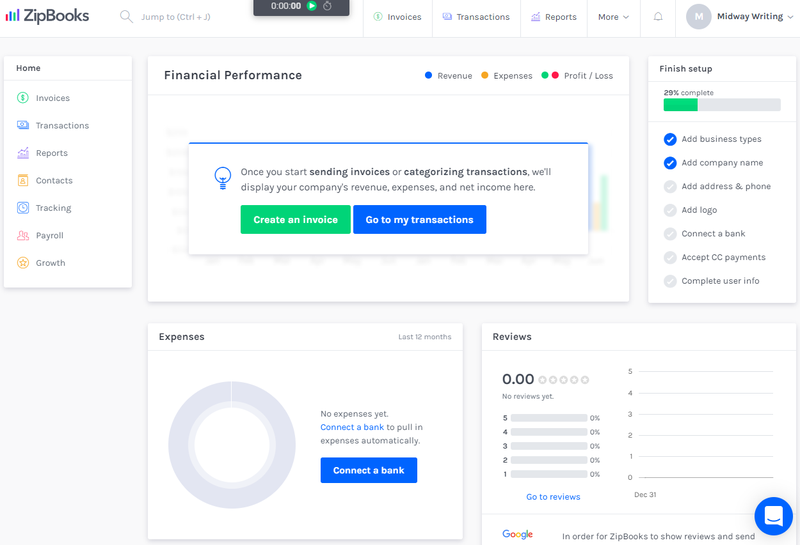 Navigation is easy, with the vertical menu to the left of the main screen offering quick access to all system functions including invoices, contacts, tracking, and payroll. In addition, frequently accessed features such as invoicing, transaction entry, and reports can be accessed from the top of the screen as well.
What Wave offers
Wave's Launchpad offers a great starting point for new users, letting you choose whether to access Professional Invoicing, Better Bookkeeping, or Reliable Payroll. Just click on one of the options, and Wave will guide you through the entire setup process.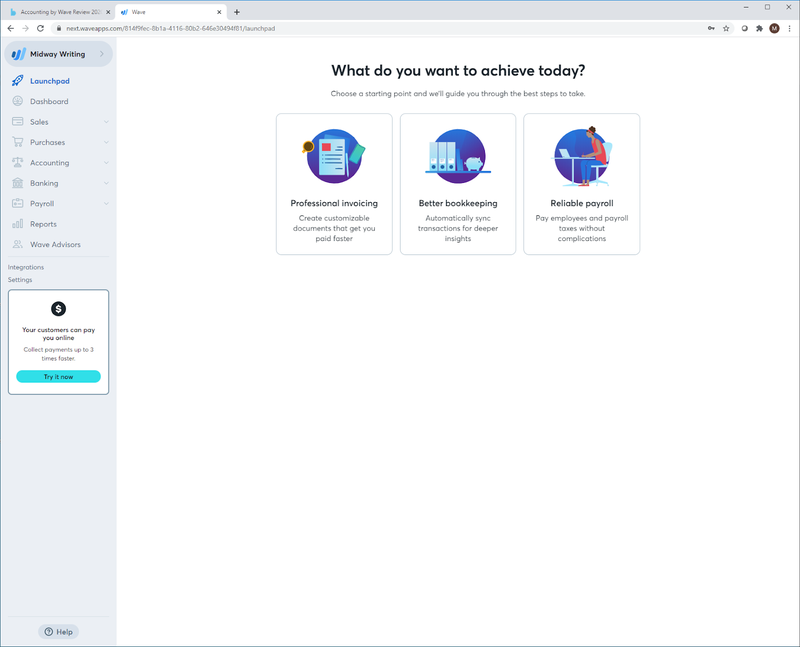 The vertical dashboard to the left of the screen provides access to other system features including purchases, accounting, banking, and sales. One of the more useful features is the ability to easily connect with any of the apps that Wave integrates with.
Wave also includes a dashboard that displays current business performance along with a cash flow graph, which lets you view all money coming into and going out of your business.
Results
Though close, Wave wins this one. Both ZipBooks and Wave are easy to use and offer new users an easily navigated interface, but Wave goes one step further, guiding new users through the entire system setup process.
---
ZipBooks vs. Wave: Pricing
Both ZipBooks and Wave offer a free plan, with ZipBooks also offering two paid plans. Both free plans offer good bookkeeping capability, and while free is always nice, you may want to pay a minimal fee in order to access some of the features ZipBooks provides to paid subscribers.
What ZipBooks offers
ZipBooks offers three pricing levels to subscribers. The free Starter plan is a single-user system that includes a good set of features including unlimited invoicing, vendor and customer management, the ability to accept digital payments, and bank connectivity (though it's limited to one bank account).
If you're looking for more robust features, you may want to spend $15 a month for the Smarter plan, which includes features such as an auto-bill option, automatic reminders, the ability to connect to multiple bank accounts, and time tracking, with a stopwatch timer included in the application.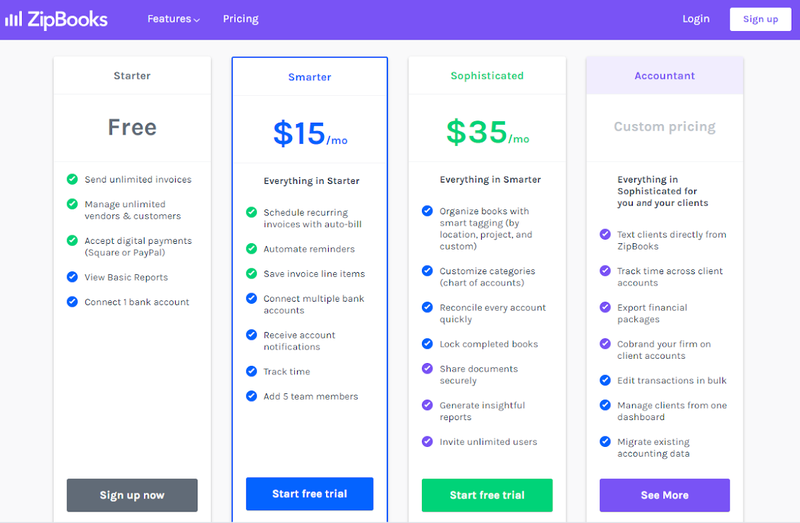 In addition, the Smarter plan can support up to five users — perfect for growing businesses. ZipBooks's third plan is the Sophisticated plan, which is available for $35 a month, and allows you to invite an unlimited number of users.
There's also an Accountant plan designed for professional accountants who provide accounting services to clients.
What Wave offers
Wave is completely free, though you'll have to pay if you want to use Wave Payments or Wave Payroll. Wave Payments allow you to accept electronic payments from your customers, with only a nominal fee charged.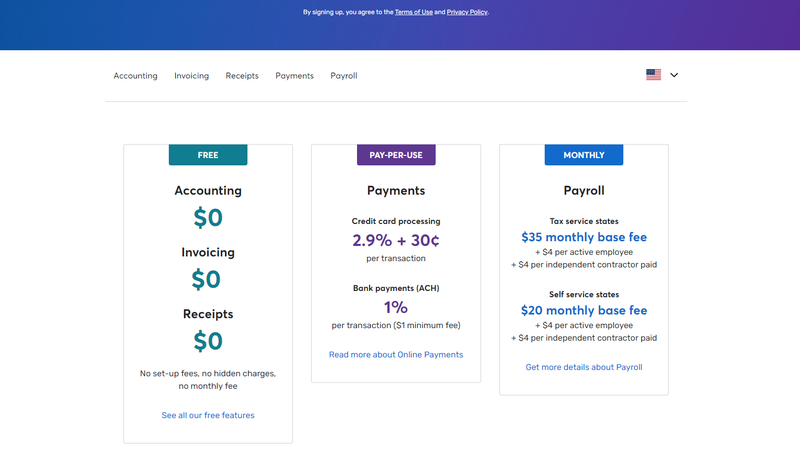 If you have employees to pay, Wave does offer payroll at $35 per month plus a $4 fee for each employee, but it offers full-service payroll only in eight states, so you'll likely be better off contracting with another payroll provider.
Results
ZipBooks wins this one by a nose. Though Wave is completely free, ZipBooks offers more features, and users can start out with a free plan with the option to move up to a more robust paid plan, an option that Wave doesn't offer.
---
ZipBooks vs. Wave: Integration with other software
Integration capability may or may not be important to you. But there are some integrations that should be important, such as integration with financial institutions, payroll integration, and online payment capability. Here's how these two applications stack up.
What ZipBooks offers
ZipBooks offers the integrations you'll probably use on a regular basis, such as connecting with your bank or financial institution. Integration with Gusto is available for those who have staff to pay, and the application also offers integration with PayPal, Square, and Stripe, though Stripe is only available in the paid plan.
What Wave offers
Wave offers direct integration with banks and financial institutions along with third-party apps such as PayPal, Etsy, and Shopify. However, Wave can also connect with more than 2,000 apps through Zapier.
Results
Wave wins this one, mainly because as of today, ZipBooks has not yet built an integration platform with Zapier.
---
Zipbooks vs. Wave: Reporting
Do you need access to numerous analytical reports, or are you content with running a few important ones? Perhaps the biggest difference between ZipBooks and Wave is found in their reporting options.
What ZipBooks offers
ZipBooks offers a pretty awesome selection of reports, particularly for an application with a free plan. Complete financial statements are available, as are a bunch of others, including accounting and tax reports, sales, expenses, and tracking reports.
But one of the best features available in ZipBooks are the data-driven intelligence reports, which offer insight into business performance, including giving your business a health score, based on data obtained from various sections of the application.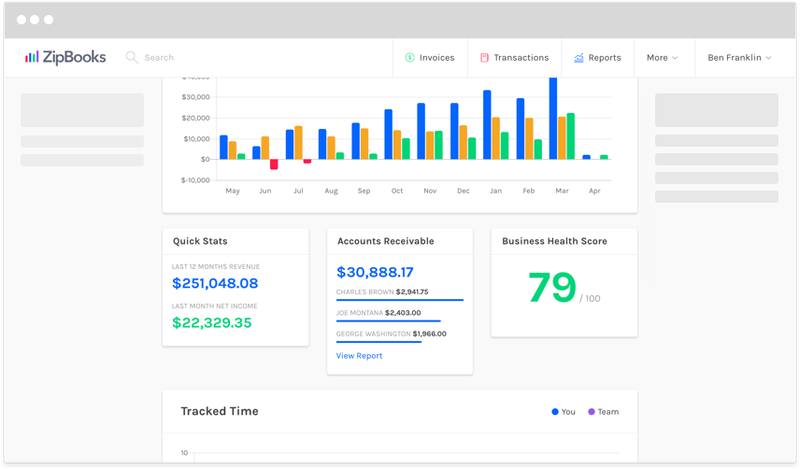 ZipBooks will also score your completed invoice for quality, auto-categorize transactions for easy data entry, and even provide some recommendations for growing and sustaining your business.
What Wave offers
Wave reporting options are limited to 12 reports, including financial statements, a sales tax report, an aged payables and aged receivables report, and a trial balance.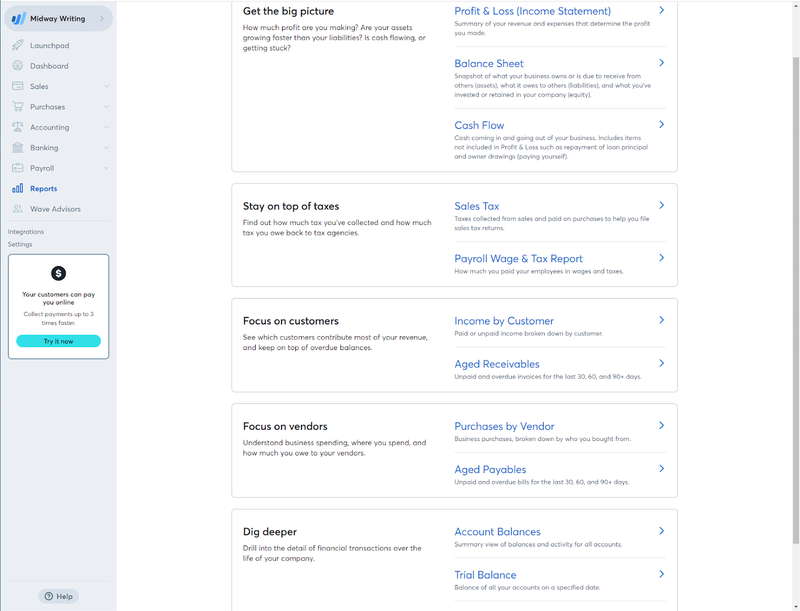 Reports offer little in the way of customization, though they can be easily exported from the print screen if customization is desired.
Results
ZipBooks wins this battle hands-down, offering more reporting choices than Wave along with business analytics and better customization capability.
---
How they compare: ZipBooks vs. Wave
| | Zipbooks | Wave |
| --- | --- | --- |
| Free plan available | | |
| Extensive reporting options | | |
| Custom invoicing | | |
| Bill payment | | |
| Online payment acceptance | | |
---
And the winner is ... ZipBooks
This was a really close contest, and if the free version of ZipBooks was going head to head against Wave, the results may be different. However, as it stands, ZipBooks offers more accounting features overall and significantly better reporting capability.
However, for sole proprietors and very small businesses, either application can provide you with the features you need to run your business.