Investing in the Best Biotech Stocks
Some experts say that we're currently in "the golden age of biotechnology." Scientific advances are opening up possibilities for the treatment and prevention of diseases that could only have been imagined in the past.
This golden age is also opening up tremendous opportunities for investors. Biotech stocks offer the potential for huge long-term returns. Here's what you need to know to invest in the best biotech stocks on the market.
The latest
The biotech industry is rapidly changing in the current economic climate. Find the latest information in the newsfeed at the end of this article.

Best biotech stocks
The best biotech stocks to buy right now boast strong pipelines, and some already have winning drugs on the market. Here are a few companies that have caught my eye.
Source: The Motley Fool
1. Axsome Therapeutics
Axsome (NASDAQ:AXSM) has a lead candidate, AXS-05, that is being evaluated in three phase 3 studies targeting depression and Alzheimer's disease agitation as well as in a phase 2 study for smoking cessation. The biotech also is testing experimental migraine drug AXS-07 in a phase 3 study and has two other drug candidates in earlier-stage clinical trials.
If approved, AXS-05 could generate peak annual sales of at least $1 billion, with one analyst projecting peak sales of $2.6 billion. Analysts haven't weighed in on how much revenue AXS-07 or any of Axsome's other candidates might make. But the potential for AXS-05 alone makes Axsome an attractive small-cap biotech stock to buy right now.
2. bluebird bio
Bluebird bio (NASDAQ:BLUE) already has one drug approved in Europe for treating the rare blood disorder transfusion-dependent beta-thalassemia -- Zynteglo. The drug is in a phase 3 study in the U.S. as well, with Bluebird hoping to file for FDA approval later this year. Bluebird is also evaluating Lenti-D in phase 3 studies for treating a rare genetic disease called cerebral adrenoleukodystrophy (CALD).
In addition to these fully owned programs, Bluebird is working with Bristol Myers Squibb (NYSE:BMY) to test ide-cel in a phase 3 study for treating multiple myeloma, a type of blood cancer. Bluebird's pipeline also includes candidates in phase 1 studies targeting other genetic diseases and types of cancer.
Zynteglo could generate peak annual sales of close to $1.9 billion. Some analysts think that Lenti-D could rake in up to $4 billion per year if approved in the U.S. and Europe. Bluebird will receive royalties from BMS' sales of ide-cel (assuming it wins approval) that could also be substantial: Analysts project sales for the drug could top $2 billion annually. All of this adds up to a big growth runway for Bluebird over the next few years.
3. Gilead Sciences
Gilead Sciences (NASDAQ:GILD) makes billions of dollars each year with its HIV franchise, which claims a market share of around 50%, and its hepatitis C drugs, which have a market share of close to 40%. But the big biotech also has several promising candidates in phase 3 testing, including immunology drug filgotinib, COVID-19 treatment remdesivir, and two blood cancer drugs -- axi-cel and KTE-X19.
Filgotinib alone could add at least $4 billion per year to Gilead's revenue if it's approved for the several immunology diseases for which it's being tested. Gilead's remdesivir could make up to $2.5 billion quickly before tapering off rapidly, assuming the drug is effective in treating COVID-19. The biotech's experimental blood cancer drugs, combined with already-approved Yescarta, could also generate more than $1 billion annually at peak.
Over the longer term, Gilead's fortunes could be boosted even more by GS-6207, a long-acting HIV drug that's currently in phase 2 clinical studies. These pipeline prospects make Gilead one of the most attractive big biotech stocks on the market right now.
4. Vertex Pharmaceuticals
Vertex (NASDAQ:VRTX) enjoys a virtual monopoly in treating the underlying cause of cystic fibrosis (CF), a rare genetic disease that results in the excessive buildup of mucus in the lungs and digestive system. Its newest CF drug, Trikafta, could expand the addressable patient population by more than 50%.
The company's pipeline includes other promising CF drugs in phase 2 testing. Vertex is also seeking to expand beyond CF, with phase 2 programs targeting pain and the rare genetic disease alpha-1 antitrypsin deficiency, which can cause symptoms including shortness of breath, lung infections, and fatigue.
In addition, Vertex's early-stage programs could be game changers. It's partnering with CRISPR Therapeutics (NASDAQ:CRSP) to test gene-editing therapies (treatments that involve changing DNA sequences) targeting rare blood diseases beta-thalassemia and sickle cell disease. The group hopes to soon advance to phase 1 testing an experimental drug that holds the potential to cure type 1 diabetes, a disease that affects over 1.1 million people worldwide. Although analysts haven't projected peak sales for these pipeline candidates, Vertex could be sitting on a gold mine if all goes well.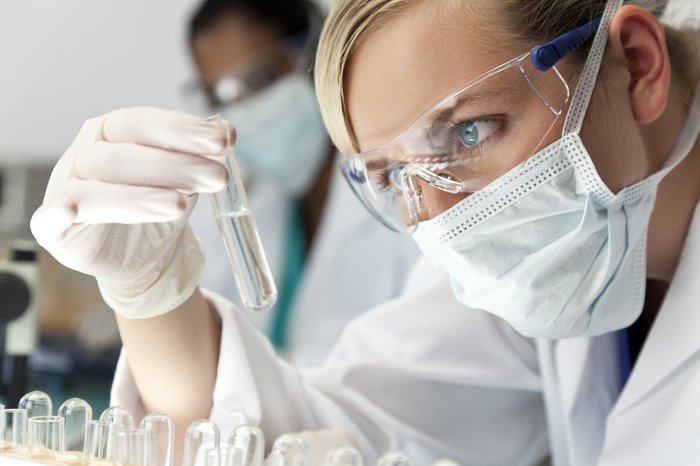 Biotech basics
What exactly is a biotech? It's a company that uses living organisms (for example, bacteria or enzymes) to make drugs. This use of living organisms differentiates biotechs from pharmaceutical companies, which use chemicals to develop drugs. Biotechs' focus on developing drugs sets them apart from medical device makers, which develop devices that address health issues.
There are four major steps for biotechs in developing new drugs:
Drug discovery, where biotechs identify drug candidates and the diseases that they could potentially target.
Preclinical testing, where biotechs test drug candidates in vitro (in test tubes) and/or in vivo (in living animals, such as mice).
Clinical testing, where biotechs test drug candidates in humans.
Regulatory approval, where biotechs seek to obtain approval from applicable government agencies to sell a drug.
Clinical testing typically involves three phases:
Phase 1, which involves small studies designed to find a safe dose for the drug candidate and determine how it affects humans.
Phase 2, which involves studies that can include around 100 or more patients and focus on safety, short-term side effects, and determining the optimal dose for the drug.
Phase 3, which involves larger studies that can include hundreds or even thousands of patients and that focus on how effectively an experimental drug treats a target disease as well as how safe it is.
A drug candidate must successfully make it through each phase to advance to the next. Once a drug successfully completes a phase 3 trial, the biotech will file for regulatory approval using the clinical data from the study. In the U.S., the Food and Drug Administration (FDA) oversees approvals for new drugs.
Investors should pay close attention to which phases a company's drugs are in. The later the phase, the less risk there usually is. It's also important to consider a drug candidate's peak annual sales -- the highest level of sales per year that analysts project. The higher the better.
In addition, a biotech with more experimental drugs in its pipeline (the term used to refer to all a company's drugs that are in development) will tend to have less risk than a biotech with only one or a very few drug candidates.
Related topics
Pharmaceutical stocks
This huge industry holds opportunities for long-term investors, but there are risks too.
Marijuana stocks
Learn about the risks and rapidly changing environment in this nascent industry.
Growth stocks
These companies increase their revenue and earnings faster than their peers or the overall market.
Risks and rewards
It's possible that these biotechs' clinical studies could flop. Even if testing goes well, there's no guarantee that the companies will win regulatory approvals for their drugs. Those are two of the main risks associated with investing in biotech stocks. Companies can also run out of money to fund clinical studies, complete regulatory filings, and/or bring new drugs to market.
But Axsome, Bluebird, Gilead, and Vertex could also be successful with their clinical studies and win approvals to launch their promising drugs. It's also possible that any of these companies could be acquired by a larger drugmaker. The chances appear to be good that these stocks will generate tremendous long-term gains for patient investors.
You might like: