Investing in Pharmaceutical Stocks
The global pharmaceutical industry tops $1.2 trillion in sales each year. That's a huge market, and it creates tremendous opportunities for long-term investors as well as quality-of-life advancements for patients. And the COVID-19 pandemic has drawn even more attention to pharmaceutical companies developing coronavirus drug and vaccine candidates. Along with these opportunities, though, come significant risks.
How should you invest in pharmaceutical stocks? Here's how to find the best stocks in the pharmaceutical sector and a list of our top picks.
Why invest in pharmaceutical stocks?
Investors should look to pharma stocks for their potential to reap solid long-term returns that outperform the broader market. Since its 2006 inception, the SPDR S&P Pharmaceuticals ETF (NYSEMKT:XPH), an exchange-traded fund that focuses on the pharmaceutical industry, has delivered a significantly higher total return than the S&P 500 index.
These returns are possible because pharmaceutical companies develop products people need -- drugs that treat or prevent diseases and vaccines for immunization against bacterial and viral infections -- and continually invest in research and development to launch new drugs. The increasing number of older people, many of whom need prescription medicines, is a boon to the healthcare sector, pharma companies in particular.
Four great pharmaceutical stocks
Here are four top pharmaceutical stocks for investors to consider that have the potential to generate solid long-term total returns.
| Company | 2019 Revenue | 2019 Earnings |
| --- | --- | --- |
| AbbVie (NYSE:ABBV) | $33.3 billion | $7.9 billion |
| Bristol Myers Squibb (NYSE:BMY) | $26.1 billion | $3.4 billion |
| Johnson & Johnson (NYSE:JNJ) | $82.1 billion | $15.1 billion |
| Pfizer (NYSE:PFE) | $51.8 billion | $16.3 billion |
1. AbbVie
AbbVie's (NYSE:ABBV) annual revenue increased by less than 2% in 2019, with earnings growing 39%. Sales of its top-selling blockbuster drug (blockbusters are drugs that generate at least $1 billion in annual sales), Humira, are under pressure after losing patent exclusivity in Europe. However, AbbVie's portfolio includes several fast-growing products, including cancer drugs Imbruvica and Venclexta and anti-inflammatory drugs Rinvoq and Skyrizi.
The drugmaker's pipeline includes over 20 programs in phase 3 clinical testing. Most programs target additional approvals for existing drugs, but AbbVie also has promising late-stage candidates for treating migraine, myelofibrosis, and Parkinson's disease.
AbbVie boasts an impressive track record of 49 years in a row of dividend hikes, making it a part of the elite group of stocks known as Dividend Aristocrats, members of the S&P 500 index that have increased their dividends for at least 25 consecutive years. The company has increased its dividend by 128% over the last five years.
2. Bristol Myers Squibb
Bristol Myers Squibb's (NYSE:BMY) revenue jumped 16% in 2019, with earnings down 30% due to its Celgene acquisition. But this deal gave it three successful cancer drugs -- Revlimid, Pomalyst, and Abraxane. The company already had several big winners, including blood thinner Eliquis and cancer drug Opdivo, which are likely to rank among the world's five biggest sellers over the next few years.
With the Celgene deal, BMS' pipeline is loaded with potential stars. The company has 50 late-stage programs, with promising prospects for ozanimod in treating multiple sclerosis and for blood cancer drugs ide-cel and liso-cel.
BMS has increased its dividend for 12 consecutive years. Over the last five years, its dividend has grown nearly 29%.
3. Johnson & Johnson
Johnson & Johnson's (NYSE:JNJ) revenue and earnings didn't change much between 2018 and 2019. Sales of the healthcare giant's immunology drug Remicade and of its baby care products declined. But J&J has other products to drive future growth, including immunology drugs Stelara and Tremfya and prostate cancer drug Darzalex.
The company has nearly 40 late-stage programs. Its most promising candidates include cancer drug amivantamab and multiple sclerosis drug ponesimod.
J&J is also developing a COVID-19 vaccine candidate and is ramping up production capacity even before clinical testing has been completed. However, the healthcare giant is behind several others in advancing its candidate through clinical trials. There's no guarantee that it will be a winner in the race to develop a COVID-19 vaccine.
Like AbbVie, J&J is a Dividend Aristocrat, having boosted its dividend by nearly 35% over the last five years.
4. Pfizer
Pfizer's (NYSE:PFE) revenue declined by 4% in 2019, with earnings vaulting 46% higher. Those numbers were skewed by Pfizer's spinning off its consumer healthcare unit into a joint venture with GlaxoSmithKline (NYSE:GSK). The recent merger of Upjohn with Mylan to form Viatris (NASDAQ:VTRS) should pave the way for solid future growth led by breast cancer drug Ibrance, blood thinner Eliquis (which Viatris comarkets with BMS), immunology drug Xeljanz, and COVID-19 vaccine BNT162b2.
The company's pipeline should also contribute to Pfizer's growth. Pfizer has nearly 30 programs in late-stage testing or awaiting regulatory approval, including its promising pneumococcal vaccine and chronic pain drug tanezumab.
Pfizer has long been a favorite among income-seeking investors, boosting its dividend in each of the last 10 years. The company has increased its dividend by nearly 27% over the last five years.
Slow and steady pharma stocks win the race
Most pharma stocks won't deliver the sky-high growth generated by many technology stocks. However, each of the aforementioned four drugmakers has a solid product lineup and a promising pipeline, and offers attractive dividends. As in the fable about the tortoise and the hare, slow and steady wins the race.
Related investing topics
What to look for in pharmaceutical stocks
You can pick great pharma stocks on your own, too! First thing to know is the difference between pharmaceutical stocks and biotech stocks. Strictly speaking, pharma companies use chemicals to develop drugs, while biotechs make drugs using living organisms like bacteria or enzymes.
The most important thing to look for in pharma stocks is their growth prospects, demonstrated by their revenue and earnings growth. Slowing growth could hint at increased competition. Find out when their drug patents expire, because losing patent exclusivity opens the door for lower-cost generics to enter the market.
Another key component to a pharmaceutical company's growth prospects is its pipeline -- all of the drug candidates currently in development. Most drug companies include in their pipelines only those drug candidates in clinical testing in humans or awaiting regulatory approval from applicable government agencies. These candidates can be drugs that are approved for one indication (specific diseases and sometimes specific age ranges for a disease) but have not yet been approved for another indication. Gaining approvals for additional indications is a great growth opportunity for drugmakers.
Some companies also include drug candidates in the early development stages of drug discovery (where drug candidates and the diseases they could potentially target are identified) and preclinical testing (where drug candidates are tested in test tubes and/or living animals).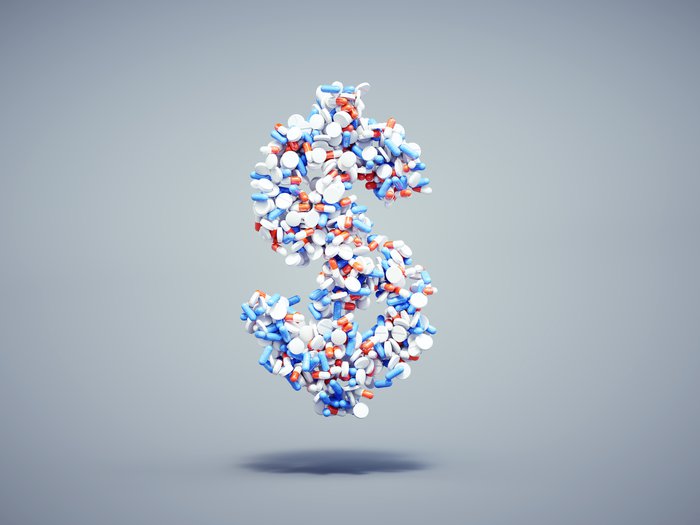 The further along a drug candidate is, the more likely it is that it will contribute to a drugmaker's growth. There are typically three phases involved in clinical testing:
Phase 1: Small studies designed to find a safe dose for the drug candidate and determine how it affects humans.
Phase 2: Studies that can include 100 or more patients and that focus on determining the safety, short-term side effects, and optimal dose of the drug.
Phase 3: Larger studies that can include hundreds or even thousands of patients and focus on how effectively an experimental drug treats a target disease plus how safe it is.
Each phase is a hurdle a drug candidate must clear to finish the race. A candidate has to successfully complete each phase to advance to the next phase. After successful completion of phase 3 testing, a pharma company files for regulatory approval. The Food and Drug Administration (FDA) evaluates all drugs in the U.S. The European Medicines Agency (EMA) has the same responsibility in the European Union.
The average cost of developing a new drug is $2.6 billion. It takes an average of 10 years to advance a drug from discovery to approval. However, the FDA can expedite the process by granting a drug breakthrough designation, orphan drug status, or priority review.
Dividends -- a portion of earnings companies return to shareholders -- are another important factor to consider when evaluating the stocks of big pharma companies. During the lifetime of the SPDR S&P Pharmaceuticals ETF, dividends have generated nearly one-third of the ETF's total return.
What are the risks of investing in pharmaceutical stocks?
Several factors determine the risks of investing in pharmaceutical stocks:
Potential of clinical failure: Chances are especially high that early-stage candidates could fail to be effective or safe in clinical trials. Even drug candidates in phase 3 testing can flop, though.
Possibility of failing to win regulatory approval: While a drug could sail through all clinical testing phases, there's no guarantee it will win approval from regulatory agencies.
Challenges in securing reimbursement: Pharma companies must convince payers, including government programs or health insurers, to cover their drugs. Payers can pressure pharmaceutical companies to set drug prices lower than they hoped to.
Competition: The pharma company can face competition in the marketplace, especially when generic versions of a drug enter the market after the drug loses patent exclusivity.
Product liability and litigation: Drugmakers can face liability issues related to their products. Some companies have recalled drugs from the market due to safety concerns, and lawsuits are also common.
You might also like: