Don't Close That Credit Card Without Asking Yourself These 6 Questions
by Kailey Hagen | Updated Sept. 16, 2021 - First published on Oct. 5, 2019
Many or all of the products here are from our partners that pay us a commission. It's how we make money. But our editorial integrity ensures our experts' opinions aren't influenced by compensation. Terms may apply to offers listed on this page.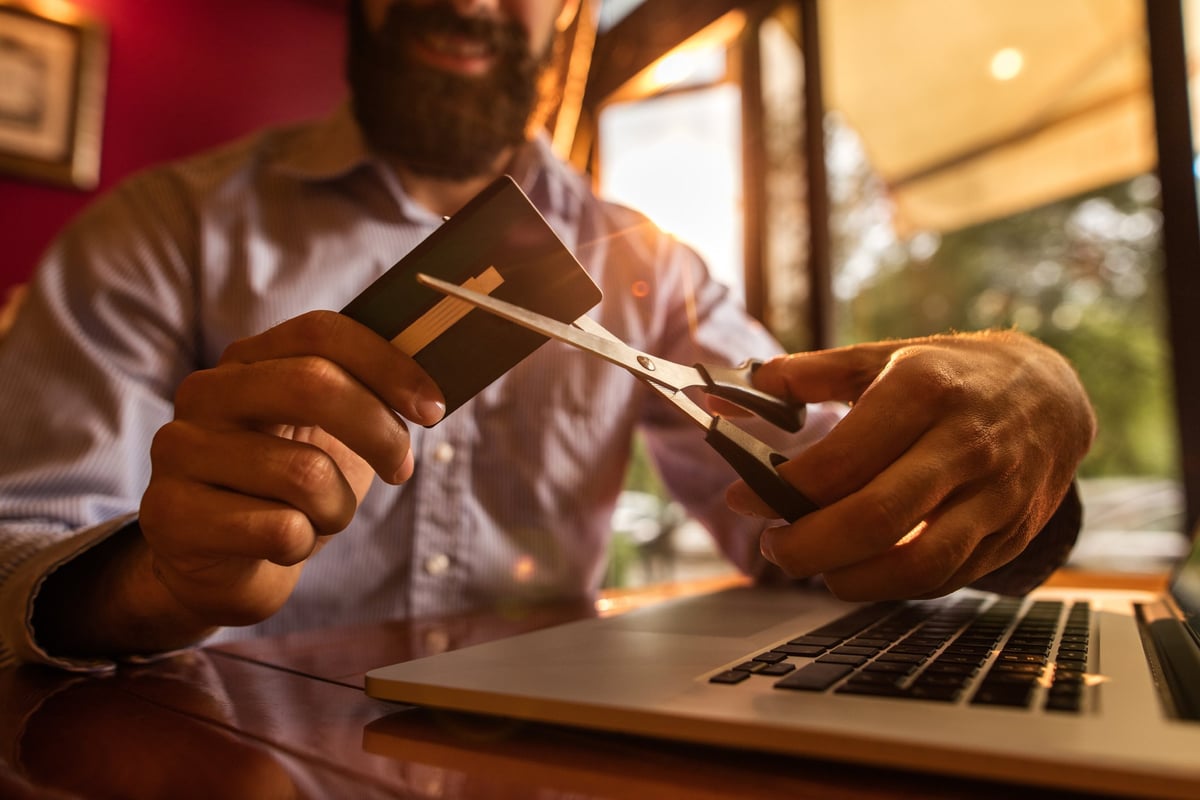 It can have some unintended consequences.
Some people collect credit cards so they can reap rewards on the purchases they make. But most people have one or two go-to cards and the rest end up collecting dust in their wallets.
You've probably thought about canceling some of them, but this isn't always the best decision. Here are a few questions you should ask yourself before closing a credit card.
1. How will this affect my credit utilization ratio?
Your credit utilization ratio is the ratio of the amount of credit you use to the amount you have available to you.
Closing a credit card reduces your available credit and raises your credit utilization ratio. This could be serious because this ratio has a significant impact on your credit score. A ratio above 30% -- that is, you regularly use more than 30% of the credit available to you -- is a red flag to lenders.
Consider leaving your card open unless it has an annual fee or is tempting you into overspending (both discussed below) to avoid a hit to your credit score. If you're going to close the card, total up your credit limits on your remaining cards and the average amount you charge to these cards each month. Divide your average used credit by your available credit to figure out your credit utilization ratio.
Do what you can to keep this under 30% by reducing how much you charge to your cards each month. You could also make two payments per month to minimize the total credit usage shown on your monthly bill.
2. How long have I had the card?
The age of your credit accounts also affects your credit score. A longer credit history gives lenders a better indication of how you manage your money. In short, older accounts help your credit score.
If you've had your credit card for several years, your credit score will take a slight hit if you cancel it. This won't hurt you as much as the higher credit utilization ratio you'll have, but it's still a dip you could easily avoid by leaving your card open.
3. Does it have an annual fee?
Closing your credit card may make sense if you're not using it often and it has an annual fee. Without rewards points to redeem, the card could end up costing you money -- sometimes quite a bit. Premium travel rewards credit cards can have annual fees exceeding $100. 
In this case, you'll just have to accept that getting rid of the annual fee means your credit score will dip for a little while. If you're typically responsible with your money, this shouldn't have a serious long-term effect. Avoid canceling more than one card within a short period of time, though. Try to limit your cancellations to one every six months at most.
4. Is having access to all this credit tempting me to spend more than I should?
Another valid reason for canceling a credit card is struggling to avoid using credit when it's available to you. Overspending can cause you to rack up credit card debt and can also hurt your credit score by raising your credit utilization ratio. Late payments might stack up on your credit score as well. Just one of those can cause an excellent credit score to drop by more than 100 points.
You're better off taking the slight hit you'd get from canceling a credit card you don't use than risking all of that.
5. Do I have a balance on this card?
It's possible to close a credit card that has a balance, but that doesn't absolve you from paying what you owe. You'll still have to make regular payments until the balance is paid off or you transfer your balance to another credit card.
If you choose the latter route, look for a credit card that has a 0% introductory APR. You could also take out a personal loan so you can make regular monthly payments. Go with the option that offers you the lowest interest rate. A balance transfer card works best, but if you don't think you can pay off the whole balance within the introductory period, consider the regular APR as well as any balance transfer fees.
6. Do I have unredeemed rewards on this card?
Canceling a credit card usually means saying goodbye to any rewards points you've racked up, so try to spend these before closing the card. Available rewards depend on the type of card. Some let you redeem miles for travel or points for gift cards or other purchases. If nothing else, many card issuers let you redeem your points for a statement credit that can reduce your final bill.
Closing a credit card isn't inherently good or bad. Every case is different. Before you make any decisions, review the six questions above to decide if closing a card is the best move for you.
Top credit card wipes out interest until 2024
If you have credit card debt, transferring it to this top balance transfer card secures you a 0% intro APR for up to 21 months! Plus, you'll pay no annual fee. Those are just a few reasons why our experts rate this card as a top pick to help get control of your debt. Read our full review for free and apply in just 2 minutes.
We're firm believers in the Golden Rule, which is why editorial opinions are ours alone and have not been previously reviewed, approved, or endorsed by included advertisers. The Ascent does not cover all offers on the market. Editorial content from The Ascent is separate from The Motley Fool editorial content and is created by a different analyst team.
Ally is an advertising partner of The Ascent, a Motley Fool company. JPMorgan Chase is an advertising partner of The Ascent, a Motley Fool company.
Kailey Hagen
has no position in any of the stocks mentioned. The Motley Fool has no position in any of the stocks mentioned. The Motley Fool has a
disclosure policy
.