5 Ways to Buy a House With Less-Than-Perfect Credit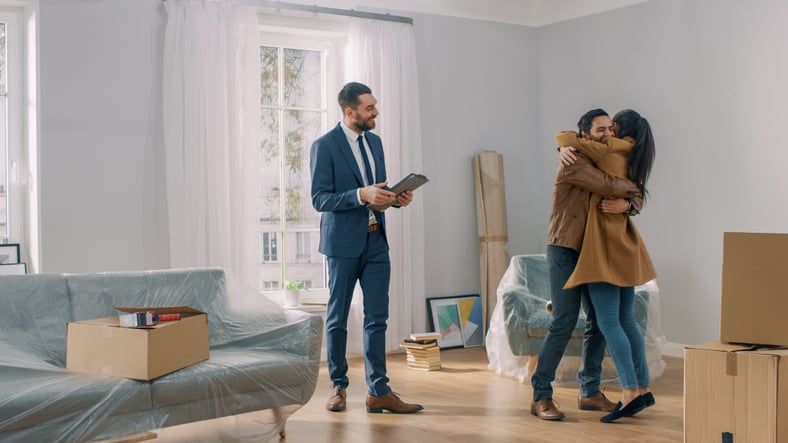 Many or all of the products here are from our partners that compensate us. It's how we make money. But our editorial integrity ensures our experts' opinions aren't influenced by compensation. Terms may apply to offers listed on this page.
Although you may have to get creative, it is possible to buy a home without an ideal credit score.
While buying a home can be an emotional experience, taking out a mortgage is straight-up business. When a mortgage lender tells you that your credit score isn't high enough to qualify for a mortgage, it's nothing personal. All lenders have specific lending criteria that must be met; it's their way of protecting themselves against loss.
So, what happens when you want to buy a home but your credit score isn't perfect? As long as your credit score isn't too low, you can get creative.
What's a low score anyway?
One fact that makes credit scores a bit confusing is that there are so many of them. These numbers are generated by credit scoring agencies and financial institutions. The two most commonly used are FICO® Score and VantageScore. So, for the sake of this article, we'll use the scores generated by FICO.
FICO credit scores range from 300 to 850. The better your credit history, the higher your score. Lenders look favorably on high credit scores because they indicate that you've done an excellent job managing credit in the past. Borrowers with high scores are offered the lowest interest rates and have the easiest time landing loans when they need them.
That doesn't mean that a lower score leaves you on the sidelines, though. You still have options. The first step is to figure out where your credit score lands.
It's important to get a free copy of your credit report from the three major credit bureaus at least once a year to check for mistakes. But these reports don't usually contain your credit score.
You may be able to find out what your credit score is from your bank, credit union, or credit card company. You can also pay to find your credit score through a credit score service or look it up using a free credit scoring site.
Once you find that score, this table will give you a rough idea of how lenders view it:
| Score | How Lenders View Your Score |
| --- | --- |
| 800–850 | Exceptional |
| 740–799 | Very Good |
| 670–739 | Good |
| 580–669 | Fair |
| 300–579 | Poor |
An important note: You are much more than your credit score. If your finances have taken a hit, a low credit score is something you can recover from. It doesn't seal your financial fate. Many people have gone from having low credit scores to ones that are very high. Whether your financial situation is due to unexpected circumstances or other situations, you have the power to raise your score.
Five ways to buy a house with a lower credit score
If you have a less-than-perfect score and are in the market for a house, here are some steps you can take.
1. Owner finance
If your credit score is extremely low, a lender is unlikely to approve you for a mortgage loan unless you have a substantial down payment and low overall debt. Until you've had the chance to boost your score, your only option may be an owner-financed loan. The first step is to find a seller willing to finance the mortgage -- at least for a few years. Here are some ways you can find owner-financed properties:
Work with a real estate agent. Only the home seller pays agent fees, so working with an agent costs you nothing. Explain your situation to a good agent and have them search out available homes with owner financing.
Look for homes for sale by owner. These sellers may be open to short-term financing.
Let family and friends know you're looking for an owner-financed home. The more people who know, the more likely someone is to offer a lead.
Once you find an owner-financed property you can afford, here's what you can expect:
You'll agree on a sales price, down payment, interest rate, and how long the seller will carry the mortgage (typically three to five years).
You will make the down payment and sign a promissory note.
The owner will keep the title until you refinance the house a few years later and the title is turned over to your new mortgage lender.
Owner-financed homes are not always easy to find, especially when the housing market is hot. Still, if your credit is low, moving into an owner-financed property gives you time to raise your credit score enough to refinance the mortgage with a traditional lender in the future.
2. Conventional loan
A score of 620 may be enough to land a conventional loan, especially if you have a high income or offer a down payment of 10% or more. If you're approved for a conventional mortgage with a fair credit score, you may end up with a higher interest rate than is currently advertised.
3. VA loan
If you're a veteran or current armed forces member, VA loans were made especially for you. Backed by the Department of Veterans Affairs, a VA loan not only offers 0% down mortgages, but the score needed to qualify varies by lender. For example, Rocket Mortgage approves VA loans with scores as low as 580.
4. FHA loan
FHA home loans are backed by the Federal Housing Administration (FHA) and typically require a credit score of around 580. However, if you can make a 10% down payment, you may be approved with a score as low as 500.
5. USDA Loan
USDA loans also have government backing. In this case, it's from the U.S. Department of Agriculture (USDA). That means the USDA will step in and cover the debt if you stop making payments. The house (and you) would still face foreclosure, but the government promises to make the lender whole. If you're interested in buying a home in a qualifying rural area with no down payment, a USDA loan makes it possible with a score in the 640 range.
Lastly, remember that there's nothing wrong with waiting until your credit score is higher to buy a home. Not only will you qualify for a lower interest rate, but you'll have time to save for a larger down payment.
We're firm believers in the Golden Rule, which is why editorial opinions are ours alone and have not been previously reviewed, approved, or endorsed by included advertisers. The Ascent does not cover all offers on the market. Editorial content from The Ascent is separate from The Motley Fool editorial content and is created by a different analyst team.
Dana George
has no position in any of the stocks mentioned. The Motley Fool has no position in any of the stocks mentioned. The Motley Fool has a
disclosure policy
.