When I reviewed Asana, I hailed it as a fantastic project management software option that levels the playing field between project managers and their team members. It democratizes the project life cycle through features that encourage transparency, communication, and teamwork between team members and managers alike when executing the tasks assigned to a project.
However, like every platform, Asana has its strengths and weaknesses. Although it excels as a masterful collaboration tool, it comes up short when it comes to reporting, budgeting, and invoicing. This tool works so long as you either don't require these features or have other solutions available to address these gaps.
If neither of these situations applies to you, then Asana won't be a good fit for your team. That's why I've listed eight Asana alternatives you ought to consider in your search for a new project management tool.
Here are the 8 best Asana alternatives to use for project management:
---
What to look for in an Asana alternative
When searching for an Asana alternative, you need to find a competitor that offers preferable quality or qualities.
These alternatives don't have to exceed Asana in every category, just in the ones that matter the most to your business, projects, and teams.
I've narrowed down three key areas that your Asana competitor needs to either meet or exceed Asana's abilities in order to be considered a viable alternative.
1. Easier to use
Asana is an extremely user-friendly software that puts the needs of the team at the same level of importance as those of the project manager. All of the alternatives I've selected for this list either meet or exceed Asana's level of simplicity.
2. Offers additional functionality
Asana can do quite a lot for your organization, but it doesn't cover every base.
Asana is geared more toward the collaboration aspect of project management, but doesn't offer any financial management or reporting features. Viable Asana alternatives will fill in these gaps in order to offer a more balanced and rounded out experience throughout the project management process.
3. Offers competitive pricing
When it comes to project management, sometimes the almighty dollar is the final deciding factor when choosing a new software option.
Asana's pricing is a little steep, but if you can find a product that can match or beat its pricing with the same or more features, then it is obviously a viable Asana alternative. If an alternative's pricing exceeds Asana's, it should offer a significant increase in the functionality your organization is looking for.
---
The best Asana alternatives for project management
These are the top eight Asana alternatives on the market. Each one addresses one or more of the gaps in Asana's features, simplicity, or pricing, and each one is the best in its own category. Here's to finding your replacement.
---
1. Best for free software: Freedcamp
Freedcamp covers all of the project management basics in a straightforward package, for little to no cost. That "no cost" is exactly why I included it on this list, because Freedcamp has one of the best free options of any project management software options I've used thus far.
The free tier for this platform offers all of the core functions as well as unlimited projects, storage, and users. Most project management software options offer a free option for only five to 10 users on average, with a one- or two-project limit.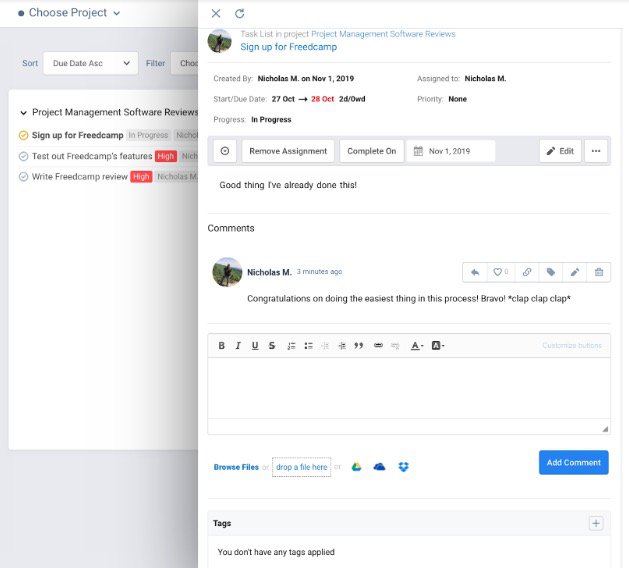 That alone makes Freedcamp an extremely viable alternative to Asana, but it doesn't stop there.
Once you move into paid options, Freedcamp's pricing still beats out Asana with the most expensive tier topping out at $16.99 per user, per month, compared to Asana's $19.99 per user, per month.
Freedcamp isn't as elegant as Asana, but when it comes to features, pricing, and ease of use, it can go toe-to-toe and even beat out its competition in some cases.
---
2. Best for easy onboarding: Jira
I was recently reminded just how much I loved the onboarding process with Jira while reviewing another product. While the competitor did nothing to tailor the experience to the user's work, Jira goes above and beyond to fit the software to its users.
As soon as you sign up for this software, Jira walks you through a step-by-step setup process that'll help you choose the correct management style for your project, and it also instructs you on how to use that setup. This onboarding process is combined with an exceptional selection of support content, from user guides to an extensive knowledge base.
Like Asana, Jira is more of a collaboration tool. It focuses on streamlining your project execution experience, and because of that, Jira offers lots of different task planning and management styles. These styles include kanban boards, critical path methodology, Scrum methodology, content management templates, and many more.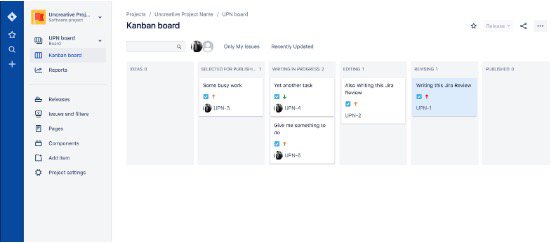 Jira even beats out Asana's paid options with two tiers:
Standard: $10/month flat fee for up to 10 users
Premium: $14/month, per user
Finally, while both Jira and Asana are lacking in financial management capabilities, the former has the upper hand in reporting. Asana doesn't have any solid reporting capabilities, while Jira has one of the simplest and most user-friendly reporting functions I've ever seen, earning it a place on any list of Asana alternatives.
---
3. Best for critical path methodology: TeamGantt
This might be a strange accolade to give on a list of Asana alternatives, but when it comes to creating Gantt charts, tracking task dependencies, and all-around task management, TeamGantt is a fantastic option.
This software even made it into my recent piece as one of the top project management software options for using critical path methodology, one of the most crucial project management techniques.
What I love best about TeamGantt is the simplicity of planning out the project management steps and the scheduling of your project.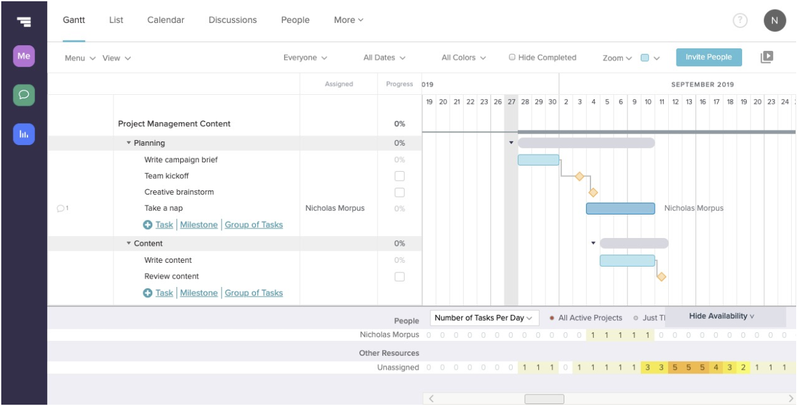 Its Gantt charts and shared team calendars are clear, concise, and don't require tons of technical knowledge to master. TeamGantt even offers an easy-to-use workload management feature, and although it isn't as visually appealing as Asana's, it's extremely helpful for averting team burnout.
However, all of this simplicity comes at a price that's difficult to justify unless TeamGantt is exactly what you're looking for. It does offer a free version of the software, but it only allows up to three users.
Fortunately, that free option comes with all of the features listed above as well as phone support for the first 30 days. After that, the pricing starts at $49.75 per month for five users with an increase of nearly $10 for each additional user.
---
4. Best for general project management on a budget: ActiveCollab
If you thought Asana couldn't boil down its formula any more, ActiveCollab will surely change your mind.
This software offers a similar user experience as Asana, including team workload management, the ability to add tasks at any point of a kanban flow, and a general ease of use.
However, while it seems that ActiveCollab might've borrowed a little from Asana's playbook, it couldn't match Asana's visual flair.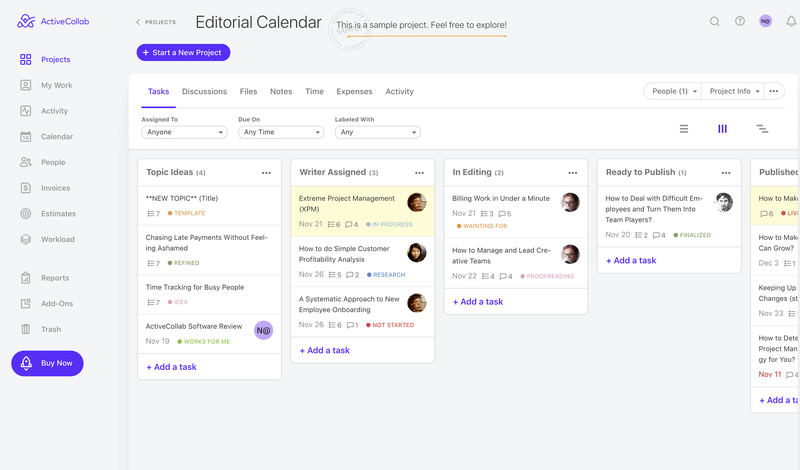 ActiveCollab is not a particularly attractive project management tool, but what it lacks in looks, it makes up for in ease of use and a hefty features list at an affordable price.
In fact, ActiveCollab fills in some of Asana's gaps such as invoicing and budget management features. While the budget reports aren't exactly visually compelling, their sheer existence makes ActiveCollab a great alternative to Asana.
ActiveCollab makes up for its lack of an appealing user interface in the pricing department. This Asana alternative only offers one main pricing tier of $7 per user, per month, which includes unlimited projects, tasks, and time records, as well as task dependencies, which are great for critical path methodology.
It also offers recurring tasks and a mobile app. Additionally, if you're looking for more functionality such as workload management, time estimates, and invoicing, it's only $4 more per user, per month. Not bad considering the long list of features.
---
5. Best for creative projects: Airtable
Airtable is easily the most visually appealing project management software I've ever used and the most fun I've ever had while reviewing for The Blueprint. Airtable easily earns its place on a list of Asana alternatives.
Airtable puts a huge emphasis on a visually pleasing user interface that prioritizes the use of images for the purposes of categorizing and contextualizing your project tasks.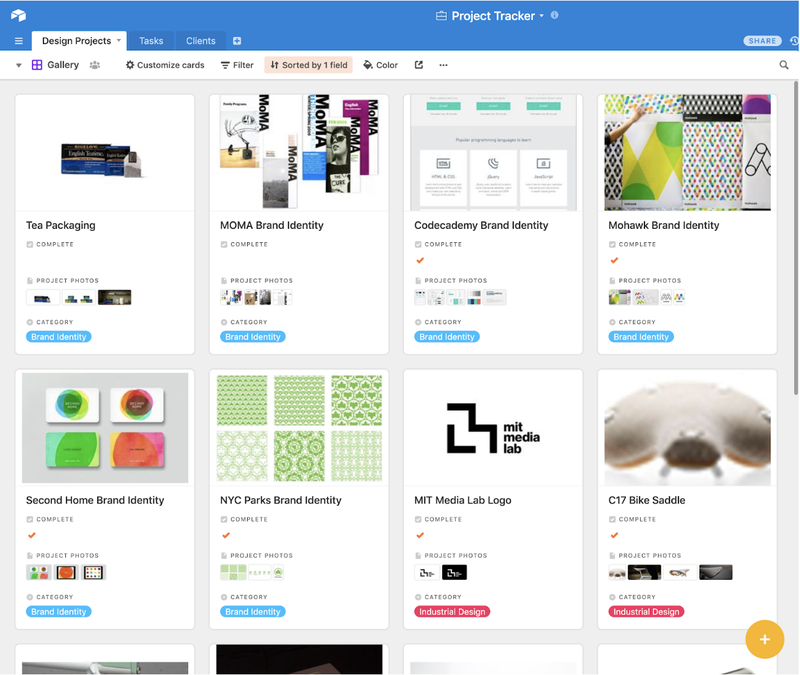 Airtable gives you several management options to choose from, including its signature gallery view, kanban boards, standard task lists, and team calendars, making it quite similar to Asana in task management functionality.
However, one major benefit that Airtable offers its users that Asana doesn't is the availability of budget templates. As mentioned before, Asana is lacking in the budgeting and reporting area.
Airtable even offers competitive pricing when compared to Asana, with a free option with no user limit. You'll pay $20 per user, per month for its paid options version. All of this wrapped together makes Airtable a worthy alternative to Asana as a task management and team collaboration software option.
---
6. Best for enterprise: Scoro
When I looked at the best alternatives to Basecamp, I gave the nod to Mavenlink as the best project management software alternative for enterprise users.
This was before I had the chance to get my hands on Scoro, which did everything Mavenlink could do and more, albeit at a slightly higher price at first glance (Mavenlink doesn't openly disclose the pricing on its top two tiers).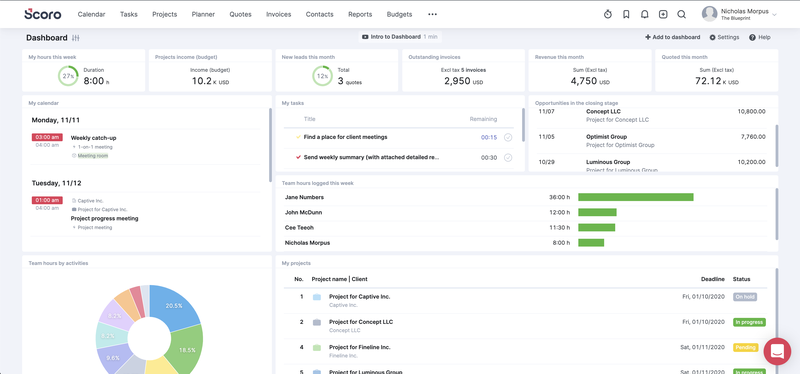 Scoro earned its place on this list of Asana alternatives by being a user-friendly corporate workhorse that can handle nearly any project you throw at it. You can create and manage tasks, view those tasks in a shared calendar, create project quotes, send invoices, view team workloads, manage your budgets, create detailed budget reports, and much more.
It covers every single core base of project management, and for that, it earned itself a nine out of ten in my features score category. What stopped it from earning a perfect 10 was the lack of anything particularly unique or new.
Obviously, Scoro is not a direct market competitor to Asana, since this tool is more tailored to the corporate world, whereas Asana is geared more towards smaller internal project teams.
Scoro can't hope to compete with Asana on price because Scoro's lowest tier starts at $26 per user, per month, but then, Asana isn't capable of the complex projects some enterprise users would throw at it, so there is a tradeoff.
---
7. Best for kanban style management: Trello
Trello has the easiest user experience and the best kanban project management software I've ever used. It is the only software I've rated as a perfect 10 on my ease-of-use scale, and it also sets the bar that I use to judge every other kanban-based project tool on the market.
In fact, when I reviewed Jira a few years after I used the software, I remarked at the improvements Atlassian had made to the platform, especially the kanban boards, only to find out that Atlassian had acquired Trello in that time.
I like to think Trello is responsible for some of those improvements to Jira.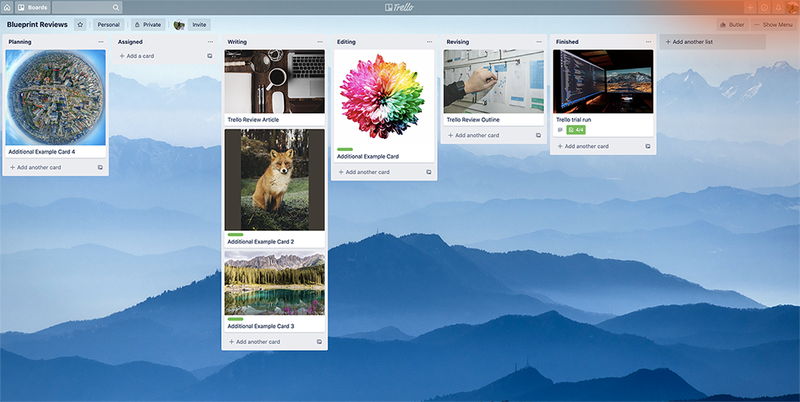 That said, Trello is remarkably different from Asana, especially when it comes to task tracking. Asana gives you the option of creating and monitoring tasks using either task lists, Gantt timeline charts, or kanban boards. Trello exclusively limits its task management to the kanban system.
However, Trello does surpass Asana with its free version. While both tools offer a free option, Trello offers unlimited users, boards, cards, and lists, whereas Asana limits you to 15 users.
The software's paid pricing models are nearly identical. Trello's two paid options sit at $9.99 per user, per month for Business Class and $20.83 per user, per month for Enterprise, while Asana's Premium package is $9.99 per user, per month and Business tier costs $19.99 per user, per month.
---
8. Best for all-around functionality: monday.com
Asana is very user-friendly software, but when it comes to all-around functionality, simplicity, and intuitiveness, very few Asana alternatives beat out monday.com. I saved the best for last because I've yet to find a project management tool that either meets or exceeds my expectations in all categories quite like this platform, and that is no exaggeration.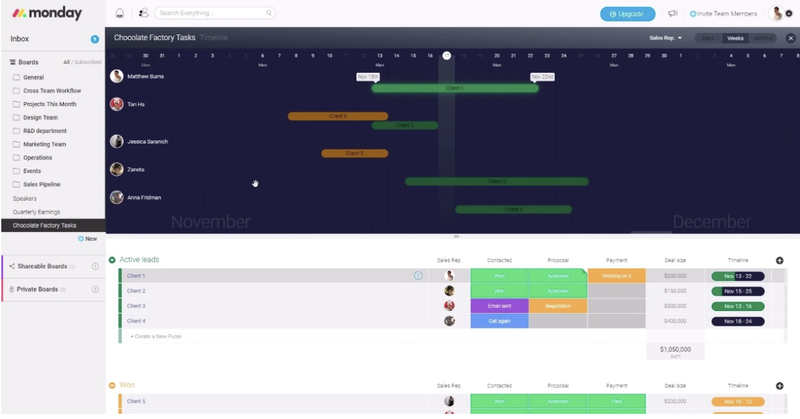 Where other project management platforms try to outdo each other using the same functions and features, monday.com breaks the mold by creating a unique and simplified method for creating, tracking, and executing a project.
monday.com created its own board system that's easy to use and navigate to track tasks, workloads, and budgets, all complete with visual aids to help contextualize your project's progress.
The only place Asana clearly wins over monday.com is by offering a free version of its software. However, once you move into the paid options, monday.com is cheaper than Asana, with a continuously decreasing per user rate the more people you add to the platform.
Even the starting rates are cheaper for monday.com, with Asana's bottom price sitting at $9.99 per user, per month against monday.com's $8.50 per user, per month.
---
Perhaps Asana is the right choice for you
It's incredibly difficult to find the perfect project management software to fit all of your needs. Most of the time, you're gaining new benefits while leaving others behind when you switch, whether its pricing, features, or user experience.
Asana is a quality project management tool, and while the list of Asana alternatives is long and quite robust, if you're already happy with your purchase, then sometimes it's best not to make the perfect the enemy of the good.