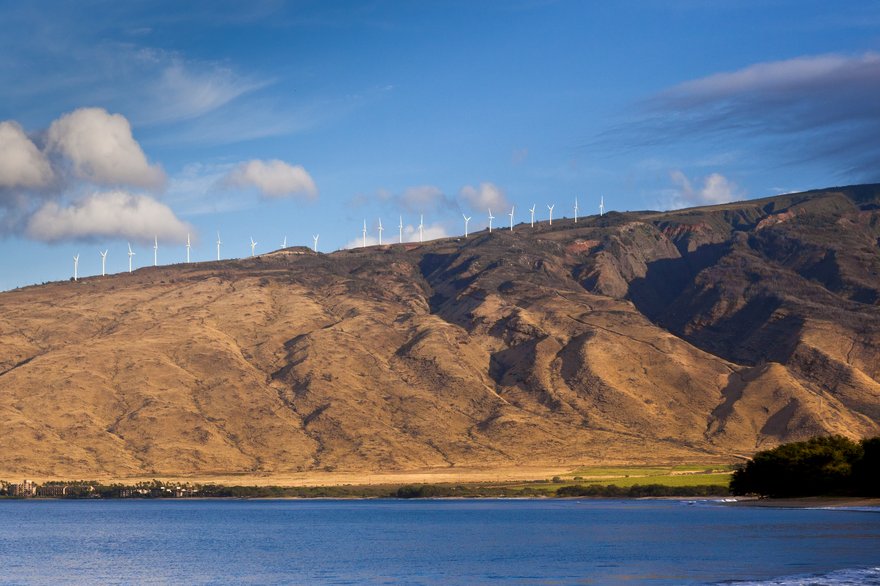 Source: Getty Images
Wind energy has been growing rapidly. Wind turbines produced 9.2% of America's power in 2021 -- almost double the amount in 2015 -- powered by significant investment to increase capacity. Wind energy accounted for 32% of the country's total energy capacity additions in 2021.
The clean power source should continue growing at a rapid rate. President Biden has set ambitious goals of achieving 100% clean electricity by 2035 and net-zero carbon emissions for the economy by 2050. His administration has successfully pushed for passage of several incentives to spur new investments, which should help drive additional growth for wind-focused companies.
With wind energy demand expected to keep growing, companies focused on the sector should benefit. Here's a closer look at some of the best ways to invest in wind energy:
Top wind energy stocks to watch in 2023
Companies in the wind industry tend to fall into the following categories:
Wind turbine and component manufacturers: These companies benefit from growing wind energy demand because it helps to drive sales growth. However, they face potential demand, competitive, and cost pressures.
Wind power producers: These companies own and operate turbines that produce wind energy, which they sell to end users such as electric utilities and large corporate buyers. Most wind producers sell power under government-regulated rate structures or long-term, fixed-rate power purchase agreements (PPA) that generate steady revenue.
Although wind energy is growing in importance, few companies focus solely on manufacturing wind turbines and components or producing wind energy. Only a couple trade on major U.S. stock exchanges. That leaves investors with few domestic pure-play wind energy investment opportunities.
Because of the limited pure plays, investors need to cast a wider net when looking for opportunities in the wind energy sector. With that in mind, here are some of the top wind energy stocks to consider:
Data source: Google, Yahoo! Finance, and company websites. Market cap/AUM data as of Oct. 4, 2022.
Wind Energy Stock
Ticker
Market Cap/Assets
Under Management (AUM)
Description
NextEra Energy
(NYSE:NEE)
$166.5 billion
The leading global producer of wind and solar energy.
General Electric
(NYSE:GE)
$87.6 billion
A diversified company focused on aviation, healthcare, and energy.
Vestas Wind Systems
(OTC:VWDRY)
$31.3 billion
A Danish manufacturer, seller, installer, and servicer of wind turbines.
Siemens Energy
(OTC:SMNEY)
$13.5 billion
An energy technology company with a wind turbine subsidiary.
Brookfield Renewable
(NYSE:BEPC)(NYSE:BEP)
$18.1 billion
A clean energy infrastructure company with significant wind assets.
Clearway Energy
(NYSE:CWEN)(NYSE:CWEN.A)
$6.8 billion
A clean energy infrastructure company with significant wind assets.
TPI Composites
(NASDAQ:TPIC)
$600.1 million
A leading wind blade manufacturer.
First Trust Global Wind Energy ETF
(NYSEMKT:FAN)
$278 million
An ETF focused on wind energy stocks.
Here's a closer look at these top wind energy stocks:
1. NextEra Energy
NextEra Energy is a major renewable energy company. It operates the largest electric utility in Florida and also has a large-scale energy resources business.
NextEra Energy Resources is one of the largest producers of wind power in the world. As of late 2022, it had 20 gigawatts (GW) of operating wind generation capacity when including its investment in NextEra Energy Partners (NEP 7.94%) -- enough to power more than 13.5 million homes. Overall, 67% of its subsidiary's generation capacity is wind energy.
The company is an active developer of new wind energy projects. It expects to build as much as 10.7 GW of new wind energy capacity by 2025. In addition, it has up to 800 megawatts (MW) of wind repowering projects in its pipeline. These investments replace older wind turbines with newer, larger ones capable of generating more electricity. NextEra Energy is also a leader in using battery storage to help reduce the intermittency of its wind and solar energy assets.
Although not a pure wind energy play, NextEra is a leader in the sector, making it a solid option to consider. It also has an excellent track record of increasing shareholder value, including its dividend.
2. General Electric
General Electric is a leading industrial company focused on the aviation, healthcare, and energy sectors. The conglomerate is in the process of breaking up into three separate companies focused on those industries. It plans to spin off its healthcare business in early 2023 and its renewable energy, power, and digital business (to be called GE Vernova) in early 2024, allowing the remaining entity to focus on aviation.
GE's renewable energy business is one of the global leaders in manufacturing, installing, and servicing wind turbines. It has installed more than 49,000 units around the world. The installed base generates recurring service revenue.
In addition, GE has a large and growing backlog of onshore and offshore wind development projects that should produce steady growth in the coming years. Although it's not a pure wind energy play, GE gives investors exposure to the sector in the near term, with a more focused option coming when it spins off GE Vernova.
3. Vestas Wind Systems
Denmark-based Vestas is a global leader in the wind energy sector. It designs, manufactures, installs, develops, and services wind energy and hybrid projects worldwide. It has installed more than 157 GW of wind turbines in 88 countries.
Like GE, Vestas doesn't just sell and install wind turbines; it generates some recurring income from servicing them after installation. The company has service contracts covering at least 137 GW of wind power. These contracts help to offset some of the variability in wind turbine sales. Vestas' focus on wind turbines makes it one of the few large-scale pure-play wind energy investments.
4. Siemens Energy
Siemens Energy is a leading energy technology company, with operations spanning gas services, grid technologies, and the transformation of industries. It also has a controlling interest in Siemens Gamesa Renewable Energy (OTCMKTS:GCTAY), a leading wind energy company based in Spain. It manufactures, installs, and services onshore and offshore wind turbines, with more than 99 GW of capacity installed worldwide.
Siemens Energy has offered to acquire in 2022 the remaining shares of Siemens Gamesa Renewable Energy that it doesn't already own. The proposed deal would give Siemens Energy full control over its troubled wind energy subsidiary. Despite the growth in wind energy, Siemens Gamesa has struggled in recent years due to a patent dispute with GE, surging steel costs (a key part of wind turbines), and issues with its onshore wind platform.
However, better days could lie ahead for the wind turbine maker. The International Trade Commission rejected almost all of GE's claims against the company in early 2022. Meanwhile, the proposed merger with Siemens Energy could help turn around the troubled unit, enabling the company to better capitalize on the upside ahead for the wind energy sector.
5. Brookfield Renewable
Brookfield Renewable is a leading global clean energy infrastructure company. It has 23 GW of operating assets, including 8.1 GW of hydroelectric power, 5.9 GW of wind, 2.8 GW of solar, and 5.9 GW of distributed generation (e.g., rooftop and community solar) and sustainable solutions. In addition, Brookfield has more than 75 GW of development projects in its pipeline.
Brookfield takes a diversified approach to investing in clean energy. However, wind is a big part of its future. The company and its institutional partners agreed to acquire Scout Clean Energy in 2022, adding 1.2 GW of operating wind assets and a pipeline of more than 22 GW of wind, solar, and storage projects. Brookfield has also formed a partnership with SSE Renewables to build offshore wind farms in the Netherlands.
The recent investments have expanded its capacity to build and operate wind farms. They also support Brookfield's strategy to boost its high-yielding dividend in the coming years. That makes it an ideal stock for investors seeking a partially wind-powered passive income stream.
6. Clearway Energy
Clearway Energy is one of the largest renewable energy operators in the U.S. It has more than 5 GW of wind and solar energy projects and 2.5 GW of natural gas generation facilities. These facilities supply Clearway with stable cash flow backed by long-term contracts, allowing it to pay an attractive dividend.
Clearway primarily grows by acquiring operating wind and solar power plants from developers, allowing them to recycle capital into new investments. It has several investments lined up that should support dividend growth at or near the top end of its 5% to 8% annual target range through 2026.
The company has a strategic relationship with renewable project developer Clearway Energy Group, a company co-owned by Global Infrastructure Partners and TotalEnergies (TTE -1.0%). Its partners develop new wind and solar energy projects, which Clearway can acquire to help support its growing dividend. The strategy makes it another excellent option for those seeking a partially wind-powered passive income stream.
7. TPI Composites
TPI Composites is a global wind-blade manufacturer. It sold almost one-third of all onshore wind blades made in 2020 (excluding those produced in China). It enables wind turbine makers to outsource blade production, thereby expanding global capacity.
TPI Composites provides investors with a very concentrated wind energy investment opportunity, given its sole focus on manufacturing wind blades. However, like Siemens Gamesa, this focus has had its drawbacks in recent years. A turbulent economy and supply chain issues have affected its growth and profitability. But, with demand for wind energy expected to grow in the future, TPI Composites could see stronger sales and higher profits.
8. First Trust Global Wind Energy ETF
First Trust Global Wind Energy is an exchange-traded fund (ETF) focused on investing in wind energy stocks. The ETF invests in pure-play wind companies that get at least 50% of their revenue from wind-related activities (60% of the fund) and diversified companies involved in some aspect of the wind energy industry (40% of the fund).
As of late 2022, it held more than 55 wind energy stocks. Of note, its top 10 holdings included Vestas Wind Systems. The ETF has a heavy concentration of foreign-listed wind energy stocks; Canadian-listed wind stocks made up the largest country share of its portfolio, at more than 16%. The ETF's broad focus across the wind energy sector makes it an ideal option for investors who want to bet on the long-term global growth of wind energy but don't want to select individual wind energy stocks.
Wind energy should be a good long-term investment
Wind energy plays an important role in reducing carbon emissions and the long-term impact of climate change. Capacity should be added in the coming years, benefiting the wind sector.
However, it isn't likely to be a smooth ride. Rising steel prices, slowing economic growth, and changing government incentives could hurt the wind sector in the coming years. Investors should consider taking a basket approach and invest in more than one wind stock. They can purchase an ETF to gain exposure to the broader sector or buy shares in several wind-focused stocks, reducing risk and putting them in a better position to benefit from the upside ahead for the wind energy sector.
Matthew DiLallo
has positions in Brookfield Renewable, Brookfield Renewable Partners, Clearway Energy, NextEra Energy, and NextEra Energy Partners. The Motley Fool has positions in and recommends Brookfield Renewable, NextEra Energy, and TPI Composites. The Motley Fool recommends Brookfield Renewable Partners. The Motley Fool has a
disclosure policy
.