The global economy is rapidly working on switching power sources. Due to climate change concerns, the world is moving away from carbon-based fossil fuels to cleaner alternative energy sources. The decarbonization of the global economy will take an estimated investment of more than $100 trillion over the next three decades.
Renewable energy will play a crucial role in this energy transition. Here's a closer look at how to invest in the renewable energy industry.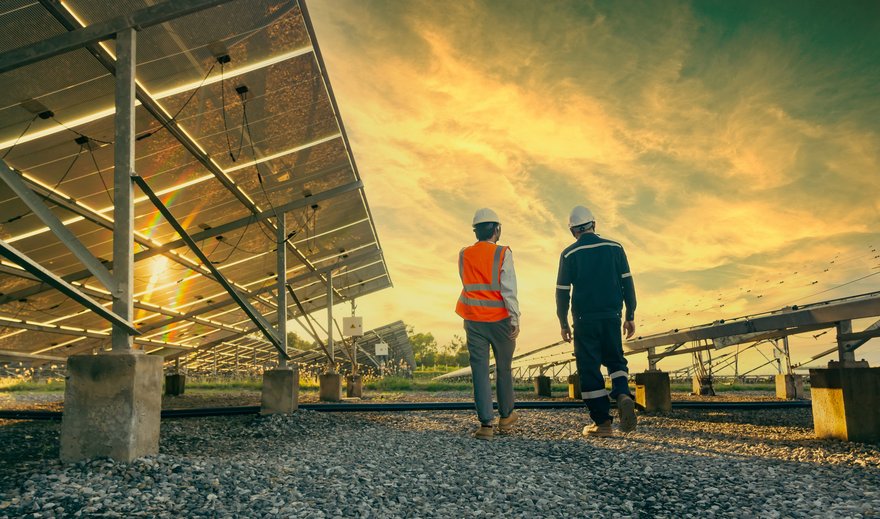 Source: Getty Images
Why invest in clean energy stocks?
Renewable energy sources, such as wind, solar, and hydroelectric, currently supply about a quarter of the electricity generated by the power sector. The industry has been growing briskly, increasing its electricity generating capacity at a roughly 8% annual rate over the past decade. However, given increasing climate change concerns, the pace has quickened in recent years. It needs to accelerate further to help decarbonize the economy.
Climate change is forcing companies and other institutions to focus on how they can do their part to decarbonize. Many companies are signing power purchase agreements (PPAs) with electric utilities and other electricity generators to specifically buy power produced from renewable sources.
Meanwhile, others are investing directly in renewable energy development projects. While many are doing this to become more socially responsible global citizens, renewable energy is increasingly economical due to falling costs for solar panels, wind turbines, and batteries for energy storage. That's making the sector a more attractive investment opportunity.
Governments are also working to accelerate global decarbonization by proposing and passing legislation that would increase investment in the sector. In August 2021, the U.S. Senate passed a $1.2 trillion infrastructure package that includes funding to accelerate clean energy investments.
Many view it as only a down payment on the spending needed to decarbonize the economy, suggesting that future legislation could further boost the country's investment level.
5 top renewable energy stocks
Many companies focus on renewable energy, putting them in an excellent position to benefit from this investment megatrend. However, a few energy companies stand out above their peers as the best renewable energy stocks to buy. These top-tier green energy companies include:
Data source: Ycharts. Market cap data as of Apr. 7, 2022.
Here's a closer look at these leading renewable energy stocks:
NextEra Energy
NextEra Energy is the world's largest producer of wind and solar energy. It generates this power at its utilities in Florida and its energy resources segment, which sells power under PPAs to other utilities and end users.
NextEra has an excellent track record of creating shareholder value. It has produced a roughly 700% total return over the past decade. Powering the energy company's strong returns has been its above-average growth. NextEra has expanded its adjusted earnings per share at an 8.7% compound annual rate since 2005 while boosting its dividend at a 9.6% annual rate during that period. Overall, NextEra has increased its dividend for more than 25 consecutive years, earning it the Dividend Aristocrat distinction.
The company sees 6% to 8% annual earnings growth through at least 2023, powered by continued investments in renewable energy. That should enable it to deliver 10% dividend growth through at least 2022 while posting one of the best balance sheets in the utility sector.
Brookfield Renewable
Brookfield Renewable is a global leader in renewable energy. It's one of the world's largest producers of hydroelectric power, which made up more than 62% of its portfolio in 2021. Brookfield also has growing wind (onshore and offshore), solar (utility-scale and distributed generation such as rooftop solar), and energy storage expertise. The company sells the bulk of its power under long-term PPAs that generate steady cash flow.
Brookfield has an excellent track record. Since its inception, the company has generated an annualized total return of 20%. Powering its growth has been the steady expansion of its portfolio through acquisitions and development projects. Those two factors have increased Brookfield's earnings at a more than 10% compound annual rate over the past decade, fueling 6% compound annual growth in its dividend payments since 2012.
Brookfield sees even more growth ahead -- up to 20% annually through 2025 -- powered by its extensive pipeline of renewable energy development projects and additional acquisitions. That should enable the company to hike its dividend by 5% to 9% per year -- making it one of the best renewable energy dividend stocks while maintaining its top-notch balance sheet.
Clearway Energy
Clearway Energy is one of the largest owners of renewable energy in the U.S. It complements its wind and solar energy portfolio with highly efficient natural gas power facilities and district energy assets. Clearway also sells its power via PPAs that generate steady cash flow for the company.
Clearway has done a solid job of creating shareholder value over the years, delivering annual total returns approaching 10% since its inception. Of note, its total annualized returns have more than doubled since private equity giant Global Infrastructure Partners took control of the company in 2018. That relationship provides it with a steady stream of investment opportunities.
Powering those accelerated returns has been Clearway's ability to expand its portfolio, cash flow, and dividend. The company expects all three to keep rising. It's targeting 5% to 8% annual dividend growth in the coming years while maintaining a solid financial profile.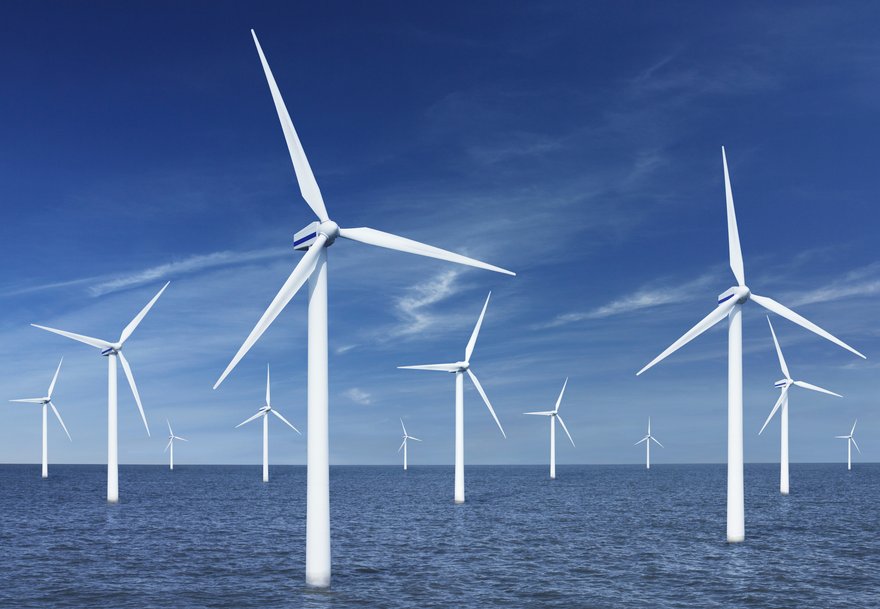 Source: Getty Images
First Solar
First Solar develops and manufactures thin-film solar panels. This type of panel, which is larger than others, generates more usable energy than competing technologies. That makes it ideal for utility-scale solar energy projects.
The solar panel maker has done a decent job creating value for its shareholders, generating a roughly 9.5% total annualized return since its initial public offering (IPO). As one of the world's leading solar panel makers, the company is in an excellent position to create even more shareholder value as demand for solar panels accelerates. Capacity is on track to double by 2025 from 2020's level. First Solar complements that with one of the best balance sheets in the sector. It had about $1.5 billion in net cash in 2021, giving it ample financial flexibility to continue expanding.
SolarEdge Technologies
SolarEdge Technologies develops and manufactures an optimized inverter system. This component maximizes the power produced by solar panels, helping to lower the cost of energy generated by the system.
SolarEdge has been a phenomenal value creator throughout its history. The solar company has delivered a nearly 50% annualized total return since its IPO. Powering that growth is its rapid ascent to become the market leader in making solar inverters in 2020, up from the 10th-largest supplier in 2014.
Like First Solar, SolarEdge Technologies should benefit from the accelerating growth of solar energy worldwide. One forecast has solar power growing from 11% of the world's installed power capacity in 2019 to 38% by 2050. That increasing market share should enable SolarEdge to continue expanding its revenue and earnings at robust rates for years to come. It also has a top-notch balance sheet to help finance its growth, with more than $500 million in net cash in 2021.
The top renewable energy stocks should generate strong returns for investors
Climate change and socially responsible investing are major catalysts for the clean energy revolution. Those factors will drive trillions of dollars of investment in renewable energy in the decades ahead.
While that rising tide should lift all boats, the top renewable energy stocks should generate some of the best returns for investors. These green energy companies have already proven to be value creators and have the financial strength to capture opportunities that should yield outsized total returns in the coming years.
More on Energy investing
Expert Q&A on Renewable Energy
The Motley Fool got the chance to chat with investing expert Professor Priya Parrish of University of Chicago Booth School of Business. Here's what Parrish had to say about investing in the renewable energy realm.
Expert Advice

Professor Priya Parrish
Adjunct Assistant Professor of Strategy, University of Chicago Booth School of Business
The Motley Fool: What is renewable or green energy?
Professor Parrish: Energy generated from natural resources that does not product pollution. Solar, wind, and geothermal are examples of green energy sources that are also renewable. There are a number of businesses and investment opportunities related to the renewable energy sector, from infrastructure to financing and workforce development.
The Motley Fool: What's your advice for someone looking to invest in renewable energy?
Professor Parrish: Investors with a genuine passion for and commitment to sustainability are more likely to succeed, as the market is complex and changing fast. Entrepreneurs in this sector are also more driven to take capital from those firms with a mission alignment. This is related to the need for sustainability investors to understand these markets in-depth from multiple angles.
This includes:
Both the supply and demand drivers
Policy and regulatory factors
Business models and operational considerations
Supply chain risks
We see successful investors bringing forward both operating experience in the energy, utilities, or infrastructure industries as well as a sound understanding of energy and commodity markets and policies.
The Motley Fool: What are some of the pros and cons of investing in renewable energy?
Professor Parrish: Investing in secular growth trends that are tied to real societal needs provides a strong investment backdrop for long-term investors. However, in the past few years we have seen an influx of capital looking to invest in sustainability deals as there is growing awareness of the opportunity. Many of these investors are unsophisticated and can create market noise. For investors willing to invest in developing a deep knowledge of renewable technologies, markets and companies, I think it is an opportunity worth pursuing.
The Motley Fool: What are some emerging areas of renewable energy? Are you particularly optimistic about any of them?
Professor Parrish: In addition to energy transition, we are optimistic about related opportunities in waste reduction, climate risk management in the supply chain, sustainable food and agriculture, and carbon capture.
Renewable Energy FAQs
What is renewable energy?
The green energy sources include:
Wind
Solar
Hydro
Biomass
Geothermal
Ocean waves and currents
Green hydrogen
What is the best solar energy stock to invest in?
The following three solar energy stocks, are worthy of consideration:
First Solar: Manufactures thin-film solar panels
Brookfield Renewable: Operates solar-energy-generating facilities, wind farms, and hydroelectric power plants
SolarEdge Technologies: Manufactures power optimizers for solar panels
Is renewable energy a good investment?
The clean energy sector represents a massive opportunity for investors. However, investors must pick stocks carefully, since not all will capture the full extent of this opportunity. Two key characteristics to look for are a strong balance sheet and a solar energy-focused growth profile, since those factors could give a company the power to generate higher returns.
Matthew DiLallo
has positions in Brookfield Renewable Corporation Inc., Brookfield Renewable Partners L.P., Clearway Energy, Inc., First Solar, NextEra Energy, and SolarEdge Technologies. The Motley Fool has positions in and recommends Brookfield Renewable Corporation Inc. and NextEra Energy. The Motley Fool recommends First Solar and SolarEdge Technologies. The Motley Fool has a
disclosure policy
.