The best ESG stocks are financially strong, investable companies that are committed to making the world a better place -- while generating healthy returns for shareholders.
Image source: Getty Images
The COVID-19 pandemic has highlighted the critical role corporations must play in addressing the world's most pressing issues. Governments alone cannot cure disease -- or halt climate change, provide safe working conditions, or close gender and racial pay gaps. These issues threaten quality of life globally and can't be solved without corporate resources and expertise.
What makes for a good ESG stock? The company must align its operations to support programs benefiting the environment, employees, local communities, and shareholders. Its performance history must be verifiable by ESG rating agencies such as MSCI and Sustainalytics.
Solid financial performance is a primary theme of ESG investing . As an ESG investor, you don't have to forgo solid returns to promote good corporate citizenship.
Institutional investors use ESG ratings to demand high standards for corporate behavior, and you can do the same. By investing in the best ESG companies, you support sustainable initiatives such as energy conservation, waste reduction, safer working conditions, ethical business practices, and more.
10 best ESG stocks right now
The 10 stocks in the table below deliver in two ways:
All have top MSCI ESG ratings.
All have reported double-digit annualized growth in diluted earnings per share (EPS) and net income over the past three years.
Due to current market conditions, these stocks have recently plummeted in value. Based on historical performance and strong business models, though, I expect them to remain good picks for long-term investing as part of an ESG strategy.
Table data source: MSCI, Investors.com, Morningstar data.

| Rank | Name and Ticker | Industry | MSCI ESG Rating | Market Cap (billions) | IBD Composite Rating | IBD Relative Strength Rating |
| --- | --- | --- | --- | --- | --- | --- |
| 1 | Nvidia (NASDAQ:NVDA) | Semiconductors | AAA | $391.6 | 60 | 20 |
| 2 | Microsoft (NASDAQ:MSFT) | Software and infrastructure | AAA | $1,708 | 74 | 58 |
| 3 | Best Buy (NYSE:BBY) | Specialty retail | AAA | $18.3 | 34 | 22 |
| 4 | Adobe (NASDAQ:ADBE) | Software and infrastructure | AAA | $160.9 | 49 | 89 |
| 5 | Pool (NASDAQ:POOL) | Leisure | AA | $12.5 | 65 | 36 |
| 6 | Salesforce (NYSE:CRM) | Software application | AA | $146.1 | 48 | 27 |
| 7 | Cadence (NASDAQ:CDNS) | Software application | AA | $45.4 | 92 | 75 |
| 8 | Intuit (NASDAQ:INTU) | Software application | AA | $112.5 | 68 | 32 |
| 9 | Idexx Laboratories (NASDAQ:IDXX) | Diagnostics and research | AA | $37.3 | 51 | 15 |
| 10 | Lam Research (NASDAQ:LRCX) | Semiconductor equipment and materials | AA | $62.2 | 55 | 29 |
MSCI evaluates companies by their exposure to, and management of, material ESG risks in their industry. The scale ranges from AAA to CCC, and the leading ESG companies in each industry receive an AAA or AA ranking.
1. Nvidia
Nvidia makes graphics processing units (GPUs) used in gaming consoles, supercomputers, robots, and self-driving cars.
Business highlights: Nvidia is the major GPU supplier in the gaming segment. The company is also well-positioned for long-term growth outside of gaming with its strongholds in artificial intelligence and autonomous cars.
Nvidia's 10-year total annualized return to shareholders exceeds 50%. Revenue for the 2022 fiscal year grew 61% to $26.91 billion, and GAAP EPS grew 123% to $3.85.
ESG highlights: Nvidia's ESG initiatives include treating people fairly, strengthening diversity and inclusion, and pursuing social change with its products. Key actions taken under these goals include:
Continued paying vendors and contractors even while facilities were closed due to COVID-19.
Tripled the number of Black employees in the Nvidia workforce.
Developed the DGX SuperPOD, ranked as the fifth most efficient supercomputer in the world.
2. Microsoft
Microsoft is the world's largest software company and a dominant cloud platform provider.
Business highlights: Microsoft has strong, growing subscription revenue from its software products. The company is also the No. 2 leader in cloud computing with its Azure platform. Azure's success and Microsoft's active acquisition pipeline should support strong future growth.
Over the past 15 years, Microsoft shareholders have enjoyed total annualized returns of 25%. In the fiscal year ending June 30, 2021, Microsoft increased revenues 18% to $168 billion and diluted EPS by 40% to $8.05.
ESG highlights: Microsoft earns its status as a prominent ESG company for its leadership in energy conservation. Supported by its partnership with Black-owned solar company Volt Energy, Microsoft is working toward 100% renewable energy by 2025.
By 2050, the company plans to offset all the carbon emissions it's produced since 1975.
3. Best Buy
Best Buy is a leading retailer of consumer electronics in North America. The company also provides services to design, set up, and maintain home media and home computing systems.
Business highlights: Best Buy benefited from demand for home office solutions and entertainment equipment during the pandemic. The retailer is using its larger installed base to cross-sell service offerings, including tech support subscriptions. That part of the business has upside, especially if Best Buy moves beyond technology-specific services.
Best Buy produced record sales and earnings in fiscal year 2022, which ended Jan. 29, 2022. Revenues grew 8.5% to $51.7 billion, and GAAP EPS grew 44% to $9.84. Longer term, Best Buy's 10-year total return to shareholders is 16.5%.
ESG highlights: In 2020, Best Buy's facility in Chino, California, achieved 100% waste diversion. This was a milestone in the company's goal to divert all solid waste from landfills. The company also committed $10 million toward building teen tech centers in Los Angeles where young people can learn about programming, design, and music production.
4. Adobe
Adobe provides software, publishing, and cloud storage for creatives, along with marketing analytics tools for business teams.
Business highlights: Adobe is a dominant leader in digital content creation, thanks to its flagship Photoshop software. Subscriptions to Adobe software provide a predictable, multibillion-dollar revenue stream. The company's newer marketing and analytics suite should drive deeper customer engagement and future growth.
Adobe reported record revenue of almost $16 billion in fiscal 2021, an increase of 23% over the previous year. In Q2 of the 2022 fiscal year, it hit another record high of $4.39 billion in revenue. The company has returned almost 30% annually to shareholders over the past 10 years.
ESG highlights: Adobe has achieved global gender pay parity. The company has also invested almost $87 million in communities to benefit 1.6 million underrepresented minorities. Half of Adobe's energy comes from renewable sources, and the company has set a goal of obtaining all power from renewable sources by 2035.
MSCI upgraded Adobe's ESG score from AA to AAA in December 2021.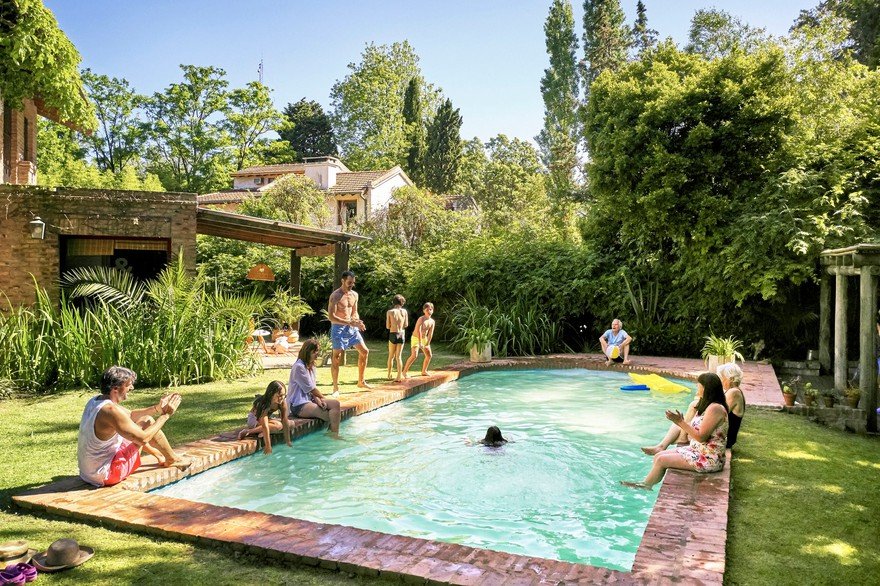 Image source: Getty Images
5. Pool
Pool sells swimming pool supplies to pool builders, contractors, retail stores, and repair companies.
Business highlights: Pool dominates its space, selling to 120,000 wholesale customers in North America, Europe, and Australia. The company has a good track record of increasing its market share, making strategic acquisitions, and improving operating efficiency.
Pool has taken advantage of a pandemic-fueled increase in demand for swimming pools. The company reported record sales and EPS in 2021. Sales grew 35% from the previous year to $5.3 billion, and diluted EPS increased 78% from 2020 to $15.97.
The company's 12 month EPS ending March 31, 2022 was $17.96, a 68.8% increase year over year. Pool's 10-year annualized total return is almost 30%.
ESG highlights: Pool features Eco Select products and participates in the EPA's WaterSense program. The company publishes resources to help customers use water and handle wastewater responsibly. Pool has also provided free swimming lessons to kids and made donations to human rights organizations and through the National Forest Foundation.
6. Salesforce
Salesforce provides customer relationship management (CRM) software -- applications that help businesses use their customer data to sell more products and services.
Business highlights: Salesforce caters to large corporate customers, which contributes to stable performance. They have a leading market share and predictable, subscription-based revenues. Salesforce also recently acquired Slack, a subscription-based business communication and team management service.
Salesforce has a long history of producing double-digit annual returns for shareholders. Its fiscal year 2022 revenues of $26.49 billion marked a 25% increase over the prior year. In the 2023 fiscal year, they announced first-quarter revenue of $7.41 billion, up 24% year over year.
ESG highlights: Salesforce has achieved net-zero carbon emissions across its value chain and 100% renewable energy for its operations. The company has also established a racial equality and justice task force and spent $16 million on equal pay initiatives.
7. Cadence
Cadence provides software and hardware used to design integrated circuits, systems on chips, and printed circuit boards more efficiently.
Business highlights: There's an ongoing demand for custom chips and chips that are smaller, faster, and more efficient. Cadence's other ventures in 5G mobile, artificial intelligence, and autonomous cars are also showing increased activity.
These trends, along with the recently introduced Xcelium app, should drive continued growth for the company.
Over the past 10 years, Cadence has produced total annualized returns for shareholders of 29%. In 2021, the company produced diluted EPS of $2.50 from $2.99 billion in revenues. For the 2022 fiscal year, the company expects total revenue of $3.395 billion or greater.
ESG highlights: Cadence has achieved global gender pay equity. In the U.S, they also have race and ethnicity pay equity. The company is targeting a 15% reduction in carbon emissions between 2019 and 2025. In 2020, Cadence established a supplier code of conduct to extend its governance standards throughout the supply chain.
8. Intuit
Intuit caters to consumers and small- to mid-sized businesses. For consumers, Intuit offers subscription-based TurboTax, Mint, and Credit Karma. Intuit serves businesses with its subscription-based accounting software Quickbooks. Thera are optional payroll and payment services integrated with Quickbooks.
Business highlights: Intuit holds leading share positions in its two legacy segments: tax preparation and business accounting software. The company acquired Mailchimp, a marketing platform geared to the small- and mid-sized business customer, in late 2021. Mailchimp, along with Credit Karma, should contribute growth to Intuit's already strong operations.
Intuit's 2021 revenues exceeded $9.5 billion, with net income topping $2 billion. The company has been particularly strong over the past five years, delivering total annualized returns to shareholders of almost 30%.
ESG highlights: Intuit has been carbon-neutral since 2015. They are on track to be climate-positive by 2030. The company has achieved gender pay equity worldwide and equal pay for minority groups in the U.S. Intuit is consistently recognized as one of the best large technology employers.
Investors should know that members of Congress are calling for an investigation into Intuit for lobbying and TurboTax controversies, and the Federal Trade Commission has filed a related administrative complaint alleging deceptive advertising practices. Those actions could hurt the company's share value.
9. Idexx Laboratories
Idexx makes and distributes diagnostic equipment for pets and livestock, which is sold primarily to veterinarians and animal hospitals.
Business highlights: An increase in pandemic-driven pet adoptions has increased overall spending on pet healthcare, and Idexx has benefited. The company's leadership position and strong product development performance should drive momentum over the next several years as adopted pets age.
Idexx eclipsed $3 billion in revenue for the first time in 2021, for an increase of 19%. Earnings per share in 2021 grew 12% year over year, excluding a one-time benefit of $0.25 reported in the prior year.
ESG highlights: In 2020, Idexx launched a global whistleblower policy to support compliance with the company's code of ethics. Idexx has also reduced energy consumption per square foot by 15% and decreased indoor water use since 2017. The company is preparing to take a third-party carbon footprint assessment and ESG materiality assessment.
10. Lam Research
Lam makes and services equipment used to fabricate semiconductors. The company operates in the deposition, etch, and clean steps of chipmaking.
Business highlights: Lam profits from the growing demand for innovative chip design. The company's main competitive advantage is its installed base of 60,000 units. The network provides ongoing service revenue, plus valuable feedback from chipmakers that can guide future product development.
Lam's revenue for the fiscal year ending June 29, 2021, exceeded $14.6 billion, compared to $10 billion during the previous fiscal year. The company increased EPS more than 70%. For the first quarter of 2022, Lam reported $4.06 billion in revenue.
ESG highlights: Lam is implementing sustainability measures throughout its organization to achieve 100% renewable energy by 2030 and net-zero emissions by 2050. The company has micro-inequities training and support for gender equality to promote inclusivity in the workplace.
Investing for good
You can buy these ESG stocks individually, but you can also find ESG ETFs that hold a broader set of top ESG performers. ESG funds can vary widely in their stock selection process and interpretation of ESG factors, so review the fund documentation carefully to find a good fit for your ESG criteria.
If you're motivated to support specific causes such as climate change or conscious capitalism, you might also expand your fund and stock research into the sustainable investing, impact investing, and socially responsible investing categories. These are related to ESG but are often more specific cause-oriented. ESG screening is one more tool investors can use to do good while mitigating risk to long-term wealth.
Alison Plaut
has no position in any of the stocks mentioned. The Motley Fool has positions in and recommends Adobe, Best Buy, Cadence Design Systems, Intuit, Lam Research, Microsoft, Nvidia, and Salesforce. The Motley Fool recommends Idexx Laboratories and recommends the following options: long January 2024 $420 calls on Adobe and short January 2024 $430 calls on Adobe. The Motley Fool has a
disclosure policy
.