Computers excel at crunching numbers but not at the kinds of things people do with ease: language processing, visual perception, manipulating objects, reasoning, planning, and learning. Artificial intelligence (AI), including its offshoots deep learning and machine learning, uses computers to perform tasks that normally require human intelligence.
How do companies use artificial intelligence?
AI is created through machine learning, which involves training a system with huge amounts of data and then using that trained system to make inferences about new data it's never seen. The simplest example is a system designed to detect objects in images. Images with those objects are provided to the system, which "learns" how to detect those objects in other images. The more objects in images it detects, the more accurate the detection system becomes.
What is AI?
Machine learning, or AI, involves training a system with huge amounts of data, then using that trained system to make inferences about new data it has never seen.

Companies employ artificial intelligence in two main ways:
Many tech companies use AI to make their existing operations more powerful, such as via high-profile applications, including robotics, self-driving cars, and virtual assistants. Google, a subsidiary of Alphabet (NASDAQ:GOOGL), (NASDAQ:GOOG), uses AI to filter out spam for Gmail users. Amazon (NASDAQ:AMZN) uses AI to recommend products to customers, while Netflix (NASDAQ:NFLX) uses AI to guide content creation and recommendations.
Some companies also profit directly from AI by selling hardware, software, services, or expertise the technology needs. These are true artificial intelligence companies and include those listed and described below.
Top AI stocks to watch
| Company | AI Focus |
| --- | --- |
| NVIDIA (NASDAQ:NVDA) | Graphics chips and self-driving cars |
| IBM (NYSE:IBM) | Augmenting human intelligence across industries |
| Micron Technology (NASDAQ:MU) | Memory chips for data centers and self-driving cars |
| Amazon (NASDAQ:AMZN) | Voice-activated technology, cloud computing, and e-commerce |
Source: Company websites
NVIDIA
Machine learning's training phase demands a lot of computing power; its inference phase requires less. Graphics chips, used primarily for rendering video games, do both tasks well. Leading graphics chip company NVIDIA (NASDAQ:NVDA) has taken advantage of the AI boom, with its graphics cards becoming the de facto standard in data centers around the world.
NVIDIA's data center business represents a steadily increasing share of the company's total revenue. This segment isn't all AI-related -- NVIDIA's graphics cards are used to accelerate a wide variety of data center applications. But AI has been one of the driving forces behind the company's growth.
Self-driving cars are another area of focus. NVIDIA develops platforms, including hardware and software, that can power driver-assistance features as well as full self-driving. The company's DRIVE AGX Pegasus system includes two NVIDIA Xavier processors, two graphics processing units, and is capable of 320 trillion operations per second.
A self-driving car must process massive amounts of data from multiple sensors and cameras in real time, detect objects like pedestrians and other vehicles, and make complex decisions. They require a tremendous amount of computing power, and that's exactly what NVIDIA's platform delivers.
NVIDIA's graphics cards could someday be supplanted by more specialized processors designed for AI, but for now the company is in an enviable position.
IBM
International Business Machines (NYSE:IBM) has been around for over a century. Today, the tech giant is an integrated provider of hardware, software, and services to large enterprise customers. Its mainframe computer systems are still ubiquitous in certain industries, and it regularly signs multi-year IT deals worth hundreds of millions of dollars each.
IBM's strategy with AI is to apply the technology where it can augment human intelligence, increase efficiency, or lower costs. In the healthcare industry, IBM's AI tech is being used to create individualized care plans, accelerate the process of bringing new drugs to market, and improve the quality of care. In the financial services industry via the company's acquisition of Promontory Financial Group, IBM is using AI to help clients with the daunting task of regulatory compliance.
There are some applications that aren't quite ready for primetime but show promise. For example, IBM is working with marine research organization ProMare on an "AI Captain" capable of allowing a ship to self-navigate across the Atlantic Ocean.
While the market for AI products and services is fragmented, IBM is leading the industry. The company generated over $2.5 billion of revenue from AI in 2018, according to IDC, giving it the largest market share in the industry.
IBM is a complicated company, and AI is far from its only growth opportunity. But if you're looking to invest in a company that will benefit from the AI boom, IBM is a good choice.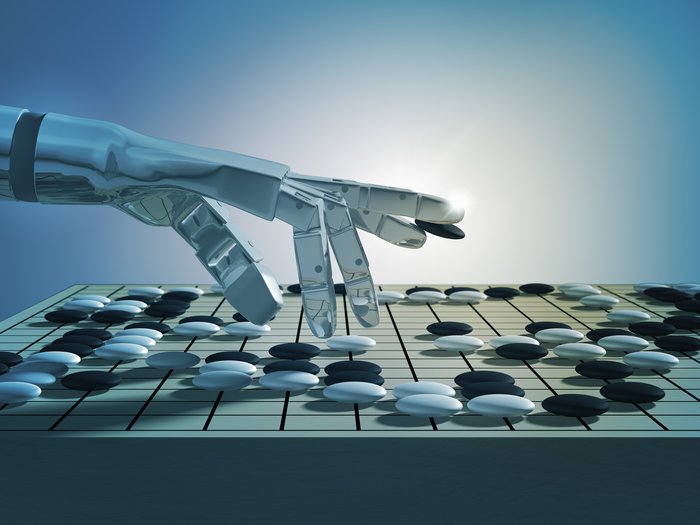 Micron
Micron Technology (NASDAQ:MU) manufactures memory chips, including dynamic random-access memory (DRAM) and NAND flash memory found in solid-state drives. Most of what the company makes are commodity products, meaning that supply and demand dictate pricing. This leads to sometimes brutal cycles in the semiconductor sector where an oversupply of chips pushes down prices. In 2021, that cycle appears to be on an upswing as management sees several tailwinds, including in mobile, 5G, cloud computing, and graphics, helped by a recovery in the automotive sector.
In the long run, demand for memory chips will only grow, and that's especially true in the AI industry. Self-driving cars are a good example. All the sensors and cameras produce a lot of data -- Micron estimates it at around 1 GB per second. Back in 2018, the company forecast that a fully autonomous vehicle would require 74 GB of DRAM and 1 TB of NAND, and that there would be 26 million vehicles equipped with Level 3 autonomy by 2025. For comparison, a PC today may have 16 GB of RAM and 1 TB of NAND.
Outside of self-driving cars, data centers running AI workloads need plenty of memory as well. So do smartphones that may be doing AI work. Newer iPhones, for example, do all sorts of AI magic with the camera to produce improved images.
Investing in Micron will come with ups and downs due to the nature of its business. Even though AI will drive increased demand for memory chips in the long run, supply and demand reigns supreme in the short run. But if you have the stomach for a volatile stock, Micron isn't a bad way to bet on AI.
Amazon
Perhaps no company is using AI in a wider range of ways than Amazon (NASDAQ:AMZN). Founder and CEO Jeff Bezos has long been an evangelist for machine learning, and though Amazon started as an online retailer, technology has always been at the company's core.
Today, Amazon uses artificial intelligence for everything from its industry-leading voice-activated technology, Alexa, to its Amazon Go cashierless grocery stores, to Amazon Web Services Sagemaker, the cloud infrastructure tool that deploys high-quality machine learning models for data scientists and developers.
Amazon's dominant e-commerce business is also built on AI, as algorithms run its top-flight recommendation engines for e-commerce as well as video and music streaming, and determine product rankings.
Even Amazon's logistics operations benefit from its AI prowess, which helps with scheduling, rerouting, and other ways to improve delivery accuracy and efficiency. Drone delivery, which the company has long sought to bring to market, would be yet another AI application for the tech giant.
It's difficult to quantify the impact of AI on Amazon's business, but it's clear that it's a key component of the company's competitive advantage. Throughout its history, Amazon has been at the forefront of emerging technologies like e-commerce, e-books, cloud computing, video streaming, and voice-activated technology. AI provides much of the infrastructure that helps the company move into new businesses quickly and effectively.
Related topics
AI is a growth business
IDC expects total spending on AI systems to reach $97.9 billion in 2023, up from $37.5 billion in 2019. For the five-year period ending in 2023, IDC sees a compound annual growth rate of 28.4%.
With the market already large and growing quickly, there's room for plenty of companies to profit from AI. While picking stocks in a growth industry comes with a lot of uncertainty, NVIDIA, IBM, Micron, and Amazon are all AI stocks worth considering.
You might like: