The software-as-a-service (SaaS) business model has become the norm for many software companies. Customers who subscribe to a software product that's continually updated benefit from the latest technology and increased pricing flexibility, while software businesses receive attractive streams of recurring revenue. The SaaS trend has been a significant driver of growth in the tech industry.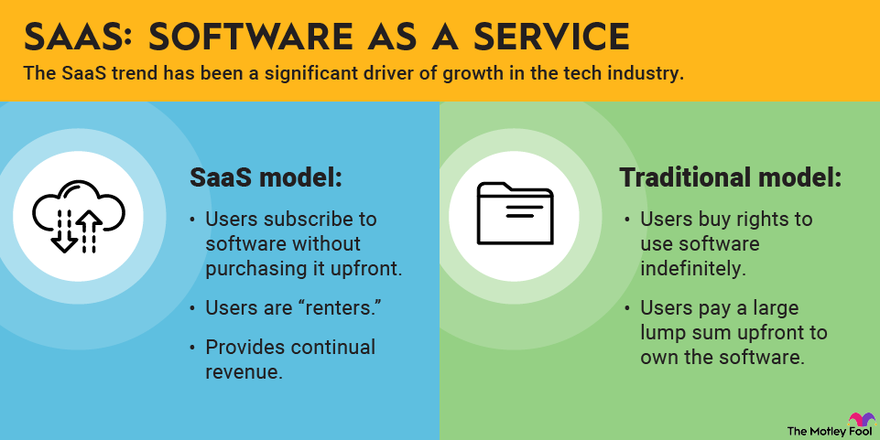 Image source: The Motley Fool
With SaaS stocks being popular among investors, and with that popularity only accelerated by the COVID-19 pandemic, valuations of SaaS stocks are high. But buying high can lead to lackluster returns for investors, even if the company performs well.
Best SaaS stocks in 2023
If you want to invest in SaaS companies that are reasonably valued, consider these three options:
1. Microsoft
For 45 years, Microsoft (MSFT 0.47%) has dominated the market for traditional software. Microsoft Windows is the standard operating system for PCs, and Microsoft Office is still frequently the productivity suite of choice.

Microsoft's dominance was tested by the proliferation of mobile devices, which do not use Windows, and by competition from Alphabet's (GOOG 0.16%) (GOOGL 0.07%) Google in the form of Google Docs, Sheets, and Slides. Microsoft eventually abandoned its PC-centric strategy by bringing first-rate versions of its Office applications to mobile devices, and it launched Office 365, a subscription-based version of Office.

With Office 365 garnering around 52 million consumer subscribers, Microsoft has preserved its lead in the productivity software market. Other SaaS products from Microsoft include Teams, the company's collaboration software, which quickly gained subscribers during the pandemic. Teams aims to be a one-stop shop for collaboration by offering group chats, video meetings, and plenty of other features.

Microsoft isn't a pure-play SaaS company, and the stock is historically expensive relative to earnings. But the company has been able to successfully transition to selling subscription-based software while maintaining its market dominance. Both revenue and earnings have been growing swiftly, even as the subsiding pandemic is altering the demand for SaaS offerings.
2. Adobe
Best known for creativity software such as Photoshop, Adobe (ADBE 3.41%) sets industry standards. Cheaper and even free Adobe alternatives are available, but that hasn't been enough to derail the software giant's market leadership.

Adobe has gone all-in on subscriptions, announcing back in 2013 that it would stop developing new versions of its stand-alone creative software in favor of selling subscription products. The move has paid off in a big way, with Adobe's revenue at nearly $13 billion in its fiscal year 2020, up from just $4 billion in 2013. Transitioning from selling one-off licenses for hundreds of dollars to selling subscriptions costing as little as $10 per month has made the company's software available to a much wider audience.
Like Microsoft's, Adobe's stock is historically expensive. But the company performed well during the pandemic by posting record revenue and profit, and that solid growth has continued into 2021. Revenue surged 22% and earnings per share jumped 28% in the third quarter, and the company expects similar growth to end the year. Adobe is as dominant as it's ever been, and that's unlikely to change.
3. Salesforce
Salesforce (CRM 2.76%), the provider of cloud-based customer relationship management software, is a SaaS pioneer. The company went public in 2004, increasing its annual revenue to around $17 billion in fiscal 2020. Continued growth in the core business, plus the impact of major acquisitions such as Slack, will push revenue to nearly $32 billion in fiscal 2023, according to the company's guidance.
Salesforce isn't nearly as profitable as Microsoft or Adobe, partly because it spends close to half of its revenue on customer acquisition in order to keep growing. Shares of Salesforce have still surged in price by around 800% during the past decade as the SaaS business model has become the industry standard.

The pandemic wasn't much of a problem for Salesforce, and the company posted double-digit revenue growth throughout 2020. The resiliency of Salesforce during the crisis makes it a good option for investors looking for a pure-play SaaS stock.
Did You Know?
Fast-growing SaaS companies often post large losses as they scale up their revenue.
How to pick SaaS stocks
Many investors use the price-to-earnings (P/E) ratio to evaluate a company, but with many SaaS companies not yet profitable, this type of analysis is not always possible. Instead, you can consider these two important metrics:
Customer acquisition cost
How much is a SaaS company spending to acquire each new customer? You can calculate the ratio of sales and marketing spending to revenue and evaluate whether that ratio is declining over time. If it's not, then the company may be growing but still spending too much to bring in new customers.
Price-to-sales ratio
The price-to-sales (P/S) ratio, which equals a company's market capitalization divided by its annual revenue, is often used as a valuation metric for SaaS companies in place of the P/E ratio. A higher P/S ratio denotes optimism among investors that attractive revenue growth will continue and that the revenue will eventually generate profits.
However, an exceedingly high P/S ratio is something to view cautiously regardless of the quality of the company or its growth prospects. SaaS highfliers such as Shopify (SHOP 3.51%), Zoom (ZM 0.6%), and Datadog (DDOG -0.41%) trade for between 23 and 65 times sales, ratios that require plenty of optimism to justify. For reference, Adobe trades for around 20 times sales, while Microsoft's P/S ratio is about 13.
Don't ignore SaaS company valuations
Microsoft, Adobe, and Salesforce aren't the most exciting SaaS stocks, but they're all profitable, and they all sport valuations that don't require mental gymnastics to justify. Growth in subscription-based software, supercharged by the pandemic, will create plenty of winners in the SaaS industry -- but ignoring valuation is a recipe for disappointing returns.
Suzanne Frey, an executive at Alphabet, is a member of The Motley Fool's board of directors.
Timothy Green
has no position in any of the stocks mentioned. The Motley Fool has positions in and recommends Adobe, Alphabet, Datadog, Microsoft, Salesforce, Shopify, and Zoom Video Communications. The Motley Fool recommends the following options: long January 2023 $1,140 calls on Shopify, long January 2024 $420 calls on Adobe, short January 2023 $1,160 calls on Shopify, and short January 2024 $430 calls on Adobe. The Motley Fool has a
disclosure policy
.