Augmented reality (AR) aims to enhance our natural world through technology. The interactive experience uses computer-generated information to enrich what we perceive in the natural world.
The AR market is growing fast as more companies and people embrace this technology. According to data by research company Markets and Markets, the AR market will top $88.4 billion in 2026. That implies a 31.5% compound annual growth rate over the next few years.
Many companies are working toward capturing a slice of the AR market. Here's a look at some of the top augmented reality stocks.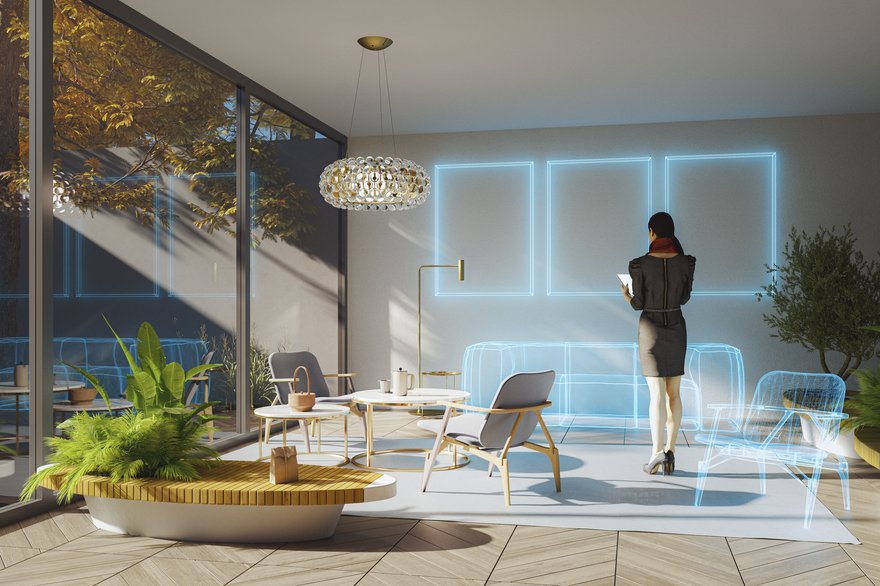 Source: Getty Images
Best augmented reality stocks
Best augmented reality stocks
Several companies are working on augmented reality technology. Here's a list of some of the best augmented reality stock picks:
Data source: Company websites and Ycharts. Market cap data as of May 17, 2023.

| Augmented Reality Stocks | Market Cap | Company Description |
| --- | --- | --- |
| 1. Etsy (NASDAQ:ETSY) | $11.5 billion | A global online marketplace to buy and sell unique goods. |
| 2. Alphabet (NASDAQ:GOOG) (NASDAQ:GOOGL) | $1.5 trillion | A leading internet search provider. |
| 3. Apple (NASDAQ:AAPL) | $2.7 trillion | A consumer electronics company. |
| 4. Roblox (NYSE:RBLX) | $25.4 billion | A video game development company. |
| 5. Qualcom (NASDAQ:QCOM) | $117 billion | A developer of digital wireless telecommunications products. |
| 6. Nvidia (NASDAQ:NVDA) | $742.7 billion | A developer of programmable graphics processor technologies. |
| 7. Unity Software (NYSE:U) | $11.3 billion | A video game development company. |
Here's a closer look at these top growth tech stocks focused on augmented reality.
1. Etsy
1. Etsy
Etsy is an online marketplace where people can buy and sell a variety of handcrafted products. The internet and direct marketing retail stock wants to use AR to allow shoppers to test out products before buying them. They can now see how artwork such as paintings, photography, and prints will look on their walls using the AR feature on their Etsy iPhone app.
While the company is initially using AR for wall art, it aims to expand its AR feature into other product categories. Further, it plans to eventually make it available to Android users. By providing customers with a more visual shopping experience, AR should enable Etsy to convert more sales because customers will have more confidence about how a piece might work in their space.
2. Alphabet
2. Alphabet
Alphabet is the corporate umbrella company that holds the iconic Google search engine and YouTube online entertainment channel. The company also has several "other bets," including cybersecurity company Chronicle and autonomous driving technology venture Waymo.
Google is using AR in various ways. For example, Live View on Google Maps allows users to quickly orient themselves to the area around them and know which way to go via directions overlaid on the live screen of their surroundings. Meanwhile, Google Lens allows users to search what they see. They can scan and translate text, search for an item that caught their eye, or identify plants and animals. The company's AR technology is making it easier for people to discover the world around them.
Apple is a leader in developing technology with the goal of making life easier. It's increasingly using AR to enhance the physical world. Apple has the world's largest AR platform, with hundreds of millions of AR-enabled devices, as well as thousands of AR apps available on its Apps Store. Users can download AR-enabled apps such as Snapchat (SNAP 0.47%), IKEA place, iScape, and others that enhance the physical world through an iPhone or iPad.
In addition, the company is exploring many ways to use virtual reality (VR) with AR. Apple is developing wearable computing technology. The company has been working to create its first AR product, Apple Glasses. While the tech giant initially hoped to release the product in 2023, it's unclear when the company will launch Apple Glasses.
4. Roblox
4. Roblox
Roblox is on a mission to build a platform where its users can come together and shares experiences. The company's platform allows users to create immersive 3D multiplayer experiences. It reported having 58.8 million daily active users at the end of 2022.
Roblox has partnered with brands looking to set up shop in the virtual world. For example, it's helping Walmart (WMT 1.02%) enter the metaverse through experiences on the Roblox gaming platform to reach a younger audience. It could eventually enable the leading retailer and other partners to make money in the physical world through visits to physical stores or online purchases.
Qualcomm is working to build the foundational technology needed to make AR a reality. This technological base includes immersive 3D graphics, computer vision, machine learning, intuitive security, and 5G technologies. The company's Snapdragon XR1 Platform is an end-to-end computing solution that can power the AR world.
In addition to developing AR technology, Qualcomm is investing in innovative AR startups. Qualcomm Ventures' portfolio includes 3D reconstruction camera and software company Matterport (MTTR -0.19%), visual marketing company Blippar, and AR/VR software and hardware controller maker Ximmerse.
6. Nvidia
6. Nvidia
Nvidia is also working on the technology needed to make VR a reality. For example, Nvidia Cloud RX delivers VR and AR across 5G and Wi-Fi networks. It allows users to stream AR through devices without using wires.
Nvidia is also developing technology that incorporates AR into cars. The Nvidia Drive AR processor gathers information and displays it for a driver using AR. The system will show things such as driving stats, points of interest, alerts, and other information.
7. Unity Software
7. Unity Software
Unity Software makes a game engine to create video games. Developers can use its platform to create 2D, 3D, VR, and AR video games and other applications for smartphones, PCs, tablets, and other devices.
The company has created an integrated platform that allows developers to make immersive AR projects a reality. Unity's solution combines a leading software development platform with purpose-built tools empowering creators to bring their vision to life.
These top augmented reality companies see a bright future in AR
Augmented reality is quickly becoming more mainstream as companies develop new uses for the technology. Because of that, AR-focused companies could be big winners in the coming years. That makes the space one that investors won't want to overlook.
Suzanne Frey, an executive at Alphabet, is a member of The Motley Fool's board of directors.
Matthew DiLallo
has positions in Alphabet, Apple, Etsy, and Matterport. The Motley Fool has positions in and recommends Alphabet, Apple, Etsy, Matterport, Nvidia, Qualcomm, Roblox, Unity Software, and Walmart. The Motley Fool has a
disclosure policy
.