5G is the fifth and newest generation of wireless networking technology, with lower latency (the time between an input or request for data and the network's response) and download speeds up to 100 times faster than the previous standard, 4G.
National 5G networks went online in 2020. T-Mobile (NASDAQ:TMUS) was first to go live, securing an early lead in coverage thanks to its merger with Sprint. But this massive project will encompass wide swathes of the global economy for years -- from small tech and infrastructure companies making 5G equipment and small-cell radios to the actual mobile network providers delivering 5G service.
Stay up to date
This industry is rapidly changing in the current economic climate. Check out the article feed below for the latest.

The top 5G stocks to buy in 2021
While mobile network providers like T-Mobile and rival Verizon (NYSE:VZ) -- a top dividend stock and leader in 5G network speed and performance -- are a great place to get started investing in the 5G movement, investors may find the biggest profits in the underlying equipment, infrastructure, and tech.
5G companies can be broken down into semiconductor manufacturers (also known as chipmakers), manufacturers of basic equipment and infrastructure (including 5G small cells, the antennas that deliver network signal), and holders of real estate assets. Several ETFs also attempt to invest in parts or all of the 5G ecosystem.
Equipment and infrastructure
5g Chip Makers (aka Semiconductor Makers)
As with all tech, the basic 5G building blocks semiconductors -- the computer chips that calculate data and execute commands. These companies build the chips that help 5G work:
1. Qualcomm
Qualcomm (NASDAQ:QCOM) has ridden the smartphone boom since the early 2000s, focusing on the tech behind first 3G and then 4G mobile networks. The smartphone industry has matured, and unit sales no longer reliably post double-digit percentage growth, but the 5G upgrade cycle still bodes well for Qualcomm, since its 5G ambitions reach far beyond phones.
Qualcomm's portfolio includes chips enabling 5G communication in everything from Internet of Things devices like industrial equipment to smartphones to cars, as well as modems and other equipment that make up the 5G network itself. The company has ample cash on its balance sheet to drive further hardware innovation, and it has consistently paid a dividend for nearly two decades.
2. Skyworks Solutions
Much smaller than its peer Qualcomm, Skyworks Solutions (NASDAQ:SWKS) also deserves to be near the top of the list. A key smartphone and consumer electronics supplier, the company has used its connectivity know-how to enter other markets, including smart home devices, connected industrial equipment, and medical devices. It has also developed some of the basic components that power the next-gen 5G network. Though it's the smallest chipmaker on this list, Skyworks has a healthy balance sheet to promote further growth as the next wave of connectivity services comes online.
3. Advanced Micro Devices
AMD (NASDAQ:AMD) makes the list because of its acquisition of Xilinx (NASDAQ:XLNX) -- the industry leader in field programmable gate array (FPGA) chips. FPGAs are flexible designs that customers can reprogram and reconfigure even after they've been built. As new hardware is developed for 5G, FPGAs' adaptability makes them ideal for constructing the basic equipment to deploy it. That leaves Xilinx well positioned as 5G rollout ramps up around the world. Adding Xilinx gives AMD access to a best-in-class research and development department, and will also improve AMD's profitability as Xilinx's sales have a far higher profit margin than AMD's traditional chip portfolio.
4. NVIDIA
NVIDIA's (NASDAQ:NVDA) graphics processing units (GPU) are best known for high-end video games, but they've found uses in many other applications, 5G included. 5G networks promise not only faster download speeds but also the ability to handle higher traffic and intelligently route network signals where they're needed most.
GPUs are well suited for this task, and they're already being used by telecoms and equipment makers. In addition, GPU-hungry video games -- especially cloud-based video games streamed over a network -- could be one of the biggest beneficiaries of 5G deployment among consumer products. Already a huge enterprise, this GPU leader is finding a potentially massive new market in 5G and has a history of making technological advancements.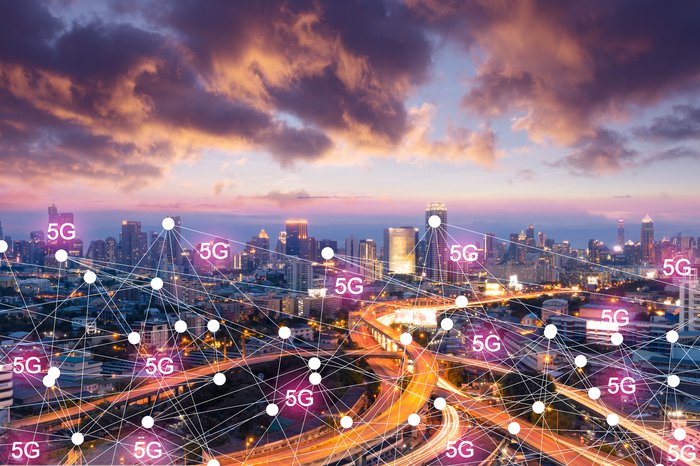 Equipment and infrastructure stocks
Beyond the basic chips needed to power new telecommunications, general equipment makers also play a key role. To reach businesses and consumers, wireless 5G signals need hardware to do the heavy lifting behind the scenes.
Before it gets turned into a high-speed Wi-Fi signal, 5G data needs to travel along the wired internet just like other data. That's where fiber-optic cable comes in, and Corning (NYSE:GLW) -- the veteran glass and ceramics manufacturer -- is a top provider of it. Even as they deploy new radio towers, many telecoms providing 5G also need to beef up their back-end networks with high-speed cable, and Corning is a top supplier for many of those companies. Corning is also getting into the small-cell antenna space, partnering with Qualcomm to supply in-building network equipment to help solve some of the problems 5G signals have in penetrating solid surfaces. A long dividend payment history doesn't hurt Corning's case here, either.
Data center and internet infrastructure company Arista Networks (NYSE:ANET) is another often overlooked 5G stock. Because 5G will be carrying massive amounts of data -- like ultra-high-definition video streaming, or communications for network-connected vehicles -- data centers will play a key role in computing all of the new digital information. Arista is a top equipment provider with open-source hardware and software-defined management tools, and it will benefit from 5G's accompanying boom in mobile data.
Real estate stocks
Another key aspect of 5G's backbone is the towers and other fixed assets needed to broadcast its signal. American Tower (NYSE:AMT), Crown Castle (NYSE:CCI) and Digital Realty Trust (NYSE:DLR), organized as real estate investment trusts (REITs), shine in this arena. American Tower and Crown Castle own and operate real estate, including buildings and cell tower sites crucial to the function of mobile networks and internet infrastructure at large. These companies also run fiber-optic networks that connect 5G small-cell sites to the larger Internet.
Though they're primarily investment income vehicles, both REITs have grown their share prices significantly over time as mobility becomes increasingly important around the globe. And with the flow of data continuing to boom -- thanks in large part to data-intensive applications like video and cloud-computing operations -- the communications real estate assets in which American Tower and Crown Castle specialize will be more important than ever.
Related topics
Invest in 5G for the long term
Where previous network upgrades enabled the smartphone and mobility boom, 5G promises to make every device more mobile and deepen the importance of all things digital. Invest patiently and for the long haul over the lengthy course of 5G's deployment. With upgrades encompassing so many levels of the economy, this investment could continue to pay off for a long time.
You might like: