Cybersecurity is a massive challenge. According to IBM's (IBM -0.29%) Cost of a Data Breach 2021 report, the average cost incurred for an organization that suffered a data breach event last year rose 10% to $4.2 million. A steady migration to cloud-based IT infrastructure and a hybrid workforce that spends significant amounts of time outside the office aren't making security any easier. As a result, cybersecurity is a big and fast-growing industry.
But picking the best cybersecurity stocks can be tricky. Cybersecurity is a large chunk of the technology space, and every sector of the economy needs software to help keep data and critical systems secure. There are a lot of companies operating in this niche, each with its own take on structuring a security platform. That's why investing in a cybersecurity ETF (exchange-traded fund) might make sense.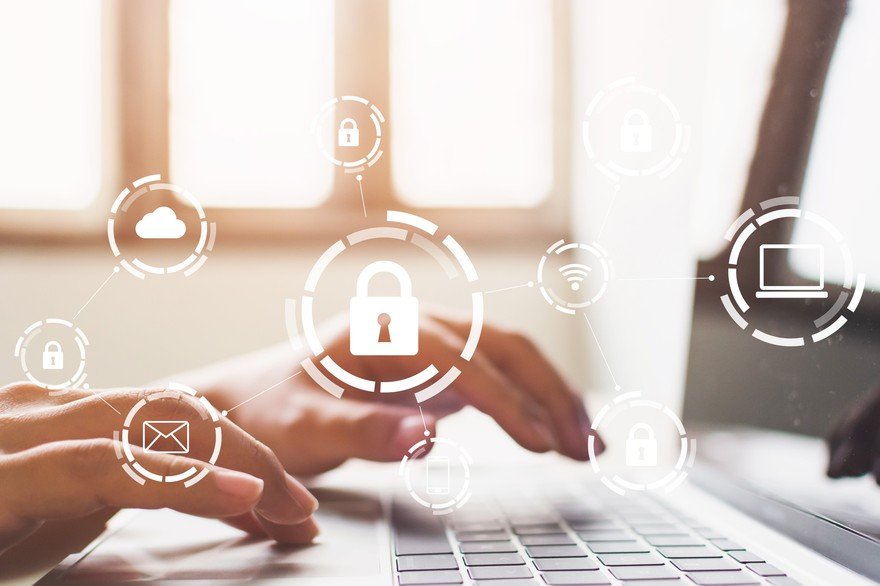 Image source: Getty Images
6 top cybersecurity ETFs for 2023
Given the growing demand for cybersecurity, it's no surprise there are a number of ETF options to choose from. Here are the top choices for 2022 and beyond. 
Data source: First Trust, ETF Managers Group, Global X, WisdomTree, iShares, and Vanguard. Data as of Jan 6, 2023. 

| Exchange-Traded Fund | Number of Stocks in Fund | Annual Expense Ratio | Assets Under Management | Dividend Yield |
| --- | --- | --- | --- | --- |
| First Trust Nasdaq Cybersecurity ETF (NASDAQ:CIBR) | 37 | 0.6% | $4.95 billion | 0.75% |
| ETFMG Prime Cyber Security ETF (NYSEMKT:HACK) | 59 | 0.6% | $1.5 billion | 0.14% |
| Global X Cybersecurity ETF (NASDAQ:BUG) | 25 | 0.5% | $970.7 million | 0.41% |
| iShares Cybersecurity and Tech ETF (NYSEMKT:IHAK) | 40 | 0.47% | $520 million | 0.78% |
| WisdomTree Cybersecurity Fund (NASDAQ:WCBR) | 26 | 0.45% | $27.2 million | 0.71% |
| Vanguard Information Technology ETF (NYSEMKT:VGT) | 369 | 0.1% | $45.8 billion | 0.82% |
1. First Trust NASDAQ Cybersecurity ETF
With almost $5.6 billion in assets under management, the First Trust NASDAQ Cybersecurity ETF is by far the largest pure-play ETF in this part of the technology sector. First Trust is a large financial services firm offering a variety of investment products, and its cybersecurity offering is one of the longest-tenured in the ETF world. Its inception date was back in 2015, and shares of the fund have more than doubled since then.
The First Trust Cybersecurity ETF is currently made up of 35 cybersecurity company stocks, almost all of which are listed on a U.S. stock exchange. A handful of stocks are in adjacent industries, such as aerospace and defense, where security services feature prominently. At the time of this writing, the top three holdings (which make up about 20% of the fund's assets) are large tech companies Cisco Systems (CSCO -0.65%), Palo Alto Networks (PANW -2.14%), and Accenture (ACN -0.66%). The ETF is rebalanced quarterly and has an annual expense ratio of 0.6% ($6 in fees are deducted from the fund's performance each year for every $1,000 invested). 
2. ETFMG Prime Cyber Security ETF
The ETFMG Prime Cyber Security ETF has also been around since 2015 and has amassed $1.9 billion in assets. It is also rebalanced quarterly, has an annual expense ratio of 0.6%, and has more than doubled in value since its inception.  
The big difference between it and First Trust's offering, though, is that the ETFMG Prime Cyber Security ETF is made up of 62 stocks. That means far less portfolio concentration of top names in the industry and more of the fund's investments spread out into smaller companies and international investments. That broader exposure might appeal to some investors, but the strategy has underperformed the First Trust fund since 2015.
3. Global X Cybersecurity ETF
A relative newcomer, the Global X Cybersecurity ETF was launched in late 2019. It quickly attracted more than $1.1 billion in investor funds and has outperformed both First Trust and ETFMG since it launched.  
The Global X Cybersecurity ETF is one of the most concentrated on this list, with just 31 stocks. It is heavily weighted toward large cybersecurity software companies. At the time of this writing, Check Point Software (CHKP -0.49%), Palo Alto Networks, and NortonLifeLock (NASDAQ:NLOK) make up almost one-quarter of the fund's total assets. Like the other ETFs here, Global X's product pays little in the way of dividends since the cybersecurity industry is focused primarily on growth. However, it has outperformed its peers in its short history.
4. iShares Cybersecurity and Tech ETF
Also launched in 2019, the iShares Cybersecurity and Tech ETF comes from one of the largest financial institutions in the world, BlackRock (BLK -2.73%). It is composed of 52 different cybersecurity company stocks and other tech companies involved in cybersecurity, and it has a lower annual fee than many of its peers, at just 0.47%.  
In its brief existence, the iShares Cybersecurity and Tech ETF has underperformed other funds in the cybersecurity space. But since it has a limited history, that could change. This ETF also isn't the most security-focused ETF around. It has a smattering of cloud computing names that are in security-adjacent niches, such as cloud infrastructure company VMware (VMW -1.19%), networking equipment designer Juniper Networks (JNPR -1.78%), and digital document-signing service DocuSign (DOCU -0.5%).
5. WisdomTree Cybersecurity Fund 
The WisdomTree Cybersecurity Fund is the newest ETF on this list, with an inception date of January 2021. Technology stocks -- including many cybersecurity names -- have been hit hard since then, and WisdomTree's product reflects that, with a negative return since its launch. However, while the company has only accumulated about $35 million in assets so far, it has a competitively priced offering at only 0.45% in annual fees.
This ETF is also the most concentrated fund here and is spread across just 27 cybersecurity stocks. At almost 8% of the fund as of this writing, Palo Alto Networks is by far the largest holding. Data analytics and cybersecurity monitoring outfit Datadog (DDOG -5.3%) and cybersecurity and compliance software company Rapid7 (RPD -2.29%) round out the top three spots. The stocks within this ETF are rebalanced twice a year.
6. Vanguard Information Technology ETF
Vanguard, whose founder, Jack Bogle, invented the index fund in 1976, doesn't have a specific ETF solely focused on cybersecurity. However, the Vanguard Information Technology ETF is worth mentioning. It is a broad-based index of the U.S. technology sector and is full of cybersecurity companies and other large businesses involved in security in some form.
With an annual expense ratio of just 0.1% and 359 total holdings, the Vanguard Information Technology ETF is a great way for investors to get passive exposure (since holdings aren't rebalanced) to the development of cybersecurity, along with other growth trends in technology such as cloud computing and semiconductor designers. The fund has been around since 2004 and has averaged just over 13% annually in returns.
Cybersecurity is a long-term investment
With computing technology infiltrating every corner of the global economy, cybersecurity is poised to be one of the most important secular growth trends of the next decade and beyond. Individual stocks that develop security technology services will be volatile, but investing in a basket of them could yield big returns over the long term. An ETF is a quick and easy way to get investment portfolio exposure to this critical segment of the tech sector.
Nicholas Rossolillo
has positions in Palo Alto Networks and Vanguard World Fund - Vanguard Information Technology ETF. The Motley Fool has positions in and recommends Accenture Plc, Check Point Software Technologies, Cisco Systems, Datadog, DocuSign, and Palo Alto Networks. The Motley Fool recommends VMware and recommends the following options: long January 2024 $60 calls on DocuSign, long January 2025 $290 calls on Accenture Plc, and short January 2025 $310 calls on Accenture Plc. The Motley Fool has a
disclosure policy
.