Investing in Basic Materials Stocks
The basic materials sector mines and produces many of the building blocks needed to make the things we use every day. That makes it an important industry for investors to know about.
What is the basic materials sector?
The basic materials sector includes a wide variety of companies, such as manufacturing and mining:
Chemicals and plastics
Construction materials
Paper, forest products, and packaging products
Metals and minerals
Demand for materials is highly sensitive to changes in the economy. If economic conditions weaken, demand for these products, as well as pricing, tends to decline, which reduces the profitability and stock prices of basic materials producers. That was the case in early 2020 as the COVID-19 outbreak weighed on economic growth, hitting the basic materials sector hard.
The industry is also fiercely competitive, which can affect profitability and investor returns, even in strong market conditions. In the decade of 2010 through 2019, for example, the Dow Jones Basic Materials Index managed only a 2% gain, while the S&P 500 index rose more than 190%. Because of these issues, investors need to be careful when choosing basic materials stocks.
How to find the best basic materials stocks
Given the sector's cyclical nature and performance issues, investors should consider two factors when evaluating materials stocks:
The current point in the economic cycle: If the economy is in a recession, basic materials stocks typically suffer. However, if market conditions are on the upswing, this sector can thrive.
Financial strength: A basic materials company must have the resilience to endure a deep economic recession. That means it needs a strong balance sheet with an investment-grade bond rating and relatively low debt. It also needs lower production costs than its competitors so it can still make money when prices decline.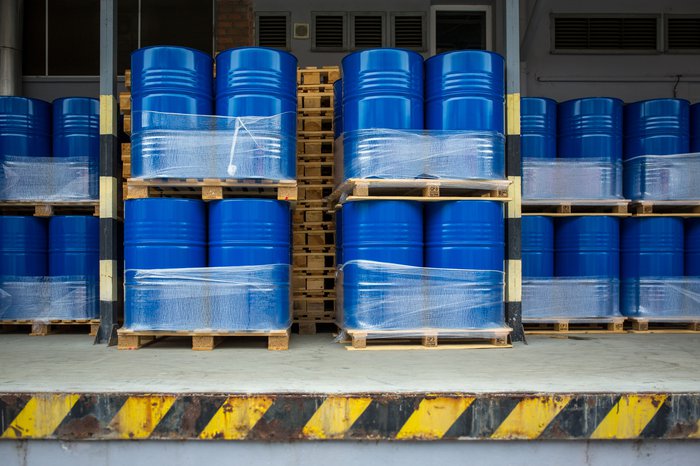 Top basic materials stocks
With those factors in mind, here are three top basic materials stocks to consider:
Rio Tinto
Rio Tinto (NYSE:RIO) is one of the world's leading metals and mining companies. It produces all three key industrial metals -- iron ore, aluminum, and copper -- as well as several other important metals and minerals. Rio focuses on the industrial metals most consumed by the global economy. Iron ore, for example, is the primary material used to make steel, which is in cars, appliances, buildings, and wind turbines. Copper, meanwhile, is an excellent conductor of electricity, making it essential for electronics and electric vehicles. Finally, aluminum is a lightweight metal used to make jet engines, electric vehicles, and mobile phones.
Those metals are highly sensitive to changes in the global economy. Rio Tinto combats that by having some of the lowest-cost operations in the world. One factor driving down costs is its leadership in innovation, which has included the use of autonomous trucks and drills as well as data analytics and data science to reduce expenses and improve productivity. Rio Tinto complements its low costs with a strong balance sheet.
While Rio Tinto produces economically sensitive metals, they're increasingly important to the economy of the future. Steel and copper are key materials for renewable energy, while copper and aluminum are vital for technology applications and electric vehicles. Because of that, demand for the metals Rio produces should grow in the coming years, which should help it create value for investors.
Lyondellbasell
Lyondellbasell (NYSE:LYB) is one of the largest plastics, chemicals, and refining companies in the world. It produces products that are important for food safety, protecting the purity of water supplies, and improving the safety, comfort, and fuel efficiency of vehicles.
Many of the products Lyondellbasell produces are sensitive to economic conditions. However, the company mitigates some of that impact through its low cost of operations and diversified portfolio of products. The company combines those characteristics with a strong, investment-grade balance sheet.
Those factors enable Lyondellbasell to generate lots of cash flow. That gives it the funds to expand its operations through organic growth projects, strategic joint ventures, and acquisitions while returning money to shareholders via dividends and share repurchases. Lyondellbasell's combination of growth and cash returns has the potential to enhance shareholder value over the long term.
International Paper
International Paper (NYSE:IP) is one of the world's largest producers of packaging, pulp, and paper. The company makes most of its money producing industrial packaging, such as cardboard containers used to ship food. It also makes cellulose fibers -- absorbent materials used in things like diapers -- and printable paper products. However, it plans to spin off its printing papers segment in early 2021 to concentrate on being a low-cost leader in the industrial packaging industry.
International Paper focuses on being one of the lowest-cost producers of the products it manufactures. It keeps costs down by operating manufacturing plants near timber forests, giving the company low-cost sources of sustainable wood fiber. It also controls costs through operational excellence and innovation. International Paper also has a strong balance sheet.
While demand for some industrial packaging can ebb and flow with the economy, the consumption of many of International Paper's products remains relatively steady. Because of that, the company generates reasonably consistent cash flow, which gives it the funds to expand as well as to return money to shareholders via dividends and buybacks.
Top basic materials stocks prioritize durability
The global economy tends to move in cycles, causing fluctuations in demand for materials. It experienced its latest downdraft in early 2020 as the COVID-19 outbreak nearly ground the economy to a halt, diminishing demand for basic materials. That downturn served as an important reminder that companies operating in the sector must have low costs and strong balance sheets to get through these rough economic patches. On top of that, it helps to produce a diverse portfolio of products, since that enhances a company's ability to withstand the ups and downs of the global economy.
You might like: