Lumber prices have soared over the past year as a result of pandemic-related supply chain disruptions and a housing boom. The price surge is benefiting investors in the commodity, and, despite some fluctuations, lumber prices remain substantially higher than they were a year ago.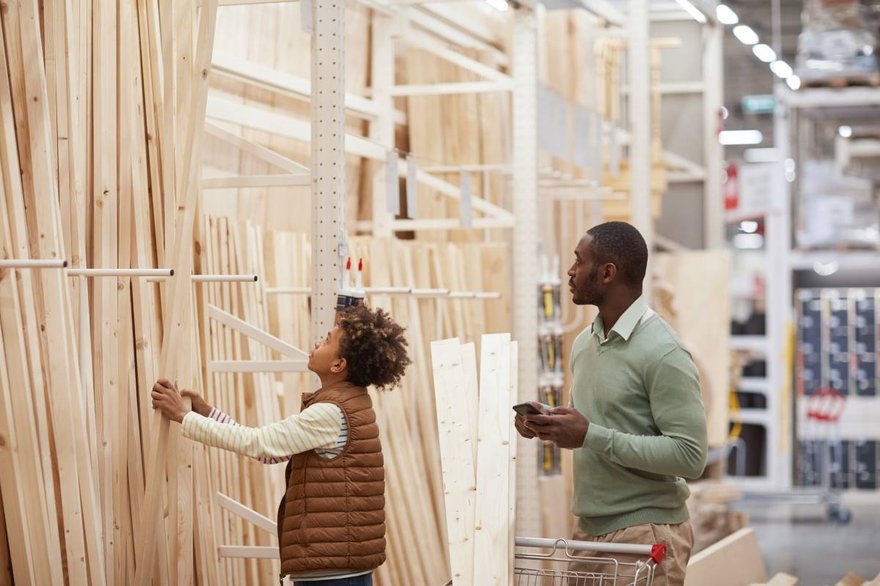 Image Source: Getty Images
Top Lumber Stocks in 2023
Let's delve into a few of the best lumber stocks to buy this year.
| Company | Ticker | Description |
| --- | --- | --- |
| International Paper | (NYSE:IP) | Maker of paper products under brands such as Hammermill, Springhill, and Williamsburg. |
| Boise Cascade | (NYSE:BCC) | Manufacturer of wood products, primarily for home construction and home improvement. |
| West Fraser Timber Company | (NYSE:WFG) | Lumber producer and maker of a variety of wood and paper products. |
| Resolute Forest Products | (NYSE:RFP) | Diversified wood and paper products company. |
| Lumber Liquidators | (NYSE:LL) | Retailer of hardwood flooring and related products. |
1. International Paper
Demand for paper may have crumpled in the digital era, but that hasn't stopped International Paper from delivering solid returns for investors. IP is one of the world's biggest paper manufacturers but produces mostly industrial packaging such as the cardboard that allows the company to benefit from the boom in e-commerce. Industrial packaging makes up most of IP's business today, and the company is moving toward a pure play in that category after the September spinoff of its printing paper business, Sylvamo (SLVM 1.11%). International Paper's only other business segment is global cellulose fibers, which includes supplying paper products such as fluff and pulp for a wide range of products.
Although IP's revenue and profits both declined in 2020 due to pandemic-caused supply chain challenges, the company is on track for a strong recovery this year. IP has long paid a dividend to investors (currently a 3.8% dividend yield) and trades at a low price-to-earnings ratio, making this stock a solid choice for both value and income investors.
2. Boise Cascade
Boise Cascade has been one of the best-performing lumber stocks during the pandemic, with its price rising by 30% last year. The company's revenue increased by 18%, and its earnings per share doubled in 2020.
The manufacturer of wood products and building materials has benefited from the pandemic-related boom in the housing market, attributed to people spending more time at home. Home prices are continuing to rise and demand for single-family homes is strong, both of which benefit Boise Cascade. With more people working remotely, the company is well-positioned to profit from sustained demand for single-family housing.
Boise Cascade also pays a modest but consistent dividend. Since most of the company's business comes from building materials, its prospects are closely tied to the housing market, so it's a good choice if you're bullish on housing.
3. West Fraser Timber Company
The West Fraser Timber Company produces much of its wood from publicly owned forests in Canada, where it has licenses to harvest. Although more than 75% of the company's 2020 revenue came from lumber, West Fraser also makes pulp, paper, and plywood panels. The lumber producer acquired Norbord, another Canadian timber company and the world's biggest producer of oriented strand board (similar to particleboard), for $3.1 billion in February 2021.
West Fraser's stock price surged by 47% last year, and the company has delivered blowout results in the first half of 2021, with revenue more than tripling thanks to the spike in lumber prices and the Norbord acquisition. The company also earned more than $2.1 billion in profits during the first half of the year, highlighting its gains from higher lumber futures. Long-term trends in the North American housing market should benefit West Fraser's lumber business.
Profits for West Fraser can be volatile, as is the case for many commodity producers. Its recent windfall, however, shows how the company has the potential to be a cash machine.
4. Resolute Forest Products
Resolute Forest Products is a Canadian lumber company that sells market pulp, tissue, wood products, and paper. The company is moving away from mature and declining products such as paper and investing in growth areas such as wood products. This year's surge in lumber prices was a boon for the company. Wood products have historically made up just a fraction of Resolute's sales but contributed nearly 100% of its operating income in the first half of 2021.
The company's performance was so strong that it was able to pay investors a $1-per-share special dividend on June 25, 2021, which represented an 8% yield at the time. While the decline in lumber prices will cool off the company's profitability, the good news for investors is that Resolute's operating cost per unit in wood products was just $439 per thousand board feet, meaning it will turn a profit on wood products when lumber prices are higher than that. In early October 2021, lumber was at more than $750 per thousand board feet.
If lumber prices remain elevated, look for the company to increase profits by shifting more resources to wood production and away from its core paper business.
5. Lumber Liquidators
Lumber Liquidators offers another way to play the lumber industry by providing exposure to the demand for finished wood products such as flooring. Unlike most of the stocks on this list, Lumber Liquidators benefits from lower commodity prices, so it's a good stock to own if you want to bet on solid demand for wood flooring but modest lumber prices.
The company has 416 stores across the country, and it has been solidly profitable recently, although management said that sales growth could slow in the second half of the year because of supply chain disruptions and the spread of the delta variant.
Still, Lumber Liquidators is in a strong financial position, having just paid off all $101 million of its outstanding debt. It also remains the only pure-play hardwood flooring stock, offering investors a unique opportunity for exposure to the housing market as well as home renovations, which remain strong.
Careful with commodities
Investing in commodity stocks such as lumber can be difficult because prices move for unpredictable reasons, including natural disasters, geopolitical tensions, and market shocks such as the COVID-19 pandemic.
The good news for lumber investors is that lumber is an essential ingredient in homebuilding and home furnishings. Because of its omnipresence and durability, its status as a key input in those industries is unlikely to change. Structural tailwinds in the U.S. seem to be building for lumber since there's a significant lag in housing inventory. An increasing acceptance of remote work should also favor homebuilding and home improvement.
The best commodity stocks have competitive advantages that allow the businesses to do well even in difficult economic conditions. The businesses above have all stood the test of time and have stakes in growing industries such as e-commerce and homebuilding. For investors looking to gain exposure to lumber, International Paper, Boise Cascade, West Fraser, Resolute Forest Products, and Lumber Liquidators all look well-positioned today.
Jeremy Bowman
has no position in any of the stocks mentioned. The Motley Fool has positions in and recommends West Fraser Timber. The Motley Fool has a
disclosure policy
.