Investing in Mining Stocks
A mining company explores for, extracts, and processes deposits of valuable minerals and materials. These substances include:
Construction materials such as sand, crushed stone, and limestone
Energy materials including coal, oil sands (bitumen), and uranium
Fertilizers like boron, potash, and phosphate
Stay up to date
The mining industry is rapidly changing in the current economic climate. Check out the latest articles in the feed below.

Many of these metals and materials are crucial to support the global economy. As a result, they're in high demand during periods of expansion, which drives up prices, boosting miner profitability. However, the opposite happens during an economic recession. That was the case in 2020 when the COVID-19 outbreak ravaged the economy, taking metal and material demand down with it.
Because of that, investors need to choose mining stocks carefully. Here's a look at some of today's best mining stocks, followed by instructions on how to pick your own mining companies to invest in.
Top mining stocks to buy
With those characteristics in mind, here are some of the top stocks in the mining sector:
| Company | Description |
| --- | --- |
| Barrick Gold (NYSE:GOLD) | Gold and copper mining |
| BHP Group (NYSE:BHP) | Diversified mining as well as oil and gas production |
| Rio Tinto (NYSE:RIO) | Industrial metals mining |
Here's a closer look at these top mining companies.
1. Barrick Gold
Barrick Gold (NYSE:GOLD) is one of the largest gold miners in the world, with operations in more than a dozen countries. It's also a leading copper producer.
One thing that sets Barrick Gold apart from other precious metals companies is its focus on Tier One mining assets. It defines a Tier One mine as one that:
Produces more than 500,000 ounces per year
Has at least 10 years of productive life remaining
Delivers total cash costs per ounce in the lower half of the industry cost curve
These mines produce low-cost gold and copper relatively steadily, which enables Barrick to continue making money during periods of lower prices.
Barrick Gold has also made it a priority in recent years to strengthen its balance sheet by selling noncore mines and using the cash to repay debt. As a result, the company has built up a cash-rich balance sheet, which provides it with the financial flexibility to pay a growing dividend and invest in expanding its Tier One mining portfolio. Those factors put the company in a strong position to deliver on its vision of becoming the most valued gold mining business in the world.
2. BHP Billiton
BHP Billiton (NYSE:BHP) is a diversified resources company. It operates mining assets in Australia and in North and South America that focus on copper, iron ore, coal, nickel, zinc, and potash. It also has a petroleum business that produces oil and natural gas.
While BHP Group produces several commodities, it aims to be a low-cost producer. It does that by efficiently operating large resource-rich mines and using technology to drive down costs. The company typically operates fully integrated mining assets that extract ore and process it at hubs. BHP Group also uses cutting-edge technology such as autonomous vehicles to reduce costs and improve production efficiency.
BHP Group complements its low-cost operations with a strong balance sheet, which it often bolsters via the sale of higher-cost mines. Those factors provide the company with the financial flexibility to invest in high-return expansion projects throughout the commodity-price cycle. That supports its production and cash flow so that BHP can return value to shareholders via dividends and share repurchases.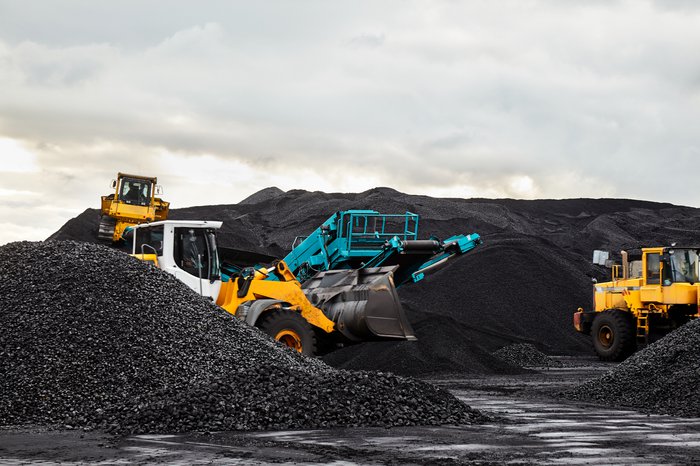 3. Rio Tinto
Rio Tinto (NYSE:RIO) is a diversified mining company. It's a leading producer of the three most consumed industrial metals -- iron ore, aluminum, and copper -- as well as a variety of other metals and minerals, including boron, salt, diamonds, and titanium.
Like BHP Group, Rio Tinto aims to be a low-cost producer of the metals and minerals it mines. It's able to keep costs down by operating large-scale, integrated mining assets. It also invests in new technologies that reduce costs and increase productivity, such as powering its operations with renewable energy and using autonomous vehicles to transport materials. These characteristics enable Rio Tinto to make money even during weaker market conditions.
Rio Tinto also has a strong balance sheet. The company routinely sells noncore mines so it can reallocate cash to other opportunities, including mine expansions and debt reduction. Because of that, it's also able to return cash to shareholders via dividends and a share repurchase program throughout the market cycle.
Related topics
How to invest in the mining industry
I admire the companies outlined above, but you can pick your own great mining stocks to invest in, too! With the right guidance and determination, you can make some excellent investments in this field. Your first step is to learn about the industry.
The mining industry is both highly cyclical (it rises and falls with the overall economy) and capital-intensive, because mines are expensive to build. The sector has gotten itself into trouble in the past by investing lots of money to build new mines during periods of economic growth, only to have them come online right as conditions begin to slow. These moves have saddled companies with mounds of debt that they've struggled to pay off amid lower pricing for their products. As a result, most mining stocks have underperformed the market over the years.
Investors need to focus on mining companies that can weather economic downturns. The two most important characteristics to look for are low production costs and strong balance sheets (i.e., an investment-grade bond rating, lots of cash and borrowing capacity, and manageable debt maturities). By keeping production costs low, a miner should be able to remain profitable during weak periods. And a strong balance sheet will provide it with the financial flexibility to weather an economic storm.
Built to last
Mining can be a tough business. That's why investors need to focus on miners that can make it through the inevitable downturn, which means having low-cost operations and a strong balance sheet. Those factors will enable a mining company to continue returning value to its investors via dividends and buybacks during tough times, while positioning them to increase shareholder value when conditions improve.