Aluminum is a versatile metal. We use aluminum to store beverages, put up buildings, fly airplanes, and drive cars. Given its broad usage, industry experts expect demand for aluminum to grow at a 5% compound annual rate through 2026. Some of the factors driving that forecast are a rebounding global economy following the COVID-19 pandemic and increased infrastructure spending.
That forecast bodes well for aluminum stocks. Here's a closer look at how investors can play the growth of the aluminum industry.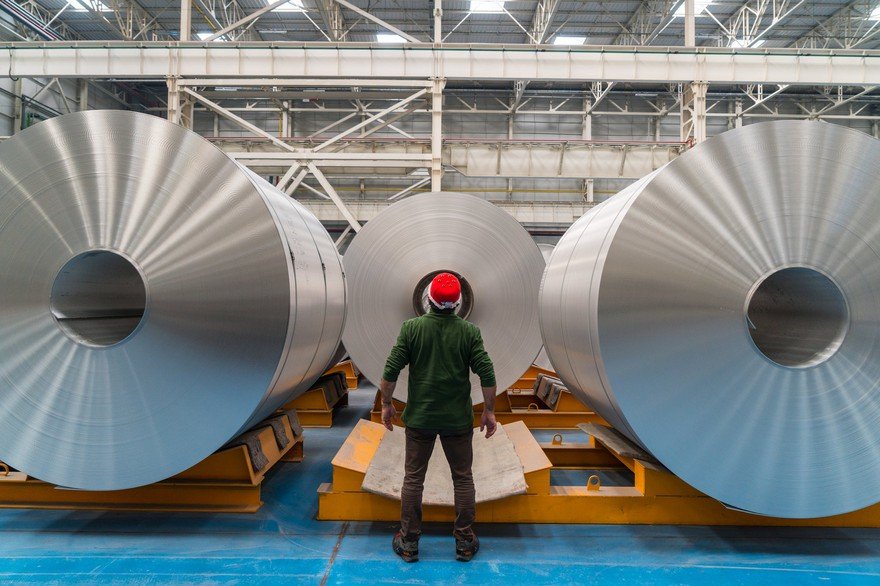 Source: Getty Images
Top aluminum stocks in 2023
Several companies focus on producing aluminum or using it to make higher-valued products. Among the industry leaders are:
Data source: YCharts. Market cap as of January 11, 2023.

| Top aluminum stocks | Ticker symbol | Market cap | Company description | |
| --- | --- | --- | --- | --- |
| Alcoa | (NYSE:AA) | $9.4 billion | A large-scale, integrated aluminum producer. | |
| Arconic | (NYSE:ARNC) | $2.3 billion | A company focused on manufacturing lightweight metals. | |
| Century Aluminum | (NASDAQ:CENX) | $939.0 million | A global aluminum producer. | |
| Rio Tinto | (NYSE:RIO) | $122.5 billion | A diversified mining giant. | |
| | | | | |
Here's a closer look at these leading aluminum companies.
1. Alcoa
Alcoa is an integrated aluminum producer and one of the world's largest mining companies of bauxite, the primary raw material used to make aluminum. The company owns interests in seven high-quality, low-cost bauxite mines in Australia, Brazil, Guinea, and Saudi Arabia.  
Bauxite is refined into alumina at Alcoa refineries. The company operates one of the world's largest third-party alumina businesses, with seven low-cost refineries in Australia, Brazil, and Spain.
Finally, Alcoa produces a variety of aluminum products through its smelting and casting operations. Alcoa also operates several energy assets to reduce the costs and carbon emissions of producing aluminum; three-quarters of its smelting portfolio runs on renewable energy. 
Alcoa is investing heavily in research and development to reduce its carbon footprint and improve the overall sustainability of its operations. Its major development projects include ELYSIS, a joint venture with Rio Tinto to develop a breakthrough aluminum smelting technology with no direct greenhouse gas emissions that they aim to commercialize by 2024. It's also working on a project called ASTRAEA to process post-consumer scrap aluminum into pure aluminum. Overall, the company expects its capital spending to increase through 2024 on sustainability and return-seeking projects, with the potential to spend even more if it moves forward with some of its new initiatives.
Alcoa also plans to return more cash to its shareholders in the coming years. It reinstated its quarterly dividend in late 2021. In addition, it expanded its share repurchase program. This overall capital allocation plan positions the company for value-creating growth as it heads into 2024, when it could start expanding or implementing potentially breakthrough technology initiatives.
2. Arconic
Arconic used to be part of Alcoa. However, the aluminum producer spun it off in 2016 to focus on its core aluminum business. Arconic has since completed its own spin-off by splitting off its engineered products and forgings business into Howmet Aerospace (HWM 0.56%) in 2020 to focus on its core global rolled products business. 
Today, Arconic is a leading producer of aluminum sheet, plate, and extrusions. It also makes innovative architectural products for the aerospace, building and construction, industrial, and packaging markets.
Arconic expects demand for its products to rise. For example, automakers need to build more cars to meet inventory shortfalls, which should drive 8% compound annual growth in auto body sheet products. Meanwhile, increasing non-residential construction spending should boost demand for aluminum building products. The company is investing heavily to meet this growing demand and reduce costs. That should enable it to increase its cash flow in the future.
3. Century Aluminum
Century Aluminum is a global aluminum producer. It operates three aluminum smelters in the U.S. and one in Iceland. The company also operates aluminum reduction facilities in both countries. Its facilities produce standard grade and value-added primary aluminum products.
Century Aluminum is investing heavily to improve its carbon emissions profile. In late 2021, the company signed an agreement to buy power from two wind farms under development in Iceland. It also joined forces with that developer to work on a solution to capture carbon dioxide produced at its plant that the developer could use at a planned hydrogen plant next to the site. These investments further support the company's plan to create Natur-Al aluminum, which has one of the lowest carbon footprints in the world.  
The company is also expanding the casthouse at its Iceland facility. The expansion will enable Century Aluminum to produce more low-carbon products when it finishes the $120 million project in 2024. It also completed expansions at its Kentucky and South Carolina smelters in 2021 to support the growing global demand for aluminum.
4. Rio Tinto
Rio Tinto is a diversified global mining company based in London. It produces a variety of metals, including iron ore, aluminum, and copper. In addition, it produces several minerals, including borates, lithium, diamonds, salt, and titanium dioxide.
Rio Tinto is an integrated aluminum producer. It has five bauxite mines, four alumina refineries, and 14 aluminum smelters. It also operates hydroelectric plants to reduce its energy costs and carbon emissions. 
One of its key long-term projects is its ELYSIS joint venture with Alcoa. That project, supported by Apple (AAPL 1.41%) and the governments of Canada and Quebec, aims to replace the greenhouse gas emissions from the aluminum smelting process with pure, clean oxygen. If successful, this breakthrough technology could eliminate 6.5 million metric tons of greenhouse gas emissions in Canada alone if used in every smelter in the country. That's equivalent to taking about 1.8 million cars off the road. 
While Rio Tinto has a leading aluminum business, it's not a pure-play on aluminum like the other companies in this group. The mining giant makes the bulk of its money (75% during the first half of 2021) from producing iron ore. Aluminum only contributed 9%, while copper also supplied 9%, and minerals contributed 7%. Because of that, it might not be the best option for an investor who is only seeking exposure to the aluminum market. However, its diversification has its benefits. That includes exposure to other markets (copper and iron ore) that should see accelerating demand due to their importance in reducing carbon emissions.
Lots of ways to invest in the growing aluminum industry
Aluminum is a versatile and vital metal. Demand should increase in the coming years as the global economy expands. That should benefit companies that produce aluminum and aluminum products, making aluminum stocks an interesting option for investors to consider.
Matthew DiLallo
has positions in Apple and has the following options: long March 2023 $120 calls on Apple and short March 2023 $130 calls on Apple. The Motley Fool has positions in and recommends Apple. The Motley Fool recommends the following options: long March 2023 $120 calls on Apple and short March 2023 $130 calls on Apple. The Motley Fool has a
disclosure policy
.