Gold stocks are stocks of companies and funds focused on gold. The industry mainly comprises mining companies that dig up and sell gold. But it also includes gold streaming and royalty companies, which act as middlemen in the sector. These companies pay an up-front fee to a mining company in exchange for a percentage of the mine's revenue or the right to purchase its future production at a fixed cost. Finally, gold investors can also purchase shares in gold-focused exchange-traded funds (ETF), which hold either physical gold or shares of mining companies.
With so many options, it can be hard for gold investors to know which ones to choose. Here's a look at the sector's top choices.
Top gold mining stocks
There are many benefits to buying gold stocks instead of the physical metal. The main draw is that these companies offer the potential of leveraged upside to the price of gold. When prices rise, these companies can increase their gold production and grow their total sales.
Unfortunately, not all gold stocks are successful in even matching the price performance of gold, let alone outperforming the precious metal. Because of that, investors need to choose gold stocks that are most likely to succeed. Three top options are:
| Gold Stock | Description |
| --- | --- |
| Barrick Gold (NYSE:GOLD) | One of the world's largest gold mining companies |
| Franco-Nevada (NYSE:FNV) | A leading gold-focused royalty and streaming company |
| SPDR Gold Trust (NYSEMKT:GLD) | An ETF that holds physical gold |
Why These Stocks Deserve Attention
Here are some quick introductions to the companies we listed above, and why they deserve to be considered some of the top gold stocks you can buy.
Barrick Gold
Barrick Gold (NYSE:GOLD) has a bold vision of being the gold mining company with the world's highest valuation. Driving that valuation is its focus on operating Tier One mining assets, which Barrick defines as mines that:
Produce more than 500,000 ounces of gold per year.
Have at least 10 years of productive life remaining.
Keep operational costs low, as defined by total cash costs per ounce ranking in the lower half of the industry's cost curve.
This focus on operating large mines with significant remaining resources will enable Barrick to produce gold at a relatively steady pace for years. The company expects that its mines' outputs will average about 5 million ounces of gold per year through 2030. Meanwhile, thanks to its Tier One assets' low-cost nature, Barrick anticipates that its all-in sustaining costs (AISC) will decline in the coming years from roughly $1,000 per ounce in 2020 to around $800 per ounce by 2025. Because of that, its profits, and therefore its stock price, should rise even if gold prices decline modestly.
Barrick complements its top-tier gold mining portfolio with a rock-solid balance sheet. The company has focused on paying down debt over the past several years, which has reduced its interest costs. That's giving it even more financial flexibility and strength, which it's using to pay a growing dividend.
Franco-Nevada
Franco-Nevada (NYSE:FNV) is a streaming and royalty company. It has agreements encompassing gold, silver, the platinum group metals (PGMs), and oil and gas. The bulk of its revenue (80% plus) comes from gold-equivalent ounces (GEO), which is gold production or an equivalent (by market value) ounce of silver, platinum, palladium, or other mining assets.
Franco-Nevada's streaming and royalty contracts provide it with lots of cash. That gives it the ability to both invest in new deals and pay a dividend, which it has grown each year since its IPO in 2008. The company also boasts a debt-free balance sheet as of the beginning of 2021 -- a rarity in the mining industry.
Another benefit of Franco-Nevada's focus on royalties and streaming is that it doesn't have exposure to capital and operating cost overruns, which have historically plagued mining companies. However, the company still offers the same upside profile as a mining operation, given its potential to increase its profit by completing exploration and expansion projects, generate more profits than the trade of physical gold, and increase its dividend yield (its annual dividend payout as a percentage of the share price). Because it combines those benefits without the sector's negatives, Franco-Nevada's stock has historically outperformed both gold itself and the mining sector, making it an ideal gold mining stock.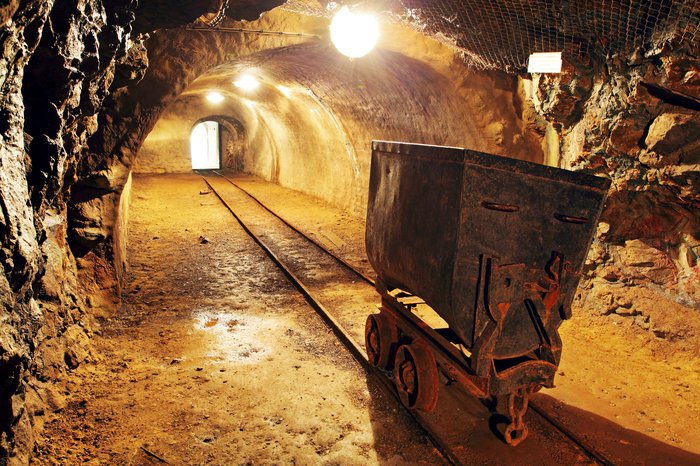 SPDR Gold Trust
SPDR Gold Trust (NYSEMKT:GLD) is an ETF focused on gold. While several gold-focused ETFs hold shares of gold mining, streaming, and royalty companies, this ETF stands out because it invests directly in the physical metal, which it stores in vaults.
Because of that, this ETF does an excellent job matching the performance of the price of gold bullion. There is some drag on its results since it charges a 0.4% expense fee. But SPDR Gold Trust is still a great means of investing in physical gold because it offers similar price performance without some of the drawbacks of owning actual gold such as commission, insurance, and storage costs. It's also a much more easily traded asset because investors can buy or sell shares in the ETF in an online brokerage account. Meanwhile, with the focus of this ETF, it's less risky than investing in a gold mining stock because those companies can underperform the price of gold amid capital and operating cost overruns, management missteps, and other difficulties.
There are some disadvantages to owning a gold ETF focused on holding physical gold. Most notably, it caps an investor's upside to the rise in the price of gold minus the ETF's fees. In contrast, gold miners, streaming, and royalty companies offer the potential to outperform a rise in the price of gold as they increase production and profitability -- and many of these companies pay their investors a dividend.
However, for investors seeking a security that roughly tracks gold prices, this ETF is a top option.
What is the right gold stock investment for you?
Buying and selling physical gold in any form -- bars, coins, medals, or even jewelry -- is the most direct way to participate in the gold market. However, buying physical gold also means you have to pay relatively high commissions due to the market being less liquid than the stock market and also bear additional costs and risks related to the transportation, storage, and insurance of the precious metal.
Gold stocks -- especially gold streaming stocks -- offer the highest return potential among gold investment options because, in theory, a company's share price should eventually reflect its operational and financial growth. That means that shares of a fundamentally strong gold company that's maximizing returns on invested capital and is committed to shareholders can earn strong returns for investors, even in low-price environments for gold. Of course, investing in stocks is itself risky, and gold stocks are no different.
Gold exchange-traded funds (ETFs) are a more convenient and cost-effective means of investing in gold stocks, especially for those who lack the inclination or time to research specific gold companies. A gold ETF offers broad exposure to the sector by holding either shares of gold companies or physical gold. Because of the availability of ETFs, you don't have to be a stock-picking guru to participate in the gold industry's upside.
Given these differences, investors need to weigh the rewards against potential risks to choose the right gold stock or ETF for their situation.