Investing in Silver Stocks
Silver is an important precious metal. Unlike gold, nearly half of silver's demand comes from the industrial sector. Silver is the best electrical and thermal conductor of all the metals, making it highly valued for electrical applications. One of those industrial demand drivers is the fast-growing solar energy industry, which uses two-thirds of an ounce of silver in every solar panel.
In addition to industrial demand, silver is also highly valued by investors because it shares many of the same investment characteristics as gold. This safe-haven metal can be a hedge against both inflation and an economic downturn.
Given those properties, many investors choose to buy physical silver -- like coins and bars -- to benefit from a potential increase in price. However, that option has some negatives, including acquisition, storage, and insurance costs. As a result, many investors are choosing to invest in silver stocks. While these options also have drawbacks, there are plenty of positives, including the potential to outperform the price of silver in some cases.
Top silver stocks
Many companies in the metals sector mine silver. However, few generate a significant portion of their revenue from that precious metal since most focus on gold or other industrial metals. While that limits the investment pool, there are several publicly traded options for investors seeking silver exposure. Three top silver stocks are:
| Silver Stock | Description |
| --- | --- |
| First Majestic Silver: (NYSE:AG) | A precious metals mining company that gets the majority of its revenue from silver. |
| iShares Silver Trust: (NYSE:SLV) | An exchange-traded fund (ETF) that seeks to track the price of silver. |
| Wheaton Precious Metals: (NYSE:WPM) | A precious metals streaming company with significant silver exposure. |
Source: Company investor relations websites.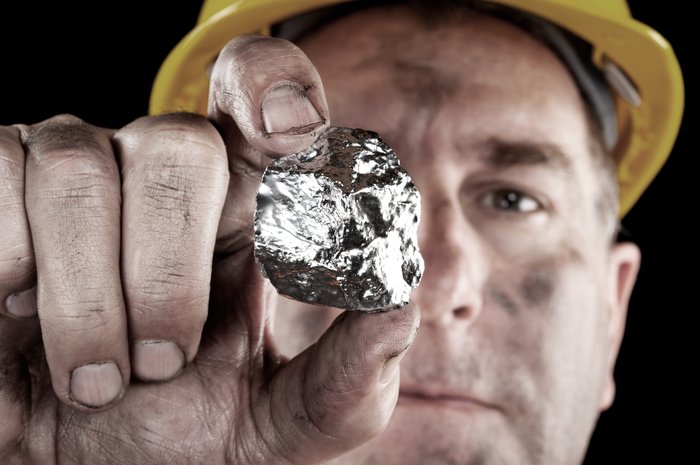 First Majestic Silver
First Majestic Silver (NYSE:AG) is one of the purest silver mining companies in the sector. It expects silver to contribute 61% of its revenue in 2020, the largest percentage in the mining industry. The next closest rival only expects silver to supply 54% of its revenue in 2020, while most other miners anticipate that precious metal contributing less than 50% of their sales in 2020.
First Majestic gets the majority of its revenue from silver because it focuses on owning mines in Mexico, which is the world's largest silver producing country. The company currently operates three producing mines in Mexico and has several others in development. That large pipeline helps to support the company's goal of eventually becoming the world's largest primary silver producer. This silver-focused growth makes First Majestic an ideal silver mining stock.
However, one downside to investing in a silver miner like First Majestic is that these companies don't always perform in line with silver prices. Mining issues, management missteps, and other problems can weigh on a silver mining company's stock price, causing its shares to underperform the metal itself. On the other hand, if a miner is growing its silver production in a market where silver prices are rising, its stock can significantly outperform that precious metal.
iShares Silver Trust
iShares Silver Trust (NYSE:SLV) is an exchange-traded fund (ETF) focused on silver. The ETF's primary objective is to track the performance of the price of silver by owning physical silver bars stored in bank vaults in London and New York City.
Because the ETF holds physical silver, it does a good job tracking the precious metal's price. That makes it a solid substitute for investors who want exposure to the upside of silver prices, without the risks associated with owning a mining stock or the physical metal. However, the ETF does charge a 0.5% expense fee, which eats into its long-term performance versus the price of silver.
Wheaton Precious Metals
Wheaton Precious Metals (NYSE:WPM) is a precious metal streaming company. Instead of operating a gold or silver mine, Wheaton Precious Metals provides a mining company with an up-front cash payment in exchange for the right to buy the future production of a mine at a fixed price.
Wheaton Precious Metals has streaming contacts in place with several mining companies for a share of their precious metals production. The company expects that 40% of its production volume in the 2021 to 2024 time frame will come from its silver streams. Gold will provide the bulk of its remaining output at 53%, while palladium (5%) and cobalt (2%) will supply the rest. The company's silver streaming agreements give it the right to purchase that precious metal from those mines at an average cost of $5.31 per ounce in the 2020 to 2024 time frame. Thus, any silver price above that level is profit.
The company's focus on streaming enables it to generate excess cash, which it uses to invest in new streams and pay dividends. Wheaton's business model also offers investors the same leveraged upside to silver prices as a mining company, without the risks associated with mining, such as cost overruns that can cause underperformance.
These silver stocks are great ways to invest in the sector
Silver is a unique precious metal in that it has both industrial and investment demand. Those dual growth drivers have the potential to support a steadily higher silver price in the future.
Investors could participate in this growth by directly purchasing silver coins or bars. However, buying silver stocks like First Majestic, iShares Silver Trust, and Wheaton Precious Metals offers similar upside (in some cases even more so) without some of the drawbacks of buying physical silver. Those features make them great silver stocks for investors to consider.