Investing in Construction Stocks
When you think about construction, you probably picture a guy in a hard hat and a reflective vest on a job site. But the construction industry encompasses everything from the initial planning of a project all the way through to painting the walls. And the construction sector has plenty of companies in which you can invest. Here are some of the industry's best and strongest construction stocks.
Top construction stocks to buy
Caterpillar: Construction equipment king
Equipment manufacturer Caterpillar is a massive company. Its market dominance and long track record of producing high-quality heavy machinery are major competitive advantages, since construction equipment has to be 100% reliable and safe. Buyers of Caterpillar equipment strongly value product quality.
Like most construction companies, Caterpillar has experienced ups and downs over the years. But it has a long history of increasing its dividend nearly every year, during times both good and bad.
Caterpillar's dividend yield can vary greatly depending on the current stock price. Investors should try to buy shares when the yield is high to maximize the shares' value.
Nucor: A unique steel company
Historically, steel companies used huge blast furnaces to manufacture their product. In 1968, materials manufacturer Nucor invented a cheaper process to melt scrap steel into usable steel bars. Today, Nucor is the largest steel manufacturer in the U.S., and one of the most consistently profitable.
Nucor's shareholder-friendly management has a long history of returning those profits to investors through a generous dividend. It also compensates employees using a unique pay structure that combines base pay with profit-sharing. In the notoriously cyclical steel industry, this compensation structure keeps expenses low during lean times and enables the company to avoid accruing excessive debt. As a result of this strategy, Nucor tends to have very low debt levels compared to its peers.
D.R. Horton: The nation's top homebuilder
As the largest residential homebuilder in the U.S. by number of units sold, D.R. Horton has several of the qualities that investors should value in a construction stock, including a strong company reputation.
D.R. Horton has a history of low debt levels relative to its peer group, thanks to its conservative management style. The company often posts impressive profits, as well as superior cash flows, as compared to its rivals. It's one of the few homebuilders that pays a dividend, which it has regularly increased during periods of economic growth. (The company did cut its dividend by two-thirds during the Great Recession, to avoid taking on excessive debt.)
Homebuilders' fortunes tend to fluctuate depending on their inventories in various regions of the country, so D.R. Horton, as a corporation with national reach, may not always outperform its peers. But for investors looking to buy into the U.S. residential construction industry, Horton is a solid pick.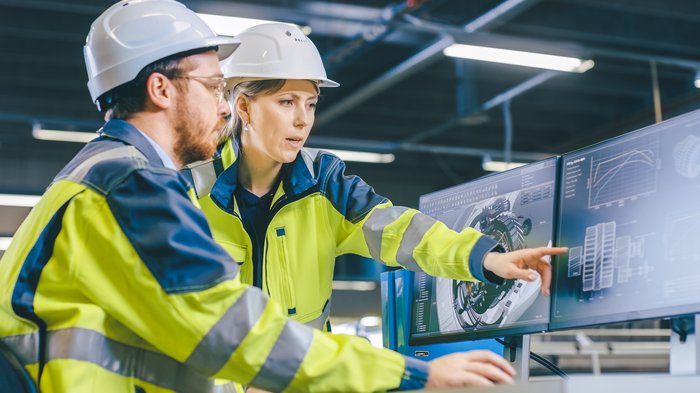 Learn about the construction industry
The construction industry consists of three primary sectors:
Infrastructure: Public works projects like highways, bridges, and railroads.
Industrial: Specialized structures and facilities like refineries, factories, and power plants.
Buildings, which is comprised of two subsectors:

Residential buildings: Homes, usually for single families, but also including multifamily residences like apartment buildings.
Nonresidential and commercial buildings: Retail locations like malls and standalone stores, as well as office buildings, hospitals, and schools.
What kinds of companies are in the construction industry?
Not all construction industry participants are publicly traded companies in which you can buy stock. Publicly traded construction companies tend to fall into the following categories:
Equipment manufacturers, which make construction machinery like bulldozers and cement mixers.
Materials manufacturers, which produce construction necessities like lumber, steel, and cement.
Residential homebuilders, which design, custom-build, and often finance single-family homes and other residential developments.
Industrial engineering companies, which manage all aspects of massive construction projects.
Related investing topics
How can investors find good construction stocks?
Consider these factors when evaluating construction-industry stocks:
Reliability and safety: If something goes wrong with a construction project -- due to poor design or execution, shoddy materials, or defective equipment -- it can cost lives and money. The best construction companies have long track records of safety and quality.
Debt levels: Construction projects have substantial upfront costs, as do machinery and materials manufacturing businesses, so it's easy for these types of companies to accrue high amounts of debt. The best companies successfully keep that debt from spiraling out of control.
Dividends: A company is never required to pay a dividend, even if it has historically always done so. But dividend payments, especially when reliably disbursed, can serve as a predictable reward to investors who continue to hold a company's stock even during a cyclical industry downturn.
What are the risks of investing in the construction industry?
The primary risk of investing in construction stocks is that construction markets are cyclical, meaning that they go through boom-and-bust cycles.
For example, U.S. construction spending had an extended boom cycle from the 1990s until 2006 as a result of sustained economic growth. Then spending in the industry began to drop, plunging sharply during the Great Recession. In 2011, the sector began another extended growth cycle. Considered an "essential industry" by many states during COVID-19 shutdowns, construction has remained resilient, with demand for new residential construction still strong. But regardless of the industry's recent performance, investors should be prepared for a potential slowdown to commence at any time.
Before buying any construction stocks, investors need to know where the industry is in its current economic cycle. A company that's a "buy" at the bottom of a cycle may not be worth buying at the top.
Are construction stocks worth buying?
Construction industry stocks come in many shapes and sizes. Because of that, many -- if not most -- investors can find top construction stocks that fit well in their portfolios. However, because construction is a cyclical industry, investors should take time to examine the industry's prevailing conditions, as well as each particular company's prospects, before buying.
You might like: