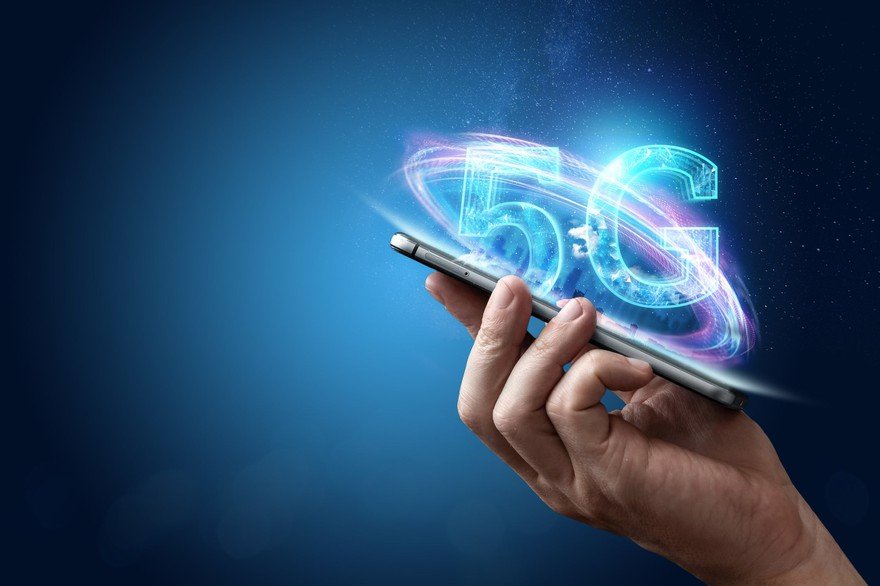 Source: Getty Images.
Verizon (VZ -0.03%), T-Mobile (TMUS -0.46%), and AT&T (T -1.24%) all debuted their nationwide fifth-generation (5G) wireless networks in 2020, ushering in a new era for digital mobility. Dozens of 5G-compatible smartphones are already on the market, including Apple's (AAPL 0.49%) affordable iPhone SE with 5G. 5G internet is as much as 100 times faster than 4G, and latency (the time it takes for data to be delivered once a request is made) is as brief as a few milliseconds. So businesses are experimenting with 5G technology for applications such as autonomous vehicles and connected industrial equipment.  
Digital mobility is a diverse industry, involving telecommunications companies, device makers, and infrastructure equipment manufacturers. Picking the best 5G stocks can be a daunting task. If you aren't ready to start choosing individual companies -- or if you simply want a ready-made 5G portfolio you don't need to extensively monitor -- then investing in one or more 5G ETFs (exchange-traded funds) could be the best way for you to gain portfolio exposure to the next generation of wireless networks.
6 top 5G ETFs in 2023
An ETF holds a basket of individual stocks and can be bought and sold just like a stock. ETFs have gained in popularity since they offer instant diversification and are less volatile in price than individual stocks. And since 5G cuts such a wide swath across the technology industry, several 5G-focused ETFs yield exposure to the technology upgrade.
Here are six top ETFs that focus on 5G. You can consider buying each of these for the long term.
Data source: Yahoo! Finance. Data current as of January 19, 2023.

| Exchange-Traded Fund | Number of Stocks in Fund | Annual Expense Ratio | Assets Under Management | Dividend Yield |
| --- | --- | --- | --- | --- |
| First Trust Indxx NextG ETF (NASDAQ:NXTG) | 103 | 0.70% | $444.5 million | 2.03% |
| iShares U.S. Telecommunications ETF (NYSEMKT:IYZ) | 21 | 0.39% | $400.4 million | 2.55% |
| Vanguard Communication Services ETF (NYSEMKT:VOX) | 115 | 0.10% | $2.5 billion | 0.88% |
| Defiance Next Gen Connectivity ETF (NYSEMKT:FIVG) | 88 | 0.30% | $690.2 million | 1.63% |
| Global X Internet of Things ETF (NASDAQ:SNSR) | 60 | 0.68% | $289.8 million | 0.82% |
| Pacer Benchmark Data & Infrastructure Real Estate SCTR ETF (NYSEMKT:SRVR) | 17 | 0.55% | $867.0 billion | 1.70% |
1. First Trust Indxx NextG ETF
Buying First Trust's 5G ETF is one of the best ways to gain portfolio exposure to next-gen mobility. The fund invests in the stocks of companies with market capitalizations of at least $500 million (basically small-cap stocks and larger) that are helping to develop and deploy 5G technology.
The nearly 100 stocks that comprise this ETF's holdings include device makers such as Apple and South Korea-based LG Electronics and semiconductor companies like AMD (AMD 0.09%) and Broadcom (AVGO 2.56%). Telecoms from around the globe, such as Europe's Vodafone (VOD 0.3%) and Verizon (VZ -0.03%), are also represented. The 1.4% dividend yield (in this case, the 30-day SEC yield calculated by dividing net income distributed to shareholders by the highest per-share offering price) is enabled in large part by this fund's exposure to telecom companies, as well as other dividend-paying companies like tech giant Cisco (CSCO 0.43%).
First Trust Indxx NextG ETF is far from the largest fund on this list, with less than $1 billion in assets under management. However, it's been around since 2011 and has doubled in value since 2016. It has an annual expense ratio of 0.70% -- meaning that $7 in fund management fees is assessed each year for every $1,000 invested. For broad-based exposure to global 5G development, this ETF is a great place to start.  
2. iShares U.S. Telecommunications ETF
If investment income is what you're after, then iShares U.S. Telecommunications ETF is worth considering. The 21 stocks in its portfolio are focused on telecommunications providers. AT&T (T -1.24%) and Verizon make up about 20% of the fund's total holdings by value, alongside an assortment of stocks of big tech companies (Cisco and Comcast (CMCSA -0.88%) are also top holdings) that provide equipment, software management tools for mobile networks, and internet service. 
This ETF has lagged its peers on this list in price performance over the past five years as mobility subscriber growth has slowed. Underperformance by some of the fund's top holdings like AT&T and Verizon hasn't helped. But the company's dividend yield was 2% at the time of this writing. And although it doesn't offer the most growth upside potential, the value of this telecom-focused iShares fund is far less volatile than ETFs heavily invested in growth stocks. The ETF's annual expense ratio is 0.42%, and its assets under management are valued at $452 million.  
3. Vanguard Communication Services ETF
If global exposure to all communications services and applications making use of 5G sounds appealing, then the Vanguard Communication Services ETF may be a good choice. Vanguard's 5G-focused ETF is one of the largest on the market, with $4 billion in assets under management. The ETF is a very affordable option, too, with an annual expense ratio of just 0.1% per year. 
An important note on this ETF: As tech titans Alphabet (GOOGL -0.15%)(GOOG -0.08%) (parent of Google) and Meta Platforms (NASDAQ:FB) (the parent of Facebook, Instagram, and WhatsApp) were recategorized as communications companies a few years ago, they are the two largest companies among the 113 that comprise the fund's portfolio. Together, the two stocks account for more than one-third of the value of the fund's holdings. Besides telecoms and 5G equipment makers, the ETF also invests in numerous companies making (or expected to make) use of 5G technology in the coming years -- media outfits like The Walt Disney Company (DIS -1.79%) and TV services like Netflix (NFLX -1.13%).
As a result, the ETF is implementing more of a shotgun approach to investing in 5G. The fund maintains plenty of investment exposure to adjacent market segments such as digital advertising, TV streaming, and media and entertainment, so if you're looking for a more focused bet on 5G, there are better options. But if you want to invest in a diversified set of 5G beneficiaries and real-world applications of next-gen digital mobility, the Vanguard ETF is a solid choice.  
4. Defiance Next Gen Connectivity ETF
A relatively recent arrival to the 5G party, the Defiance 5G Next Gen Connectivity ETF was launched in early 2019. Since that time, though, its share price has increased by about 50%. The fund has acquired plenty of assets in short order -- as of early 2022, it managed about $1.1 billion spread across 88 individual stocks.
The ETF buys the stocks of companies helping to build or provide 5G services. Mobile network operators must have market caps of at least $1 billion to be included in the portfolio, and all other companies must have market caps of $150 million or more. Compared to some of its peers, the fund yields portfolio exposure to smaller, emerging companies in the 5G sector. This ETF has an annual expense ratio of just 0.30%. 
Tech researcher IDC expects U.S. 5G smartphone shipments to grow at an average annual rate of almost 36% through 2025. 5G-enabled phones are also lifting the average cost of devices. The Defiance Next Gen Connectivity ETF could be a good choice for investors seeking companies with significant growth potential. Included in the ETF's portfolio are the stocks of semiconductor companies such as Qualcomm (QCOM -0.26%), Skyworks Solutions (SWKS 0.14%), and Marvell Technology Group (MRVL 0.89%) , which make chips for phones and other connected devices and 5G infrastructure equipment. Investors in the ETF receive an annual dividend yield of more than 1%, but the fund's performance could be volatile owing to the relatively high proportion of small-cap companies in its portfolio.
5. Global X Internet of Things ETF
Another relative newcomer to the 5G sector is the Global X Internet of Things ETF, which launched in 2016. It doesn't directly invest in the companies bringing 5G to the world, but rather invests in those focused on technologies that directly benefit from 5G's rollout -- companies developing IoT, or Internet of Things, capabilities. The fund's portfolio of 47 stocks has more than doubled in value since its inception, in part due to the presence of some high-growth companies in the ETF's portfolio. The trade-off for attractive share price growth is that the annual dividend yield is 0.5%.
The Internet of Things is growing rapidly as billions of devices, ranging from household appliances to healthcare devices to security cameras, go online. 5G technology is expected to enable this trend to continue for years to come. Cisco estimates that by 2030, there could be about 500 billion connected devices worldwide. Besides the devices themselves, software services are needed to automate and monitor these networks of IoT devices. Investing in the Global X Internet of Things ETF could be a profitable way to diversify from 5G while still capturing significant upside. Some of the largest companies mentioned above are included in the ETF, along with other top connectivity stocks such as healthcare technologist DexCom (DXCM -1.77%), automotive chipmaker NXP Semiconductor (NXPI 1.44%), and navigation and sports device maker Garmin (GRMN 0.26%).  
6. Pacer Benchmark Data & Infrastructure Real Estate SCTR ETF
The Pacer Benchmark Data & Infrastructure Real Estate SCTR ETF provides portfolio exposure to 5G technology by buying shares in real estate investment trusts (REITs). These are companies that generate income from real estate holdings and pay out 90% of their income as dividends. The vast majority of the ETF's holdings consist of REITs that own either data centers or cellphone towers.
The fund's top 10 positions make up about 75% of the ETF's portfolio and are almost evenly split between data center and cellphone tower REITs. While 5G is a wireless signal, plenty of critical physical infrastructure is required to make 5G service possible. Data centers are responsible for managing the massive amounts of information traveling on networks, and cellphone towers create and transmit the actual wireless signals.
The Pacer Benchmark Data & Infrastructure ETF is invested in just 24 stocks, and, with $1.3 billion in assets, this is one of the smaller ETFs on this list. Its annual expense ratio totals 0.60%, but with a 1.9% dividend yield, investing in the fund is an excellent way to generate income from 5G. The share price of the ETF has increased more than 50% since its inception in mid-2018. Top stocks in the fund include Crown Castle (CCI -0.99%), American Tower (AMT -1.84%), and Digital Realty Trust (DLR -0.56%).  
What to know before investing in 5G ETFs
Investing in ETFs can be a quick and hassle-free way to profit from the development of 5G technology. Since ETFs offer built-in diversification, they are also less volatile in price than individual stocks -- but you should still bear in mind that 5G is a growth industry. As such, expect some volatility as 5G equipment is deployed and adoption by consumers and businesses increases nonlinearly.
5G technology is poised to become the new normal over the next decade. Remember to think long-term when investing to allow your portfolio's holdings to continue to grow over time.
Suzanne Frey, an executive at Alphabet, is a member of The Motley Fool's board of directors.
Nicholas Rossolillo
has positions in Advanced Micro Devices, Alphabet, Apple, Broadcom, Comcast, Marvell Technology, Qualcomm, Skyworks Solutions, and Walt Disney. The Motley Fool has positions in and recommends Advanced Micro Devices, Alphabet, American Tower, Apple, Cisco Systems, Crown Castle, Digital Realty Trust, Garmin, Netflix, Qualcomm, and Walt Disney. The Motley Fool recommends Broadcom, Comcast, DexCom, Marvell Technology, NXP Semiconductors, Skyworks Solutions, T-Mobile US, Verizon Communications, and Vodafone Group Public and recommends the following options: long January 2024 $145 calls on Walt Disney, long March 2023 $120 calls on Apple, short January 2024 $155 calls on Walt Disney, and short March 2023 $130 calls on Apple. The Motley Fool has a
disclosure policy
.