Computers and smartphones aren't the only devices connecting to the internet. Everyday objects such as lights, televisions, major appliances, cars, and even doorbells are being brought online. The Internet of Things (IoT) refers to the networks of devices and objects that communicate with other devices in the same network via connections to data centers.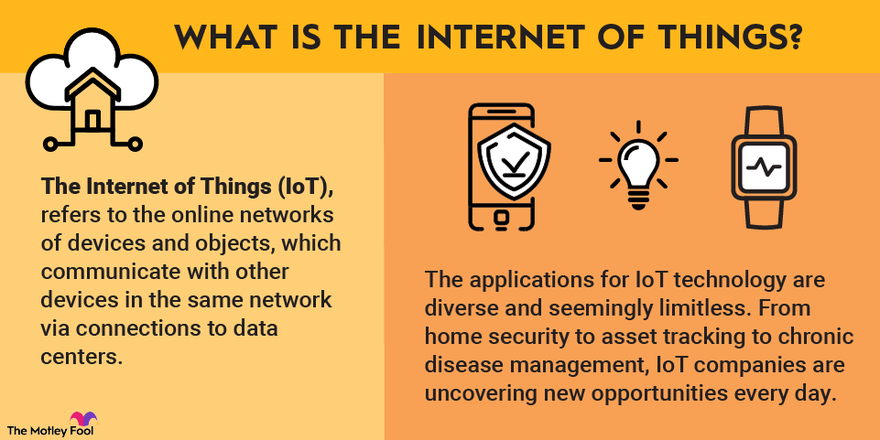 Image source: The Motley Fool.
What is the Internet of Things?
What is the Internet of Things?
While there is plenty of overlap among general technology, cloud computing, and the IoT, pure-play IoT companies are relatively rare. Any company that makes consumer electronics devices or sensors or chips for industrial or commercial purposes has at least some exposure to IoT technology. Software platforms that manage IoT devices and cloud computing companies are also engaged with the IoT sector.
Best IoT stocks in 2023
Best IoT stocks in 2023
These five top IoT stocks range from a diversified tech giant to a pure-play IoT company:
Source: Company websites. Data current as of November 20, 2023.

| IoT Stock | Market Capitalization | Description |
| --- | --- | --- |
| Cisco Systems (NASDAQ:CSCO) | $195.03 billion | The leading provider of enterprise networking hardware. |
| Alarm.com (NASDAQ:ALRM) | $2.94 billion | A cloud-based platform for managing connected home and business devices. |
| Dexcom (NASDAQ:DXCM) | $41.21 billion | A maker of glucose monitoring medical devices. |
| Impinj (NASDAQ:PI) | $2.25 billion | A maker of radio-frequency identification (RFID) products. |
| Intel (NASDAQ:INTC) | $187.76 billion | Manufactures data center chips and IoT chips and also owns Mobileye. |
1. Cisco Systems
1. Cisco Systems
Cisco Systems is the leading provider of enterprise networking hardware. Because its products form the backbone of the internet, the tech giant benefits from the explosion of internet-enabled devices.
Cisco sells networking hardware designed for handling large numbers of connected devices, including rugged, durable products aimed at industrial applications. On the software side, Cisco provides the Cisco Kinetic platform and other tools for managing IoT data and devices.
Cisco is also one of the largest cybersecurity companies. The company offers hardware, software, and services aimed at securing networks against threats, including those specifically targeting IoT systems.
Cisco is a low-risk way of investing in IoT. The company is supremely profitable, having generated adjusted net income of $11.3 billion on revenue of $41.8 billion through the first nine months of fiscal 2023. The company is sensitive to global economic conditions, given that its customer base includes many large companies, organizations, and governments. However, investing in the stock is a good way to gain exposure to IoT without taking big risks.
This sensitivity to economic conditions played out during the COVID-19 pandemic, with the company experiencing a pause in demand from some customers as they grappled with economic uncertainty. However, Cisco has now returned to growth, and it should benefit from some pent-up demand.
The pandemic put pressure on Cisco's sales, but the long-term story hasn't changed. Cisco remains as dominant as ever, and the company is poised to benefit from the growth of the IoT market.
While Cisco's market cap tops $200 billion, cloud software provider Alarm.com is valued at just a few billion. Its relatively small size makes it riskier than the tech giant, but the company has plenty of growth potential.
Alarm.com provides a cloud-based software platform for managing a connected home or business. Subscribers use the software to manage internet-enabled devices, including security cameras, lights, locks, thermostats, and a range of other supported products.
Alarm.com partners with service providers to sell its platform to consumers and businesses. The company currently works with more than 11,000 service providers and has about 9.1 million subscribers, and its platform connects more than 100 million devices. Revenue was up 2.1% in the first quarter of 2023 as a tough economy weighed on the company's results.
Revenue is a business's gross income or the amount of money it brings in from regular operations before costs are considered.
While the short-term picture is muddled, Alarm.com's total long-term market opportunity is $58 billion, split evenly between the smart home and commercial markets. With only a small fraction of homes currently using Alarm.com's platform, the IoT company has a long growth runway.
Alarm.com's growth will be challenged for now as consumers and businesses pull back on spending, but the smart home trend isn't going away. With millions of subscribers, Alarm.com is an early leader.
3. Dexcom
3. Dexcom
The Internet of Things goes far beyond consumer devices. Dexcom is focused on diabetes management, specifically medical devices for continuous glucose monitoring. The company's G7 system delivers real-time data to smartphones and smartwatches without the need for fingersticks.
The number of people in the U.S. with diagnosed diabetes grew from 1.58 million in 1958 to 23.35 million in 2015, according to data from the Centers for Disease Control and Prevention. Today, more than 37 million Americans have diabetes, and 96 million American adults have prediabetes.
The combination of growing rates of diabetes and the transition to continuous glucose monitoring will give Dexcom plenty of growth opportunities in the coming years. In the first quarter of 2023, revenue grew by 18% year over year. For the full year, Dexcom expects growth between 17% and 21%.
Dexcom has historically traded at expensive multiples, but for those willing to take on some risk to gain exposure to both IoT and healthcare, it's a stock to consider.
4. Impinj
4. Impinj
Impinj specializes in solutions involving radio-frequency identification, or RFID. Impinj's RFID tags are used by retailers, manufacturers, and logistics companies to track inventory and assets.
The market for RFID products, including tags, readers, software, and services, was worth $12.8 billion in 2022, according to IDTechEx, and it's expected to grow to $14 billion this year. Apparel retail is so far one of the biggest markets by volume for RFID technology, but the technology also has applications in supply chain logistics.
Impinj had a rough go of it during the pandemic, partly due to retail store closures, but the company has bounced back in a big way. Revenue in the first quarter of 2023 soared 61% year over year to $85.9 million, and the company narrowed its losses considerably.
Impinj estimates that just 0.3% of connectable items are connected today. In the long run, trillions of consumable objects, ranging from food packaging to tires, could be tracked using RFID technology. Each RFID endpoint costs only pennies, making the technology economical for a wide array of use cases.
Impinjg has shipped more than 85 billion RFID endpoints over its lifetime, and the number could rise substantially in the coming years. Impinj is far from a sure thing as an investment, but it's a company to watch in the IoT space.
Did you know?
Total spending on consumer and industrial IoT technology is expected to pass $1.1 trillion in 2023.
IoT isn't Intel's core market, but the semiconductor giant's data center chips power the cloud data centers that link IoT devices together. Despite rising competition, Intel still dominates the data center CPU market.
Beyond powerful chips crunching data in the cloud, Intel sells chips meant for the edge. Its Xeon D family of processors, for example, has built-in AI for IoT applications and can operate in harsh, rugged conditions.
Intel also owns a majority stake in Mobileye, a leading developer of autonomous driving and advanced driver assistance systems. There are more than 1 billion cars on the road globally, and the fleet will become smarter and more connected.
In addition to selling its own chips that serve various parts of the IoT market, Intel is pouring tens of billions of dollars into building out its manufacturing capacity and starting up its own foundry business. Intel can further tap into the growing demand for IoT devices by manufacturing the necessary chips for other companies.
Intel isn't a pure-play IoT stock, but the company has multiple ways to benefit from a growing IoT industry.
A semiconductor is a basic element or compound substance that conducts electricity in certain situations.
Is buying IoT stocks right for you?
Is buying IoT stocks right for you?
If you'd rather not choose among individual stocks, you can still gain exposure to the IoT sector by investing in an IoT-focused exchange-traded fund (ETF). One such fund is the Global X Internet of Things ETF (SNSR 0.84%), which holds positions in dozens of IoT-related companies, including Dexcom. Buying shares in an IoT-focused fund confers instant sector diversification.
Whether you opt for an ETF or the stocks of specific companies, it's important to be aware of the risks of investing in IoT companies. Booming pandemic-era demand for a variety of products has faded, and a tough economy is putting pressure on consumers and businesses. Sluggish growth may be in the cards for the foreseeable future.
But if you are a risk-tolerant and patient investor, then investing in IoT companies may be a smart choice for you. The research provider IDC estimates that total spending on consumer and industrial IoT technology and services will surpass $1.1 trillion in 2023, growing at a double-digit percentage rate. Everyday objects are increasingly connecting to the internet, and while a "smart toaster" will always be gimmicky, IoT technology is useful for many important applications. Home security, asset tracking, and management of chronic diseases are among the many use cases for IoT technology.
Timothy Green
has positions in Intel. The Motley Fool has positions in and recommends Alarm.com and Cisco Systems. The Motley Fool recommends DexCom, Impinj, and Intel and recommends the following options: long January 2023 $57.50 calls on Intel and long January 2025 $45 calls on Intel. The Motley Fool has a
disclosure policy
.