Investing in FAANG Stocks and ETFs
It's hard to talk about the general stock market without mentioning one or more FAANG stocks. These five tech giants -- Facebook (NASDAQ: FB), Amazon (NASDAQ: AMZN), Apple (NASDAQ: AAPL), Netflix (NASDAQ: NFLX), and Alphabet (NASDAQ: GOOG) (NASDAQ: GOOGL) -- make up a sizable portion of the S&P 500 Index.
That means most investors already have at least some exposure to them. Because the heavy weighting of FAANG stocks in indexes like the S&P 500 gives them an outsized impact on the broader stock market, it's worthwhile for investors to learn a bit more about them.
What are FANG stocks?
"FAANG stocks" is an acronym used to describe some of the most prominent companies in the tech sector. Originally, the acronym was FANG, for Facebook, Amazon, Netflix, and Alphabet (formerly Google). In 2017, investors started including Apple in the group, turning the acronym into FAANG.
Over the past decade, FAANG stocks have grown faster than the overall S&P 500 or the more technology-focused Nasdaq. The original four FANG stocks were all internet-based companies, but the later inclusion of Apple -- primarily a consumer hardware manufacturer -- made FAANG a broader group of technology stocks.
Are FAANG companies a good investment?
FAANG stocks have historically outperformed the S&P 500 index. Since the market bottom in March of 2009, the worst-performing FAANG stock, Apple, has returned more than double that of the index average.
As every investor should know, past results don't guarantee future success. That said, FAANG companies exhibit several competitive advantages that make them appealing long-term investments.
Most of the FAANG companies benefit from the network effect. Facebook's products are valuable to new users because of its 2.5 billion-plus other active users. Likewise for several Google products, including YouTube and Search. Amazon's Prime service brings tens of millions of shoppers to its marketplace every day, which makes its seller services more attractive to third-party merchants. Netflix's tens of millions of viewers provide feedback for what kind of content the company should invest in and provide the revenue to support its massive budget. The lock-in effect of the Apple ecosystem creates significant switching costs for iOS users. That advantage is getting stronger as Apple develops more services like Apple Music and Apple Arcade.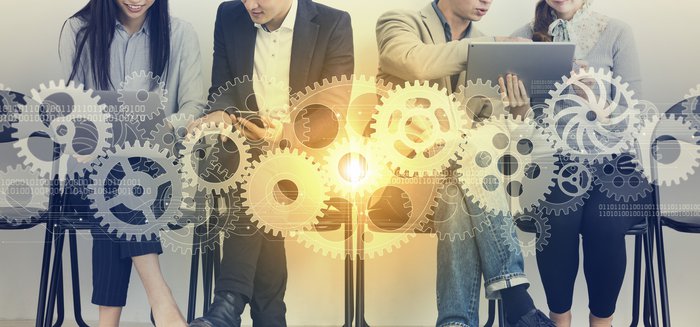 All five FAANG companies have intangible assets that should enable them to produce higher levels of profitability than their rivals. Facebook, Amazon, and Google have troves of user data to target advertisements. Netflix's move to original content and exclusive licenses makes its content library irreplicable. Apple is one of the few competitors that makes both the hardware and the software for its devices -- and is certainly the only one doing it at its scale.
These competitive advantages can make the FAANG stocks great potential investments. Still, investors may want to examine each stock's valuation relative to its own historical value and that of comparable competitors before buying.
Related topics
Can I invest in a FAANG stocks index ETF?
No fund or ETF includes FAANG stocks exclusively. However, the NYSE FANG+ index tracks the five FAANG stocks and five other tech and tech-enabled leaders.
In November 2019, BMO Financial Group issued an exchange-traded note that tracks the FANG+ index. It trades on the NYSE Arca exchange under the ticker FNGS. It's the simplest way to gain added exposure to the returns of FAANG stocks for investors. The ETN has an expense ratio of 0.58%.
With such a small index, investors may be better off building their own portfolio of FAANG stocks and avoiding the ETN expenses -- especially now that most discount brokers charge no commissions for stock purchases. Building your own portfolio also allows you to optimize stock purchases and sales for your own unique capital gains tax situation.
You could include just the five FAANG stocks or all 10 FANG+ index stocks. To track the NYSE FANG+ index, buy an equal dollar amount of Facebook, Amazon, Apple, Netflix, and Alphabet stock, plus the five other stocks chosen by the index's creators. They rebalance the index quarterly and will announce any new constituents a week before they do so.
FAANG stocks probably already play at least a small role in your portfolio. But if you want additional exposure to these excellent companies, you can buy the FANG+ ETN or simply dedicate a portion of your portfolio to the FAANG stocks themselves.