There are a number of different ways for businesses to generate competitive advantages, but few are as valuable as the network effect.
Network effects apply not just to businesses but also to relationships and social systems. The phrase even describes the way that ideas spread.
Keep reading to learn more about what network effects are, how they work, and how you can take advantage of them as an investor.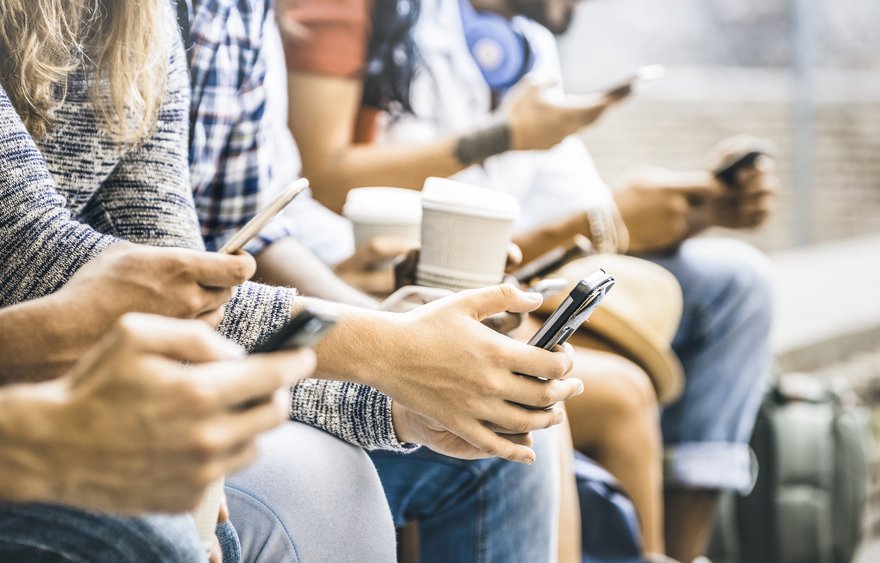 Image source: Getty Images.
What are network effects?
What are network effects, exactly?
Network effects describe a set of relationships with an ecosystem that make the overall ecosystem stronger.
One of the clearest examples of network effects is in social media; platforms grow more valuable as more users join.
Not only does it become more valuable, but the increased numbers of people on a platform incentivize more people to use it as the network expands. When a business has network effects, it enables them to have a number of competitive advantages and can lead to higher profits.
How do they work?
How do network effects work?
There are a lot of different kinds of networks, but to borrow from the example above, a social media platform relies on network effects to be useful.
For example, a social media platform is only as valuable as the users on it. If, say, a social network had just five users, its utility would be minimal (unless the reason for it to exist was highly specific).
Meta Platforms' (META 2.2%) Facebook, on the other hand, has roughly 3 billion users. If you want to post something that people see, Facebook has the potential to bring in a uniquely large audience.
The network effect also offers advantages to the businesses that successfully employ them. That's because they lock in users, especially on a platform where each user indirectly incentivizes other users to remain part of the network.
Similarly, network effects have the power to enable businesses to charge premium prices and block out competition because they can be difficult for more than one business to obtain in a specific sector.
How to invest in them
How to invest in network effects
Finding businesses with network effects and investing in them can be an excellent way to achieve superior returns on the stock market.
To do so, you'll want to start by identifying the kinds of businesses that create network effects. Let's take a look at a few.
Social media: Often called social networks, social media platforms may be the most direct form of network effects since social media platforms with larger audiences tend to be more sought after by advertisers and users, who typically want the broadest reach.
Two-sided marketplaces: Two-sided marketplaces refer to those where there are individual buyers and sellers. This includes e-commerce sites like Amazon (AMZN

1.84%

), Etsy (ETSY

0.11%

), and eBay (EBAY

-1.23%

). Home-sharing marketplaces like Airbnb (ABNB

-0.47%

) and Expedia's (EXPE

-0.99%

) VRBO are also good examples, and transportation marketplaces like Uber (UBER

-0.67%

) and Lyft (LYFT

-0.28%

) seek to build competitive advantages through network effects.
Payment networks: Finally, payment networks also offer investors a good way to get exposure to network effects. Apps like PayPal (PYPL

0.17%

) or Block's (SQ

-2.42%

) Cash App compete for users who create networks on the platform since having a critical mass of users will incentivize other users to use the app.
One of the best ways to invest in companies with network effects is to find ones that haven't been readily identified as such. That could be because they are still small or because they are hidden within a larger business.
Example
One example of a network effect
One of the most powerful network effects in business is Airbnb.
The home-sharing platform has millions of hosts and even more guests on its platform.
As the pioneer in home-sharing, the company owns the majority of the market share in the industry. It's likely to stay that way since new hosts will go to the platform where they get the most guests, and guests will go to the platform where there are the most places to stay.
Network effects should enable Airbnb to maintain its market leadership in home-sharing, barring some other kind of disruption; the network itself drives Airbnb's growth, helping it save on marketing costs.
Network effects will continue to play a role in the next bull market, and many of these companies that benefit from them should only get bigger as their networks grow.
John Mackey, former CEO of Whole Foods Market, an Amazon subsidiary, is a member of The Motley Fool's board of directors. Randi Zuckerberg, a former director of market development and spokeswoman for Facebook and sister to Meta Platforms CEO Mark Zuckerberg, is a member of The Motley Fool's board of directors.
Jeremy Bowman
has positions in Airbnb, Amazon.com, Block, Etsy, Meta Platforms, and PayPal. The Motley Fool has positions in and recommends Airbnb, Amazon.com, Block, Etsy, Meta Platforms, PayPal, and Uber Technologies. The Motley Fool recommends eBay and recommends the following options: short October 2023 $52.50 calls on eBay and short September 2023 $67.50 puts on PayPal. The Motley Fool has a
disclosure policy
.