NFT Worlds (CRYPTO:WRLD) is a play-to-earn gaming platform where users can buy virtual worlds and build their own metaverse. The developers prioritized moving fast with their platform, and they found an interesting way to streamline the process.
Instead of creating a new game from scratch, the team behind NFT Worlds built a blockchain layer on Minecraft. That means the project's virtual worlds look just like what you'd see in Minecraft, the best-selling video game of all time and one that regularly has more than 100 million players per month.
There are concerns about NFT World's long-term viability, especially since it isn't directly associated with Minecraft or the game's owner, Microsoft (MSFT -1.16%). We'll go over the pros and cons in this guide to NFT Worlds.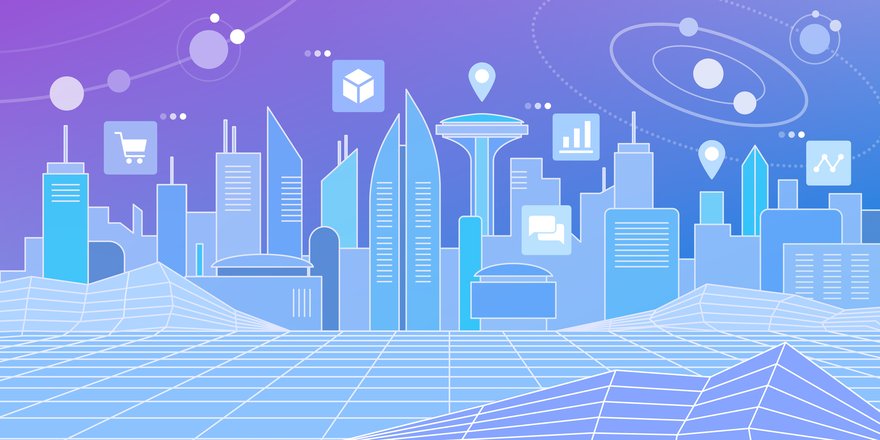 Source: Getty Images
What makes NFT Worlds unique?
NFT Worlds is a collection of 10,000 virtual worlds available as non-fungible tokens (NFTs). Each world has its own unique attributes that determine its rarity and cost. The owner of an NFT World can build a metaverse on it, either by themselves or by hiring builders to do it for them.
The developers used Minecraft's open-source software to build the worlds. Consequently, NFT Worlds have the same type of design as Minecraft maps, familiar controls, and can be accessed by all the gaming platforms compatible with Minecraft.
One of the special things about NFT Worlds compared to its competitors is the size of each virtual world. Each world measures 16 million by 16 million blocks in size. That means a single NFT World is hundreds of millions of times larger than all of Decentraland (MANA 4.45%) and The Sandbox (SAND 3.68%), two of its biggest competitors.
WRLD tokens are the in-game currency for NFT Worlds. This is a utility token that players can earn during gameplay and use to pay for in-game mechanics, such as buying items and accessing events. WRLD tokens can also be used for player-to-player transactions.
Where NFT Worlds came from
The co-founders of NFT Worlds are a pair of developers who go by ArkDev and Temptranquil. A core team of five people started working on the platform in September 2021. Since some of the coders played Minecraft, the team decided to build on the game and its existing infrastructure.
NFT Worlds launched on Oct. 5, 2021. The team minted all 10,000 NFTs and gave them away for free, and they added Minecraft support a week later. They launched the project's native cryptocurrency, the WRLD token, on Dec. 27, 2021, with an airdrop to holders of NFT Worlds.
How NFT Worlds works
NFT Worlds are minted and stored on the Ethereum (ETH 3.0%) blockchain. To offer faster transactions and lower gas fees, NFT Worlds also uses Polygon (MATIC 2.74%). Polygon is an Ethereum sidechain designed to improve efficiency by processing transactions off the Ethereum blockchain.
Each NFT World is Minecraft-compatible and has its own unique set of features. There are three types of characteristics that determine what an NFT World offers:
World Geography: This includes the world's land area, water area, highest point, lowest point, and annual rainfall. It also includes any of the world's environments, such as rivers, beaches, and deep oceans.
Resources: This refers to the world's allocation of different resources, such as dirt and soil, fresh water, rare metals, and gemstones.
Unique Features: This covers anything that makes the world special, such as multiple climates, a sunken city, or wild horses.
The owner of an NFT World can do essentially anything they want with it, and players can travel between worlds using portals. To give a few examples of what people have done, there are NFT Worlds that offer:
A social networking metaverse for players to hang out and interact
An open world play-to-earn survival experience
A battle-to-earn galaxy with multiple planets, challenges, and games
An 18-hole golf course
A role-playing game metaverse with a storyline and multiple chapters of content
Partnerships
There are more than 100 NFT communities and projects building metaverses with NFT Worlds. One of the most noteworthy so far is RTFKT, the design studio that collaborated with Takashi Murakami to launch the Clone X NFTs. RTFKT purchased an NFT World on Feb. 14, 2022.
NFT Worlds has also collaborated with Entity Builds, a team of Minecraft builders and developers. Entity Builds created the first fully developed NFT World, The First Kingdom, which was then sold at an auction.
The success of NFT Worlds will depend in large part on its ability to attract Minecraft players. To do that, NFT Worlds is working with streamers, content creators, and influencers in the Minecraft community to market its platform.
Can I make passive income with NFT Worlds?
If you own an NFT World, there are two ways to make passive income. You can stake your NFT World to earn WRLD tokens at regular intervals. Staking refers to locking up the NFT. The amount of crypto tokens you earn is based on the rarity of your NFT World.
A staked NFT World can also be made available for rent. As the world owner, you can set a monthly price, as well as the minimum and maximum number of months the world is available for rent. If you rent your NFT World, you earn WRLD tokens from staking it and from the renter.
When your NFT World is locked into an active rental agreement, you can't access it or unstake it. The agreement can only be terminated when the rental term is fulfilled or if the renter defaults on the monthly payment.
Unique risks
The fact that NFT Worlds is built on Minecraft is a huge part of its appeal, but it's also the project's biggest risk. There's always the possibility that Microsoft takes legal action to shut down NFT Worlds.
NFT Worlds' co-founders, ArkDev and Temptranquil, say they're in contact with Microsoft representatives from the intellectual property enforcement team. They claim they work with these representatives to ensure that they don't violate Minecraft's End User License Agreement.
However, that agreement states that no one can "make commercial use of anything we've made" or "try to make money from anything we've made" unless the Minecraft team specifically agrees to it. It doesn't appear NFT Worlds has that type of deal in place. Temptranquil has said that Microsoft is watching from the sidelines, but that the project doesn't have a "formal green light."
That doesn't exactly inspire confidence, especially if you're debating whether you should spend thousands of dollars on one of these virtual worlds. One could easily argue that NFT Worlds is in violation of Minecraft's agreement given that people are making money from these Minecraft-based worlds.
Is NFT Worlds a good investment?
NFT Worlds is certainly an ambitious and interesting metaverse project, but it's also extremely risky. NFTs in general are highly speculative, and this collection has the looming possibility of Microsoft one day deciding to shut it down.
When considering NFT Worlds as an investment, there are two ways to invest:
Buy an NFT World. You can then stake it to earn WRLD tokens and either build on it or rent it. Although there's more profit potential, worlds can cost thousands of dollars.
Buy WRLD tokens, NFT Worlds' native cryptocurrency token. If the project is successful, its cryptocurrency will likely increase in value. This is the cheaper way to invest since you can decide how much you want to buy.
Considering the amount of risk involved with NFT Worlds, it's not a safe place to put your money. If you're interested in it, the best option is to either put it on your watchlist or only invest a very small amount as a high-risk, high-reward venture. That will likely mean sticking to WRLD tokens unless you have a large amount of capital or you find an NFT World available for a low price.
How to buy NFT Worlds
NFT Worlds are available on OpenSea, one of the top NFT marketplaces, and they're bought and sold using Ethereum. Here's a quick breakdown of how to buy NFT Worlds from start to finish:
Buy Ethereum on a crypto exchange. Since this is one of the largest cryptocurrencies, there are plenty of places to buy Ethereum.
Transfer your Ethereum to a blockchain wallet.
Go to OpenSea and connect your wallet.
Select the NFT World you want. If it's for sale, you can buy it immediately. If you want one that isn't currently for sale, you can make an offer on it.
If you want to buy the NFT Worlds cryptocurrency, you can find it on CoinEx and LBank. WRLD isn't widely available yet, so most other crypto exchanges don't list it.
NFT Worlds looks great, thanks to the Minecraft infrastructure, and it could take off if players decide to give it a try. That being said, it's still in the early stages, and it's impossible to know whether Microsoft will continue to allow it in the future. It's one to watch, but be cautious if you're thinking of investing in it.
Lyle Daly
has positions in Ethereum. The Motley Fool has positions in and recommends Ethereum, Microsoft, and Polygon. The Motley Fool has a
disclosure policy
.