As you learn about crypto, you'll notice that there are different terms used to talk about cryptocurrencies. Sometimes they're called tokens. Other times they're called coins or occasionally altcoins.
It may seem like some of these terms are interchangeable, but they actually all refer to different types of cryptocurrency. In this guide, we'll explain what crypto tokens are and what sets them apart.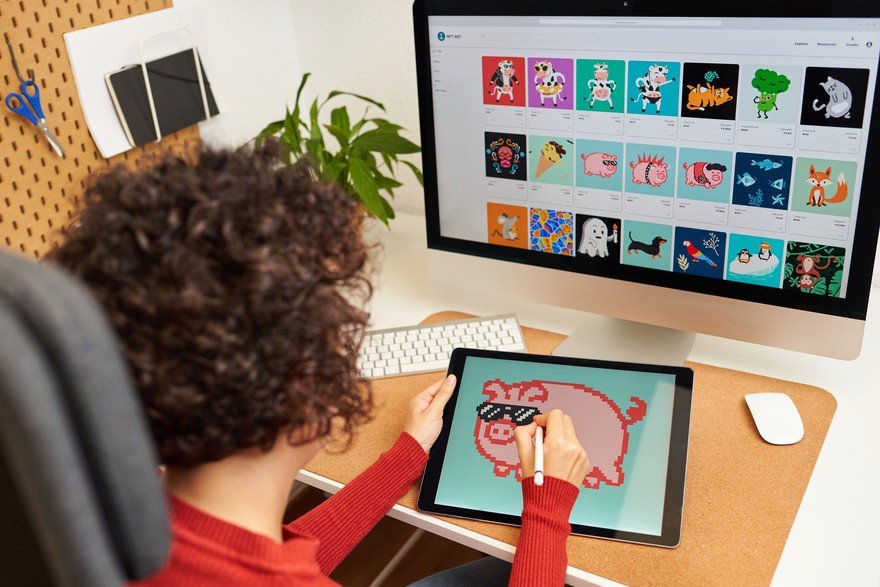 Image source: Getty Images.
What are crypto tokens?
Crypto tokens are digital assets that are built on another cryptocurrency's blockchain.
A blockchain is a digital ledger that stores information in blocks that are linked. This information can be transaction records or full-fledged programs that operate on the blockchain, which are called smart contracts. For example, as a cryptocurrency's transactions are confirmed, they would be grouped into a block, and that block would then be added to the blockchain.
Every cryptocurrency is built on a blockchain. If a cryptocurrency doesn't have its own blockchain and instead uses another cryptocurrency's blockchain, then it's considered a token.
Crypto tokens vs. crypto coins
A cryptocurrency can be a coin or a token, depending on whether it's the native cryptocurrency for its own blockchain or not. Crypto coins have their own underlying blockchains; crypto tokens don't.
To make it clearer, let's use Ethereum (CRYPTO:ETH) as an example. Ethereum is a blockchain, and this blockchain's native cryptocurrency is called Ether. Since Ether has its own blockchain, it's considered a crypto coin.
One of the things that made Ethereum special is that it was the first programmable blockchain. Because it's programmable, developers can use it to launch their own cryptocurrencies. These cryptocurrencies operate on Ethereum's blockchain instead of their own, which makes them crypto tokens (the official term for tokens built on Ethereum are ERC-20 tokens).
Earlier cryptocurrencies, such as Bitcoin (CRYPTO:BTC), didn't have this capability. Ethereum did, helping it to become the second-largest cryptocurrency by market cap.
Because it's much easier to create a token than a coin, there are far more scams and lackluster projects launched using tokens. However, that doesn't mean all tokens are bad investments or that all coins are good ones. There are plenty of tokens with interesting use cases. Of course, there are also crypto coins that have no special use cases or competitive advantages.
Why are crypto tokens important?
Tokens allow developers to create a cryptocurrency without needing to build a blockchain for that cryptocurrency. That's a big deal because it makes the process of developing cryptocurrencies much faster, simpler, and less expensive.
For developers who want to make their own crypto coin, blockchain development is a serious technical undertaking. A blockchain needs to be able to process transactions quickly at a low cost, and it needs to be resistant to attacks so that hackers can't steal crypto.
Building the blockchain isn't the end of the process either. A new crypto coin also needs validators to confirm its transactions. Since cryptocurrencies are decentralized, they rely on people choosing to become validators and lending computing power to the blockchain.
For example, Bitcoin relies on Bitcoin mining, but that requires people across the world using mining devices. Developers of a new coin also need to think about how they'll attract enough validators to keep the blockchain secure and avoid fraudulent transactions.
The quicker option is to make a crypto token. Instead of building a blockchain from the ground up, developers can essentially piggyback on an existing blockchain, such as Ethereum. Their crypto token can then run on Ethereum's existing platform, which already has a secure system in place to validate transactions and run smart contracts.
How do crypto tokens work?
As cryptocurrencies, crypto tokens are assets with value. They can typically be transferred, traded, bought, and sold, and they're stored in blockchain wallets. A blockchain wallet is a program or hardware device that's used to store cryptocurrency.
Transactions with a crypto token are processed on the blockchain that it uses. For example, if it's an ERC-20 token built on Ethereum, then the Ethereum blockchain will handle all transactions for that token.
In addition to their role as a currency, crypto tokens can serve many other purposes. Here are a few of the most common uses for crypto tokens:
Governance tokens: A governance token is a crypto token that gives the holder voting rights in a cryptocurrency project. Token holders are able to make and vote on proposals that help determine the future of that specific cryptocurrency. The more tokens you hold, the more voting power you have.
Decentralized finance: Decentralized finance (DeFi) refers to alternative financial systems built on blockchain technology. For example, instead of getting a loan from a lender, you could put up crypto tokens as collateral and get one from a DeFi platform. Each DeFi platform has its own token that it uses as its official currency.
Crypto rewards: The previously mentioned DeFi platforms rely on investors who lend their own cryptocurrency funds. In return, investors receive crypto rewards as an incentive. These rewards are usually paid out as crypto tokens.
Non-fungible tokens: A non-fungible token (NFT) is a crypto token that denotes ownership of a digital asset. The ownership information is stored in the cryptocurrency token. NFTs can be used to show who owns a unique digital image, a GIF, or a character in an online game.
Cryptocurrency vs. altcoins vs. crypto tokens
Cryptocurrency, altcoins, and crypto tokens are common terms you'll see used to describe cryptocurrencies. Here's a quick breakdown of their definitions:
A cryptocurrency is a decentralized digital currency. It uses cryptography to verify transactions, and transaction data is stored on a blockchain.
An altcoin is any cryptocurrency other than Bitcoin. The term comes from the fact that they're alternatives to Bitcoin, the first cryptocurrency.
A crypto token is a cryptocurrency that doesn't have its own native blockchain. Developers build it on the blockchain of another cryptocurrency.
There's quite a bit of overlap between these categories. Cryptocurrency includes every cryptocurrency on the market, which means altcoins and crypto tokens both fall into this category. And since altcoins include every cryptocurrency outside of Bitcoin, crypto tokens all fall into the altcoin category as well.
Top crypto tokens
Now that we've explained what crypto tokens are, let's take a look at a few of the top ones:
Tether (CRYPTO:USDT) and USD Coin (CRYPTO:USDC) are stablecoins pegged to the U.S. dollar. They're designed to maintain a price of $1, and they're both built on the Ethereum blockchain.
Shiba Inu (CRYPTO:SHIB) is a controversial meme token that saw its price skyrocket in 2021. That success was primarily due to its popularity, and the token's value has fallen significantly since then. It's also built on the Ethereum blockchain.
Chainlink (CRYPTO:LINK) is an oracle network that allows smart contracts on a blockchain to receive real-world data. It's built on the Ethereum blockchain as well.
Uniswap (CRYPTO:UNI) is the token for the decentralized crypto exchange of the same name. The Uniswap exchange offers cryptocurrency trading with no central governing authority, and, like the others on this list, is built on the Ethereum blockchain.
Those are some of the biggest crypto tokens by market cap, but there are thousands more out there. Although some could potentially be a good cryptocurrency investment, the vast majority aren't. Since it's so easy to create a cryptocurrency token, many developers launch useless tokens in hopes of making a quick buck.
If you're interested in investing in cryptocurrency, it's helpful to understand crypto tokens. You're going to run into quite a few of them, and knowing what they are will help you better evaluate them as potential investments.