The word "metaverse" has been tossed around a lot in the last year and the worlds where we can live our virtual lives have been examined from every possible angle.
What's gotten less attention is the real estate that makes up that three-dimensional virtual universe.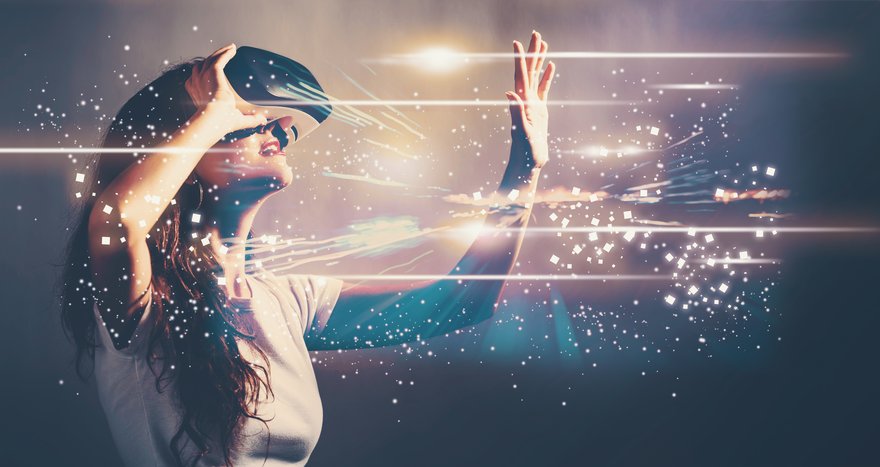 Image source: Getty Images.
In some of the computer-generated worlds that make up the metaverse, you can purchase and own real estate. Just like real estate in the physical world, these virtual worlds are divided into parcels, often called "lands," that are bought, sold, leased, rented, and developed.
All sorts of people are investing in these limited and exclusive lands, from luxury home builders to CEOs of multinational brands to individuals who want to start a metaverse-based business.
Just like the metaverse itself, the potential for any given metaverse land is virtually limitless. Let's take a look at what digital real estate is, how it works, what it costs, and how it's been affected by the recent drop in crypto prices.
If you need a refresher on the metaverse as a whole, be sure to check out What Is the Metaverse? and watch the video below:
What is digital real estate?
Put simply, digital real estate is a virtual plot of land -- either empty or containing structures -- in a virtual world.
Let's dig into that a bit more.
The metaverse is made up of platforms that let people interact and build their digital dreams. Those dreams could be pay-to-play games, live work meetings, advertising spaces, shopping centers, non-fungible token (NFT) art galleries, metaverse HQs for real-world businesses, or anything else that can be built in a digital world. In short, pretty much anything.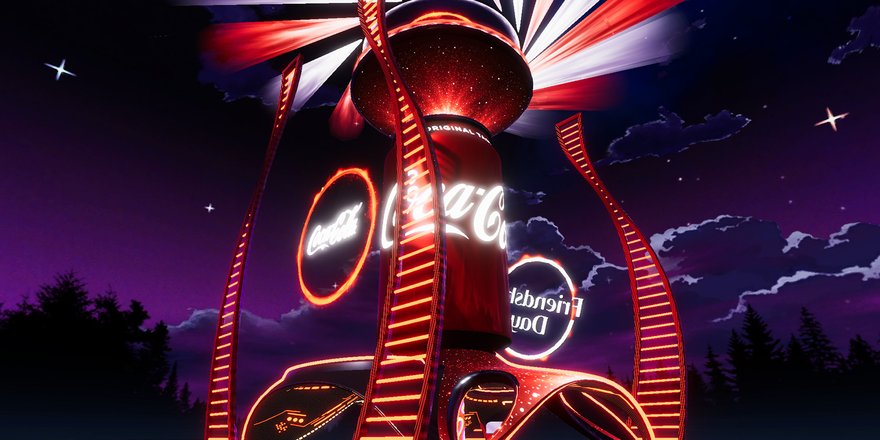 Image source: Decentraland.
There are currently three platforms that offer significant opportunities for purchasing virtual real estate: Decentraland, The Sandbox, and Otherside. Otherside was developed by Yuga Labs, the group behind Bored Ape Yacht Club (CRYPTO:BAYC), a wildly popular series of NFTs.
Land in each metaverse platform is limited to a set number of lots, making it a limited commodity. This is why investors are interested in getting their foot in the door before the best spots are taken.
Virtual real estate in these platforms is secured with digital deeds in the form of non-fungible tokens (NFTs). When you buy a piece of digital real estate, your purchase is recorded on the blockchain and the NFT is transferred to your digital wallet, the same place you store your cryptocurrency.
This is similar to real estate in the physical world: there's a title for each parcel of land, sales are recorded in a registry, and you get a copy to prove your ownership.
You can buy virtual real estate in the marketplace of the platform where it exists or on a third-party NFT marketplace like OpenSea.
Lands and estates
There are generally two types of properties you can purchase in the metaverse: lands and estates. They may have slightly different names, depending on the platform, but this is the most common nomenclature.
Digital land is exactly what it sounds likea: a big empty space with nothing on it.

Image source: Decentraland.
Estates, on the other hand, are properties that contain a plot of virtual land plus something extra. That extra thing could be a structure, such as a building or billboard, or additional parcels of land that are joined together. The items included in an estate have been semi-permanently joined into a single unit with a single NFT deed and a new description. They're considered single properties, but can be subdivided at will.
Virtual real estate transactions in the metaverse
The table below shows the top individual transactions disclosed through NonFungible.com, the largest data repository for virtual real estate sales. Prices are listed in their U.S. dollar equivalent.
Because the relative value of cryptocurrencies to U.S. dollars changes constantly, it's important to note that these dollar figures are based on the value at the time of sale.
Data source: NonFungible.com.

| Date of Sale | Platform | Address | Price (USD) |
| --- | --- | --- | --- |
| 11/22/2021 | Decentraland | EST #4339 | $2,410,200.00 |
| 5/7/2022 | Otherside | #59906 | $1,647,787.50 |
| 2/3/2022 | Decentraland | EST #399 | $1,326,000.00 |
| 1/20/2022 | Decentraland | EST #1286 | $1,202,750.00 |
| 11/28/2021 | Decentraland | EST #985 | $1,085,700.00 |
| 12/10/2021 | Decentraland | EST #4313 | $1,041,000.00 |
| 5/4/2022 | Otherside | #33 | $984,093.49 |
| 5/2/2022 | Otherside | #24 | $952,380.00 |
| 1/30/2022 | Decentraland | EST #399 | $939,600.00 |
| 2/18/2022 | Decentraland | EST #1747 | $938,700.00 |
| 12/17/2021 | Decentraland | EST #871 | $927,000.00 |
| 6/17/2021 | Decentraland | EST #4247 | $913,808.98 |
| 12/10/2021 | Decentraland | EST #985 | $897,500.00 |
| 7/2/2021 | Sandbox | Estate #68 | $889,587.49 |
| 5/4/2022 | Otherside | #66 | $855,091.10 |
| 5/1/2022 | Otherside | #9 | $851,877.00 |
| 5/5/2022 | Otherside | #54 | $802,000.00 |
| 5/2/2022 | Otherside | #1890 | $795,989.60 |
| 5/8/2022 | Otherside | #66813 | $777,237.42 |
| 5/4/2022 | Otherside | #26 | $732,978.81 |
| 5/1/2022 | Otherside | #10 | $710,820.00 |
It's been a while since any of the biggest sales in the metaverse have taken place, but it's important to note that there are still significant sales happening regularly.
Despite the fall in crypto prices, there were impressive transactions at the end of 2022 and beginning of 2023, including a $115,000 sale in Decentraland and an $85,000 sale in Otherside.
The currency of the metaverse
When dealing in virtual real estate, buyers and sellers use cryptocurrency approved by the platform and stored in a crypto wallet. This stores your digital money and the NFTs that prove ownership of your digital real estate.
The coins accepted vary between metaverse platforms. If you're shopping in Decentraland, you'll need to bring plenty of MANA (CRYPTO:MANA) to the table; in The Sandbox, buckets of SAND (CRYPTO:SAND). Otherside has its own coin as well: ApeCoin (CRYPTO:APE).
Because these projects exist on the Ethereum blockchain, Ethereum (CRYPTO:ETH), the native currency of the Ethereum system, is often accepted. Some platforms, like Otherside, tend to have more transactions in Ethereum than others.
MANA, SAND, and APE all tend to move together, even if their values are somewhat different. You can see how values have changed over time in the chart below:
The market capitalization of these metaverse coins also tends to track closely, though APE is a relatively new coin and still establishing its place. Even in crypto winter (see below), these coins have a market cap of over half a billion dollars each:
Location, location, location: where people are buying in the metaverse
A year ago, the hottest platforms in the metaverse included Decentraland, The Sandbox, Voxels, and Somnium Space, but the landscape is different today. Although some people are still buying, selling, and renting in Voxels and Somnium Space, the relatively small size of these two metaverse worlds has limited the number of transactions possible there.
Today, it's all about Decentraland, The Sandbox, and Otherside. Although The Sandbox isn't fully active yet, it is inching closer to its full launch, and Otherside is working on early testing to do the same. Otherside opened land sales in May 2022, so we don't know its full potential, though plenty of people are ready to get on board because of the association with Bored Ape Yacht Club.
Most sales volume is happening on Otherside. But other transactions, like leases, are almost impossible to track. Leases seem frequent within Decentraland, but the data is sparse.
Each of the Big Three metaverse platforms for real estate has about 100,000 available lots each. As these lots go into service as virtual burger joints or digital HQs, there are fewer to buy and sell.
A drop in available lands has made it harder to transact in the metaverse, but there's still ample interest, as evidenced by the constant churn in Otherside, where you can't yet build or invest beyond the bare ground.
How much money is being spent on metaverse real estate every day? More than you might expect.
Otherside is seeing the most action by far, regularly having $1 million days, but The Sandbox and Decentraland are far from closing their doors.
What does it cost to buy land in the metaverse?
Right now, buying land in the metaverse is a bargain compared to a year ago. Back then, it was common to give $5,000 to $10,000 for any plot, but today the picture is a lot different. Not only are the tokens of the realms much more affordable, the crypto winter in general has pushed prices down across the board.
If you're just looking for a small lot to call your own, you can regularly pick one up for $1,500 to $2,000 in Decentraland or The Sandbox, though this is still something of a feat in Otherside. The chart below shows all three main platforms' average sales prices compared to the average sales prices for the metaverse as a whole.
A lot of value can be had right now in Decentraland compared to other metaverse projects. It's far more established, which is both a blessing and a curse. Being more established means there are fewer properties changing hands, but many of the properties available are priced affordably and may be likely to rise in value.
Otherside, on the other hand, is new, it's unsettled, and landowners are still shuffling their holdings around. Although prices are lower than they were at the release of these properties, they're still considerably higher than other metaverse projects and are pushing the averages up due to the volume being bought and sold.
The Sandbox, the middle child of metaverse platforms, is still a great place to buy a property. It's in a development stage that allows users to visit from time to time, but the metaverse world isn't fully open yet to constant use. We should see that come to pass during 2023, and opening up the world to daily users will likely increase the value of lands that have not yet been built out.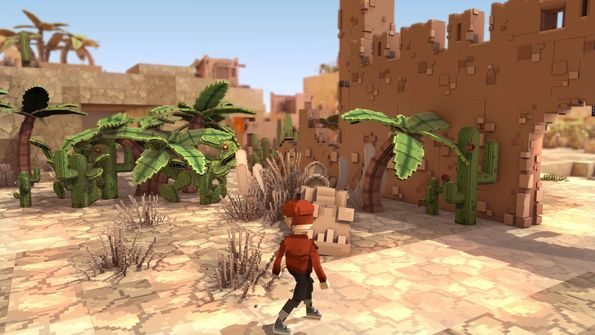 Image source: The Sandbox.
Although average sales prices give a decent idea of what to expect from a metaverse purchase, another metric that metaverse real estate investors find useful is called the "floor price." Floor prices are pretty much what they sound like -- the lowest price of a single property (the floor) sold on any given day.
Otherside may trend higher on average sales price and show some impressive sales numbers even in the crypto winter, but its floor price is trending in line with both Decentraland and The Sandbox. This gives nearly anyone with a couple thousand dollars a chance to buy in if their timing is right.
Where are the buyers and sellers in the Metaverse?
Just because large transactions are happening on a particular platform doesn't mean that many buyers or sellers are there. All kinds of things can affect land prices, including the size of the parcels and what's on them.
However, there's a reasonable metric that can be used to track buyers and sellers: active wallets.
Related cryptocurrency and metaverse topics
Buyers and sellers use crypto wallets to store money and hold NFTs related to their digital real estate. These wallets can be counted when they're used to buy or sell. This gives us a general idea of the sales activity taking place in any given metaverse platform.
Below you'll see a chart that shows the wallet activity on each major metaverse platform compared to wallet activity for the whole of the metaverse.
The buyer-to-seller ratio is another interesting metric for analyzing metaverse platforms. Any platform with a buyer-to-seller ratio above 1.0 has more individuals buying land than selling it on a given day (many people are buying land from just a few sellers).
Those with a ratio below 1.0 have more sellers than buyers (a few buyers are making multiple land purchases from many sellers).
Higher ratios may indicate that land is being distributed more evenly across more owners rather than being concentrated in a few wallets.
In the physical world, more owners typically indicates a more equitable system. In the virtual world, it means more people have a say in how the platform operates.
Is virtual real estate a good investment?
It's important to note that while metaverse real estate is exciting and new, and a lot of people are into it right now, it's still a speculative investment. It's hard to say if it's going to be a good investment over time.
Think of it like buying land in a newly formed town when America was pushing westward. Some of those towns ultimately made it, but many of them are buried under the literal sand of the desert and the figurative sands of time. 
There's no great way to predict if your platform will make it or not, but proto-metaverse platforms like Second Life have been in operation since 2003. The proto-platforms that have survived have very engaged and committed communities.
If you plan to buy land in the metaverse, part of your strategy should be to make the community more engaging, even if just by building something interesting or holding community events that double as promotional tools.
A note on the metaverse and crypto winter
At the time of this writing, all crypto assets, including fan favorites like Bitcoin (CRYPTO:BTC), are experiencing what the industry calls a "crypto winter," which is a cooling period similar to a bear market for stock investors.
However, because crypto tends to be more volatile than stocks, crypto winters can include deeper freezes than what you'd experience with a bear stock market.
Despite the bitter cold, many crypto investors view now as an ideal time to get into crypto assets, including buying metaverse real estate. They believe there are significant discounts to be had for anyone who can hold on until the thaw comes.
Certainly, compared to this time last year, it looks as if everything in the metaverse is on sale.
Kristi Waterworth has positions in ApeCoin, Bitcoin, Decentraland, Ethereum, and The Sandbox. The Motley Fool has positions in and recommends Bitcoin and Ethereum. The Motley Fool has a disclosure policy.