Media companies produce and distribute films, television series, music, books, news, and radio programming. We're consuming more and more of their offerings every year. The proliferation of mobile devices and digital media organizations has greatly increased screen time over the past decade, and the coronavirus pandemic has only accelerated that trend. Americans now spend more than 13 hours per day consuming or interacting with some form of media as the use of connected TV and mobile devices continues to grow.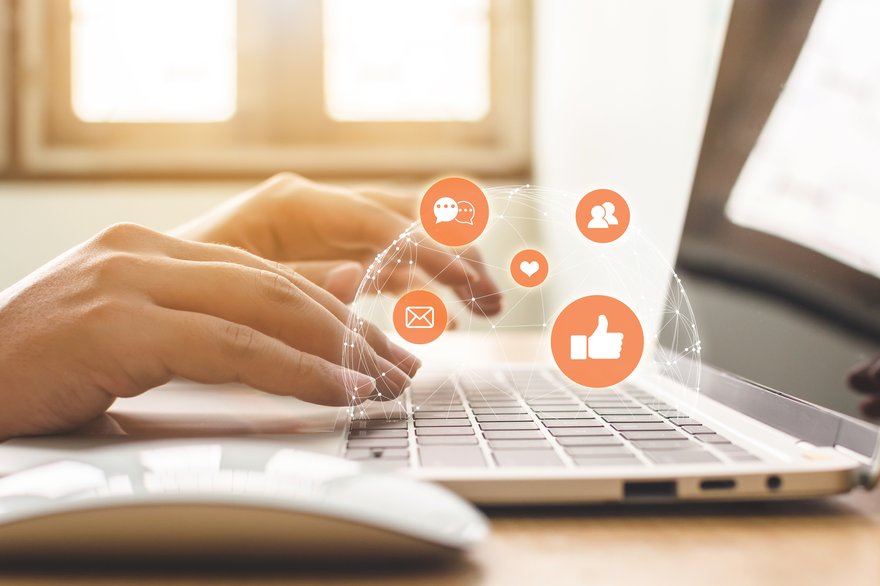 Image source: Getty Images
Companies with a strong foothold in digital media keep expanding their consumer engagement, while legacy businesses heavily reliant on older media formats are struggling. As a result, the industry has experienced a lot of mergers and acquisitions over the past few years. The bulk of the industry's power is now consolidated in just a handful of companies, including Walt Disney (NYSE:DIS), Discovery (NASDAQ:DISC.A)(NASDAQ:DISCK), and ViacomCBS (NASDAQ:VIAC).
Companies that specialize only in media are under increasing pressure to offer direct-to-consumer (DTC) services à la Netflix (NASDAQ:NFLX). Even radio producers have turned to podcasts to capitalize on the shift toward on-demand media consumption.
The latest
The media industry is rapidly changing in the current economic climate. Find the latest information in the newsfeed at the end of this article.
List of top media companies
Above the noise of new media platforms, ideas, and companies, a handful of publicly traded media organizations deserves special consideration. Here are four top picks:
1. Discovery
Discovery is one of the biggest pure-play television media companies in the market. Its acquisition of the television channel operator Scripps in 2018 gave it significant scale and makes it the top source for unscripted television. Its planned merger with AT&T (NYSE:T) WarnerMedia will give it even greater scale by adding more cable television networks, a film studio, and numerous popular franchises. The merger will also add breadth to the type of content Discovery produces.

The company owns strong content and brands, including HGTV, the Food Network, and its namesake channel. Additionally, it may be even stronger in international markets, where it owns an attractive portfolio of sports broadcast rights, including those for the Olympic Games.

Discovery's international direct-to-consumer (DTC) efforts are well ahead of its DTC operations domestically. The company recently consolidated its streaming efforts into one brand, Discovery+, giving it a greater competitive presence in the digital streaming space. The addition of WarnerMedia will add HBO Max and CNN streaming service CNN+ to its DTC business.

2. Netflix
Netflix is the largest DTC video service in the world. It began buying originally produced content in 2013 and has been profiting from its growing offerings of original series and films. Netflix's massive scale provides the company with a lot of data, which it uses to inform content licensing and production decisions and improve the user experience.

After years of increasing its debt and negative free cash flow, Netflix is now at the point of being able to self-fund its content purchases. The growing recurring revenue stream from the subscription service is enabling the company to continue expanding its content offerings. Aside from video, the company is now exploring video game development.


3. Walt Disney
Walt Disney is one of the biggest media companies in the world, especially after acquiring most of 21st Century Fox. It has a very strong portfolio of intellectual property, including Star Wars, Marvel, Pixar, and its many classic Disney brands. It also owns the television brands Disney and ESPN. The latter owns long-term contracts to broadcast premium sporting events, including Monday Night Football.

Disney's push into DTC streaming has gone well since it acquired operational control of Hulu and launched Disney+. Both brands are bolstered by Walt Disney's acquisition of BAMTech, a streaming technology provider.

The company also owns a world-famous theme-park business and licenses its characters to toy and game makers. Those operations typically produce higher operating margins than Disney's film studio, media networks, and DTC businesses.

That's something to keep in mind when considering Disney as a media and entertainment stock investment. For example, while many other media companies thrived during the coronavirus pandemic, Disney's parks business held it back. It created a drag on operating profits and cash flow, forcing management to suspend its dividend. The diversification of its business can be seen as a good thing for some investors, but it also means it's not a pure-play media stock.

4. ViacomCBS
ViacomCBS benefits from operating one of only four broadcast networks in the U.S. That market position ensures broad distribution and large audiences. Its cable networks, which include BET, Comedy Central, MTV, Nickelodeon, and Showtime, are well diversified across audience demographics.

The company rebranded its DTC efforts in 2021. It now combines much of Viacom, Paramount, and CBS content into a single streaming service, Paramount+. In Europe, ViacomCBS is partnering with Comcast's (NASDAQ:CMCSA) Sky for distribution of Paramount+ in some markets and a co-owned SkyShowtime service in other markets. The partnership should improve consumer awareness and reduce distribution costs.

While moving to a direct-to-consumer model will reduce its content licensing revenue, the long-term opportunity of expanding its DTC business is far greater.
Related topics
What makes a good media company investment?
Several attributes qualify a media company as a good investment:
Differentiated content: Unique intellectual property, long-term contracts with well-known personalities, and licenses to broadcast events such as sports games and awards ceremonies all attract and retain consumers. Nearly as important is owning strong brands that have value and meaning for viewers.
Scale: The larger the media company, the more negotiating power it has with distributors and marketers. This can result in broader distribution, higher rates for affiliate fees and advertising, and access to additional marketing support. Additionally, large operating scale creates cross-promotional opportunities among the media company's properties.
Diversification: The best media companies are diversified across formats, distribution methods, audience demographics, and geographies.
Technology: As DTC services increasingly provide the bulk of today's media consumption, owning the technology to support DTC distribution at scale can significantly boost profit margins.
Strong balance sheet: Media companies need robust cash reserves in order to bid on content and produce new films, television series, and other programming. Ample cash on hand also enables mergers and acquisitions with other companies. Debt should not be excessive, with the caveat that consistent cash flow -- perhaps from subscription revenue -- typically allows for greater leverage.