You likely won't be able to find a CD rate today that rivals the 17% yields common in the 1980s. The certificate of deposit, a product that once competed with stocks and high-risk investments, now offers rates only slightly above those of standard savings and checking accounts.
And that's OK. CDs can be a profitable bank product if you can learn to look past the yield offered.
"CDs are simple, safe, and produce predictable cash flow," said Neil Stanley, president of Bank Performance Strategies. "Everyone who is blessed to live beyond their income-generating years needs investment options with these characteristics ... [But] just like groceries, gas and salaries vary by state, so do CD rates."
Related: Why CD Rates Are Finally About to Go Up
GOBankingRates surveyed the top CD interest rates for six-month, one-year, two-year and five-year terms in each of the 50 states. Overall, the average CD across these terms yields just 0.51% APY -- much higher than average savings account yieldsof 0.10% APY, but hardly close to an impressive rate. Fortunately, some of the top CD rates in the country offer substantially better rates -- as much as 10 times higher than the average CD and 51 times higher than average savings accounts.
Below are the highest CD rates in every state for the aforementioned terms. When noted under the "multiple institutions" tab, in some cases the highest CD rate in a state was shared by a number of financial institutions (though, for the sake of space, only one was listed).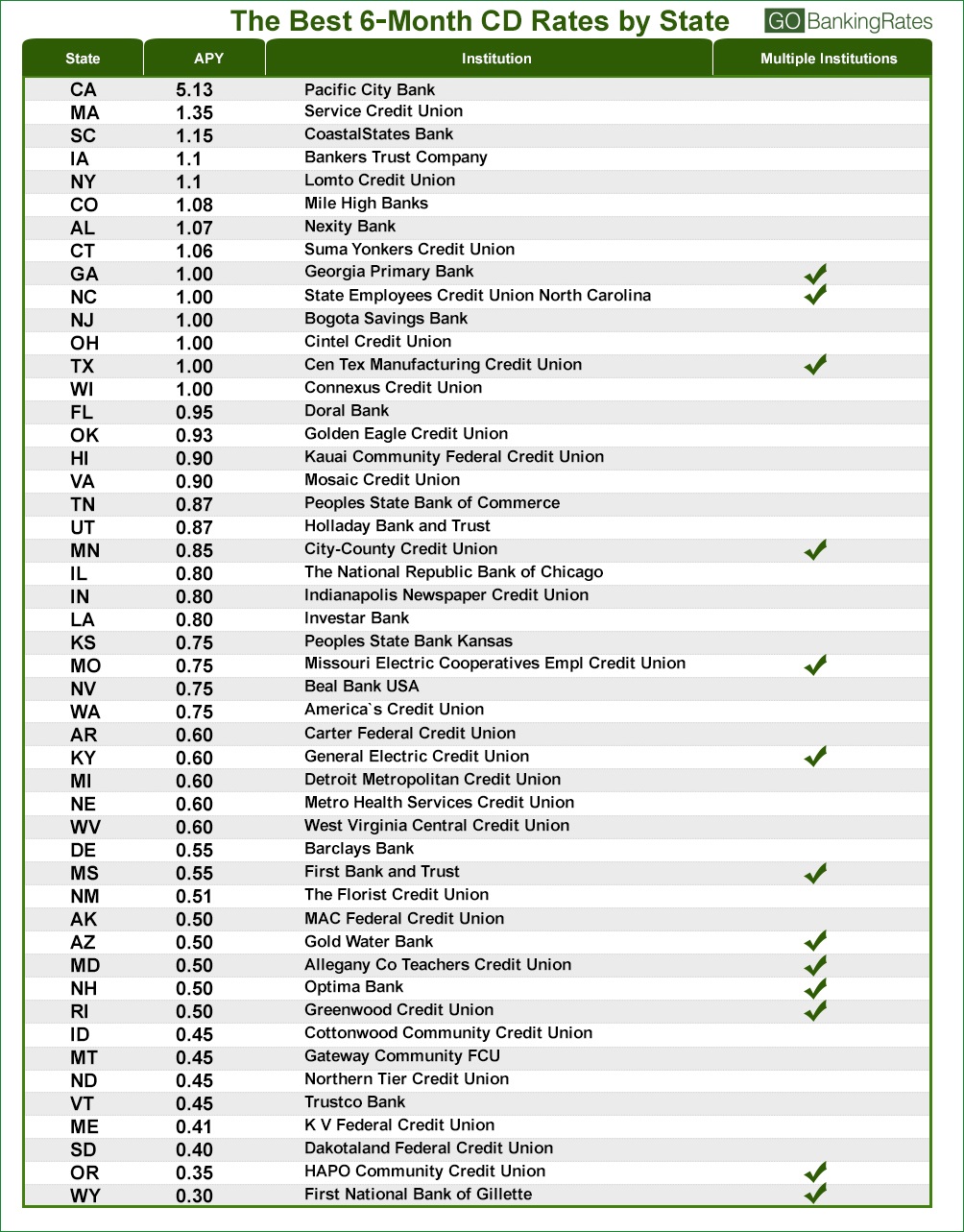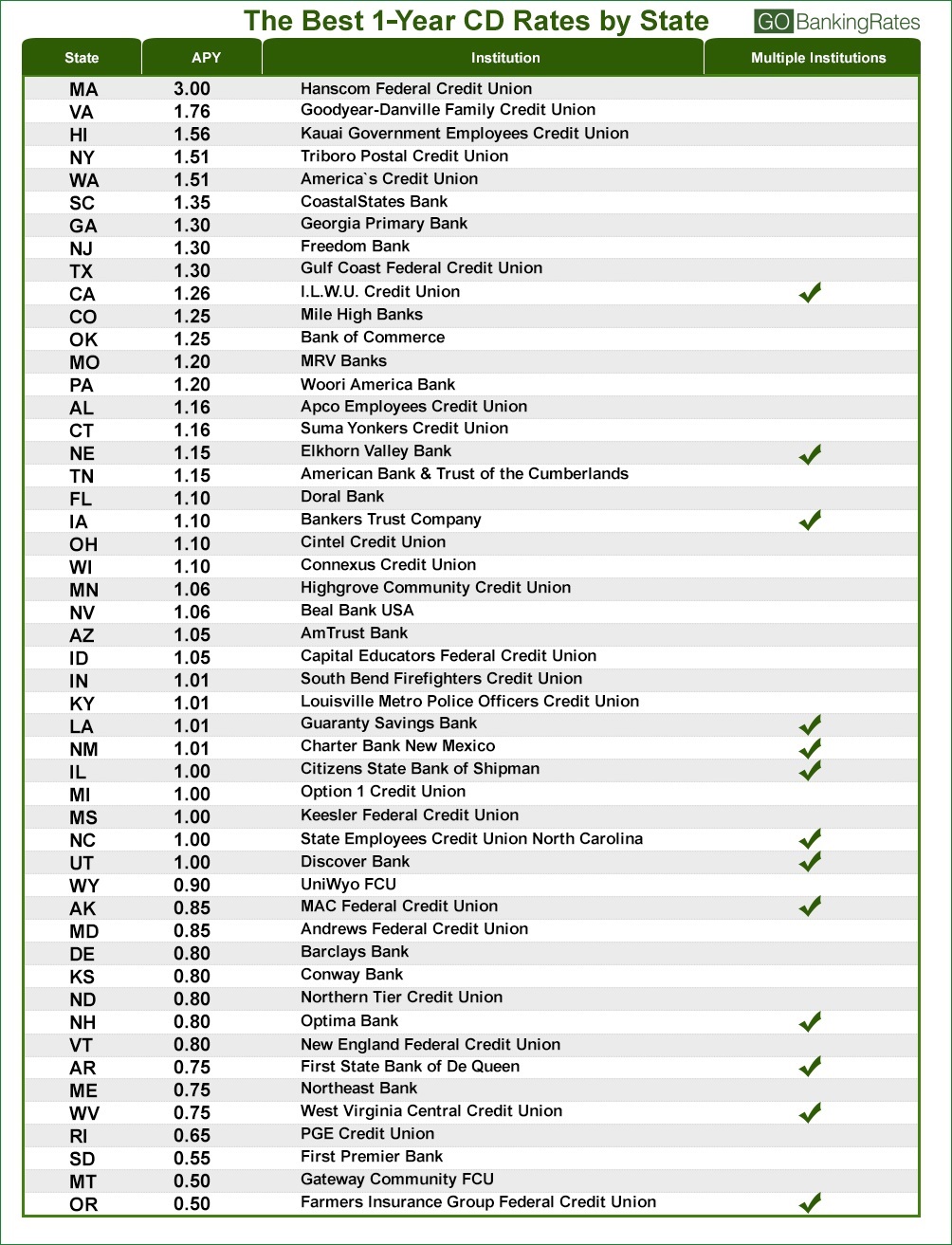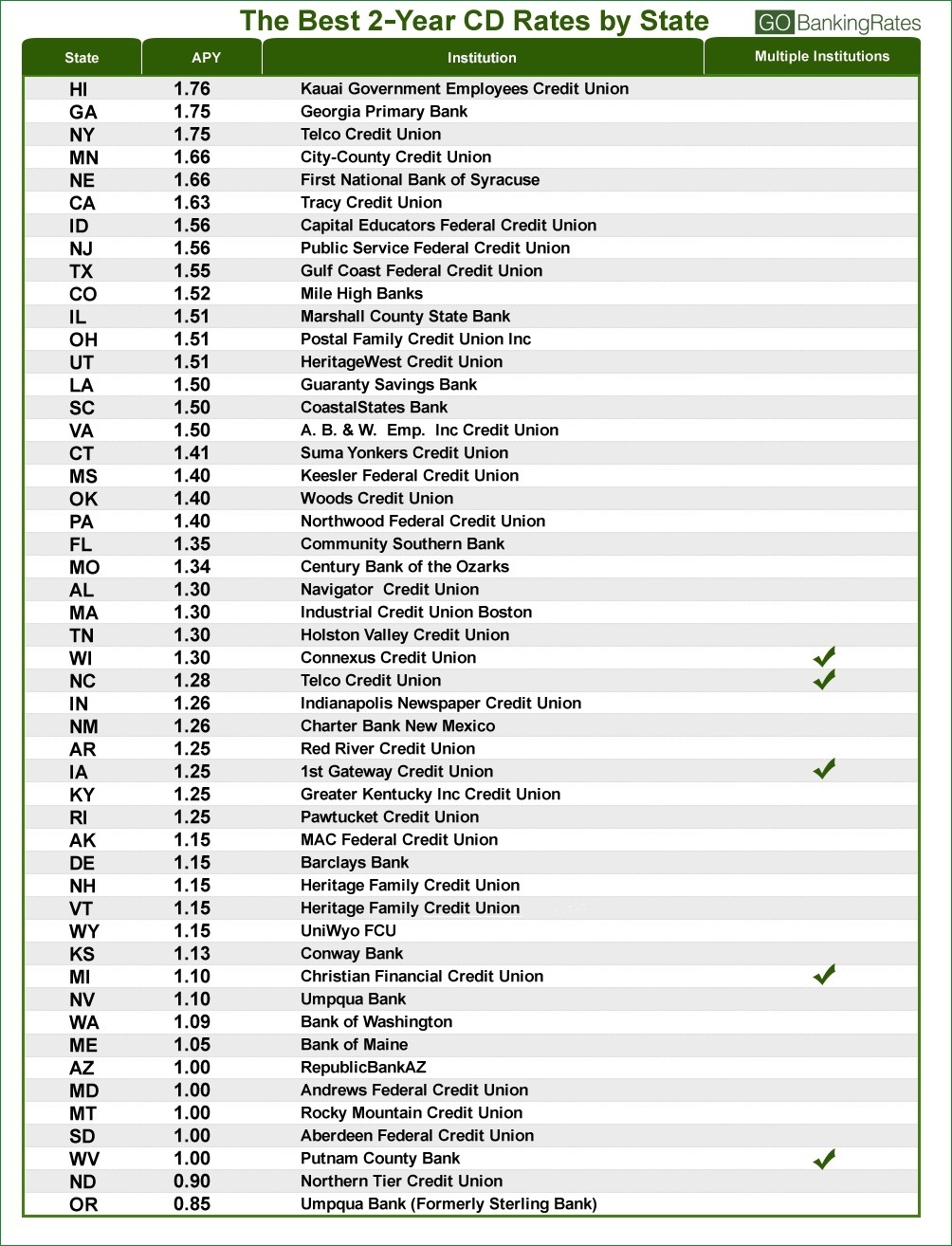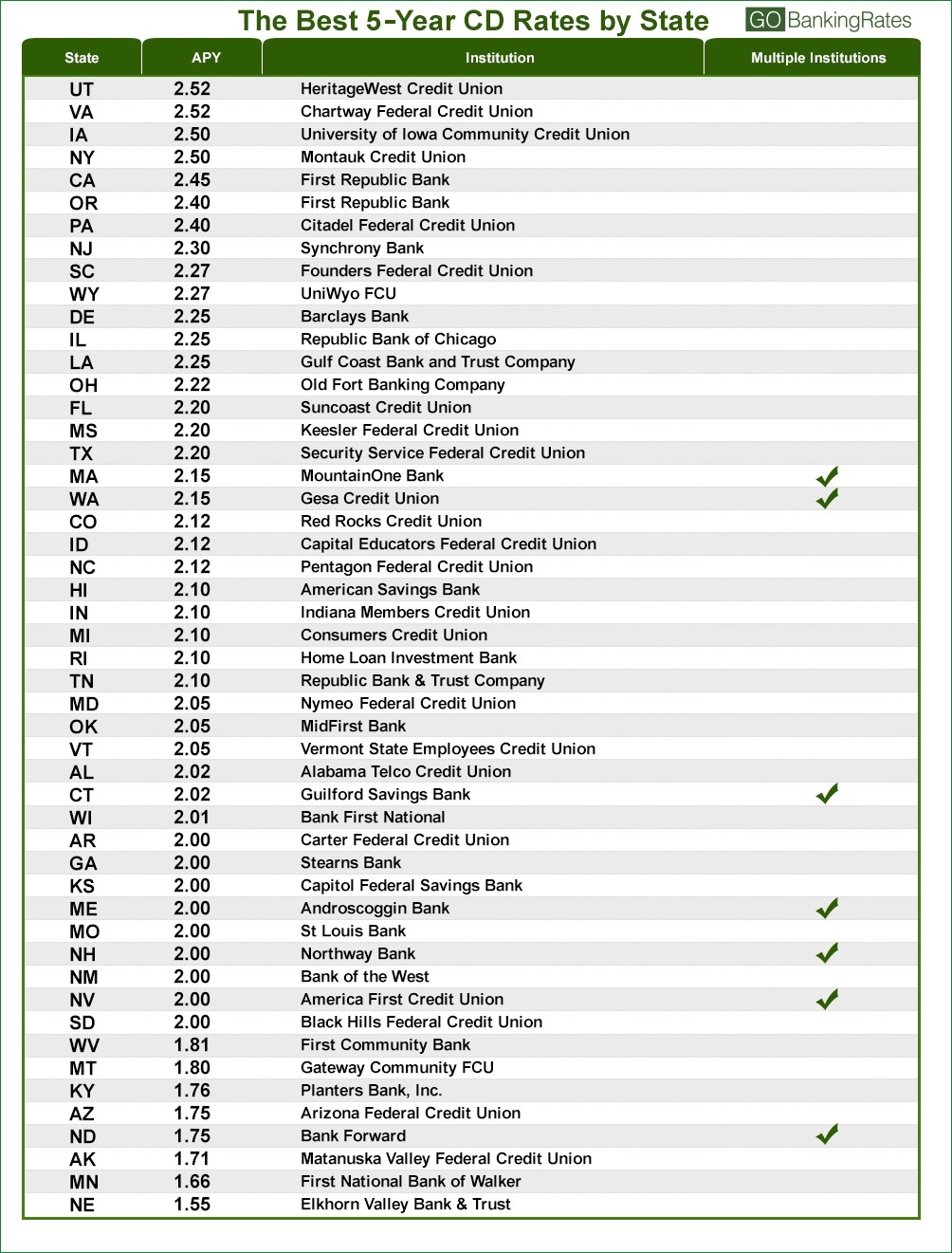 Deposit rates do vary by financial institution and region, which would affect your earnings more noticeably if rates were at historic highs. In this rate environment however, depositors have to look past the advertised rate to get the best return on a CD.
Why CD rates vary by financial institution and region
To understand why CD rates vary by state, we have to understand why interest rates vary between financial institutions. Banks and credit unions determine the interest rates they set based on a multitude of concerns other than the prime rate.
One such factor includes the financial institution's business aims: It could offer higher rates to attract a larger clientele or lower rates to obtain a higher profit margin off fewer customers. The bank could also be invested in other offerings, like widespread ATM access, more branches and 24/7 customer service.
A financial institution's lending rates, the main reason for regional variation, can also affect how well it pays its depositors, as demand for loans drives demand for deposits. A bank not focused on mortgage and loan offerings could have less resources to attract depositors with — and less incentive to do so.
These different objectives affect how financial institutions pay their depositors, and subsequently, their average rates.
"CD rates vary by state because they are sensitive to the health of the local economy," said Sol Nasisi, president of BestCashCow. "A state with a strong economy has higher loan demand, fueling the need for banks to increase their deposit base."
According to Stanley, deposit rates are higher in North Dakota and lower in Georgia than the national average for this very reason.
Banks and credit unions have a number of factors that determine how they set rates -- and getting a great rate, even in a low-rate environment, matters. But many consumers pay attention only to the yield, which can cost them.
Related: Are CDs Still Worth the Investment?
How to make the most off CDs in a low-rate environment
Most depositors know the traditional requirements of a CD: Deposit funds for a certain length of time, get a higher yield because of the timed agreement and pay a penalty if you withdraw early.
The fear of a penalty, especially when interest rates are low, often deters depositors from choosing long-term CDs, but simple math shows that paying a penalty on a higher-rate CD could still lead to greater returns.
Take this scenario: A customer has the choice between a five-year CD at 1.80% APY and a one-year CD at 0.45% APY, with a six-month interest penalty for breaking the CD early. Not wanting to tie up his funds and risk a penalty, he opts for the one-year CD at 0.45% APY. However, a customer who picks the 1.80% APY CD and breaks it after just one year would forfeit half a year's interest, or 0.90% APY, and walk away with double the yield offered by the one-year CD.
Related: The Unbreakable CD Rule That's Meant to Be Broken
The advertised yield could also lead depositors toward a CD that is actually less safe and easy to manage. For instance, acallable CD comes with a higher rate but interest can cease at any time.
In contrast, some financial institutions, such as TS Bank, are now offering new CD products that don't penalize depositors for early withdrawals. Just as bond holders are rewarded in a low-rate environment with increased bond values, the same logic is being applied to CDs with products like TS Bank's CDtwo.
According to Stanley, if interest rates fall, it's more advantageous for both the bank and the customer to let depositors cash their CDs out early and receive their principle, earned interest and a bonus in exchange for the bank getting off the hook for a higher interest payment. TS Bank even offers a CDtwo Redemption calculator that lets CD account holders know how much they can make by breaking their CDs early, which is somewhere between what the depositor would walk away with now and what the bank would pay if the funds were maintained for the entire term length.
"The CDtwo generated a total return on investment of 3.22% for 12 months from October 2013 to October 2014, when market value appreciation is considered in addition to the CD's 1.73% rate," Stanley said. "This result was produced in a market where interest rates remained relatively low during the holding period."
In this case, the product ultimately netted customers nearly two times the advertised yield — its value was in the product details.
Whether a fear of withdrawal penalties, lack of product research or shallow focus on APYs is to blame, a CD can still net a nice profit -- with security -- for those who want greater returns on their deposits than what standard savings or checking accounts provide.
Methodology
GOBankingRates compiled rates from its database and that of Informa Research Services for this study. All rates are accurate as of Oct. 10, 2014. Please note that interest rates are subject to change at any time at the discretion of individual banks and credit unions. Other terms and conditions could apply. Although the information has been obtained from the various financial institutions, we cannot guarantee its accuracy.
This article originally appeared on GoBankingRates.