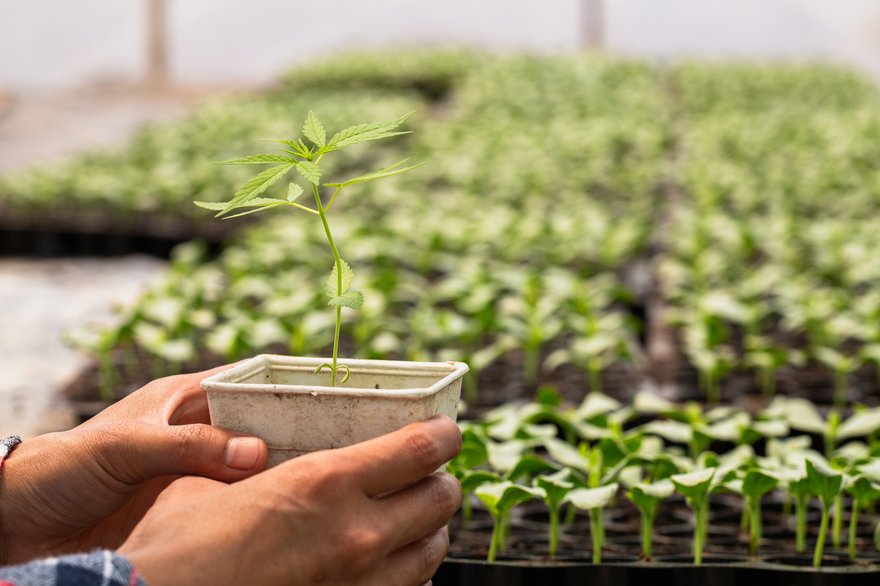 Source: Getty Images
The global medical marijuana market is projected to grow at an annualized rate of almost 18% through 2028, according to Data Bridge Market Research. Much of this growth will likely be in the U.S., where 37 states have already legalized medical cannabis. Medical cannabis products sold in the U.S. include dried flower, vaping concentrates, cannabis-infused edibles, and topical products such as lotion.
Investors who opt to buy individual medical marijuana stocks can choose among Canadian or U.S. companies. Canadian medical cannabis companies can legally list on U.S. stock exchanges, while U.S. medical cannabis companies operating legally at the state level can legally list on Canadian stock exchanges and over the counter (OTC).
Before you invest in medical cannabis companies, find out what you need to know about this growing sector.
Top medical marijuana stocks to buy right now
These five medical marijuana stocks are top buys for 2023:
Data source: Yahoo! Finance. Data current as of March 10, 2023.

| Medical Marijuana Stock | Market Capitalization | Description |
| --- | --- | --- |
| Village Farms International (NASDAQ:VFF) | $101.3 million | Grows, produces, and sells medical cannabis products primarily for the Canadian market and cucumbers, peppers, and tomatoes for the North American market. |
| Jazz Pharmaceuticals (NASDAQ:JAZZ) | $8.6 billion | Develops cannabis-based pharmaceutical drugs. |
| Trulieve Cannabis (OTC:TCNNF) | $1.3 billion | Grows, produces, and sells medical cannabis products in multiple U.S. states. |
| Innovative Industrial Properties (NYSE:IIPR) | $2.3 billion | A real estate investment trust with many U.S. medical cannabis companies as tenants. |
1. Village Farms International
Village Farms International's roots lie in the fresh produce business. The company still generates slightly more than half of its total revenue from selling cucumbers, peppers, and tomatoes. However, Village Farms' primary growth driver these days is cannabis. 
The company's Pure Sunfarms ranks as the top-selling brand for dried cannabis flower products in several of Canada's biggest recreational marijuana markets, including Alberta, British Columbia, and Ontario. But Village Farms is poised for strong growth in the medical cannabis arena, too.
Pure Sunfarms received European Union Good Manufacturing Practices certification in March 2022. This paves the way for the business to begin shipping products to key European medical cannabis markets, including Germany, beginning in the third quarter of 2022. 
Meanwhile, Village Farms already sells hemp-derived cannabidiol (CBD) health and wellness products in the U.S. market. The company hopes to enter the U.S. cannabis market if and when marijuana is legalized at the federal level.
Jazz Pharmaceuticals became the largest cannabis-focused drug developer following its acquisition of GW Pharmaceuticals in May 2021. Sativex, developed by GW, is a medical cannabis drug that contains both the high-inducing tetrahydrocannabinol (THC) and the non-psychoactive CBD. It treats spasticity associated with multiple sclerosis. Epidiolex, also developed by GW, is a CBD drug. Sativex is approved in multiple countries, excluding the U.S., and Epidiolex is approved in both the U.S. and Europe.
Epidiolex, which generated sales of more than $658 million in 2021, is significantly boosting Jazz's revenue. Its sales growth should continue with a recent commercial launch in Ireland and a 2022 launch in France. In addition, Jazz is evaluating Epidiolex in a phase 3 clinical study as a potential treatment for epilepsy with myoclonic-atonic seizures (EMAS).
Jazz is not a pure-play medical cannabis company. It makes the sleep disorder drugs Xyrem and Xywav, which account for more than half of its sales. Jazz also sells the cancer drugs Rylaze, Vyxeos, and Zepzelca.
Trulieve Cannabis is a vertically integrated U.S.-based cannabis company that grows medical cannabis and distributes medical cannabis products to its own retail dispensaries. The company's primary operations are in Florida, where it runs 114 medical cannabis dispensaries and commands a market share of close to 50%. Trulieve also has operations in Arizona, California, Colorado, Connecticut, Massachusetts, Maryland, Nevada, Pennsylvania, and West Virginia.
Trulieve's acquisition of Harvest Health & Recreation in October 2021 made it the most profitable U.S. multistate cannabis operator. The deal also resulted in Trulieve becoming the largest U.S. cannabis company based on retail and cultivation footprint. 
Unlike most of its peers, Trulieve regularly delivers quarterly profits. The company's earnings growth remains strong, which gives Trulieve considerable financial flexibility to invest in expanding its business. 
4. Innovative Industrial Properties
As a real estate investment trust, or REIT, Innovative Industrial Properties is the leading real estate provider for the U.S. medical cannabis industry. The company buys properties from medical cannabis operators and then leases the properties back to the operators, providing needed cash to growing cannabis businesses and stable income for Innovative. 
Innovative Industrial Properties currently owns properties that are leased to tenants in 19 states. The company is increasing its customer base not only in the states where it already operates but also in additional states that legalize medical or recreational cannabis.
Few medical cannabis stocks have delivered the level of growth that Innovative Industrial Properties has achieved. During the past five years, the company's revenue has skyrocketed more than 4,500%, while its earnings have vaulted nearly 7,700% higher. This performance has enabled the stock to generate an almost nine-fold gain.
As a REIT, Innovative Industrial Properties distributes at least 90% of its taxable income to investors in the form of dividends. The company's consistent profitability is due in part to its diversification across many tenants. 
How to choose the best medical marijuana stocks
Investors should consider the same key attributes for medical marijuana stocks that they would for any stock:
Financial performance: Many medical marijuana companies aren't yet profitable, but the best companies have clear and defined plans for achieving profitability in the future. The safest companies also have plenty of cash, which creates financial flexibility and preserves the value of the stock.
Growth opportunities: The patchy regulatory framework of the marijuana sector means that medical cannabis companies' growth prospects vary widely. The best companies are minimally limited by geographic constraints.
Competitive position: Leading medical marijuana companies have high production capacity, plenty of distribution channels, and beneficial partnerships with established companies.
If you don't want to choose specific stocks, another way to gain exposure to medical marijuana stocks is to buy shares in a cannabis-focused exchange-traded fund (ETF). Such funds confer instant diversification across the cannabis sector (although currently no pure-play medical cannabis ETFs are available).
Should you buy medical marijuana stocks?
Investing in the medical marijuana sector is relatively risky as long as cannabis remains federally illegal in the U.S. The plant's federal status also constrains the growth of the sector, and investors have no guarantee that the federal government will continue to allow states to treat cannabis as legal.
But the long-term prospects of the medical marijuana industry are excellent. More countries and U.S. states are recognizing the potential benefits of medical cannabis and legalizing the use and sale of medical cannabis products. More individuals and the broader medical community are also recognizing the plant's medicinal benefits, driving demand higher for medical marijuana.
Risk-tolerant investors with long investing horizons are likely to profit by investing in medical marijuana.
Keith Speights
has positions in Innovative Industrial Properties. The Motley Fool has positions in and recommends Innovative Industrial Properties, Trulieve Cannabis, and Village Farms International. The Motley Fool has a
disclosure policy
.